LGBTQ New York Wedding Guide
New York State was one of the first states in the nation to legalize marriage for LGBTQ people, with New York's Marriage Equality Act introduced in the Empire State in 2011. But tying the knot can still be a complicated process, regardless of gender. The good news: New York State has more opportunities than ever to make it easy to say yes to your LGBTQ wedding—including LGBTQ-friendly wedding venues and honeymoon destinations.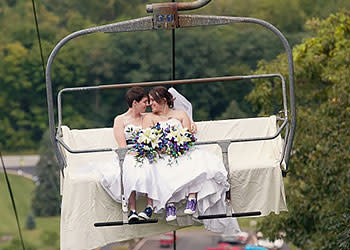 Marriage Certificates
Beyond just thinking about the celebration, if you're looking to be a legally wed couple, you'll need to secure a New York marriage certificate. The NYS Department of Health has specific information on New York's Marriage Equality Act, and more general information on getting married in New York.
Ceremony and Reception Venues
If it's just got to be a traditional church wedding, you'll find plenty of open and affirming houses of worship that host marriages for same-sex couples. In Buffalo, for instance, towering First Presbyterian Church, magnificent St. John the Divine Episcopal Cathedral, and striking Temple Beth Zion all open their doors to your special day.
On Long Island, you can take your ceremony oceanside for a romantic beach wedding, with some venues putting you right on the water, like the Allegria Hotel in Long Beach.
For the more adventurous, does it get any more romantic than a ceremony against a majestic Adirondack Mountain backdrop aboard the Lake George Steamboat Company's Lac du Saint Sacrement? To keep the Adirondacks view but stay landlocked, there are amazing venues like the Georgian Lakeside Resort also in Lake George, the Mirror Lake Inn or High Peaks Resort in Lake Placid, the Garnet Hill Lodge in North River, or the Copperfield Inn in North Creek.
Garden weddings don't get prettier than vows exchanged beneath a majestic 250-year-old chestnut tree surrounded by flower gardens. This Victorian fantasy at Dibbles Inn in Vernon is a top pick in Central New York.
If it's photo ops you're after, the Ritz-Carlton New York, Battery Park offers striking views over New York Harbor, Ellis Island, and the Statue of Liberty. Or get right on the water for a wedding aboard one of the vessels of World Yacht.
A winery makes for a scenic and festive wedding location, whether on Long Island or in the Hudson Valley or the Finger Lakes. Atwater Estate Vineyards on the southeast side of Seneca Lake will host your wedding ceremony just steps from the tasting room, while over 200 surrounding Finger Lakes wineries provide more distractions.
Intimate weddings are well suited for B+Bs like the rustic Chalet of Canandaigua. Or opt for a ceremony in the midst of the picturesque Finger Lakes hills at Bristol Mountain.
Or maybe modesty isn't your thing. How about getting married in a castle? You can take your storybook vows at Highlands Castle in Bolton Landing. Also, the luxurious and historic Belhurst in Geneva in the Finger Lakes was rated among the "Top 10 Romantic Inns and Resorts." Other luxurious Finger Lake settings can be found by visiting innsofaurora.com.
Honeymoons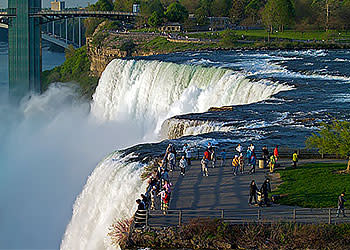 The honeymoon capital of the world, Niagara Falls is also one of the most LGBTQ-supportive areas in New York State. Same-sex couples will find an enthusiastic welcome here, a thriving cultural scene, vibrant nightlife, and romance to spare. In Buffalo, in fact, you'll find plenty of ideas for your ceremony or honeymoon, online and in town.
The vineyards of our Finger Lakes region offer beauty, romance, and enough vintage tastings to warm up any honeymoon. LGBTQ-friendly Ithaca makes for a cozy honeymoon, with great nature, restaurants, and shopping to keep you amused but not so distracted as to keep you from each other.
The Catskills are a newer hot spot for romantic same-sex weekend trips, with several charming gay- and lesbian-owned bed and breakfast inns. A little further north, Saratoga Springs is a downtown jewel for strolls in Congress Park, quaint shops, and a memorable stay at the Gideon Putnam Inn and its famous Roosevelt Spa with naturally effervescent waters, or perhaps the town's most famous mansion, the Batcheller Mansion Inn, a hand-tooled Victorian head turner.