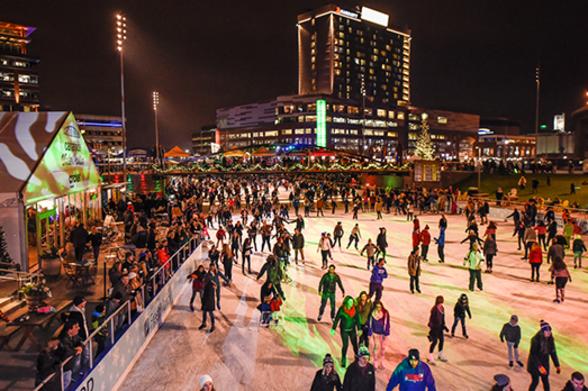 Updated 2/2/23
Want to see one of the world's finest collections of modern and contemporary art and get sprayed by waterfalls all in one day? Take a weekend trip to Buffalo, which was named one of the world's top 52 spots to visit in 2018 by The New York Times. Niagara Falls' dramatic cascades are spectacular in any season and Buffalo's night scene is just as vibrant as its art. As a perfect complement to seeing this natural wonder, you can take in some of the best that Buffalo has to offer, from world-class art and architecture to entertainment and food—even if you've only got a weekend.

FRIDAY
5 pm: Explore Elmwood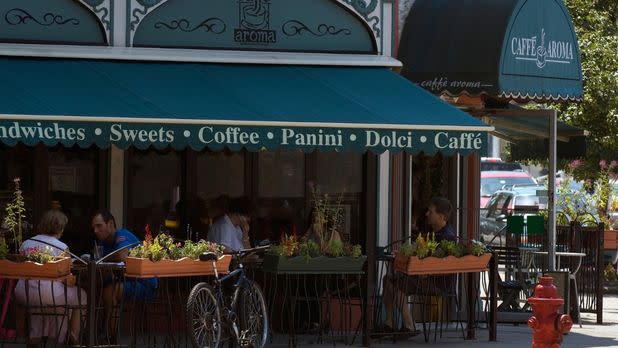 Start your weekend off by exploring one of Buffalo's most charming neighborhoods, Elmwood Village, home to more than 200 locally-owned and -operated retail stores and galleries along a beautiful tree-lined street. Then stop for a drink and dinner at whichever restaurant most piqued your interest during your stroll.
SATURDAY
9 am: Breakfast at Betty's
Head to Betty's, a recipient of TripAdvisor's Certificate of Excellence, for breakfast. There you can enjoy simple, fresh, creative fare in a cheerful dining room. Popular brunch dishes include chilaquiles casserole, smoked salmon benedict, and shrimp & grits.
10 am: Appreciate the Arts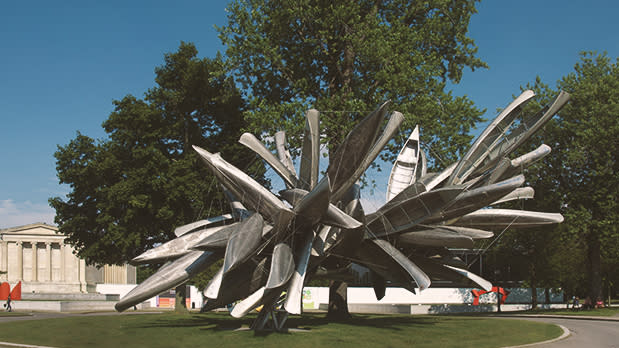 The Buffalo AKG Art Museum is a must-see for even the casual art lover. It's considered to be an outstanding center of modern and contemporary art whose collection is among the world's top international surveys of 20th-century painting and sculpture. Since its inception as the Buffalo Fine Arts Academy in 1862, the museum has been dedicated to acquiring, exhibiting, and preserving works by Picasso, Van Gogh, Cezanne, Matisse, Gauguin, Pollock, Warhol, and numerous other luminaries. Take a free tour as part of your admission or buy a timed ticket to enjoy a variety of rotating exhibits. 
12 pm: The Place to be for Lunch
The Place is a nostalgic reflection of Buffalo's past, offering both the classic ambiance and old time charm that Buffalonians have come to love since the original bar-restaurant opened decades ago. An airy porch allows customers to enjoy beautiful Buffalo summers! Try out a popular menu item like the beef on weck, flynnie thinnie, or buffalo chicken sandwich.
3 pm: Tours with Theodore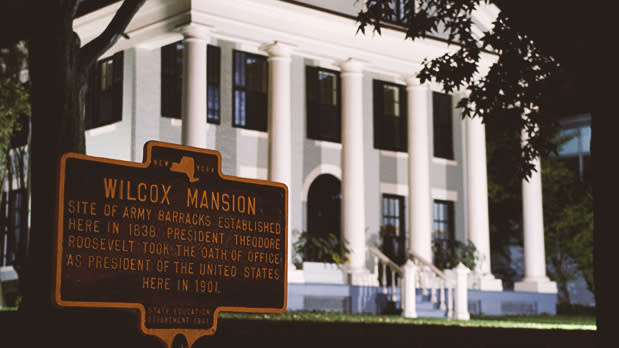 Tours and interactive exhibits at the Theodore Roosevelt Inaugural Site, Wilcox Mansion, put you in the moment when Teddy Roosevelt became America's youngest president following the shocking assassination of President William McKinley in 1901. With a combination of restored rooms and interactive exhibits, you'll feel as if you're part of the events of that fateful September.
5 pm: Chills & Thrills at Canalside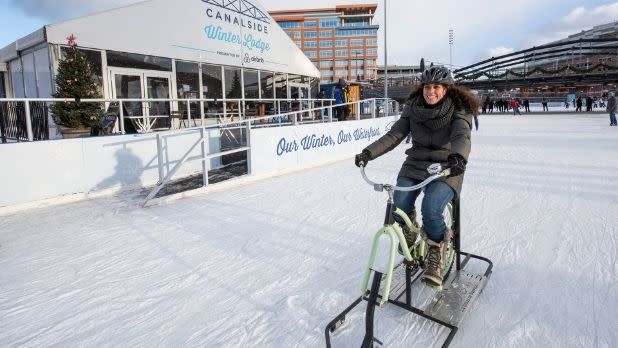 From November to March, hit the ice at the outdoor skating rink, Ice at Canalside. Lace up your skates or try out one of their exclusive ice bikes. Outside of the winter season, there are plenty of activities in the sunshine including kayaking, ping pong, walking the boardwalk, playing in the sand area, and lounging in Buffalo's famous "Sunset Chairs".
7:30 pm: Wing It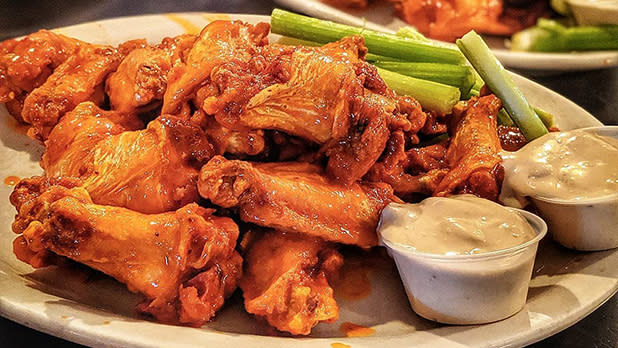 No visit to Buffalo would be complete without some Buffalo Wings (or as Buffalonians simply call them, wings)—try the Nine-Eleven Tavern, or Buffalo-style pizza (a cheese-laden hybrid of Chicago's deep dish and New York's thin crust) at one of the original Buffalo pizzerias like Bocce Club Pizza.
SUNDAY
10 am: Fall for the Falls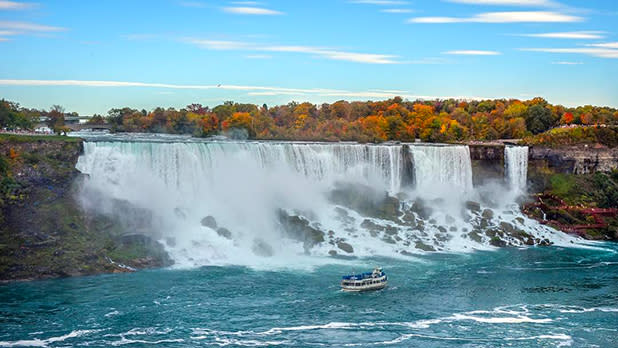 Start your day by heading 30 minutes north to Niagara Falls State Park, a joy in all seasons and a frosted wonderland in winter, where waters flow into the frozen river, forming glistening layers of ice. If it's cold out, warm up in the Niagara Adventure Theater. If you stick around until dusk, the Falls are illuminated in a rainbow of color.
12 pm: Lunch with a View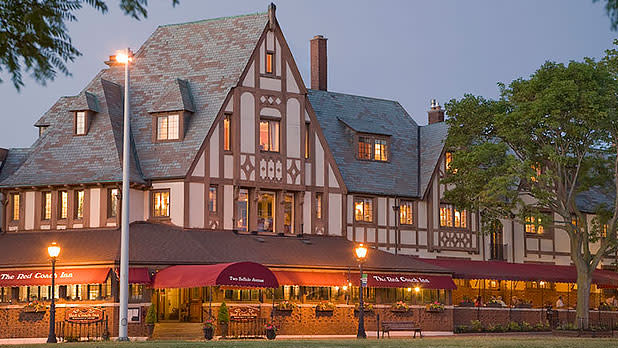 When you're hungry for lunch, make your way to the Red Coach Inn, an AAA Three Diamond Restaurant, and ask for a seat by the cozy fireplace or on the patio surrounded by gardens and a koi pond, depending on the season. Overlooking the majestic Upper Rapids and just 500 yards from the brink of Niagara Falls, this English Tudor-style gem has a warm country ambiance that's been welcoming guests since 1923.
1:30 pm: Geology Rocks
The Niagara Gorge Discovery Center, a showcase of the natural and local history, features hands-on interactive displays, a 180° multi-screen theater experience and a towering rock-climbing wall with fossils and geological formations.
2:30 pm: Under the Sea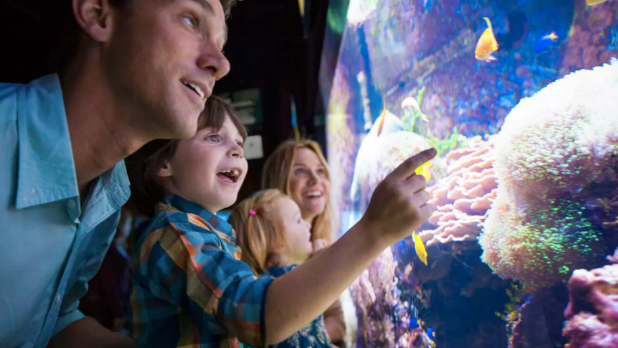 Last but not least, head to the Aquarium of Niagara, which has more than 1,500 aquatic animals. Sharks, piranhas, sea lions, sea horses, a giant Pacific octopus, and a colony of Peruvian penguins all reside within its walls.
---
GETTING THERE
By plane: Buffalo Niagara International Airport: 15 minutes
By train: Travel Amtrak direct from Chicago, Toronto, Albany, and New York City. The three stations in the Buffalo-Niagara region include Exchange Street (BFX), Buffalo Depew (BUF) and Niagara Falls station (NFL). Taxi service is available upon arrival at Depew and Niagara Falls stations. And the Exchange Street station is walking distance from downtown Buffalo and Canalside attractions!  
By bus: Greyhound to Buffalo
By car:
From Toronto: 1 hour and 45 minutes
From Cleveland: 2 hours 
From Albany: 4 hours and 30 minutes
From NYC: 6 hours 
From Montreal: 6 hours and 15 minutes