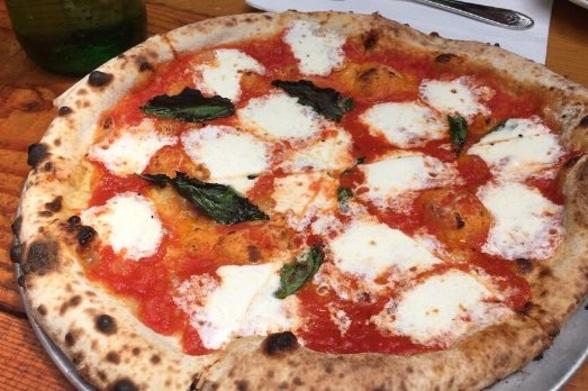 New York is the birthplace of some of the most iconic food items in the world. From Buffalo wings to New York cheesecake to Thousand Island dressing, culinary creativity has always thrived here. As a result, many amazing food items are available at restaurants and food specialty stores around the state. But don't worry if you can't make it to pick up a dish in person—many of New York's best-known food items are available for order online and delivered straight to your door, in most cases anywhere in the United States. 
Remember to social distance and wear a mask as required by state guidelines. Call ahead and check websites and social media to make sure attractions are open and available. 
Feeling hungry for New York? Get started here!
Pizza (Various Regions)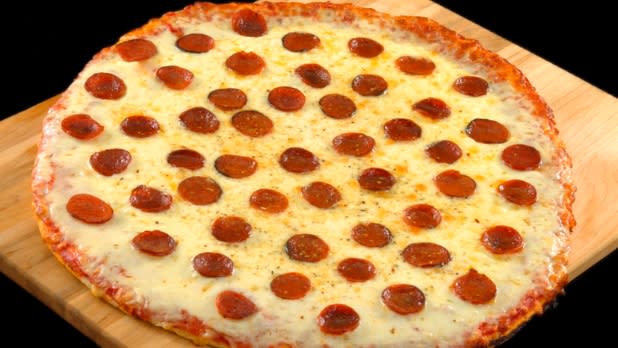 Why does the world love New York pizza so much? Many claim it's the water from the state's pristine reservoirs, or the abundance of pizza-making talent built up over more than a century. Whatever the case, New York pizza is delicious, and you can order pies to experience the thin-crust, cheesy, saucy goodness at home. Try a classic pie from Di Fara, the famed Brooklyn pizzeria, or Prima Pizza from the Hudson Valley, named one of the best shipped pizzas by the Wall Street Journal. Curious about Buffalo's thriving pizza scene? Order from Bocce Club (pictured), serving up pies since 1956! 
Potato chips (Capital-Saratoga)
Invented in Saratoga Springs in 1853, the potato chip is of course one of the world's most popular snacks—crispy, salty, and perfect. Order Original Saratoga Chips for a taste of the chips from their source, or try New York Chips cooked in avocado oil.
Chicken Riggies (Central New York)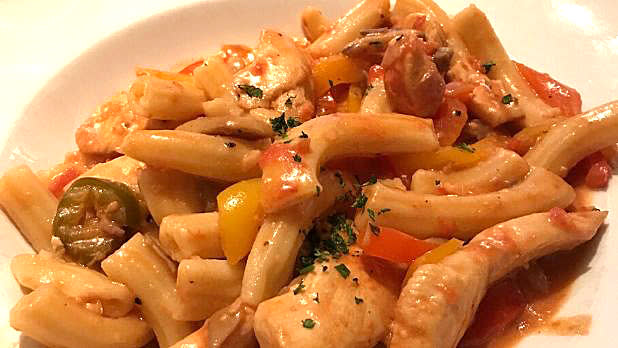 This chicken and pasta dish created in Utica in the 1970s has quickly grown to worldwide popularity. In many ways, it's the ultimate Italian-American entrée, with toothsome rigatoni, bite-sized pieces of chicken, and a creamy sauce made from marinara sauce combined with wine, butter, and sweet peppers (though there are many variations). You'll need to get the chicken and the "riggies" yourself, but you can get a jarred sauce shipped from It's a Utica Thing to help make chicken riggies at home.
Spiedies (Central NY)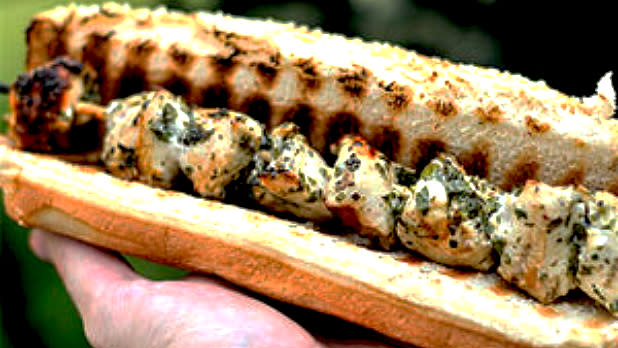 Italian immigrants in Binghamton came up with the idea for this hearty sandwich back in the 1920s. Take cubes of lamb, chicken, or beef, marinate overnight in the vinegar-spiked spiedie sauce, then cook on skewers over fire (or charcoal) before sliding the cubes onto a soft Italian bun. Order a sauce and try making spiedies at home, or order an entire spiedie-making pack with marinated meat and bread.
Tomato pie (Central New York)
New York City, Long Island, and Buffalo may be the state's best-known sources of pizza, but this offshoot was perfected in Utica. The tomato pie is like pizza in that it consists of bread, sauce, and cheese, as well as favorite toppings. But the pie is made with a thicker dough, a sweeter tomato sauce, and usually just a dusting of cheese. It's also served at room temperature, and enjoyed as a meal or as a snack throughout the day. For an authentic Utica experience, order from My Charlie's Pizza and enjoy!
Dinosaur Bar-B-Que (Finger Lakes/Various Regions)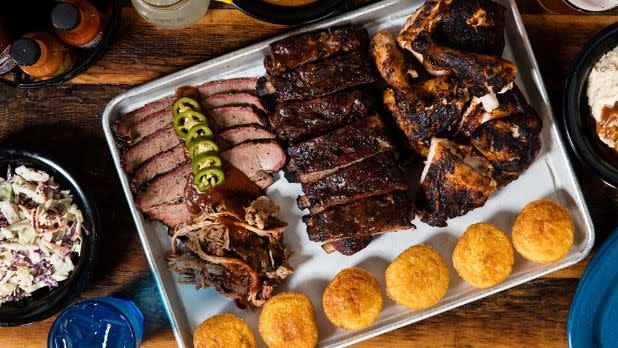 Founded in Syracuse in 1983, Dinosaur Bar-B-Que has grown to become a statewide presence, with locations from Rochester to Troy to Brooklyn. You don't have to live in New York to experience Dinosaur's tangy pulled pork, smoky brisket, and sides like a delicious cornbread. Have a combo pack with a choice of meats for six to eight shipped to your door for a taste of the barbecue voted America's best by Good Morning America viewers.
Naples Grape Pie (Finger Lakes)

Credit: Courtesy of Arbor Hill Grapery & Winery
The Finger Lakes wine region isn't just known for its Riesling and Cabernet Franc! This sweet pie dates back to pie competitions in the 1960s held as part of the annual Naples Grape Festival. Arbor Hill Grapery & Winery in the Finger Lakes ships frozen, fully cooked Naples grape pies to heat and eat at home!
White Hots (Finger Lakes)

Credit: @zweigles on Instagram
A hot dog made of uncured pork, veal, and beef, the white hot's origin story starts with German immigrants in Rochester creating a less expensive alternative to commercial hot dogs. Today, white hots, given a spicy kick with mustard mixed in with the meat, are more of a gourmet treat. One of the places that made white hots famous, Zweigle's, ships nationwide.
Buffalo Sponge Candy (Greater Niagara)
A light, chocolate-covered toffee candy that has a honeycomb-like consistency, this sweet treat was first made at Fowler's Chocolate Shoppe in Buffalo in the early 1900s. Today, many confectioners will ship Buffalo sponge candy direct, including Niagara by Frey (pictured), Fowler's, Watson's, and Antoinette's.
Beef on Weck (Greater Niagara)

Credit: Onion Studio
There's a reason why this is one of New York's most beloved sandwiches. Invented in Buffalo by a German immigrant, the beef on weck is a salty, juicy, meaty sandwich made from thin-cut roast beef and its juice, horseradish, and the kimmelweck roll, topped with caraway seeds and salt. It's found at many pubs and restaurants around Buffalo, such as Schwabl's (pictured), but you can order a four-pack beef on weck kit from Bar Bill's for a true Buffalo experience at home. 
Buffalo Wings (Greater Niagara)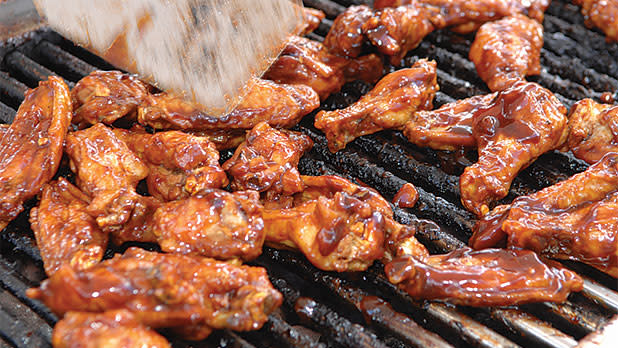 Yes, crispy, savory chicken wings got their name from the city where they were created, and yes, Buffalo wings are delicious! Several of Buffalo's beloved wing joints offer nationwide shipping, including La Nova, Duff's Famous Wings, and Anchor Bar, usually credited as the birthplace of Buffalo Wings.
Montauk Lobster Tails (Long Island)
One of America's foremost sources of lobster, Long Island chefs always love putting Montauk lobster tails, big, rich, and juicy, on the menu. Long Island seafood shop Haskell's offers shipping for many fish and shellfish sourced from the Atlantic Ocean and Long Island Sound, including gift packages featuring make-at-home Montauk lobster tails and other favorites like stuffed flounder and Manhattan clam chowder.
Bagels (NYC)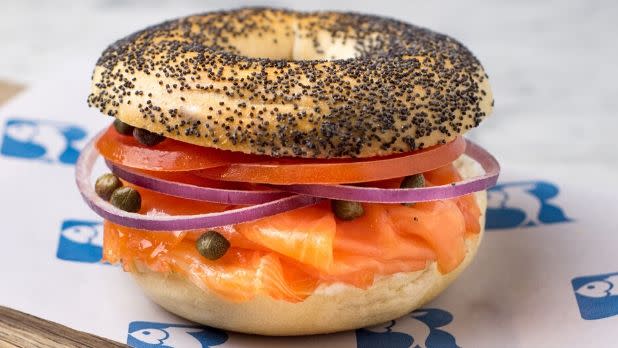 Right after pizza, bagels are probably New York City's best-known foods. You can get the real deal New York bagel shipped from some of the city's veritable institutions, including Russ & Daughters (pictured) and Ess-a-Bagel. Try a smear of Philadelphia Cream Cheese on your bagel—despite its name, the favored bagel topping was invented in Chester, New York in the 19th century! (Orders from Russ & Daughters will arrive after the first week of January 2021).
Pastrami Sandwich (NYC)
Another famous sandwich invented in New York? Yup! The pastrami sandwich—layers of spiced, smoked, and steamed brisket on rye bread—first appeared in Jewish delicatessens on the Lower East Side in the late 19th century. Order sliced pastrami from one of the most classic delis in New York, Katz's, which also sells fixin's like rye bread, mustard, and more!
Cheesecake (NYC)

Credit: Courtesy of Junior's
For dessert, a New York cheesecake, of course! Order a Brooklyn classic from Junior's, available in its creamy, Graham cracker–crust original form, or in delicious variations like brownie marble swirl, strawberry cheesecake, and chocolate swirl.
Thousand Island Dressing (Thousand Islands-Seaway)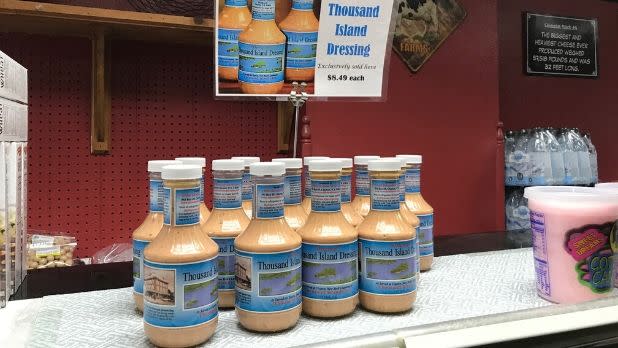 The salad dressing that's also a favorite on many sandwiches owes its name to the scenic Thousand Islands region of New York. Bottles of the delectable dressing can be shipped from River Rat, the popular cheese and food shop in the charming village of Clayton.