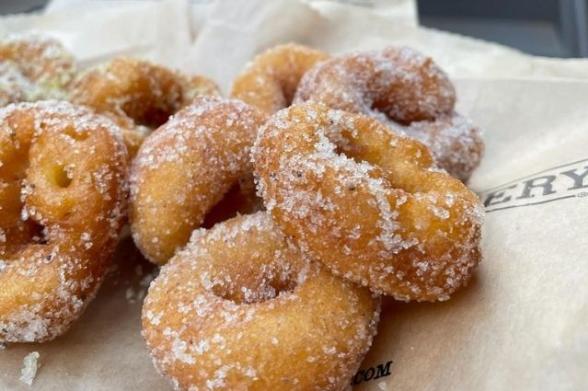 New York is home to some of the world's best restaurants and is the birthplace of internationally famous foods such as Buffalo wings, the beef on weck sandwich, and of course, the New York (pizza) slice and bagels. Over the past year, the state's chefs and restaurateurs showcased even more culinary creativity than usual, keeping New Yorkers fed with to-go options that raised the bar for takeout, with prepared dishes and kits that allow you to create a memorable meal at home. Feeling hungry? Drive locally to pick up one of these special food offerings or order online for delivery or shipping (where possible). Bon appetit! 
Remember to social distance and wear a mask as required by state guidelines. Call ahead and check websites and social media to make sure attractions are open and available. 
resourcED boxes from Blue Hill at Stone Barns (Hudson Valley, New York City)
If you've been watching celebrity chef cooking shows and wishing you could cook like the pros, up your ingredient game and pick up a resourcED box from Blue Hill at Stone Barns. Curated by farm-to-table dining pioneer Chef Dan Barber and other top chefs, boxes come with everything you need for a cozy country breakfast or a fancy four-course dinner party, including farm-fresh produce, local meats and grains, and a selection of other delicacies like Blue Hill charcuterie or maple syrup from the woodlands. For an extra $50 you can also donate a meal from a Chef in Residence to a family in need. Boxes can be picked up from Stone Barns in the Hudson Valley, Blue Hill in the West Village, or several locations in Brooklyn.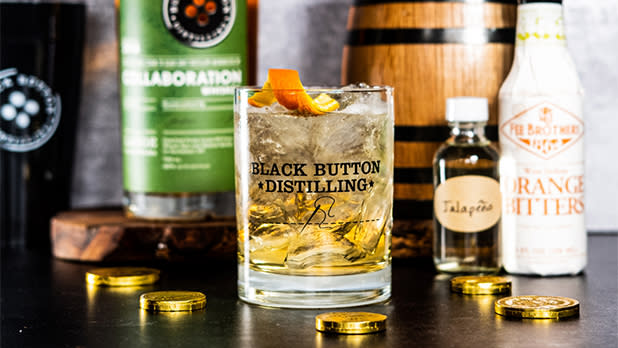 Rochester's Black Button Distilling offers inventive cocktail kits featuring their made-in-Rochester spirits. Besides classics like a Bloody Mary or Old Fashioned, the distiller makes themed cocktail kits such as a St. Patrick's Day version featuring their Collaboration whiskey (available from February 25). You can pick up this and other bespoke cocktail kits featuring award-winning Black Button spirits from the distillery or order for local delivery in Monroe County.
The Buffalo classic roast beef sandwich on a kimmelweck roll, or "Beef on Weck" (pictured above right) as it's affectionately called by locals, is so popular that you can even get it at an ice cream shop. The Dinner & Dessert Pack is customizable, so you can please even the pickiest eaters in the family, and includes Anderson's famed frozen custard for dessert.

Credit: Courtesy of Irises Cafe & Wine Bar
The martini can be simple and satisfying, made with vodka or gin and dry vermouth, and garnished with an olive or lemon twist. At Irises Cafe in Plattsburgh, they like to shake things up a bit, so to speak, with several dozen martini variations available for takeout or delivery in the area. Yes, they offer a "Classic," but the real fun begins with variations like the Hot & Dirty, "kicked up a notch with Tabasco and jalapeno stuffed olives," according to the menu, or the Java-tini, made with coffee and Kahlua. Irises also offers "organic boozie slushees," sangria, and more, as well as family-friendly lunch and dinner options from burgers to salads to pasta. And for dessert, don't forget to order the S'mores board, complete with graham crackers, chocolate, and marshmallows to make the tasty treat!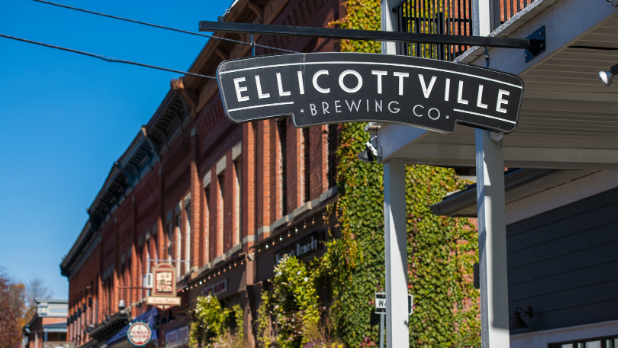 The craft brewery is known for its award-winning beers and clever collaborations—such as a recent chocolate "sponge candy" ale made with local chocolatier Platters—but the food is no slouch at Ellicottville's three brewpub locations. The elevated bar menu, available in-house or to go from the Ellicottville and Fredonia pubs, features tasty items such as pulled pork tots, veggie and beef burgers, and more. The EBC Tap + Bottle & Taqueria, offers a wide range of tacos, bowls, quesadillas, and other Mexican favorites. Don't forget to try the craft beers to-go as well. 
Doughnuttery Do It Yourself Mini Doughnut Making Kits (NYC)
Known for epic flavor combos such as "Pumpkin Pie Brûlée" and "Nana Coco Latte," Doughnuttery is now offering the DYI crowd a chance to recreate the magic in their own kitchens. Pick up a Do It Yourself Mini Doughnut Making Kit along with your next dozen donuts at the New York City storefront or take advantage of nationwide shipping.
Maroni Cuisine Hot Pots (Long Island)
Before it became known for one of the most wildly inventive tasting menus on Long Island, this restaurant in the quaint village of Northport served locals "the pots": buckets of spaghetti and meatballs to go, the perfect weeknight dinner option. Today, the take-away pots options have expanded to include linguine and clams, ravioli, and penne a la vodka, as well as others, offering Italian-American classics at home for those who can pick up from one of two Suffolk County locations (Northport and Southhold). 
Lola Pizza delivery pop-up (Hudson Valley and Catskills)
This opened-in-2020 trattoria in Kingston added pizza delivery to its repertoire and expanded its delivery range north, east, and west to bring wood-fired Neapolitan pies to more New Yorkers. Pizzas, pastas, meatballs, and cocktail kits are available for Thursday delivery with pre-order by Monday, and can be delivered throughout Kingston, Stone Ridge, Accord, High Falls, Red Hook, Rhinebeck Saugerties, and Woodstock. The orders come with easy reheating instructions, so dinner can be on the table in minutes. 
Impress that special someone (or treat yourself) to an upgraded pasta night featuring seasonally inspired, locally sourced ingredients with Comfort Kitchen's pasta kits. Each kit comes with housemade pasta, sauce, and all the fixings. Meal kits are available for pick up or local delivery.
River Rat Cheese Gift Packages (Thousand Islands-Seaway)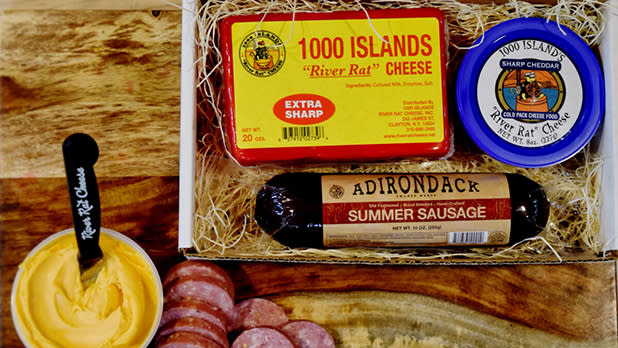 Beloved by locals and visitors for their sharp and tangy aged NY Cheddars, a River Rat Cheese tasting is closer than you think thanks to nationwide shipping. Order cheese-y gift packs like the "Executive Trio" (pictured), which combines extra sharp white cheddar with Adirondack summer sausage and a sharp cheddar spread, or the "Kickin' Kids Kit" that includes a block of Muenster, cheddar spreads, crackers, beef sticks, and Swedish fish for dessert.

If you've never had a spiedie (a sandwich stuffed with cubed marinated meat), now is the perfect time to give this Central NY delicacy a try! Create your own custom spiedie pack consisting of chicken, pork, lamb or beef marinated in Lupo's own sauce and a loaf of Italian bread. Speedy spiedie shipping is available nationwide.