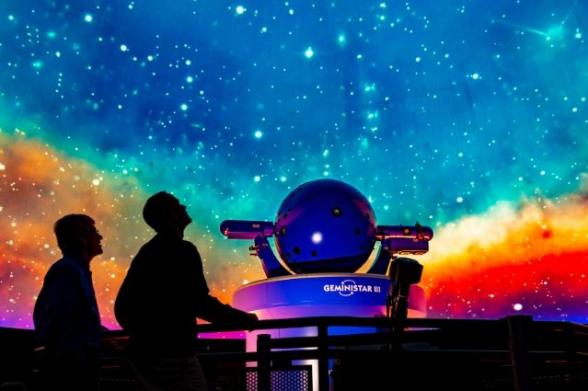 Have you ever found yourself gazing toward the sky on a clear night and wondering which planets, stars, and constellations are looking back at you? Whether you're tuning in for Earth's once-a-year brush with a meteor field, or plan to polish up on your constellation trivia, New York State offers a multitude of educational and interactive sites to stargaze and learn more about the night sky—visit these observatories, planetariums, and dark sky destinations. Remember to keep six feet apart from others not in your household and bring a mask or face covering to wear when it's not possible to maintain social distancing.
Remember to social distance and wear a mask as required by state guidelines. Call ahead and check websites and social media to make sure attractions are open and available.
Updated: 03/24/2022
Have you ever wondered what deep space looks like? Or wanted to see the Moon's Sea of Tranquility "up close?" Head to the Martz-Kohl Observatory in Frewsburg! The observatory's two telescopes have the power to peer into deep space and photograph distant stars and planets. Join amateur astronomers for public discussions and stargazing parties. Check the calendar for Open Observatory nights that offer guided viewings of the night sky as long as it's clear out. Visit during special program nights to learn more about planets and constellations, as well as to attend lectures from astronomy experts.  
Atop a 1,740-foot hill in Vestal, the Kopernik Observatory & Science Center is one of the best-equipped public observatories in the Northeastern United States for stargazing year-round. The observatory is open from March through mid-December every Friday night, and special weekend nights in January and February. The summer schedule includes viewing nights for annual meteor showers, like the August Perseid Meteor Shower, as well as hands-on classes for kids and lectures for adults. Visit during the day with three through six-year-olds for Kopernikids, a kid-friendly approach to science, technology, engineering, and math programs. Session topics include finding out how adaptions help animals survive in their habitat, how important plants are, and how simple machines make our lives easier.

Credit: Yuliva Levit for the Hudson River Museum
Travel to deep space when you visit the Hudson River Museum's Planetarium in Yonkers. This kid-friendly attraction offers immersive shows like "We Are Stars," a journey through 13.8 billion years of time and space, as well as free interactive shows where planetarium educators take visitors on a tour of the night sky over the Hudson Valley. Peer into black holes, fly over alien planets, and dance among the twinkling stars of the Milky Way. Special programming is offered for grades K-12, but adults can get in on the fun too. Check the planetarium's calendar for special star parties, celestial-themed events, and much more.
The Adirondack Park is an area with such low light pollution, it is known as a "dark skies" destination. See the Milky Way and try to catch a glimpse of the elusive Aurora Borealis, aka the Northern Lights. In Tupper Lake, home of the world-famous Wild Center, the Adirondack Sky Center & Observatory is an up-and-coming destination for stargazers of all ages. Weather permitting, guided stargazing is offered at no charge every Friday in the summer, and on the first and third Fridays of the month throughout the winter. The center's annual Astrophotography conference is held each October. Learn how to take night sky photos and trade insider tips with other astrophotographers. Bring your equipment or use the center's to capture the night sky.

Credit: Rochester Museum & Science Center
Visit every planet in our solar system at the Strasenburgh Planetarium at the Rochester Museum & Science Center. See alien landscapes and beautiful moons, and discover just how colorful the planets can be! The "Outer Space to Inner Space" show (expected to start in July 2022) is a hit for all ages and takes viewers from Earth to visit distant planets and stars. On Saturday nights, when the weather is favorable, the planetarium offers free telescope viewing of the night sky from sunset until about 10:30 pm. Guests climb to the top of the planetarium and are treated to a star-studded experience from volunteers with the Astronomy Section of the Rochester Academy of Science, a local astronomy club. Purchase a Museum and Planetarium combined admission ticket to enjoy both terrestrial and extraterrestrial fun!

Credit: @dario.nyc on Instagram
Take a grand tour of the universe at the world-renowned Hayden Planetarium Space Theater. From the earth, all the way to the edge of the observable universe, Astronomy Live programs put cosmic events into perspective, and offer an interactive tour of the constantly changing night sky. See constellations come to life, fly along Saturn's rings, and peer into the Dark Universe where mysterious cosmic phenomena await. The Hayden Planetarium displays the frontier of our universe, providing educational shows for all ages.
From full moon parties to meteor shower festivities, the Maurice D. Hinchey Catskills Visitor Center offers Discovery Night events that take visitors on a journey into the stars. Discovery Nights happen once a month and welcome all to dive into a nature-themed topic. Special Discovery Nights around major celestial occurrences, like the Perseid Meteor Shower in August, as well as Full Moons and eclipses, offers visitors the chance to learn more about what's happening in the sky. Check their calendar for more information about special star parties and more.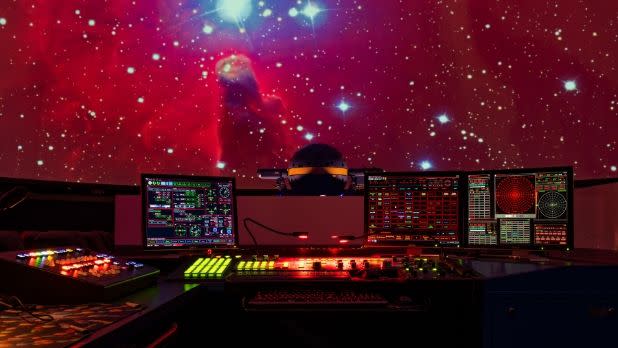 Located in Centerport, the Vanderbilt Museum's mansion and grounds include one of the largest and most advanced planetariums in the United States. The Vanderbilt's Charles and Helen Reichert Planetarium is a 147-seat facility where education meets entertainment. Celestial events are recreated and projected onto the 60-foot domed theater, transporting visitors to distant galaxies and through time and space. At the observatory, visitors can peer beyond the night sky to see the stars overhead every Friday night. Join a guided astronomy experience, or visit during the day to view the sun safely. Also on Long Island is the Custer Observatory. This public observatory offers Saturday night observing from 7 pm until midnight, and knowledgeable staff is on-site to provide a guided tour of the night sky.  
This camping, fishing, and boating paradise is a daytime dream for anyone who loves spending time in nature. At night, clear skies and low light-pollution above Wellesley Island State Park make for a dazzling and vibrant canopy of stars. This park is open year-round, but during the Leonid Meteor Shower in November, the display is one of outer space's most thrilling.
Now that you know where to go for stargazing and cosmic educational opportunities, you need to know when to go! Try for these dazzling, annual meteor shows (and make sure to check for most current dates!): Perseids (August); Orionids (October); Leonids (November); Geminids (December); Quadrantids (January); Lyrids (April); Eta Aquarids (May).
Don't forget to post photos of your New York adventures on Instagram and Twitter with #ILoveNY and #FindWhatYouLoveNY and tag us on Facebook!