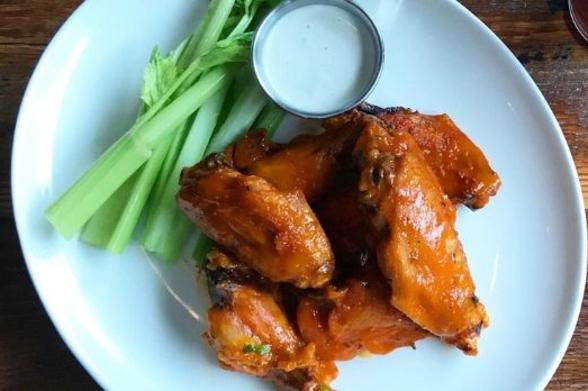 Baked Buffalo Wings
(Greater Niagara)
Buffalo, NY is perhaps best known for inventing America's favorite bar snack: the Buffalo wing! Though the Anchor Bar can rightfully claim first dibs on coming up with the idea of smothering juicy chicken wings with red hot sauce, you will find no greater debate among Buffalonians than which of the many wing joints in town serves the very best. In fact, the city is so serious about its eponymous delicacy that there's even an official Buffalo Wing Trail. Whether you like them mild or extra spicy, this easy-to-make recipe may very well win you the title of best wing chef around. This baked version maximizes taste while cutting down on grease, so have an extra wing or two! Click here for a downloadable, printable card featuring this recipe.​
Craft Beverage Pairing: Gewurztraminer (wine); Pilsner or Pale Ale (beer)
Serves 4
Ingredients
2 dozen roaster chicken wings, purchase at any local supermarket, fresh or frozen
½ cup hot sauce (chef's recommendation: Frank's Red Hot Sauce)
 ½ cup butter, cubed  
Salt and pepper to taste
Directions
Preheat the oven to 350 degrees Fahrenheit. 
On your stovetop, heat hot sauce in a saucepan until it simmers on medium heat, or until hot.
Turn off heat and add butter into sauce.
Dry chicken wings with a paper towel and place in a large bowl. 
Coat chicken wings evenly with sauce, season with salt and pepper to taste.
Line a baking sheet with non-stick foil or lightly coat with butter or cooking oil to prevent sticking.
Transfer chicken wings to the sheet pan and bake at 350 degrees for 30-40 minutes until the inside reaches 165 degrees.
Chef's Notes: This recipe is for a mild sauce. For more heat, reduce the amount of butter and increase the amount of hot sauce to your liking. For fire sauce add cayenne, crushed red pepper, and/or Tabasco sauce to taste. For a glaze-like sauce, place sauced wings under the broiler for the first 5 minutes of the above baking time.