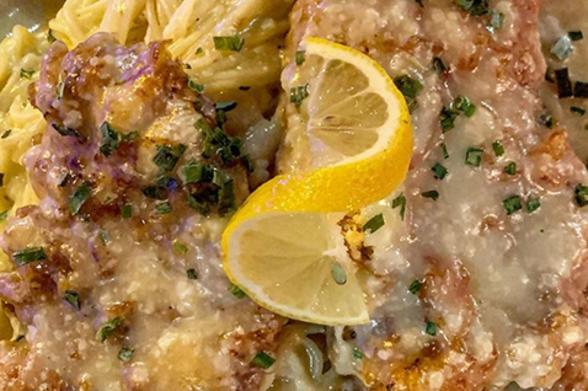 Finger Lakes Chicken French
(Finger Lakes)

What is Chicken French? Ask a Rochesterian, and you'll learn that this lightly fried chicken breast dish is the city's culinary claim to fame—with the garbage plate a close second. Chicken francese, as it's known at Italian-American restaurants from coast to coast, became a Rochester staple decades back, with restaurants putting creative spins on the cornstarch-based chicken breast coating and sherry-based sauce, and adding pasta and rice sides to make the perfect comfort food menu. Want to take your chicken for a French spin? Try this Rochester favorite in your own kitchen. Click here for a downloadable, printable card featuring this recipe.
Craft Beverage Pairing: Gruner Veltliner (wine); IPA (beer)
Serves 5 
Ingredients
5 chicken breasts, 6 ounces each, pounded into cutlets ¼ inch thick 
1 cup flour 
4 eggs 
½ cup sherry   
2 cups chicken stock   
2 tablespoons lemon zest    
¼ cup parsley, chopped
5 tablespoon vegetable oil
2 tablespoons cornstarch combined with 2 tablespoons of water for the slurry 
Directions
Pound the chicken breasts into cutlets. 
Season flour with ½ teaspoon of salt and pepper. 
Dredge the chicken in the seasoned flour and shake off excess. 
Beat the eggs. 
Dip the floured chicken in the egg, taking care to coat completely. 
Dredge the chicken in seasoned flour again. 
Sear the chicken in oil for about 3 minutes on each side.
Remove the excess oil from the sauté pan, add the sherry and the chicken stock, reduce by half.  
Thicken the mixture with the slurry and add the lemon zest.  
Continue to simmer on low heat 5-10 minutes until the chicken is cooked completely, internal temperature should reach 165F using a temperature probe.
Serve at once with your choice of rice or potato.