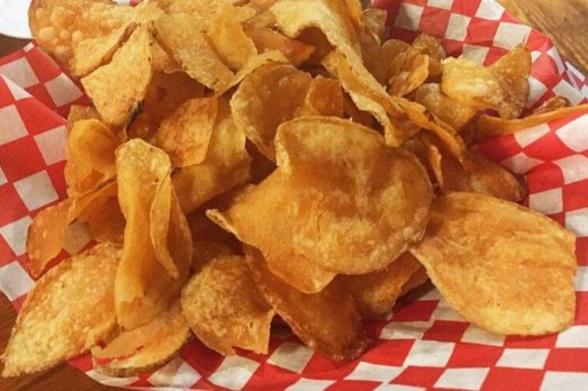 Homemade Potato Chips
(Capital-Saratoga)
Ever heard the saying "the customer is always right?" Legend has it that the salty crisp goodness we now know as the potato chip was invented when one unhappy diner at a restaurant in Saratoga Springs, NY sent their french fries back to the kitchen after declaring them too thick, too soggy, and lacking in salt. The chef then sliced the fries thin as he could, deep-fried them, and gave them a generous seasoning, and the rest was history. Try this healthier baked version that is sure to satisfy all of your snacking needs. Click here for a downloadable, printable card featuring this recipe.​
Craft Beverage Pairing: Sauvignon Blanc
Serves 6
Ingredients
7 unpeeled medium Russet potatoes, about 2 pounds
2 quarts ice water
5 teaspoons salt
2 teaspoons garlic powder
2 teaspoon celery salt
1 teaspoon onion powder
1 teaspoon pepper
Non-stick cooking spray 
Directions
Preheat the oven to 450 degrees Fahrenheit.
Scrub and rinse potatoes.
Slice potatoes into rounds, as thin as you can get them. 
Place sliced potatoes in a large bowl, add ice water and salt. Soak for 30 minutes. 
Drain potatoes, place on a paper towel and pat dry. 
In a small bowl combine the garlic powder, celery salt, onion powder, and pepper. 
Spray a baking sheet with non-stick cooking spray.
Arrange potato slices on the baking sheet in a single layer.
Bake for 25 minutes, potatoes should be golden brown.
Immediately sprinkle with seasoning mixture. 
Chef's Notes: A vegetable peeler can help get your potatoes to the desired thickness. After draining potatoes, get them as dry as you can for a crispier result.