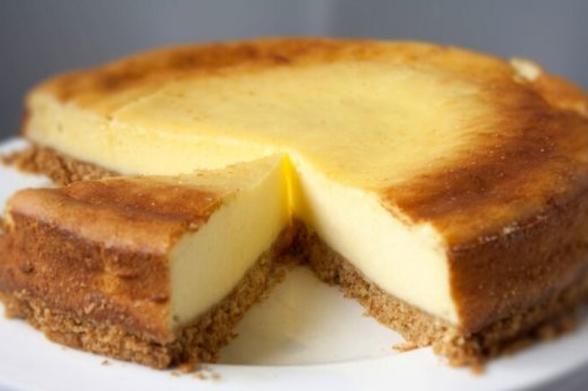 New York Cheesecake
(New York City)
One of New York's favorite desserts is a slice of good old-fashioned New York cheesecake. The history of this classic traces back to European immigrant bakers in New York City, who altered Old World recipes that used farmer's cheese, similar to the cream cheese that gets used in this version, along with a signature Graham cracker crust. Today you can find this creamy, delicious cake pretty much anywhere in the city — from classic diners to Michelin-starred eateries. Here's how to make the perfect New York cheesecake at home. Click here for a downloadable, printable card featuring this recipe.
Craft Beverage Pairing: Late Harvest Riesling (wine); or Sweet Mead; or Oatmeal Stout (beer)
Serves 12
Ingredients
For the filling: 
1 1/2 pounds cream cheese, softened to room temperature 
3 large eggs, room temperature 
14 ounces sweetened condensed milk 
1 teaspoon vanilla extract 
For the crust: 
1 1/2 cups Graham cracker crumbs 
8 tablespoons melted butter
Directions
Preheat the oven to 325 degrees Fahrenheit. 
In a stand mixer, combine cream cheese and sweetened condensed milk on medium speed until smooth. 
Add vanilla extract, then eggs, one at a time until thoroughly mixed. Set aside. 
In a separate bowl, combine Graham cracker crumbs, butter, and sugar together with a wooden spoon.
In a 10" springform pan, spread the crumb mixture and press with your hand until even. Cover the exterior of the pan with foil to prevent water seepage. 
Pour the filling into the prepared pan.  
Place the springform pan with cheesecake filling in a larger shallow roasting pan. Fill the roasting pan with enough hot water so that the water is level with the top of the filling (about 4-6 cups). 
Bake for one hour on the center rack. 
Turn off oven and prop open oven door. 
Allow to cool slowly for another hour.  
Chef's Notes: Create mini cheesecakes by using muffin tins and liners instead of a springform pan. Press crust into the bottom of liners and top with filling. Bake and cool in the same method for 15-20 minutes.