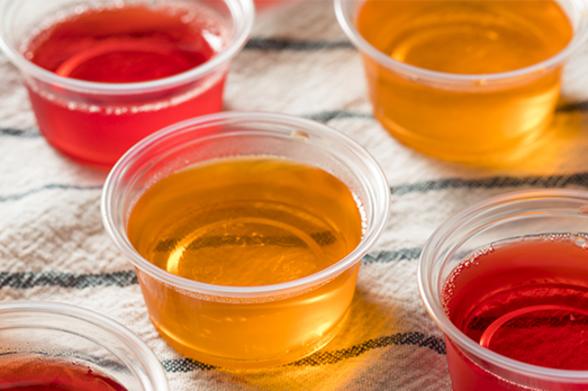 How to Make Thanksgiving Jell-O Shots
(Greater Niagara)
New York is home to many unique museums and inventions, so it should come as no surprise that there's a Jell-O Museum in Le Roy paying tribute to the jiggly dessert invented here. New York is also the scene of an exciting craft beverage industry home to over 100 distilleries producing the very best vodkas, gins, bourbons, and more. We decided to pair these two claims-to-fame for a boozy treat to cap off your Thanksgiving dinner. You can also make a non-alcoholic version by replacing the vodka in the recipe below with water or cranberry juice. If you choose to make these with liquor, please consume responsibly as it takes longer to feel the effects of alcohol contained in Jell-O than having a drink on its own. Click here for a downloadable, printable card featuring this recipe.
Makes 24 shots
Ingredients
1 (3-oz) box cranberry-flavored powdered Jell-O
3 cups water, divided
1 cup very cold vodka, divided (use NY State-distilled vodka for tastiest results)
1 (3-oz) box orange-flavored powdered Jell-O
Whipped cream for serving
24 (2-oz) Plastic condiment cups
Directions
Clear a space in your refrigerator so that a rimmed baking sheet can lay flat. On the baking sheet, arrange the plastic condiment cups in a single layer.
Bring 1 cup water to a boil. 
Meanwhile, sprinkle the cranberry-flavored Jell-O into a large heatproof bowl.
Pour the boiling water over the Jell-O and whisk until dissolved. Add ½ cup of room temperature water and ½ cup of vodka. Whisk to combine.
Pour about ¾ oz of the cranberry Jell-O mixture into each cup; the cups should be half-filled. Carefully transfer the tray with the condiment cups to the refrigerator and chill until set, 2 to 3 hours.
While the cranberry layer chills, make the orange Jell-O mixture using the same method and amounts as the cranberry layer. Do not transfer the mixture to the cups yet — set aside the bowl at room temperature to cool for at least 1 hour. 
Once the cranberry layer has set, divide the orange Jell-O evenly among the cups. Refrigerate until set, at least 4 hours
When ready to serve, remove from the refrigerator and top each shot with a small dollop of whipped cream.