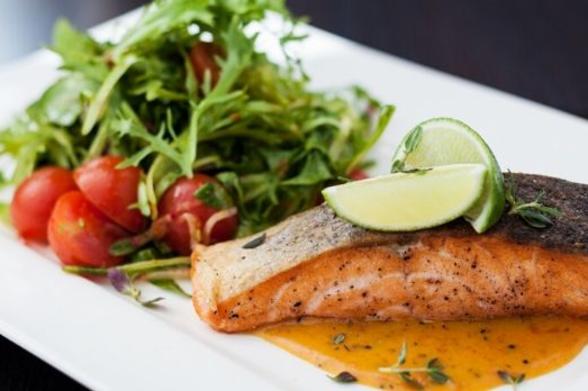 Trout with Maple-Dijon Glaze
(Adirondacks)
The Adirondacks is prime trout fishing country as well as the source of the most delicious maple syrup you'll ever taste. So it makes sense to combine the flavors of fresh fish and sweet, tangy maple-dijon glaze for a dish that's surprisingly easy to make and that has a huge payoff. Impress your family and friends with a tasty, flaky baked fish entree that pairs great with roasted or sauteed vegetables and a starch like rice or mashed potatoes—or make it healthy and serve it with a simple side salad! Click here for a downloadable, printable card featuring this recipe.​
Craft Beverage Pairing: Dry Riesling (wine)
Serves 6
Ingredients
1 ½ pounds trout fillet (cut into 6 equal pieces)
¼ cup unsalted, melted butter
¼ cup maple syrup (amber maple syrup works best)
2 tablespoons Dijon whole grain mustard 
2 tablespoons soy sauce 
Directions
Preheat the oven to 425 degrees Fahrenheit.
Arrange the trout fillets in a 9x13 inch baking dish.
In a small bowl, whisk together the butter, maple syrup, mustard, and soy sauce. 
Brush the maple syrup mixture over trout.
Add freshly ground pepper to taste. 
Bake for 15 to 20 minutes or until trout flakes with a fork.
Serve with long grain wild rice and seasonal, roasted vegetables.