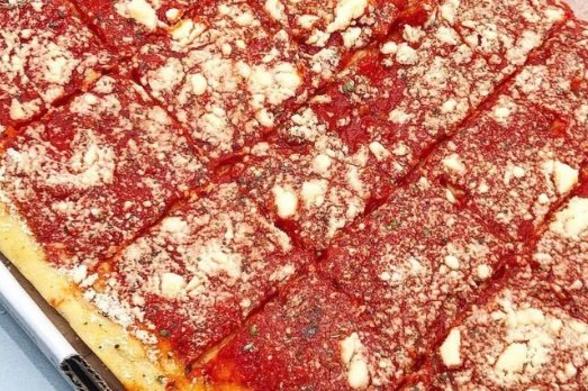 Homemade Utica Tomato Pie
(Central New York)
Not quite pizza and definitely not a pie you'd make for dessert, tomato pie is a Utica favorite. Unlike pizza, tomato pie is always served at room temperature. Roma Sausage & Deli, considered the place that put Utica tomato pie on the map, serves a classic version, with a chewy crust with just a bit of crunch, chunky tomato sauce, and a dusting of grated cheese. Every August, Roma and other local shops and bakeries compete for bragging rights at Tomato Pie Day in Utica, vying to win prizes for best sauce, best crust, and most unique version. Try to make your own tomato pie with this easy recipe. It's the perfect counter-top snack for hungry kids and adults alike. Click here for a downloadable, printable card featuring this recipe.​
Craft Beverage Pairing: Pinot Noir (wine); Amber Ale (beer)
Serves 4
Ingredients
For the tomato sauce:
2 cloves garlic, minced 
1 teaspoons olive oil 
2 cups (1 16-ounce can) crushed tomatoes 
1/4 cup tomato paste 
1 teaspoon salt 
1/2 teaspoon black pepper 
1 teaspoon dried basil 
2 teaspoons dried oregano
For the pie:
2 teaspoons instant yeast 
2 tablespoons sugar 
1 cup hot water 
3 1/2 cups all-purpose flour, more for dusting 
2 tsp. kosher salt 
1/3 cup extra virgin olive oil 
Parchment paper to coat sheet pan
Cornmeal to dust dough 
1-1.5 cups grated parmesan
You can purchase pre-made pizza dough, either fresh or frozen, at any grocery store.
Directions
Tomato sauce:
In a large saucepan over low heat, cook garlic in olive oil until fragrant for about two minutes, being careful not to brown.
Add crushed tomatoes, tomato paste, dried basil, dried oregano, salt and pepper, stirring occasionally.
Simmer for approximately 30 minutes on low heat, remove from heat.
Tomato Pie: 
Preheat the oven to 400 degrees Fahrenheit.
Coat 1/2 sheet pan with cornmeal.
In a bowl, combine yeast, sugar, and warm water, and gently whisk to combine. Let stand until foamy, about 10 minutes.
Add 3/4 of the flour, extra virgin olive oil, and salt to the mixing bowl. Mix with a wooden spoon until most of the flour is incorporated, and the dough starts to release from the bowl. 
Add some flour to your countertop and knead the dough for 5 minutes. 
Form the dough into a round and place back in the mixing bowl. Coat the dough with oil and cover with plastic wrap. Place in a warm location for 30 minutes - 1 hour until the dough almost doubles in size.  
Gently press dough towards the edges of the pan until it's 1-inch thick and spreads to the rim. 
Coat dough with oil, and use a fork to prick the surface of the dough. 
Store in a warm place for 1 hour to let rise and double in size. 
Coat dough with tomato sauce and bake for 10-15 minutes or until dough is cooked through. 
Cut and garnish with parmesan.