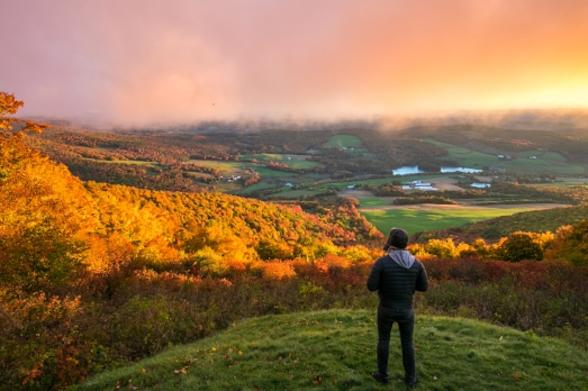 New York State offers many activities for those wanting to get outdoors and enjoy nature. From hiking trails to beaches to picnic areas with a view, there's something for everyone. It is up to all visitors to help maintain these beautiful outdoor spaces, as well as to ensure the safety of others. Preparing for outdoor adventures is essential; read below for tips on what to do before you head out, updated for the season. Here are the important things to remember when taking advantage of the great outdoors in New York State!
Masks are encouraged, but optional in most settings per New York State guidelines. Individual businesses or attractions may require mask wearing. Call ahead and check websites and social media to make sure attractions and amenities are open and available. 
Updated 08/16/2023
Be Tick Free
The Department of Environmental Conservation has tips for protecting yourself from ticks, which spread Lyme Disease and other diseases. Be prepared when going outdoors in late spring and summer.
Gear Up for Adventures
New York State offers endless opportunities for memorable outdoor experiences, but it's crucial to thoroughly prepare for hikes and other adventures, especially keeping in mind the season and weather, and when going into backcountry. Essential items include navigation tools such as a map, compass, GPS, and extra batteries to power devices; outerwear including a waterproof/windproof jacket and hat, plus for winter a face mask, gloves, wool socks (and backups), and layering items; gear such as snowshoes or traction devices and insulated boots in winter months, and trekking poles; a flashlight or headlamp and extra batteries; and portable first aid and emergency kits, including a whistle, signal mirror, flare, duct tape, and pocket tools. Be sure and have a source of fire that's protected from the elements, such as matches packed in a waterproof container, a lighter, and fire starters. For more, visit the DEC Hike Smart NY page.
Pack Water and Nutrients
For hydration, pack plenty of water, a water filtration system, and remember to use insulators on tubing to prevent freezing in winter months. For nutrition, bring high-protein and high-calorie items and pack them in the center of your bag to avoid freezing in the winter. 
Be Prepared With Emergency Shelter
Nobody wants a day hike to turn into an unexpected overnight trip, especially in winter when temperatures can plummet. Still, it's best to be prepared for unforeseen circumstances, which is why it's recommended to pack emergency shelter items such as a space blanket, tent, bivy sack or insulated sleeping bag, and rope and paracord.
Plan Ahead for a Smoother Outdoor Adventure
The key to a fun excursion is to plan ahead! Planning a hike? Trail maps, sturdy shoes, a water bottle, snacks like trail mix, and an extra bag for trash removal are essential—plus the preparations listed above if hiking in winter or early spring. Going camping? Besides making a list of equipment and provisions that you'll need, check the weather, and if you're planning on staying on New York State public lands, reserve and read guidelines at Reserve America. For backcountry camping, familiarize yourself with state rules and regulations.
Help Keep New York State Outdoor Spaces Clean and Beautiful
New York has it all, from scenic hiking trails to stunning waterfalls to mountain peaks. To keep these attractions and the land around them pristine, everyone has to do their part. Especially now, when there may not be as many resources available as usual, such as waste disposal bins or maintenance staff. It's important to look for signs at park or recreation area entrances and be mindful of regulations such as staying on trails.
Carry In/Carry Out
Please give back by not leaving anything behind. It's important not to litter and you need to be prepared to bring everything home with you. For more guidance on how to respect the outdoors, familiarize yourself with the Leave No Trace Seven Principles.
Be Informed
To help visitors travel safely and responsibly, the stewards of New York's public lands have created helpful guides and tools. The New York State Parks Explorer App has up-to-the-minute updates on park information including when parks are at capacity. Also, the Department of Environmental Conservation's Love Our NY Lands features helpful tips on safety and planning.
Make a Backup Plan
Given the demand for outdoor recreation, the parking lots at trailheads, in parks, and elsewhere fill up quickly. Don't head out with only one destination in mind—have a backup plan with alternative places to visit if your first choice is at capacity. When you encounter a full parking lot, don't park illegally on the road; simply move on to your next options until you find a place to safely and responsibly park your vehicle.