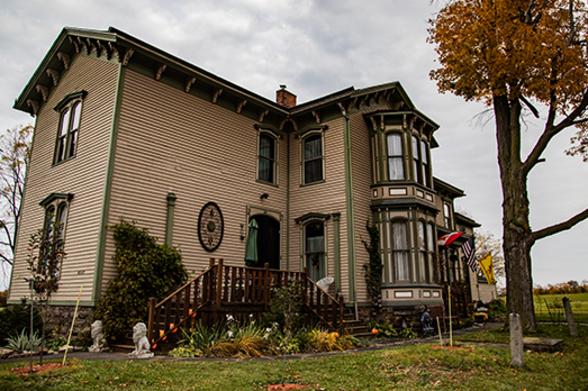 Photo Credit: AmityPhotos.com
Feeling brave? Up the fear factor this Halloween and embark on a supernatural getaway to these 16 hotels and inns that are all part of the Haunted History Trail of New York State. From a quaint inn ranked the best haunted hotel in the country to Victorian manors and elegant mansions filled with paranormal mysteries, check in to one of these historic lodgings and discover why some guests have never checked out.
Masks are encouraged, but optional in most settings per New York State guidelines. Individual businesses or attractions may require mask wearing. Call ahead and check websites and social media to make sure attractions and amenities are open and available. 
Jump to: Finger Lakes | Greater Niagara | Capital-Saratoga | Catskills | Hudson Valley | Central New York
Finger Lakes 

Photo Credit: AmityPhotos.com
Chilling encounters await at the cozy and charming Fainting Goat Island Inn. Voted 2023's #1 Best Haunted Hotel in the U.S. for the second year in a row by USA Today readers, this former railroad hotel built in the late 1800s boasts four themed bedrooms with vintage, Victorian, and country comfort touches. The guestbook reads like a collection of ghost stories with reports of moving furniture, footsteps echoing on nonexistent staircases, gumballs spilling in an empty hall, and sheets being pulled off beds. Once daylight breaks, treat yourself to a homemade cinnamon bun and then say hi to the fainting goats and Porkchop the potbelly pig as you wander the expansive grounds taking in the beautiful gardens and dreamy Susquehanna River views. This haunted haven is conveniently located just off Route I86 and just one mile from Tioga Downs Casino Resort.

Photo Credit: AmityPhotos.com
The past comes alive in more ways than one at the 1867 Parkview Inn, a charming historic treasure that once played host to notable guests like John D. Rockefeller and Oscar Hammerstein in the heart of Owego's downtown. Its 14 rooms are bright and cheery with river and downtown views, but there's a dark side to add a dash of the paranormal to your stay. Haunted happenings range from ringing bells to moving objects, and you may even bump elbows with some friendly spirits by the handcrafted oak bar at the Duggan House Restaurant and Pub, which serves up comfort foods and Irish pub favorites. A recently-discovered sealed-off room and a basement crawl space with a dark history involving cowboys and murder further add to the intrigue of this haunted haven, where guests receive a complimentary breakfast with their stay. Pet-friendly and ADA accessible rooms are available. 

Photo Credit: AmityPhotos.com
Experience a romantic getaway with a supernatural twist on the shores of Seneca Lake at the opulent Belhurst Castle. History and hauntings intertwine throughout the beautifully appointed accommodations at the 1880s stone castle, Georgian Revival mansion, and inn, as well as two on-site restaurants, winery, and Isabella Spa & Salon, named after the legendary ghost whose tale weaves through Belhurst's rich tapestry. You may catch a glimpse of her lingering spirit roaming the grounds grieving her lost love. Staff and guests have also reported eerie encounters from showers turning on and off in guest rooms, to bottles and glasses flying around the bar, and the soft strains of a lullaby echoing through the night, according to the Haunted History Trail. 

Photo Credit: AmityPhotos.com
Looking to embrace the spirits of the ghostly kind and those you can drink? Plan a trip to Miles Wine Cellars, where you can stay in the 1802 Greek revival mansion that holds a commanding view of the sparkling Seneca Lake and houses more than just the renowned rieslings synonymous with the Finger Lakes. From echoing footsteps to mysterious sounds and slamming doors, much has happened here that can't be explained. While ghost hunting and disrupting the spirits is discouraged, Miles Wine Cellars pays homage to its supernatural inhabitants with its "Ghost" wine—a delightful blend of Chardonnay and Cayuga that delivers the essence of the terroir and lingering mysteries of this destination with each sip.

Photo Credit: AmityPhotos.com
Find yourself spirited away to The Naples Hotel, located 10 minutes from the serene Canandaigua Lake in the land of wine and grape pies. This boutique hotel with 32 guest rooms, a restaurant, and basement bar is not your run-of-the-mill haunt. Since 1895, many guests have passed through its storied halls and some have never left — with a woman and her phantom children, a Civil War soldier, and a man named Topper among the many ghosts that have taken up permanent residence. Flickering lights, televisions turning on and off, and mysterious whispers are some of the haunted happenings that earned it a feature on Syfy channel's "Ghost Hunters."
Greater Niagara

Photo Credit: AmityPhotos.com
The rushing waters of Niagara Falls aren't the only thing delivering thrills and chills at the Red Coach Inn. The posh, Tudor-style hotel overlooking the majestic Upper Rapids certainly brings the romance deserving of this destination known as the "Honeymoon Capital of the World," but it's also got a few tricks and treats on hand for a boo-tiful getaway. The inn has racked up quite a few ghost stories since opening in 1923 and guests have even reported seeing jewelry move across dressers and hearing mysterious music in the dead of night. For a hauntingly memorable experience, make sure to sail on the iconic Maid of the Mist, get sprayed on the Hurricane Deck of the Cave of the Winds walking tour,and feel the rush of the Whirlpool Jet Boat tour. 
 
Photo Credit: AmityPhotos.com
Brace yourself for an otherworldly adventure at Genesee Falls Inn, a historic bed and breakfast offering more than a comfortable stay. Many have reported a strange feeling as they step into this brick Victorian built in 1870 that has seen its share of the unexplained from footsteps echoing in empty hallways to doors closing on their own. Looking for some ghost-free fun? Letchworth State Park is just a half-mile away so you can explore the "Grand Canyon of the East" before settling in with the things that go bump in the night in one of the inn's 12 uniquely decorated rooms adorned with authentic Victorian antiques. 

Photo Credit: AmityPhotos.com
Graestone Manor Bed & Breakfast offers a chilling retreat for those daring enough to delve into the paranormal with four guest rooms each with their own unique haunting past. Owners Bob Mattison and his wife, psychic medium Heather Rease Mattison, offer overnight paranormal investigations that unravel the haunted history of the 1865 Victorian mansion nestled in the quiet Erie Canal countryside. Priced at $320 for groups of 10, you'll explore "hot spots" and areas with documented paranormal experiences throughout the main house and servants' wing of this beautifully preserved equestrian estate. Guests have reported hearing phantom horse hooves and a carriage, while the ghost of a woman observed in windows and caught on film adds to the eerie atmosphere. Reports of portals attributed to Victorian seances, shadow masses, and lingering scents of cigar smoke and perfume complete the spine-chilling experience at this haunted B&B. Brave souls can also book a Victorian seance or oracle card reading; 2-hour history tours are also available.

Photo Credit: AmityPhotos.com
Experience the spectral charm of the Hart House Hotel in Medina, a historic gem that welcomed its first travelers in 1876. After the original inn shuttered in 1918, the brick building served as a shirt factory for 85 years dressing the likes of Bob Hope, Winston Churchill, and John Jacob Astor before once again finding life as a hotel. With original floors and windows, this trendy Euro-inspired boutique hotel, complete with a cocktail bar and rooms that pay homage to famous shirt factory clientele, exudes a haunted aura. Visitors have reported hearing names called aloud when no one is around and encountering the spirit of a woman in a long flowing dress at the top of the staircase, according to the Haunted History Trail. Whether you tuck into the hotel's uniquely designed rooms or dine at the Shirt Factory Cafe, prepare for a hauntingly delightful encounter with lingering spirits from the past.
Capital-Saratoga

Photo Credit: AmityPhotos.com
Hauntings are on the horizon when you book a stay at the Historic Hotel Broadalbin. What started as a glove factory in 1854 turned into a hospital for treating alcoholism in 1895, with questionable methods and often dire consequences. Immerse yourself in the terrifying tales when you dine in the hotel's 1854 Pub & Eatery and if you dare, ask your server about the lamp that was seemingly toppled by an invisible hand. Relax for the evening on the outdoor porch in one of the many rocking chairs or cozy up on the couch before retreating to your room. The nighttime might bring about sightings of soldiers standing atop staircases or figures in windows. Experience the spine-tingling sensations yourself with special haunted events like a Halloween Murder Mystery Dinner Party.

Photo Credit: AmityPhotos.com
Trick-or-treat yourself to a stay in the six-room Timeless Tavern Inn or just stop by for a bite at the restaurant. For the fearless, ask the staff to tell you about the ghostly apparitions, odd occurrences, and hauntings. To give you a glimpse into the ghostly galore, a visiting cable repair man once saw a woman in the basement of the Tavern who claimed she was the boss, while others have returned to dark rooms after knowing they left the lights on. In 2013, a full investigation of the property was conducted by Albany Paranormal and the findings were so strong that one team member hosted her wedding at the Tavern, wanting to say "I do" in a room full of BOO! While you're in the area take a scenic drive just a few minutes down the road to Great Sacandaga Lake.
Catskills

Photo Credit: AmityPhotos.com
Become bewitched at the Burn Brae Mansion, a captivating century-old Victorian B&B steeped in history, natural beauty, and paranormal activity. The mansion sits on over 20 wooded acres enveloped by streams, open fields, and walking trails– one of which leads to the historic Glen Spey Cemetery, the final resting place of the original owners. Enhance your stay when you book a group paranormal investigation or a Murder Mystery dinner, among other special events offered throughout the year. Overnight guests are invited to take a guided tour of the mansion, including the Attic of Curiosities. Additional accommodation packages include a home-cooked dinner and full homemade breakfast. This B&B is BYOB (booze and BOOs!) and when you're ready to decompress from the eerie encounters, take a dip in the outdoor pool, serve an ace on the volleyball court, or play the day away in the game room. As you retreat to your quarters for the night, stunning spiral and grand staircases beckon you to beautifully decorated suites showcasing stained glass windows, Victorian baths, and exquisite sitting rooms. 
Hudson Valley

Photo Credit: AmityPhotos.com
Supernatural splendor surrounds you at the Tarrytown House Estate. Set on 26 acres of lush greenery in the heart of the Hudson Valley, this luxurious hotel features impressive 19th-century mansions – King Mansion, Biddle Mansion, Carriage House and Cottage – as well as a contemporary atrium-style building that houses conference facilities and guest rooms. Whether you're staying for business, leisure, or a ghastly getaway, guests enjoy amenities including a fitness club, indoor/outdoor swimming pools, sauna, racquetball and tennis courts. Make a reservation to dine on-site at the Goosefeather Restaurant and ask the staff to share the mansion's haunted history. If you stay overnight in the King House Mansion, beware as it is believed the spirit of a woman paces the halls of the second floor, lingering near room 293 where she is said to have passed on to the other side, according to the Haunted History Trail. 

The name speaks for itself! The Haunted Shanley Hotel, dating back to 1845, is said to be one of the most haunted hotels on the East Coast, so it makes perfect sense that a stay at the Shanley includes a paranormal investigation of the property. Don't want to stay the night? Day tours and non-sleepover mini investigations are also available. This hotel is not for the faint of heart; well known as a paranormal paradise, it has been featured on TV shows like "Ghost Hunters" and "Ghost Lab". Staff will feed your fears (and your stomachs) with continental breakfast included in overnight stays and assorted refreshments served during ghost hunts. Over the years, visitors have reported seeing rocking chairs rocking on their own, mysterious clock chimes, piano music, whistling, the laughing of children, cold and hot spots - even the aromas of cooking when no food is being prepared. Venture there if you dare, where many have seen shadows and apparitions at the Shanley, and report the feeling of being watched. 
Central New York

Photo Credit: AmityPhotos.com
You're never alone when you stay at this 1835 Greek Revival mansion, thanks to the ghost of a former resident of The Beekman House Bed and Breakfast who never left his beloved estate. We don't blame him, what's not to love about stunning mountain views, classic comfort, modern convenience, and rooms that include their own downstairs parlour where made-to-order farm-to-table breakfast is served each morning. When you check-in make sure to ask staff about spine-chilling sightings and stories about an old man with a beard who lives under the stairs and a shadowy figure that moves through empty rooms and hallways checking the locks. 

Photo Credit: AmityPhotos.com
Nestled beside picturesque Cazenovia Lake, the Brae Loch Inn is a warm, inviting (and suspiciously supernatural) Scottish inn. Family-owned and operated since 1946, the inn offers 12 charmingly classic guest rooms (many of which feature canopy beds and jacuzzi tubs), an on-site restaurant serving American cuisine with a Scottish and French flair, and the largest selection of Single Malt Scotch in Central New York, even hosting a Scotch Club bi-monthly that offers tastings. The inn embraces its ghoulish side with Dinner with the Spirits events through October. Guests at the inn have reported seeing a ghostly girl in a long blue dress offering to show them to their room. Other tales include a man and woman walking through closets and light orbs floating through canopy beds. Watch what happened when the Haunted History Trail of New York State paid a visit to the Brae Loch Inn or get in on the action yourself with an overnight stay, if you dare.
---
The Haunted History Trail of New York State features over 80 haunted locations found within almost every region of New York State. Guided ghost tours, paranormal investigations, haunted dining and overnights, and spine-chilling events are available on the trail, with many of the attractions tying back to New York's local history. For more information, visit: www.hauntedhistorytrail.com.
---
Don't forget to post photos of your New York adventures on Instagram and Twitter with #iSpyNY and tag us on Facebook!