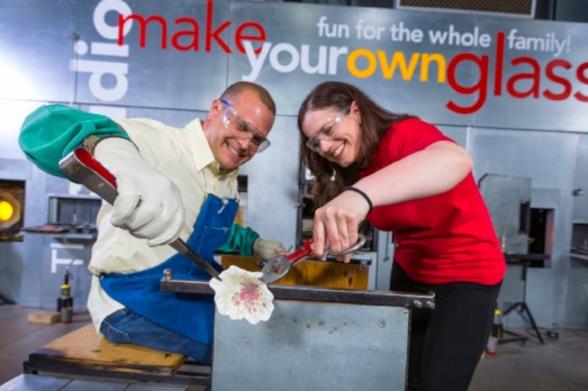 Have you ever been in a classic Adirondack camp, envied the rustic furniture, and thought, "I could make that!" Or watched the gaffers at the Corning Museum of Glass in the Finger Lakes create a masterpiece before your eyes and wondered if you could do that too? Well you're in luck! New York State is home to a variety of DIY experiences that allow you to create a unique keepsake from your travels. Whether you like to have a fun, rainy day activity in your back pocket for the kids or plan and reserve your spot for a maker's workshop months in advance, you'll find a variety of Destination DIY experiences throughout New York State.

Credit: Tom Stock
Located in the historic Adirondack town of Lake Luzerne sits the Adirondack Folk School of traditional American arts, offering courses in everything from weaving to boat building. Adirondack style is unique and instantly recognizable anywhere in the world. Adirondack Great Camps blend into the forest, and Adirondack furniture is a stylistic extension of that architectural philosophy, made with rough materials found right in nature. The folk school honors the Adirondacks aesthetic, offering courses for all ages in traditional arts throughout the year. Learn how to make soap, tend an organic garden, and tie intricate fly fishing ties. If you're an avid paddler, take a workshop in making your own canoe paddle, or try your hand at weaving a basket. Bring home a piece of the Adirondacks when you sign up for a single-day or multiple-day course led by artisans from around the Adirondacks. Prices vary.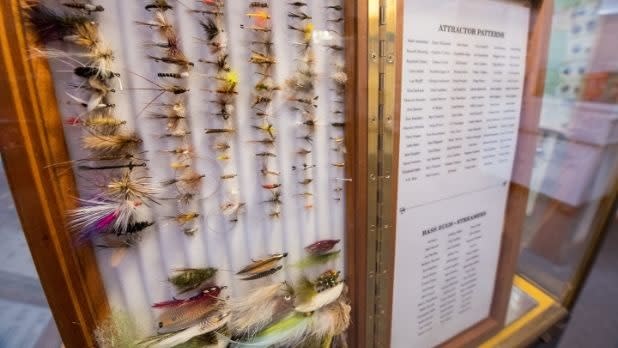 Fly fishing techniques can take years to master. Add learning how to tie your own flies and crafting your own bamboo fishing rod to the mix, and you've got a life-long hobby. At the Catskill Fly Fishing Center and Museum in Livingston Manor, fly fishing traditions are carried on and shared with new generations. Learn about the history of fly fishing in the Catskills, then head to the Wulff Gallery and Heritage Craft Center, where exhibits share space with stations for visitors to learn how to tie their own flies. Create a one-of-a-kind keepsake that doubles as a practical tool when you sign up for a bamboo rod making class at the Catskill Heritage Rod Makers Workshop. Fly tying workshops are offered every third Saturday of the month, and kid-friendly classes covering fly tying are available as well. Prices vary. Advanced registration for rod making is required.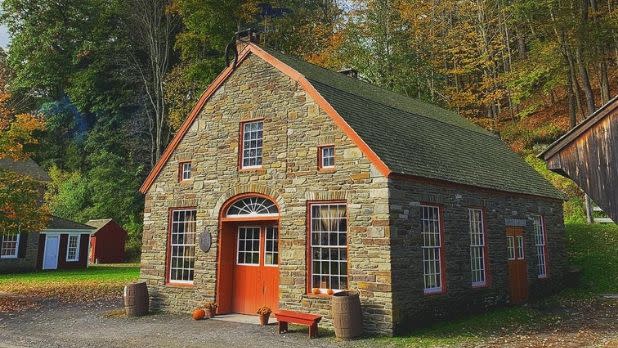 The Farmers' Museum in Cooperstown is an open-air museum that showcases the pastoral life of a bygone era. Stroll the museum's "streets," and pop into the Blacksmith Shop, where blacksmiths make iron goods right before your eyes, or stop at Dr. Thrall's Pharmacy, where potions and elixirs from the 1800s line the shelves. Bring a bit of the past home with you when you take one of the museum's family-friendly workshops. Make soap from scratch using traditional ingredients or try your hand at natural cosmetics and make lip balm and salve before dipping your own wax candles. The museum's workshops are offered throughout the year, and include baking in wood-fired ovens, broom making, printing cards on a printing press, and more. Prices vary.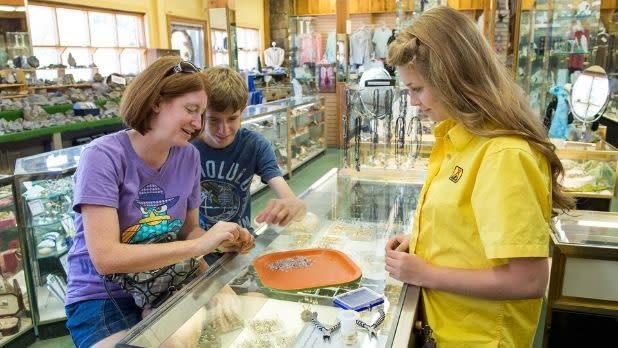 Did you know that there are diamond mines in New York State? Herkimer Diamonds, in fact. These quartz crystal gemstones are 500 million years old and have a geometrical shape similar to real diamonds. They're not as hard or as valuable as conventional diamonds, but they make for stunning jewelry. Mine your own Herkimer Diamonds in Central New York at the Herkimer Diamond Mines' above-ground mine and keep what you find! After you uncover a few of the crystals, head to the Herkimer Diamond Activity Center to create a piece of unique jewelry to take home with you. Kids will enjoy the Sluice Mining station, where they can pan for diamonds after purchasing a special bag filled with pre-mined material. Prices vary.
Learn, Empower, Achieve, Farm—or LEAF—classes aim to help everyone understand the world around them, while learning new skills. Offered by Cornell Cooperative Extension in Jamestown, LEAF classes are available for adults, and LEAF Jr. classes are offered for kids. Learn how to create tooled leather pieces, make soap, and even quilt. Cornell Cooperative Extension's LEAF program offers Paper Quilling classes for kids ages 5–19 to create a piece of art using only paper, while Old Fashioned Soap Making offers insight into the history and science behind soap production as participants make their own to take home. Class prices vary.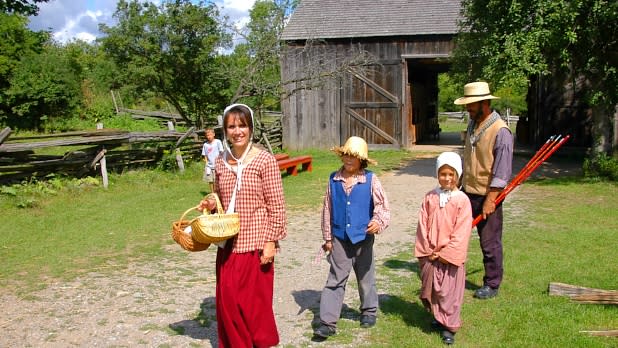 History and ingenuity meet at Genesee Country Village (pictured), the largest living history museum in New York State. This 19th-century country village houses 68 buildings, each offering a glimpse into different eras in American history. From a pioneer settlement to Civil War-era architecture, this family-friendly destination offers special events and programs for DIYers throughout the year. Take a woodcarving class with an award-winning carver and turn a block of wood into a carved bear or enroll your kids in Woodland Fairy and Elf Academy, where they'll learn about the natural world, explore the outdoors, and make crafts to take home. Enrichment Activities offer a 30-minute program led by museum educators and include a history lesson coupled with the opportunity to make a tin ornament at the tinsmith, or a lavender sachet while learning about sanitation practices from 200 years ago. Class prices vary. 
Make your own glass masterpiece under the guided instruction of master gaffers at the Corning Museum of Glass. This world-renowned museum's exhibits cover 35 centuries of glass, and the collection includes a glass portrait of an Egyptian pharaoh, as well as contemporary glass sculpture by famed artists. Discover the fascinating history of glass, watch glassmakers at museum demos, then make your own masterpiece as top glassmakers lead classes for just about every age and ability—kids as young as four can take a class in glass fusing. Other classes include making a glass frame, bead, sculpted flower, blown glass ornament, and the list goes on. Depending on the project, your work of art may not be available for same-day pick up, but the museum will mail it to you for an additional fee. Prices vary, and spots fill up fast. Booking online is recommended.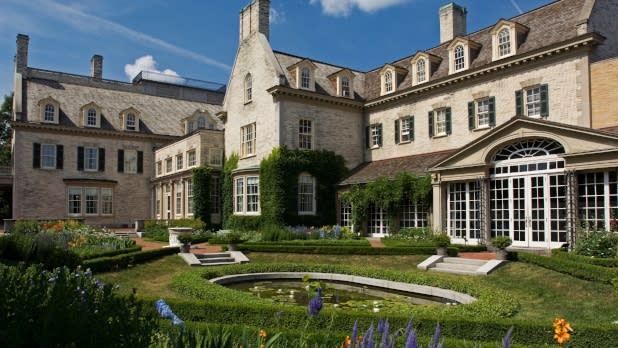 Did you know that George Eastman, a pioneer of popular photography and filmmaking, lived in Rochester? And that his home (pictured) is now a museum that holds a treasure-trove of photographs, films, and technology exhibits? The Eastman Museum also offers a variety of workshops for anyone interested in the scientific aspects of photo making, including carbon tissue creation and printing. Learn how to make your own book board camera, create tintypes—the process involves printing a photograph onto metal—and much more. Workshops vary in length, from single-day to multiple-day, and spots are limited. Prices vary.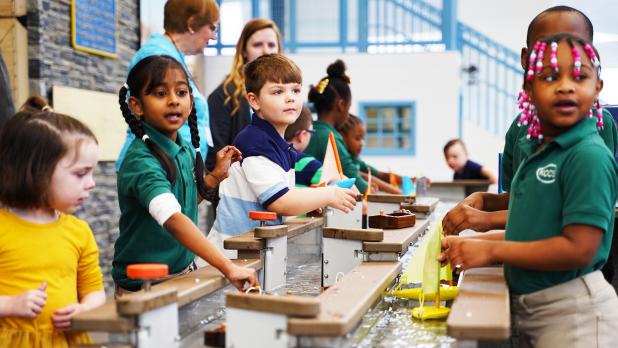 The Ralph C. Wilson Jr. Children's Museum, Explore & More, is located at Canalside in Buffalo. The museum was created to "take play seriously," spans four stories, and offers hands-on interactive exhibits that encourage kids to, well, play. Children can learn about being good neighbors in one exhibit that features a child-sized street with several houses on it, or discover what it means to be an architect at the Building Buffalo exhibit. The museum also offers a series of classes for all ages that help kids create art, learn how to cook with real chefs, and experiment in the Tinkering Tank. "Au-some Evenings" are offered once a month and focus on giving children with autism spectrum disorder and sensory processing disorder the opportunity to play and learn with their families and friends. From Super Sundays, which center on special events like a Halloween party or New Year's Eve countdown, to Family Play Days, Explore & More offers a wide range of DIY activities and workshops that are fun for the whole family. Price and times vary. 
The Culinary Institute of America in Hyde Park is world-renowned for educating some of the best chefs in the world. But you don't have to enroll as a full-time student to study at the CIA. Simply sign up for a CIA Foodies class and head to the Hyde Park campus' kitchens for an unforgettable DIY experience in New York State. Learn how to make bean-to-bar chocolate and artisanal cheese or take an immersive class in Spanish cooking or wine tasting. If you have a few days, sign up for the Baking Boot Camp and learn the art of baking breads, cookies, and pies! Prices vary. 
Is your kiddo obsessed with robots? Then a trip to the Robot Foundry is in order. Multiple locations in Manhattan and Brooklyn offer a series of DIY classes for tinkerers ages 2.5 and up. Learn about mechanical engineering and electrical principles while making a robot, or a solar tower. Robot Making programs are offered to kindergarten through fourth grades and allow students to build two projects to take home. Robot Inventing classes take imagination and innovation one step further for students in third–fifth grade and allows participants to build whatever they want. Spots in this program sell out, but there is a wait-list. For families, the Tiny Builder Series lets kids ages 2–4 years old build robots and use their imagination, all while learning about engineering principles with their parent or caregiver. Classes are offered at locations on the Upper East Side and South Slope in Brooklyn. Prices and times vary. 

Credit: Courtesy WineUDesign
Have you ever wondered what it would be like to create your own vintage of wine? Now you can at Hicksville's WineUDesign experience. From picking and crushing grapes to designing your own label, this is one do-it-yourself experience that has a long shelf life. The whole process takes about five months and starts with selecting a grape varietal and crushing the fruit to start the fermentation process. A week later, you'll return to press the fermented grapes through the press so that they can go into a barrel for aging. After that comes de-sedimentation, and racking. A few months later, you'll fill your own bottles—all 240 of them—and create a personalized wine label. Due to the seasonality of the harvest, the program is only offered in the spring and fall when grapes are harvested. You'll need to be able to visit several times throughout the year, but at the end, you'll have a truly unique vintage wine to share with your friends and family, or to place in your home cellar. Price available upon request. 
Don't forget to post photos of your New York adventures on Instagram and Twitter with #iSpyNY and tag us on Facebook!