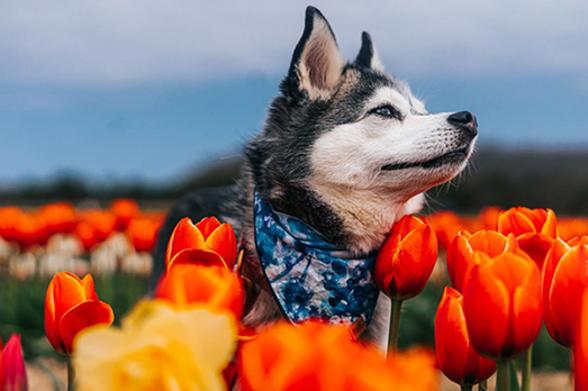 New York State welcomes the first full month of spring with an exciting roster of diverse and fun activities for all. Enjoy all things LEGO®, savor pure maple syrup products, go on a nighttime search for owls, plant a tree, take a train ride to meet the Easter Bunny, and even take your car for a few spins around an iconic racetrack. All these and more are waiting for you in New York State in April!
Masks are encouraged, but optional in most settings per New York State guidelines. Individual businesses or attractions may require mask wearing. Call ahead and check websites and social media to make sure attractions and amenities are open and available. 
Saturdays and Sundays in April

PHOTO: GRANT TAYLOR COURTESY OF ULSTER COUNTY TOURISM
Are you ready to rock? Explore Woodstock's music history and heritage on a 2.5-hour tour that sets off at the new Cafe Espresso, where you can grab a cup of coffee and some pastry while soaking up the atmosphere in the spot where Bob Dylan hung out in the 60's. You'll see the famed "White Room" where Dylan composed legendary songs and then explore the small town and its connections to The Band, Janis Joplin, Jimi Hendrix, and more on a light, flat walk past historic venues, sites of famous album covers and photographs, and final resting places of Woodstock legends. Finish up at the Bearsville Center and tour the restored Bearsville Theater, Todd Rundgren's Utopia Studio, and stroll through Bearsville Park. Stick around after your tour to catch a show, have dinner at Bear Cafe, or get a drink at this vibrant spot where Woodstock music history began. Woodstock; Saturdays, 2pm and Sundays, 11am; tickets $44. 
April 1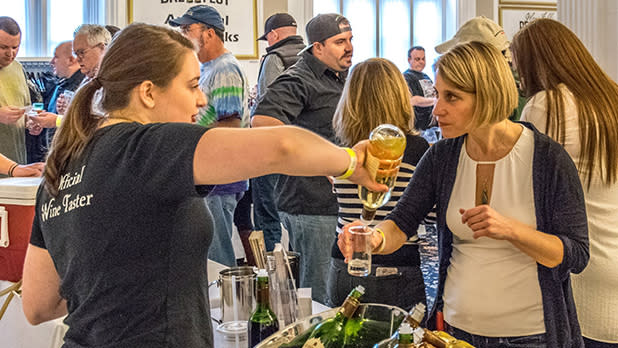 Bottoms up! Spend the evening tasting the best craft beers, wines, and ciders from New York and beyond, munching on tasty foods, and rocking out to a live performance by Dirt Cheap at the Glens Falls Brewfest in Cool Insuring Arena. Sample beverages while you shop local, with vendors selling everything from dog bow ties to home goods to jerky. The event is all for a good cause, with proceeds benefiting the Adirondack Theatre Festival and Feeder Canal Alliance. This is a 21+ event. Glens Falls; 4pm-7pm; tickets in advance are $50; $60 at the door on day of event. Designated driver tickets are $15 in advance and at the door.
April 1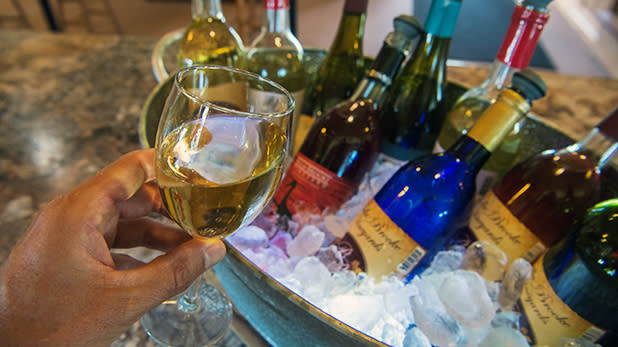 Raise your spirits celebrating New York State's great breweries, wineries, and distilleries at the Grapes & Hops festival, coming to Northwest Arena in Jamestown. This 21+ event features dozens of beverage vendors offering samplings of hand-crafted beer, local wines, and spirits. You'll also enjoy great food, live music and entertainment, and much more. A limited number of VIP tickets are available, allowing early entry to the vendor floor, a commemorative pint glass, and exclusive access to a VIP lounge with complimentary small bites. Designated drivers (who must be 21+) can get tickets at a  reduced price. Jamestown; 3pm-6pm; VIP Tickets Pre-Sale $50 / Day of Event $60, General Admission Pre-Sale $30 / Day of Event $40. Designated driver $12.
April 1, 2, 8

Credit: @capt_hulk on Instagram
All aboard! Shake off your winter chill and celebrate spring with an enjoyable train ride on the Catskill Mountain Railroad's Easter Bunny Express. You'll depart Kingston and travel along the old Catskill Mountain Branch Line out to the Easter Egg Patch where you can join an Easter egg hunt, enjoy some snacks, and get your photos taken with the friendly Easter Bunny before returning. All trains arrive and depart from the Westbrook Station at Kingston Plaza. Kingston; Adults $22.00, Adult Discount (Seniors/Military/Veteran) $20.00 and Children $16.00, children under 2 ride on the lap ride free with paid adult fare. An adult must accompany all children. Rides are at 10am, 12pm, 2pm, and 4pm.
April 7
You're invited to Buffalo to join in the EGG-streme fun and EGG-citement at the Tifft Nature Preserve's annual indoor celebration of animals that hatch from eggs! You'll meet live animals with Messinger Woods Wildlife Care, enjoy make 'n' take crafts, games, guided hikes, and hands-on activities. You'll also be able to dye eggs using handmade, natural dyes from flowers and vegetables! Remember to bring your own hard-boiled eggs (a maximum of 6) and to register in advance, as space is limited. Buffalo; 10am-4pm; $10 per person; Buffalo Museum of Science members save 10%. 
April 14 – May 15
A little bit of Holland is coming to Long Island! Tiptoe through the tulips, play a round of mini golf, and visit the barnyard animals at this amazing festival featuring 2 MILLION tulips in miles of rainbow rows on a 15-acre family farm. You'll also find tons of activities for kids, plus live music, and food trucks to enjoy on the weekends. Also on site is the Long Island Farm Brewery, serving up delicious craft beverages. Remember to bring a camera for some beautiful, unforgettable photos! Manorville; Ticket purchased at gate only, check website for ticket prices. 
April 15-16
Kick off the Watkins Glen International racing season in style by taking three laps around the iconic Finger Lakes road course in your own personal vehicle! It's a unique opportunity to experience one of the most historic circuits in the world first-hand, while benefiting the facility's Racing and Community Enrichment (R.A.C.E.) Foundation, which helps meet the needs of local underserved populations with a focus on youth-oriented support. (No buses, motorcycles, or box trucks). Track laps $28. 
April 15-16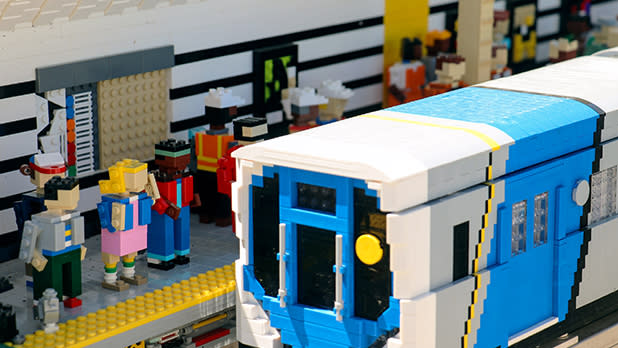 If you build it, they will come. The ultimate LEGO fan event is coming to Albany's Washington Avenue Armory where you'll find massive creations built by award-winning professional LEGO artists, building zones to make your own designs, and brick merchants to satisfy all your LEGO needs. Tickets are going fast, so buy yours today! Albany; 10am-4pm, Tickets starting at $16.45 for ages 4+, children 3 and under get in FREE when accompanied by a paid adult.
April 15-16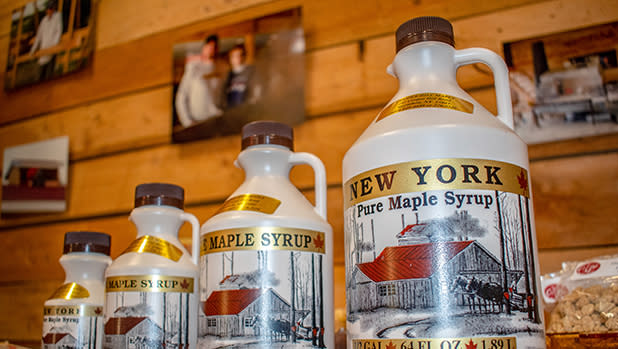 It's maple sugar season in Cortland County and you're invited to come celebrate this delicious time of year at the 50th edition of the Town of Marathon's Annual Maple Festival. You'll delight in a wide variety of activities including carnival rides, wood carving, a maple mobile race, quilt shows, and, of course, the Annual Pancake Eating Challenge! Artisans from all around will be showing off their extravagant creations, and you'll find plenty of homemade and unique maple products to satisfy your sweet tooth. Marathon, NY; free admission; Pancake Breakfasts (sold at the school cafeteria and the Mason's building): adults (13&UP) $10.00, children (6-12) $6.00, children (1-5) free. 
April 16
Get ready to celebrate our planet! The Earth Day Festival in Union Square will bring together dozens of organizations to call for climate action and engage the public in ways they can get involved. This informative event includes kids' games, workshops including "Meet a Climate Scientist" and "Green Jobs 101," a Climate Strike art build, speeches, performances, and a broadcast of the Earth Day 2023 Virtual Stage, which has hosted partners like Bill Nye, Al Gore, Elizabeth Warren, and Robert Downey Jr. The event is hosted by NYC-based Earth Day Initiative. Union Square, New York City; free admission; 12pm-6pm. 
April 16

Credit: Pat Tita
Spring is here and the charming Rockland County Village of Nyack is kicking off the season with the return of its annual Famous Street Fair! Head to Main Street and Broadway to join the celebration with live bands, great food, and hundreds of vendors offering unique crafts, jewelry and more! While you're there, check out the village's one-of-a-kind shops, pubs and fabulous restaurants. Nyack; 10am-5pm; free admission. No pets are allowed. 
April 22

Credit: @billxp on Instagram
Since 1970, Earth Day has been held annually to demonstrate support for environmental protection. In a unique celebration of Earth Day 2023, Artpark State Park in Lewiston is offering a nighttime stroll searching for owls! Join the fun; it'll be – wait for it – a hoot! Lewiston; 7:30pm-9:30pm; free admission; pre-registration is required via phone at 716-282-5154.
April 27 - May 3
See award-winning films promoting awareness and appreciation of the lives, stories, and artistic expressions of people with different abilities. Founded in 2007, ReelAbilities Film Festival: New York is renowned for its wide-ranging international film selection, plus riveting conversations and performances. Explore, discuss, and celebrate the diversity of our shared human experience at events across dozens of venues across the New York metropolitan area, and online. Get 20% off your festival tickets and passes with code rffloveny. Various locations in New York City and online; various prices. 
April 29

Credit: Thousand Islands Land Trust
What better way to celebrate Arbor Day than by planting trees? The Thousand Islands Land Trust is inviting you to bring the whole family to get their hands dirty and help keep the Thousand Islands beautiful. Make sure to dress appropriately (work gloves and sturdy footwear are recommended) as you help plant trees along the Sissy Danforth Rivergate Trail at the S. Gerald Ingerson Preserve in Clayton. Over 750 trees have been planted along the preserve trails since the first Arbor Day event. Clayton; 10am; free admission; to volunteer, email volunteer@tilandtrust.org, call the Thousand Islands Land Trust office at (315) 686-5345, or sign up online. Otherwise, feel free to stop by during the event to join in the celebration!
April 29
Enjoy family fun in the Catskills at the Wurtsboro Spring Fling! You and yours will enjoy plenty of fun activities, including a treasure hunt, a tricky tray, flowerpot painting, a duck race, plus mouth-watering food, and much more. Veterans Park in the Village of Wurtsboro; 11am-2pm; free admission.
April 30
Thousands of rubber duckies will take the plunge into the Oswegatchie River at this all-day family-friendly affair. Fill up at a pancake breakfast ($10 for all you can eat), browse works by local artisans, participate in a 6K trail run, and take in a show by the One-Man Circus Troy Wunderle. The big moment comes at 1pm as the rubber duckies are dumped into the cool waters of the river and then race their way to the finish line. Want to throw a duckie into the race? They are available for a $10 purchase ($50 for a silver duck). Oswegatchie Educational Center, Croghan. 8am-2pm (Duck Race at 1pm); FREE
---
Share New York State adventures with us on TikTok, Instagram and Twitter with #ILoveNY and #iSpyNY, and tag us on Facebook!