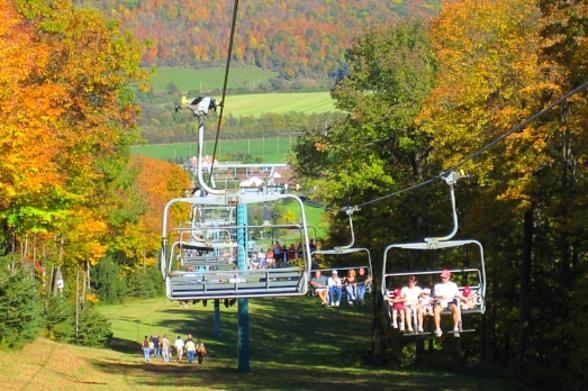 Experience the exhilaration of autumn in New York State this October with great happenings from delighting in colorful seasonal festivals to indulging in exquisite culinary pleasures, and embarking on thrilling encounters with ghouls and goblins. Clink steins at Oktoberfests, witness the spectacle of pumpkins launched into a mighty river, relish the taste of fresh oysters against the picturesque backdrop of the Long Island waterfront, be enchanted by the mesmerizing glow of over 7,000 jack o'lanterns, and more this October!
Masks are encouraged, but optional in most settings per New York State guidelines. Individual businesses or attractions may require mask wearing. Call ahead and check websites and social media to make sure attractions and amenities are open and available. 
Through November 19
Are you prepared to experience the Hudson Valley's most electrifying fall happening? Meander through the 18th-century landscape of Van Cortlandt Manor and discover a breathtaking display of more than 7,000 illuminated jack o' lanterns—all designed and hand-carved on site by a team of artisans. New for 2023 is the twirling pumpkin Ferris wheel and the gourd-eous circus sideshow! Complete with synchronized lighting and an original soundtrack, the Great Jack O'Lantern Blaze is a one-of-a-kind event not to be missed! Croton-on-Hudson; Tickets start at $24.
Weekends in October
Scary Harry, the iconic ghost cowboy of Double M, has some horrifying thrills and chills up his sleeve this Halloween season. Test your bravery on a haunted hayride through the dark woods that are rumored to be filled with all types of things that go bump in the night before setting off on foot through the post-apocalyptic compound Brutality. Even more haunts await at the Last Inn, Jingle Hell, the Slaughter Swamp, and "feartainment"-filled midway. A Haunted History Trail event, Double M Haunted Hayrides in Ballston Spa has been creating chills and thrills for over 30 years. Ballston Spa; $39.95 and up ($25.95 and up presale prices until Sept. 15)

September 30 – October 1, October 7-8, 14-15

Credit: Rob Sharpe, Hunter Mountain Content Strategist
Dust off the lederhosen and celebrate autumn surrounded by the beauty of lush fall foliage at Hunter Mountain's legendary Oktoberfest! Enjoy live music featuring traditional German bands and other genres as you treat yourself to delicious German fare including bratwurst, sauerkraut, and pretzels. Other food vendors will be on hand to further satisfy your taste buds. Of course, it wouldn't be an Oktoberfest without beer, and there will be plenty of it to sample from Germany and beyond with souvenir steins available for purchase! The celebration includes games and rides for all ages, as well as thrilling events including stein-holding, bratwurst-eating, and yodeling contests. Hunter; free general admission; $49 VIP package, which includes a Hunter Mountain Oktoberfest T-Shirt (adult sizes only; sizes choice is first come, first serve), a Hunter Mountain Oktoberfest Beer Boot, a 12-oz beer fill or soda, and a VIP Scenic Skyride Ticket (allowing you to skip the general line and access the VIP line).
October 4-8
Attention skaters and skating fans – the World Figure and Fancy Skating Championships are returning to the Olympic Center in Lake Placid! This international event blends the sport of figure skating on black ice with fine art to offer a unique combination of a world-class competition and cultural celebration with a festival atmosphere. Don't miss Dorothy Hamill's antique jeweled skate blade exhibition and pop-up museum at the 1932 Jack Shea Arena, competitor practice sessions, and skating experiences on black ice with lessons and workshops for all ages and levels. Competitions include the Fine Art on Ice World Finals, Fancy Skating Art of Movement World Finals, and the World Junior Figure and Fancy Skating Championships.  An official inclusive skating practice happens Sunday morning with an afternoon session open for all ages, levels, and anyone with any type of disability, including wheelchairs. There's also an awards ceremony, Crystal Skating Ball, and Lake Placid Skaters Reunion featuring the Art of the Olympians Cocktail Party and Roy Blakey Collection exhibit. Lake Placid; Admission to the competition and all other components of the World Figure and Fancy Skating Championships is free-of-charge for spectators except for lessons, and workshops. All spectators and attendees are asked to register in advance. Donations are accepted at the door and online.
Attend a Film Festival (Multiple Regions)
Dates vary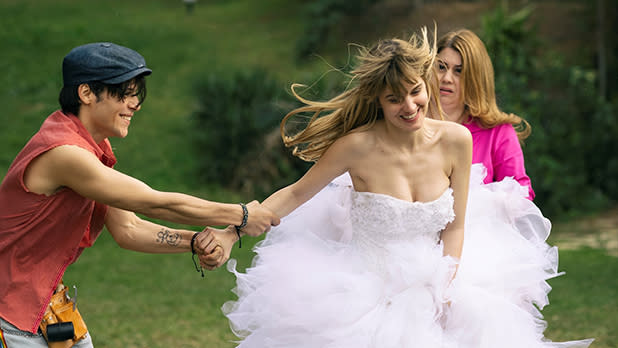 Image still from Dodo showing at the New York Greek Film Expo/Pyramide Films
Lights, camera, action! The Hamptons International Film Festival 31 (October 5-12) is back to dazzle film enthusiasts and industry professionals alike on Long Island's picturesque shores. Named one of MovieMaker Magazine's 25 Coolest Film Festivals in the World, and one of the 50 Film Festivals Worth the Entry Fee, the festival is the premier film event on New York State's east end, and an intimate showcase of some of the year's best offerings in contemporary cinema. Various venues across The Hamptons; prices vary.
Film lovers will want to check out the IMAGEOUT 31st Annual Fall Film Festival (October 5-15) in Rochester, Upstate New York's longest running LGBTQ film and video festival showcasing creative works from across the US and around the world, helping promote awareness, foster dialogue and build community. Rochester; the festival takes place at multiple locations. Screenings are held at The Little Theatre 1 (240 East Ave.).
Get ready to immerse yourself in the vibrant world of Greek cinema at the New York Greek Film Expo 2023 (October 5-15) in New York City. The event promises to be a captivating showcase of Greek culture, storytelling, and cinematic artistry with a selection of diverse and enriching Greek cinema, from classic masterpieces to contemporary gems. Manhattan and Astoria; General Admission: $12 per screening, Students and Seniors (with ID): $8 per screening, Festival Pass: $45 (Access to all screenings and events).
October 6-8
Embrace the autumn season with three days of fall-inspired merriment at the 1st Annual Henderson Harbor Oktoberfest. Located on the picturesque shores of Lake Ontario, Henderson Harbor provides the perfect backdrop for this seasonal celebration, with the stunning waterfront views combined with the vibrant fall colors creating a truly enchanting atmosphere. It all adds up to a weekend long celebration of food, German beer, music, crafters, a costume contest, and fun for all! Henderson Harbor; free admission.
October 7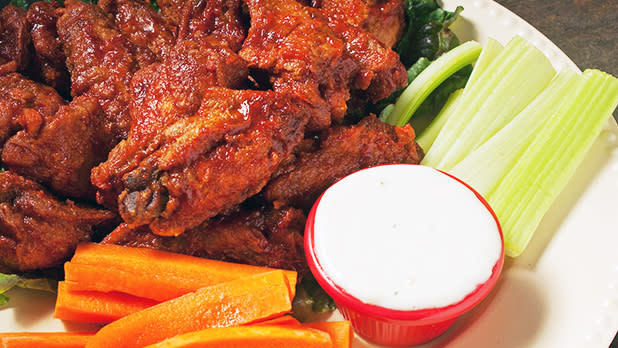 Get ready to gather your flock, fly the coop and enjoy a sPECKtacular afternoon snacking on delicious chicken wings and socializing in downtown Schenectady! On the day of the Wing Walk pick up your official map/ballot at Proctors Theater before going to your first restaurant. Stroll around and sample unique wing recipes from a variety of restaurants (one wing per restaurant). Once you've sampled at least 10 of the wings, you can vote for your favorite by marking your map/ballot and dropping it at one of several drop-box locations around downtown. Happy walking and tasting! Schenectady; $20.
October 7, 8, 14, and 21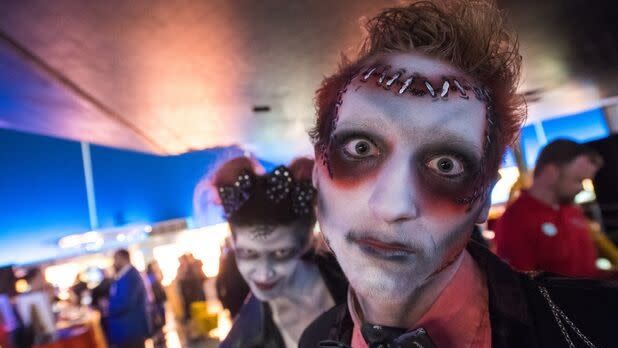 Fright Fest at Six Flags Darien Lake is back and scarier than ever! Dare to enter the Halloween event of the season, featuring family-friendly attractions during the day and thrills once the sun goes down. Along the way, you'll encounter an array of haunted attractions. Do you dare open the door to Corridors of Chaos? Can you make it through the winding trails of Jack Pallet's Scarecrow Row? Be sure to watch your back – there could be a zombie, a witch, or something else that goes bump in the night waiting when you walk into a Scare Zone! Are you up for a fright-filled ride? Strap into your favorite coaster under cover of night and look out for any monsters in the seat next to you! Darien Center; $74.99 (at gate, includes admission to park).
October 7-8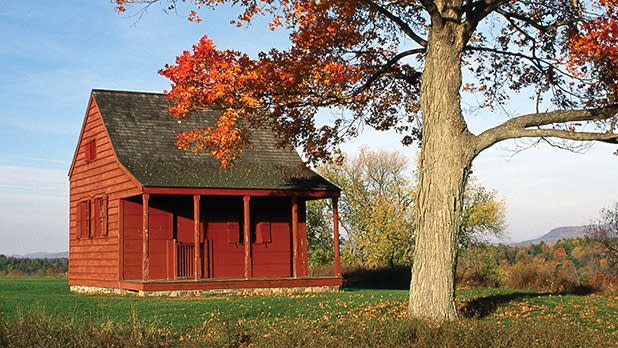 Are you looking for a fun, outdoor, three-day weekend getaway this autumn? Then get on your bike and enjoy peak fall foliage on the first annual Saratoga Foliage Ride! This colorful event will feature some of Saratoga County's most scenic routes at the most beautiful time of the year. Along the way, you'll delight in history, horse farms, pumpkins, cider donuts, and more! All participants will receive a buffet breakfast, a commemorative t-shirt, and a day pass to the YMCA facility on West Avenue, to unwind after the ride with a swim, sauna, HydroMassage or afternoon yoga and stretching class. Riders can choose one of three routes each day – 30, 50, and 75 miles. Saturday's rides will visit the Saratoga Battle Monument and cyclists on the 50- and 75-mile routes will ride to the Saratoga National Historical Park, traveling through the very fields where American forces first defeated the British army. Sunday's rides will meander through fields, farmlands and gorgeous fall foliage. Saratoga County; Single day (Saturday, Oct. 7 and Sunday, Oct. 8) $99 each day; Fall Foliage Weekend (Saturday, Oct. 7 & Sunday, Oct. 8) $149.
October 7-8

Courtesy of Bethel Woods Center for the Arts
Make your plans to head over to Bethel Woods—the historic site of the 1969 Woodstock festival—for the region's wine and spirits event of the year! This annual weekend celebration promises to be bigger and better than ever before and features unlimited sampling from 50+ alcohol vendors, live music on the Horizon stage, and a food court, in addition to shopping and sampling from local craft, artisan, and specialty food vendors. Bethel; $70 and up for tasting tickets and packages; $30 designated driver/concert only tickets.
October 7-8

Credit: Ellicottville Chamber of Commerce
One of the largest and most entertaining outdoor crafts shows is happening in October in western New York!  The Ellicottville Fall Festival is a weekend of fun for the whole family, with chairlift rides, mountain top cookouts and music. The Village of Ellicottville and nearby Holiday Valley Resort become one big celebration with street vendors, arts and crafts, entertainment, poster and t-shirt sales, a Kid Zone, and tons-o-fun, with most activities running from 10 a.m. to 5 p.m. in the village. Are you a runner? The Fall Scramble 4- or 8-mile Trail Run takes place on Saturday, October 7 at Holiday Valley. Ellicottville; free admission to festival; $45 registration for Fall Scramble 4 Mile; $55 registration for Fall Scramble 8 Mile.
October 7-9

Credit: National Susan B. Anthony House and Museum
New York State is, without question, one of the most historic, cultural, and diverse states in the entire country. Path Through History Weekend, October 7-9, is your chance to slip between the pages of history and discover the places and people who shaped not only the Empire State, but our nation. From an aerospace scavenger hunt at Long Island's Cradle of Aviation to touring Susan B. Anthony's house in the Finger Lakes, discover all kinds of New York State facts during this special weekend. Build your own itinerary and visit Native American museums, canals that helped expand civilization, and arts and cultural institutions that house famous works of art. Locations and prices vary. 
October 7-8
Every October, Downtown Cortland transforms into a vibrant, outdoor fall festival when the Great Cortland Pumpkinfest arrives in historic Courthouse Park. One of Cortland County's most highly anticipated fall celebrations, this two-day event is a family-friendly experience that has become a favorite for locals and visitors alike. This year will bring all the fall fun of the farm into the heart of downtown with loads of community activities. Festivalgoers can enjoy pumpkin-flavored food, hayrides, shop locally made crafts, listen to live music and, of course, get the first pumpkins of the season. Adults are invited to enjoy a beverage at the Pumpkin Pub, while the kids can experience thrills at the midway! Cortland; free admission.
October 8

Credit: @aamoller on Instagram
Autumn's here, and the leaf colors are changing! One of the best places to view the state's amazing display of fall color is the Schoharie Valley. You're invited to take a walk at Landis Arboretum with Nature Educator George Steele and enjoy the spectacular fall foliage and gorgeous views of the valley. You and your guide will explore what's going on with the change in leaf color and do a little tree identification. Esperance; Members $5 per person, $15 per family; non-members of the arboretum: $15 per person, $25 per family; visit this link to to register.
October 8 

Photo courtesy of PJ's Promotions
For a great day of family fun with something for everyone, head to the Nyack Fall Street Fair! Over 300 exhibitors with arts, crafts, new retail, home deco, and gifts will be participating at this renowned shopping and dining event. Your taste buds will be rewarded with all types of delicious festival foods, as well as tasty creations from Nyack's many outdoor cafes and restaurants. Music will be played all day at the gazebo on Main Street, and folk music will be performed all day on Broadway. Nyack; free admission; event being held rain or shine.
October 12-15 
Are you serious about food? How about joining over 50,000 passionate foodies at a star-studded, four-day event showcasing the talents of the world's most renowned chefs, wine and spirit producers, culinary personalities, lifestyle experts and America's most beloved television chefs? Widely recognized as the largest wine and food festival in New York City, with more than 80 events, the New York City Wine and Food Festival is known for its walk-around tastings in celebration of America's favorite foods, intimate dinners with world-renowned chefs, late night parties, hands-on classes, wine tastings and more. This year's festival will celebrate the 50th Anniversary of Hip Hop with "The Cookout" on Oct. 15, featuring a lineup of renowned chefs and performances to honor and celebrate Black cuisine and culture. As in past years, net proceeds from the festival will help God's Love We Deliver support New Yorkers affected by severe illness. New York City; various prices.
October 12-14, 19-21, 26-28
Take a guided, haunted tour through Schenectady's historic Stockade District and hear the spooky tales of the city's chilling past. Choose either the "Colonial Hauntings" or "Ghostly Victorian"  Candlelight Tour – two options featuring different sites and spooky stories, focusing on macabre tales of the Colonial and Victorian eras. The tours are co-sponsored by the Schenectady Heritage Foundation. Schenectady; $15.
October 14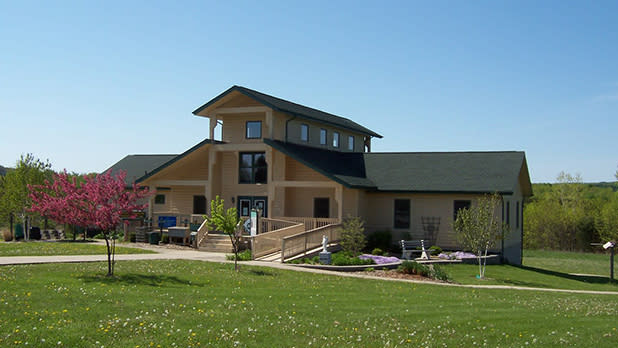 An Annular Eclipse occurs when the moon obscures all but an outer ring of the sun. No, it's not a total solar eclipse (that's happening next April 8), but you can prepare for it this month by seeing a partial annular eclipse in New York State's first county forest, at the Genesee County Park & Forest Interpretive Center! You'll discover the science of solar eclipses, make a pinhole viewer and other take-home crafts. Special glasses must always be worn for viewing eclipses, even in areas that aren't in their direct paths, and each participant will receive their own pair. It's a great learning experience and all ages welcome. The event begins at 11:58 am and ends at 2:27 pm, with the eclipse at its maximum at 1:12 pm. East Bethany; free admission.
October 14-15
Fall on Long Island means it's time for the East Coast's largest waterfront festival – the  Oyster Festival! Join more than 150,000 attendees and make the world your oyster with a fun mixture of new activities and old favorites perfect for entertaining your entire family. You'll enjoy live entertainment, ships, top-notch artisans, pirate shows, midway rides, and the iconic oyster eating and shucking contest. Of course, there's also the food court, with volunteer chefs and culinary pros working side by side, cooking and serving dozens of unique oyster, clam and other seafood concoctions along with traditional festival fare! If that's not enough to satisfy your oyster cravings, the inaugural Long Island Oyster Week is taking place Oct. 10-15, serving up $1 oysters, $2 oysters, and oyster samplers, appetizers, and entrées at some of the island's best restaurants. Oyster Bay; free admission to the festival.
October 14-15 and 21-22
Get ready for fabulous fall fun as Peek'n Peak Resort celebrates the season with its 35th Annual Fall Fest! You'll enjoy two weekends of brilliant foliage and fun in the foothills of Western New York. The festival features a juried craft show with more than 100 vendors and a farmers' market, as well as activities like the pumpkin cannon, children's games, live entertainment, pony rides, ski lift rides, a classic car cruise-in, and an annual snow sports equipment swap! Clymer; free admission.
October 21

Courtesy of Horizon Aerial Media
Pumpkins will be soaring into the St. Lawrence River at the 11th Annual Punkin' Chunkin' Festival! You're invited to witness this truly unique spectacle as local teams of adults and kids compete to catapult a pumpkin the farthest distance into the river using home-built trebuchets set along the river at Clayton's Frink Park. That's not all – there's a barbeque starting in the morning followed by a judging competition in the afternoon, and a farmer's market! Clayton; free admission.
October 21
Niagara Falls is gearing up to host a celebration of local craft beer, delicious food, and vibrant culture, all promising to add up to a day full of fun and flavor! The Tap & Craft Festival will feature a remarkable selection of craft brews from both local and regional breweries. Whether you're a fan of hoppy IPAs, rich stouts, or crisp lagers, you'll find something to delight your taste buds, and brewers will be on hand to discuss their creations and provide insight into the art of craft brewing. The festival will showcase the culinary talents of the region, with local food vendors serving up a wide array of gourmet dishes, from mouthwatering BBQ to artisanal cheeses and everything in between. Local creativity will also be celebrated as artisans and craftsmen showcase their talents with unique and handmade goods. Making everything even better will be live music plus plenty of activities to keep the kids entertained! Niagara Falls; $36.80 General Session (4:30 - 8 pm), $48.35 VIP Pass (3-8 pm), $13.69 for designated driver.
October 21-22
Make your way, if you dare, to Utica Zoo's premiere Halloween and harvest celebration! With trick-or-treat stations; food trucks; vendors; animals on walkabout; and the Twisted Fairy Tail Trail, a spine-tingling journey through mythical animal scenes along the Zoo's North Trek Trail, you're sure to have a very ghoul time! This is an all-ages event and costumes are encouraged. Utica; $4 to participate in Spooktacular activities plus Zoo admission and includes free parking with shuttle service from Payne Hall Parking Lot at MVCC and the Parkway Recreational Center.
October 26-29
You're invited to the mystical, magical village of Lake Placid to join filmmakers, movie fans, and special guests for a celebration of cinema featuring award-winning shorts screenings, cutting-edge feature-length films, panel discussions and educational seminars, mixers, receptions, tributes, directors, producers, and more! This year's festival will showcase episodic television, bringing you a fresh experience as the world of episodic storytelling is united with the world of feature film. Enjoy "An Independent Showcase of TV Programming" or whet your appetite with pilot TV shows as they are launched. Lake Placid; festival passes from $25 - $200; festival and hotel packages available.
Celebrate Halloween (Various Regions)

Credit: NYC Tourism
No one does Halloween better than New York! Have a frightfully good time as all sorts of costumed characters take over the streets at NYC's famed Village Halloween Parade (October 31) (pictured). The Hudson Valley's LEGOLAND New York Resort gets into the Halloween spirit with Brick-or-Treat weekends this fall, featuring monster parties and trick-or-treating through the bricktastic theme park. Celebrate Halloween with your pooch at the Fall Dog Parade & Costume Contest at Long Island's historic Old Westbury Gardens (October 29). Dress up as Dr. Frank-N-Furter, Riff Raff, or Columbia and get ready to do the "Time Warp" again at a special showing of "Rocky Horror Picture Show" at the Smith Opera House in the Finger Lakes (October 29). No matter how you like to celebrate, there's plenty of haunted adventures waiting for you in New York!
---
Don't forget to post photos of your New York adventures on Instagram and Twitter with #iSpyNY and tag us on Facebook!