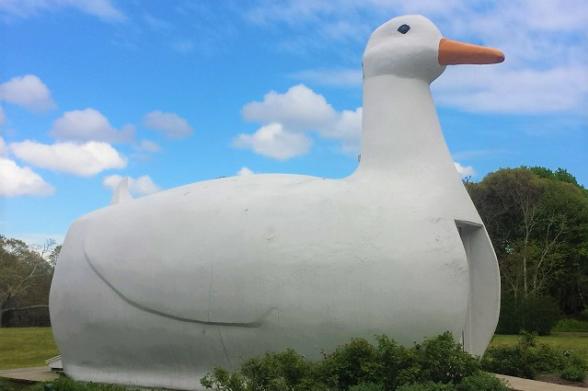 Looking for a safe and fun New York road trip close to home? Check out these great New York State roadside attractions! With a variety of offbeat destinations, ranging from the artistic to the curious, from goofy to downright mysterious, there's something to delight everyone, and the entire family will enjoy getting out of the house to seek out these eye-opening one-of-a-kind treasures only found here in New York.
Masks are encouraged, but optional in most settings per New York State guidelines. Individual businesses or attractions may require mask wearing. Call ahead and check websites and social media to make sure attractions and amenities are open and available. 
Updated 9/25/22
Painted Pig Rock (Adirondacks)

Credit: @ny12883 on Instagram 
Legend has it that this staple roadside attraction of the Speculator area—a modestly-sized rock along Rt. 30 resembling a pig's face with a pronounced snout—was the result of a 1950s road construction project. A few years later some nearby residents enhanced its appearance, painting it gray and giving it a white eye and snout. It became so popular that protesters saved it from destruction during another construction project in the 1990s. GPS address: Pig Rock, NY-30, Speculator, NY 12164
Nipper Dog (Capital-Saratoga)
Head to Albany and say hello to the city's top dog—Nipper! The 28-foot-tall, four-ton steel and fiberglass canine statue sitting atop a warehouse on North Broadway has enthralled visitors for generations. Nipper was, in fact, a real dog photographed listening to a phonograph—a painting of which became an internationally recognized logo for several audio recording companies, including RCA. GPS address: World's Largest Nipper Statue, 991 Broadway, Menands, NY 12204
Giant Garden Gnome (Catskills)

Credit: @jtnewm on Instagram
There's no place like gnome! Designed and first exhibited in New York City by artist Maria Reidelbach, "Gnome on the Grange," found a permanent home in Kerhonkson along Rt 209 at Kelder's Farm. Towering over the course at 13' 6" feet tall is Gnome Chomsky, a jolly gnome who once held the title of world's largest concrete gnome. GPS address: Gnome Chomsky, U.S. 209, Kerhonkson, NY
World's Smallest Church (Central New York)
Measuring just 28 square feet, this non-denominational church, also known as Cross Island Chapel, has been called "The Smallest Church in the World." It can be found sitting on a man-made island in the center of a small pond in the town of Oneida. Reachable by rowboat only—though viewable from the road—the church can fit two people seated and three people standing, and has even hosted many weddings—usually with the preacher rowing the bride and groom to the tiny island for the marriage ceremony. GPS address: Mason's Pond—The World's Smallest Church, 3755 Randall Rd, Verona, NY 13478
"Scary Lucy" Statue (Chautauqua-Allegheny)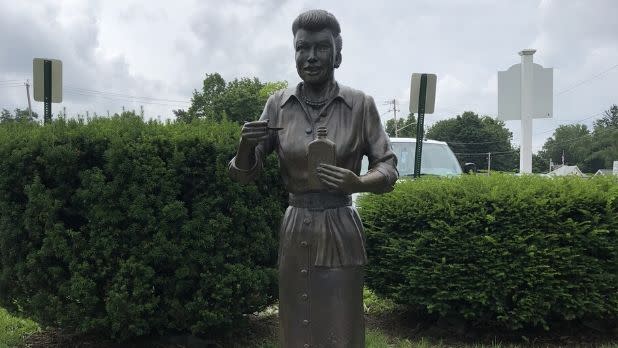 Lucille Ball Memorial Park in Celoron features not one, but two statues of television queen of comedy and native hometown hero, Lucille Ball. After public outrage over a sculpture of Ball dubbed "Scary Lucy" was unveiled in 2015, a new sculpture was commissioned and placed in the park. But not to worry, fans of unusual art—the "scary" statue still resides in another section of the park, grasping her bottle of Vitameatavegamin and ready to greet visitors to her hometown. GPS address: Lucille Ball Memorial Park, 21 Boulevard Ave, Jamestown, NY 14701
World's Largest Pancake Griddle (Finger Lakes)
Setting out to make the world's largest pancake? You're going to need an awfully big griddle! That's just what was created in 1987 when the Birkett Mills in Penn Yan, one of the world's largest producers of buckwheat, wanted to celebrate its history with a buckwheat festival. The star attraction of that fest was the creation of monster hotcake, with a construction-grade cement mixer used to make the batter. Today, the very large pancake griddle hangs off the side of the Birkett Mills building in downtown Penn Yan, with an inscription from the Guinness Book of World Records certifying its fame. GPS address: The Birkett Mills, 1 E Main St, Penn Yan, NY 14527
Shark Girl (Greater Niagara)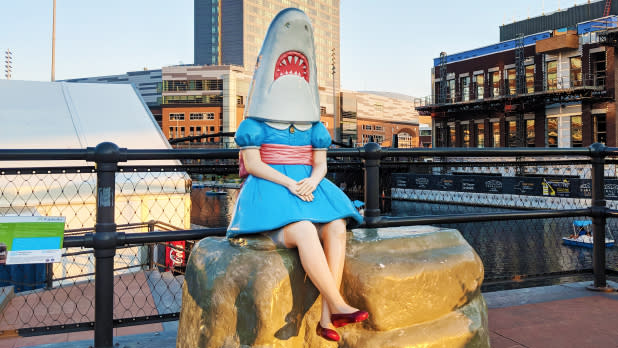 If you're in or near Buffalo, stop at Canalside and take a selfie with Shark Girl! This half-girl, half-shark fiberglass artwork was created by artist Casey Riordan Millard in 2013 and purchased by Albright-Knox Art Gallery's Public Art Initiative. The statue has become a hallmark of Canalside's transformation into a popular tourist destination. GPS address: Shark Girl, Buffalo, NY 14203
Balanced Rock (Hudson Valley)
There's a mystery to solve in North Salem. At "Balanced Rock" on the side of Route 116, a 60-ton rock sits balanced on a few much smaller rocks, hence the name. The larger rock is composed of granite which doesn't match the geological features of the surrounding area, leading most to believe that it was deposited there by melting glaciers during the last ice age. Another theory is that it may be a dolman, a ceremonial rock placed there to signify a burial ground or to honor the dead thousands of years ago. GPS address: Balanced Rock, 667 Titicus Rd, North Salem, NY 10560
The Big Duck (Long Island)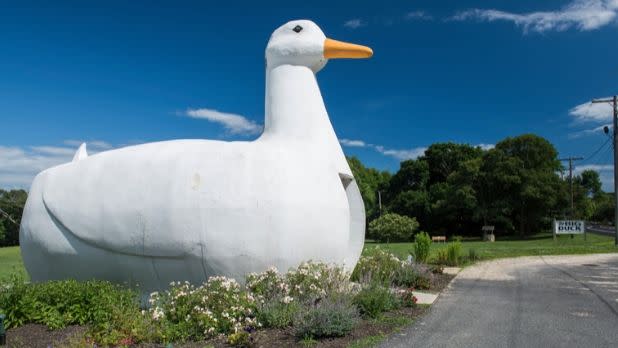 "That's a big duck!" you'll say when you encounter Long Island's legendary enormous waterfowl. Built in 1931 by duck farmer Martin Maurer, it was used as a shop for ducks and duck eggs, and was added to the National Register of Historic Places in 1997. Go inside the duck today and you'll find a charming gift shop operated by the Friends for Long Island Heritage, open Monday-Friday from 10am - 5pm (Saturdays 10am - 3pm, Sundays 10am - 5pm). GPS address: The Big Duck, 1012 NY-24, Flanders, NY 11901
Pepsi Sign (NYC)
Glance across the East River from Manhattan and you cannot miss the red cursive Pepsi-Cola sign that has resided in Long Island City since 1936. The northern section of Gantry Plaza State Park was home to a Pepsi bottling plant that closed in 1999, and the sign has lived on since as an iconic part of the Queens waterfront—having been lowered from its original location. The sign, designated a New York City landmark in 2016, is the perfect backdrop for a unique NYC selfie. GPS address: Pepsi Sign, 4610 Center Blvd, Long Island City, NY 11109
Giant Roll of Life Savers (Thousand Islands-Seaway)
Here's a giant mint that will take your breath away, even if it won't freshen it. This giant delicious-looking roll of Pep-O-Mint Life Savers candies resides in the Town of Gouverneur's Village Park as a tribute to one-time resident Edward John Noble, the co-founder of the Life Savers company and the man behind the candy's distinctive packaging. GPS address: 30 E. Main St., Gouverneur, NY 13642
---
Don't forget to post photos of your New York adventures on Instagram and Twitter with #iSpyNY and tag us on Facebook!