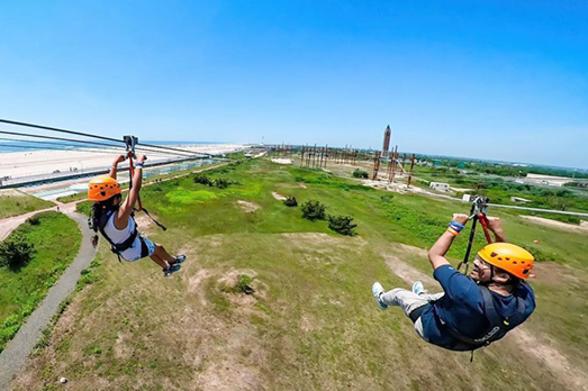 Credit: @rmdragon on Instagram
What's one of the best ways to enjoy the beauty of New York's scenery? Having your breath literally taken away while flying through it! That's why we've rounded up some of the best of the aerial adventure parks and zipline adventures across the state. Each place starts you off with a rundown of how to use their harnesses, belays, and pulleys—literally showing you the ropes. Plus, all offer a range of challenge levels, so that everyone can have fun, from the novices to the adrenaline junkies. Choose a date to enjoy the exercise and a chance to see the forest from the treetops!
Masks are encouraged, but optional in most settings per New York State guidelines. Individual businesses or attractions may require mask wearing. Call ahead and check websites and social media to make sure attractions and amenities are open and available. 
Updated 2/23/2023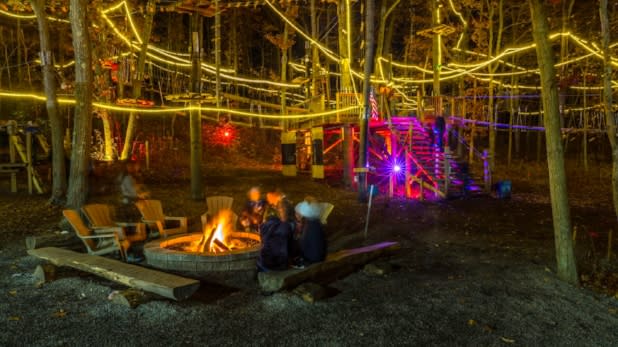 At the Adventure Park, you choose your own adventure from 14 separate "trails" through the trees, all of which fall within five levels of difficulty. As you navigate across the series of platforms connected by ziplines, cables, and ropes, you'll complete a unique challenge for each trip, like climbing a rope net or walking a balance beam—tackle 203 challenges in total! On select dates, there's an option to explore the park at twilight or nighttime, when the park illuminates the obstacles with strings of little glowing lights. Just note that these events can sell out quickly so plan ahead! Picnic tables and fire pits are available, so feel free to pack lunch and s'mores ingredients for the perfect reward after your workout. Each general admission ticket includes 3 hours of climbing + 30 minutes initial orientation period. (Max weight limit 265 lbs.) Advanced general admission ages 14 and up, $69; ages 7-13, $59; ages 3-6, $15. See website for all height and weight requirements. Opening day is March 31, 2023.
Credit: Craig Melvin
Head out to the Holiday Valley Ski Resort in Ellicottville before ski season and enjoy their Sky High Aerial Adventure Park! Nestled in five acres of forest, you'll find a series of platforms connected by "bridges." We're using quotes here because a bridge might consist of just a few hanging chunks of wood, and it's up to you to make your way across! There are 13 courses in total, with four levels of difficulty, from the yellow beginner options all the way to two black diamond trails and one double black. Each course has at least one zipline, though some feature several. If you want a great wrap-up activity, don't miss the chance to ride their mountain coaster—a roller coaster ride down the mountain. No skill or balance is involved—simply strap in and enjoy the ride! Aerial Park 3 hours $60, Aerial Park 3 hours +1 Mountain Coaster Ride, $66, Aerial Park 3 hours + Unlimited Mountain Coaster $76, Late Afternoon Climb, 3:30-6:00 pm $48. See website for height and weight requirements.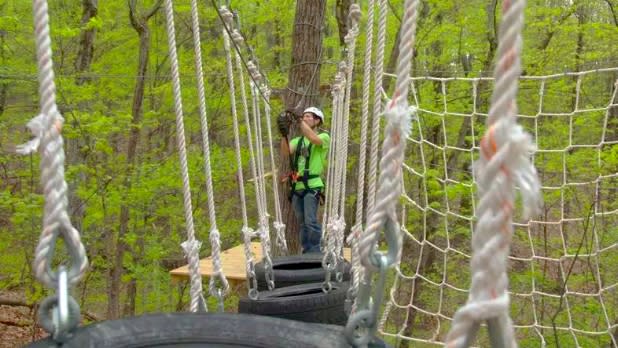 If your whole gang isn't up for a ropes course challenge, consider the Mountain Ridge Adventure, where the aerial adventure section is separate from the ziplines. Here, some of the more adventurous members in your party can test their limits by climbing and swinging their way through the Treetop Challenge Course, while others can just enjoy a ride on the zipline. The Treetop pass will grant you three hours to take on as much as you can, and includes access to the ziplines. If you purchase just the zipline pass, you have two hours to enjoy soaring above the 500-foot-long gorge. Treetop Pass $55, Starter Pass $40, Zipline Park Pass $50.​ See website for height and weight requirements.
Don't let a little bad weather rain on your ropes course parade! The Palisades Climb Adventure in West Nyack is the world's tallest indoor ropes course, letting you hang out 85 feet up in the air. 75 unique challenges of ranging difficulty levels offer something for every level of physical fitness. Obstacles include tension bridges, rope ladders, nets, bridges, and more. They even have a designated "Sky Tykes" area for the littlest climbers. Test out your balance, strength, and agility, rain or shine. The Sky Trail Adventure, children (ages 4–12) and seniors (ages 55+) and adults $27.99, Sky Tykes (toddlers under 48 inches) $11.99.

Credit: Visitlakegeorge.com
One of the earliest and largest aerial adventure parks established, the Adirondack Extreme Adventure Course really does earn the descriptor "extreme." Choose from four, five, and six-course packages, each of which offers a mix of difficulty levels. If you've really got an appetite for a challenge try their six-course package which features 13 ziplines and more than 130 obstacles, including Tarzan swings, rope nets, monkey bars, and a "Leap Of Faith." The whole shebang can take around four and a half hours to complete and will leave you absolutely pooped—but super gratified. They are child-friendly as well and offer a kids' ropes course for ages 6 and up with a path below for Mom or Dad to follow along. New to zipline? Try the "Low Rider" zipline tour. An introductory zipline course designed for the novice. Prices vary by type of activity. See website for height and weight requirements. Open April through November.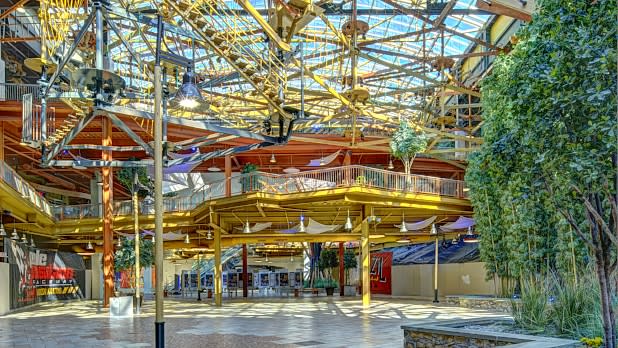 Inside Destiny USA, New York's biggest shopping center and the country's eighth-largest, awaits the world's largest indoor suspended ropes courses, WonderWorks' "Canyon Climb Adventure." The course reaches three stories in height and includes 81 obstacles to work your way through! There's a mini ropes course section where smaller kids (under 48") can test their moves. Plus, there is so much to do at Destiny USA that if you're traveling with some folks who can't stand the heights, they will have no problem finding other fun activities, such as laser tag, interactive science museums, plenty of shopping, and many different places to grab a bite! Tickets $18. See website for height and weight requirements.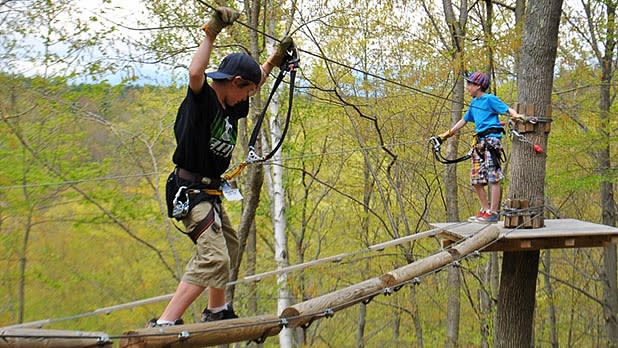 Enjoy the fresh air up in the Berkshire Mountains on the 10-acre forest challenge at Catamount Aerial Adventure Park. Make your way through nine aerial trails with 150 challenge elements. Just like ski trails, you'll find color-codes indicating the level of difficulty, from Yellow (easy) all the way to Double Black (you're going to feel this one the next day). Each level up will require more balance, strength, and nerves of steel! You don't have to be super fit, just willing to push yourself. Adults (ages 12 and older) $59, youth and children (ages 7-11) $55. Season begins in the Spring.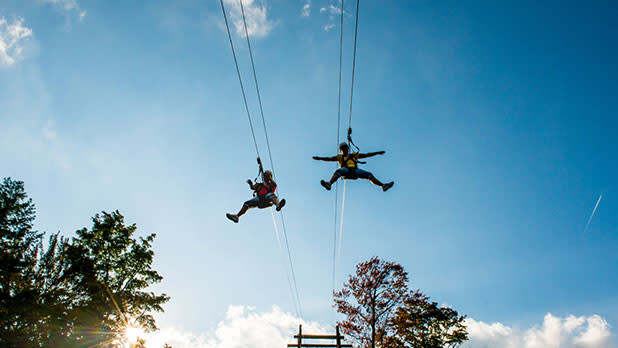 The four-season Peek'n Peak resort is an ideal spot to build a family-fun packed weekend around an exciting ropes and zipline experience, as their Mountain Adventures include a number of ways to enjoy the forest. You can try ziplining, climbing, swinging, and jumping your way through the 69 obstacles within their Aerial Adventure Course. The Giant Dual Ziplines let you soak in spectacular views as you ride a total of 2,000 feet down the mountains. Then there's the Soaring Eagle Zipline, a 1,400-foot stretch that lets you ride side-by-side another flyer. And finally, for the lower-key folks, you can always take a relaxing three-seater chairlift ride and enjoy the vista, nice and slowly. Prices vary by type of activity. See website for height and weight requirements.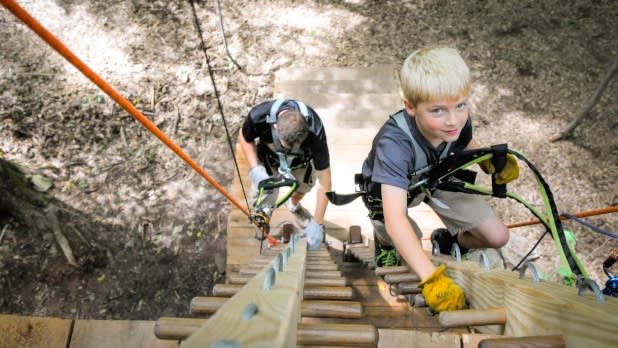 About an hour's drive outside of Rochester, Bristol Mountain Zipline Canopy Tour and aerial adventure park are set in some of the state's most gorgeous scenery. The aerial adventure part consists of seven courses with more than 125 elements to conquer, and on select dates even offers night climbs followed by a bonfire. The canopy tour lets you ride seven zip lines, cross four bridges, take two gorgeous hikes in nature, and wraps up with a final "Leap of Faith." Prices vary by type of activity. See website for height and weight requirements. Open Spring through Fall.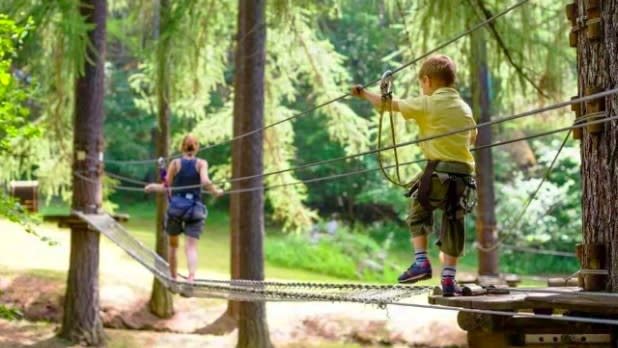 Let your sense of adventure know no bounds at this epic aerial adventure park in Purchase. Boundless Adventures promises about three and a half hours of challenging fun. Their 11 courses, 110 bridges, 23 ziplines and four leaps of faith offer something for everyone! The staff is on the ready to help you down at any point, so don't worry, there's no point of no return! Advanced Registration, three hour weekend ticket $67, advanced registration three hour, weekday ticket, $65.  Open early Spring through late Fall.
You don't have to visit the animals before you check out the Bronx Zoo's new Treetop Adventure, but stopping by the monkey exhibits for a little inspiration along the way can't hurt. Once you arrive you'll choose either the ziplines, the Treetop courses, or both (we recommend both!). You'll be assigned an allotted time slot so as to keep the ropes from getting too crowded, but during the short wait they'll fit you for your harness and give you the rundown on everything you need to know. The ziplines will fly you 400 feet over the Bronx River and back, picking up some serious speed along the way. The Treetop Adventure is designed for you to work your way up the levels, starting with a warm-up on the yellow Chipmunk trails until you're comfortable to move all the way to black Ratsnake. You can be as independent as you like, but the park rangers are always ready and available to step in to help and offer tips. Now you'll know how the monkeys feel! Zipline tickets $24.95, climbing and zipline tickets (2.5 hours) $59.95. See website for height and weight requirements.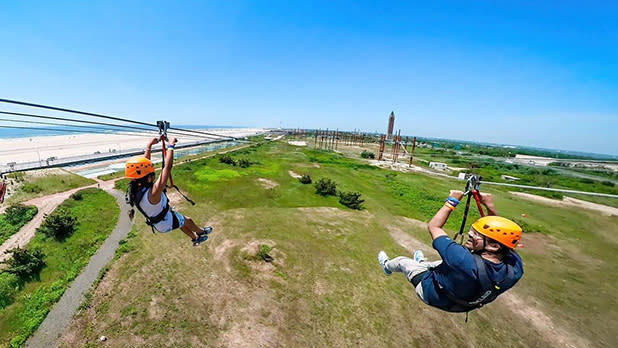 Credit: @rmdragon on Instagram
Face your fears at one of Long Island's newest and most thrilling outdoor adventures at WildPlay Jones Beach, reopening on April 14, 2023, for the Spring season! Soar through the salty air high above the coast on the 700-foot long Jones Beach Zipline or make your way from platform to platform walking on tightropes, climbing up cargo nets, hanging on rope swings, and leaping onto swinging logs, and balancing on wobbly bridges on three different levels of adventure courses. Start with the Classic Course and if you're feeling adventurous, add on the Extreme Course. For tiny climbers aged 5-12, try out the single-level, Kids Course that reaches up to 15 feet high. Still feeling brave? The What's to Fear Jump is for you! Climb up the rope ladder to the wooden platform where you'll be secured into the jump line, then take the 40-foot leap down to the bottom. Prices vary by activity and add-ons. See website for pricing, bundles, and height and weight requirements. Open from April 14 - November 6, 2023. 
Share New York State adventures with us on Instagram and Twitter with #ILoveNY and #iSpyNY, and tag us on Facebook!