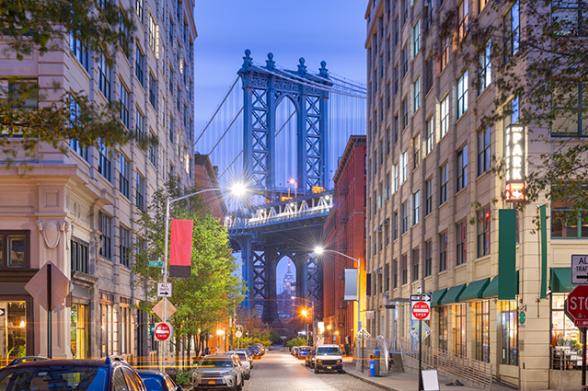 Home to dozens of neighborhoods, each with its own distinct culture, character, and history, Brooklyn is a treasure trove of enormous diversity. Representing hundreds of cultures and languages, there's an amazing sense of community between Brooklynites from all corners of the borough that you won't find anywhere else. Bursting with art, history, nature, amazing food, and views, there's no shortage of things to see and do. If you only have time for a short weekend getaway, here's how you can make the most of your time in Brooklyn in just 48 hours.
Masks are encouraged, but optional in most settings per New York State guidelines. Individual businesses or attractions may require mask wearing. Call ahead and check websites and social media to make sure attractions and amenities are open and available. 
Updated 02/13/2023
FRIDAY:
3 pm: Drop your bags off at your Hotel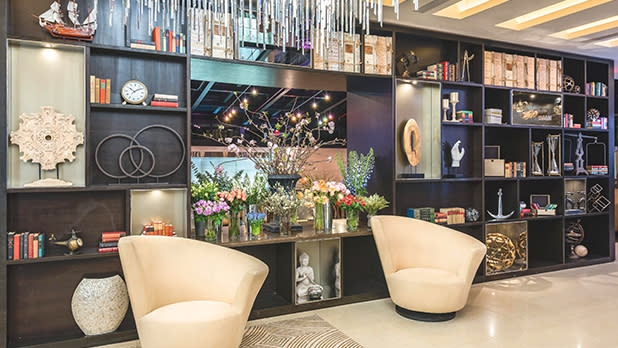 Just a few steps away from many of Brooklyn's amazing attractions and trendy neighborhoods, and close to subway stations and bus stops, the Marriott Brooklyn Bridge in Brooklyn Heights is a veritable destination for a weekend getaway. With spectacular views of the Brooklyn Bridge from its private terraces and a host of available amenities, you can relax in style staring out at the glittering Manhattan skyline after a long day of sightseeing. Check-in is available from 4 pm, but early check-ins and baggage storage are available on request. Downtown Brooklyn is a popular destination for travelers, with a variety of available hotels, with rooms to suit every budget and traveler, such as at top-rated hotels like the Hampton Inn Brooklyn Downtown, EVEN Hotel Brooklyn, and Holiday Inn (pictured). 
3:30 pm: Stroll down to trendy DUMBO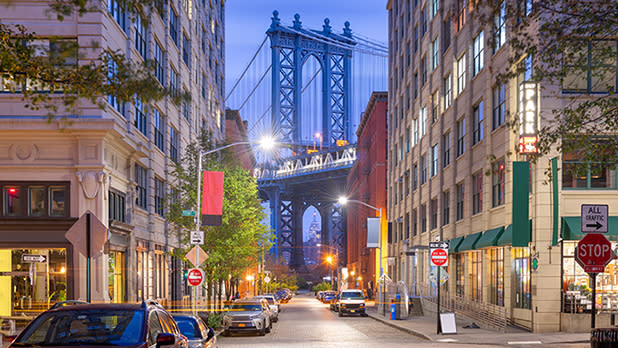 A 15-minute walk from your hotel lies the trendy post-industrial neighborhood known as DUMBO (an acronym of Down Under The Manhattan Bridge Overpass). Visit the popular photo spot at the intersection of Washington & Water Streets, where cobblestone streets and old red-brick buildings perfectly frame the Manhattan Bridge (pictured). On a clear day, you can even get a shot of the Empire State Building across the waters in the distance. Satisfy your sweet tooth at Jacques Torres Chocolate Factory and indulge in ice cream sandwiches, truffles, hot chocolate, and more! Be sure to keep an eye out for their seasonal and holiday-themed treats on display throughout the year. Head down the road to Pebble Beach, where you'll find stunning views of the Brooklyn Bridge from below. Follow the path along the beach to Jane's Carousel in Brooklyn Bridge Park, the historical merry-go-round with 48 carved wooden horses.
5:30 pm: See stunning views along the Brooklyn Bridge
If you're feeling ambitious, you can take the elevated pedestrian walkway to the center of the Brooklyn Bridge (pictured) for equally unique views from the middle of the East River and awe-inspiring views of the Statue of Liberty across the water. The entrance to the Brooklyn Bridge is a 15-minute walk away to the intersection of Brooklyn Bridge Boulevard and Tillary Streets and can take anywhere from 30-60 minutes to cross, depending on the season and for how long you get swept up taking in the views. Head out to the center for a photo-perfect moment between the arches, and circle back to DUMBO for dinner.
7 pm: Taste a slice of NYC's coal-fired brick-oven pizza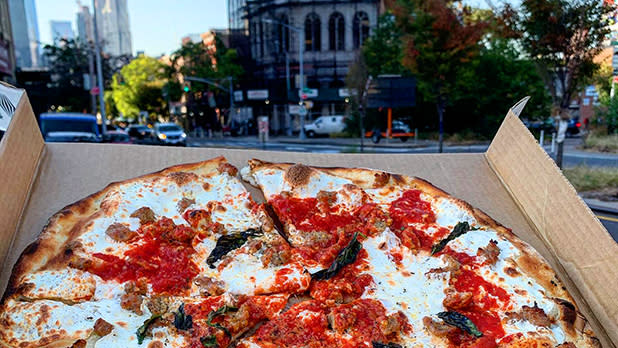 @SAUCED_BROTHERS ON INSTAGRAM
On Old Fulton Street, you'll find local NYC pizza institution Grimaldi's Pizzeria (pictured), a popular pizzeria for a good reason. And right next door is Juliana's Pizza, a newer establishment owned by the former owners of Grimaldi's. The lines outside each restaurant can be long, but if you have time to spare, the pizza is worth the wait. If waiting isn't an option, head around the corner to the local-favorite Time Out Market on Water Street, home to some of NYC's most talked-about restaurants, bars, and live entertainment, all under the one roof!
9 pm: Take the scenic route back to your hotel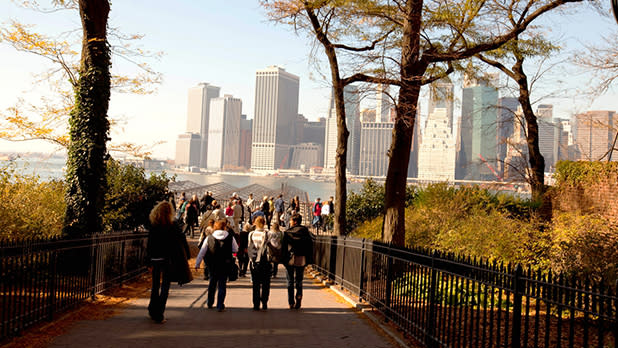 For more breathtaking views on your first night in the city, take a short (but uphill) detour back to your hotel from Grimaldi's along the beautiful Brooklyn Heights Promenade (pictured) and take in the stunning views of Manhattan and the harbor. You can wander the neighborhood streets like Cher and her on-screen family did in Moonstruck.
SATURDAY:
8 am: Breakfast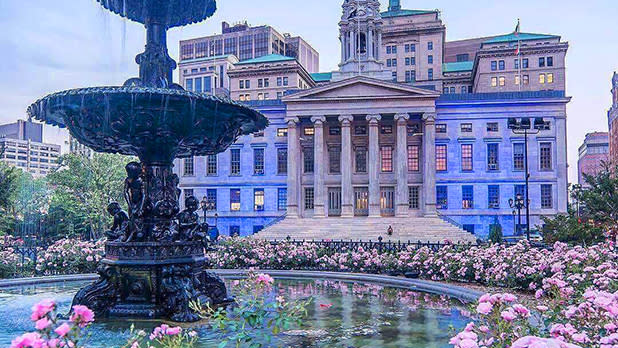 @NYCLOVESNYC ON INSTAGRAM
With its supreme indie coffee scene, there's no better way to prepare yourself for a day of exploration than with a local Brooklyn brew and bagel. Stop by one of many bagel and coffee shops all within walking distance of your hotel. Ease into your day and take your bagels and coffee-to-go, and enjoy your morning ritual in Columbus Park (pictured), located just across the street from the hotel.
9 am: Visit an underground museum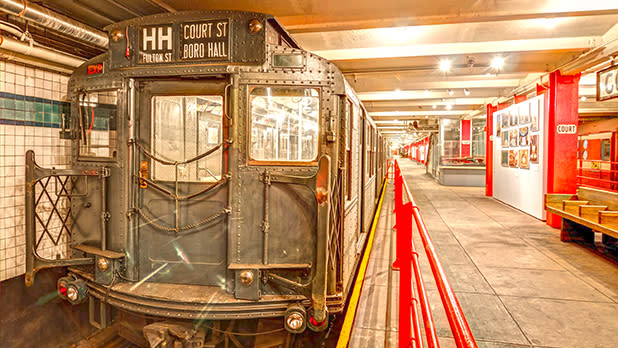 If you're not looking closely, you may just miss this museum sneakily disguised as a subway station. Located within a converted underground subway station that was decommissioned in 1936, the historical New York Transit Museum (pictured) contains a gallery of antique subway cars, buses, and commuter rail from across the New York City region. The museum also hosts a display of vintage typography, sketches, rotating exhibits, and more. Be sure to stop by the Transit Museum store for iconic MTA-themed gifts.
10 am: Next stop -- Brooklyn Museum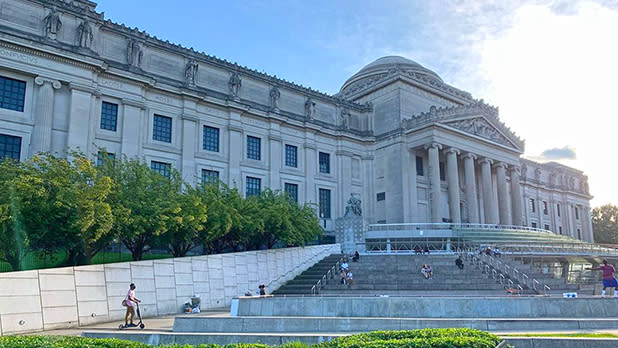 @GALLIVANT_GRAM ON INSTAGRAM
Upon looking at the immense building and its 19th-century Beaux-Arts facade, it's no surprise to learn that the Brooklyn Museum (pictured) is one of the oldest and largest museums in the United States. Winning an "Excellence in Design" award for its Schapiro Wing and Cantor Auditorium, the museum draws in visitors with its impressive architecture as much as the exhibitions on display. Take in more visual splendor next door at Brooklyn Botanic Garden, home to 52 acres of gardens, conservatories, and seasonal blooms. For both Brooklyn Museum and Brooklyn Botanic Garden, advance tickets are recommended. All tickets to Brooklyn Museum are timed, with entry permitted every 15 minutes.
1 pm: Lunch in Little Caribbean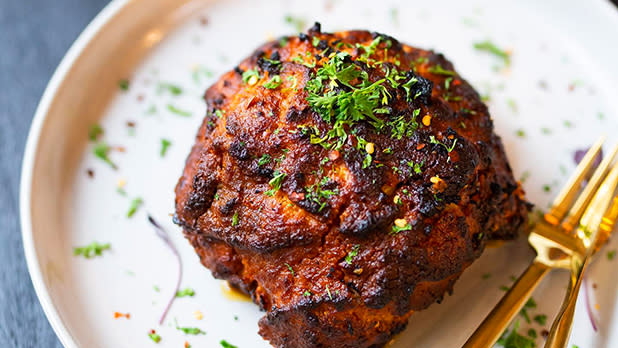 @AUNTSETUNCLES ON INSTAGRAM
For delicious Jerk chicken and other Caribbean comfort foods, Errol's has got you covered. Serving up a menu of traditional Jamaican eats, Errol's is a no-frills local staple. Pick up a classic beef patty or coco bread and head to nearby Prospect Park for a picnic in one of New York City's prettiest green spaces. If you're looking to dine in, Aunts et Uncles (pictured) offers a Caribbean-inspired vegan plant-based menu and signature cocktails in a relaxed and intimate setting. 
2 pm: Explore Prospect Park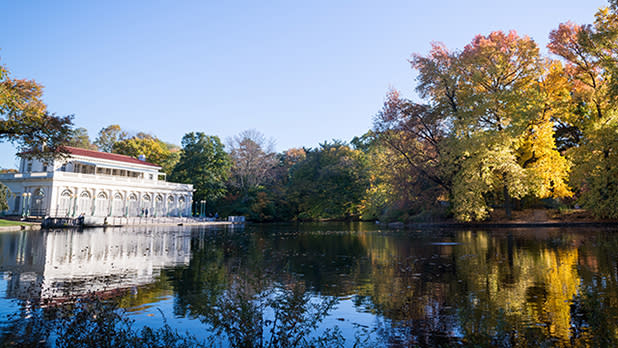 Find out why Brooklyn is nicknamed "The Borough of Trees" at Prospect Park (pictured). Breathe in its serene charm along winding, tree-lined pathways and peaceful nature walks. Home to Brooklyn's only lake and forest, there are dozens of natural attractions to explore. Get up close to local and exotic animals at popular bird-watching spots and Prospect Park Zoo. Or take a tour of historic sites from The Revolutionary War and Civil War and learn about the creation and restoration of the park across the years. Beyond the sounds of birdsong and casual conversation, you'll hear musicians and artists come together at several outdoor stages dotted throughout the park.
3:30 pm: Visit The City Reliquary and Marsha P. Johnson Park
Take a cab from Prospect Park to the chic neighborhood of Williamsburg, a Brooklyn hotspot for art, boutique shopping, and renowned for its impeccable dining and nightlife scene. Stop off at the City Reliquary, a quirky community-run museum brimming with artifacts of Old New York, and enjoy green space and spectacular views of the Manhattan skyline from Marsha P. Johnson Park, home to the popular Smorgasburg food market.
5 pm: Shop on Grand Street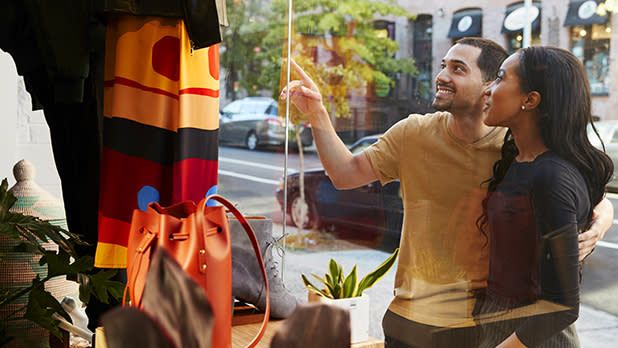 For the ultimate boutique shopping experience, head to Grand Street, and peruse its many bookshops, thrift and vintage stores, high-end fashion outlets, and more. Thrift shopping is a way of life in Brooklyn, so be sure to check out L-Train Vintage, the Mecca of thrift stores, with a constantly rotating catalog of new and unique finds.
7 pm: Dine at Faro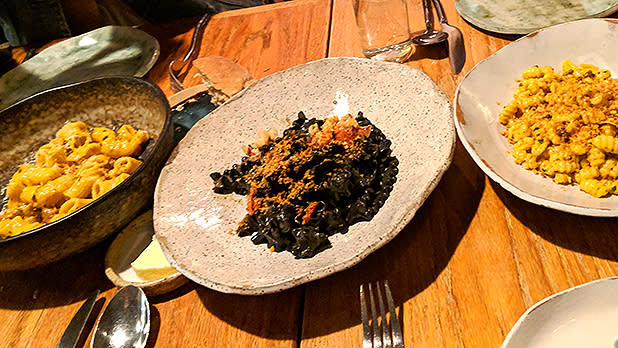 CREDIT @ANNATATED ON INSTAGRAM
For fresh, handmade pasta and locally-sourced ingredients straight from New York State farms to your table, look no further than Faro (pictured). Claiming Michelin-star status in 2017, the Italian restaurant serves an impeccable menu of heart and soul-warming seasonal dishes. While walk-ins are accepted, advance reservations are recommended.
9 pm: Taste local craft beverages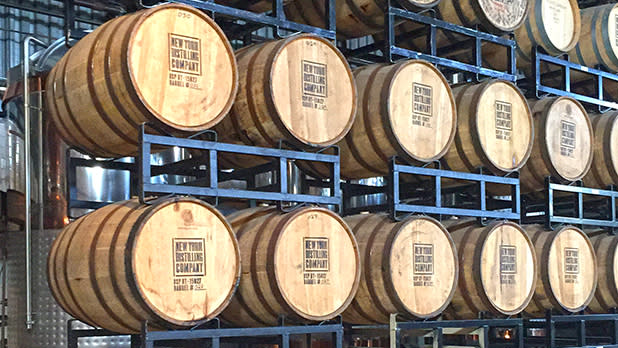 CREDIT @ANNATATED ON INSTAGRAM
When you think of craft beer and spirits, Brooklyn is always a name that comes to mind. With its burgeoning brewery and distillery scene growing by leaps and bounds, you'll find experimental family-owned establishments to large-scale operations and everything in between. For a tasting of seasonal and year-round lagers, IPAs, and other microbrewery magic, stop off at Brooklyn Brewery in neighboring Greenpoint. If you prefer beer to art and shopping, they also offer free tours hourly from 1-6 pm Sundays. For premier craft gins and whiskeys, visit NY Distilling Co (pictured), and treat yourself to the sit-down cocktail service at their bar, The Shanty.
SUNDAY
10 am: Spend the day in Coney Island! First stop: the Aquarium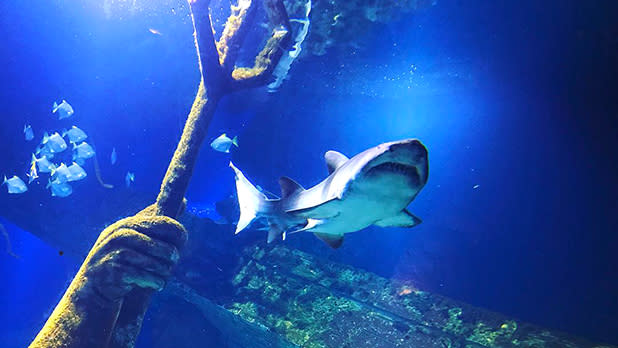 @LIVEALSTONLI ON INSTAGRAM
Coney Island: a fun seaside neighborhood in southwestern Brooklyn, and a welcome destination for travelers year-round. From its boardwalk of roller coasters and retro fairground rides, such as the world-famous Cyclone and Wonder Wheel popular in the summer months, to NYC's only Aquarium, and more. See the award-winning exhibit "Ocean Wonders: Sharks!" and other interactive and immersive exhibits at the New York Aquarium (pictured).
12 pm: Walk along the boardwalk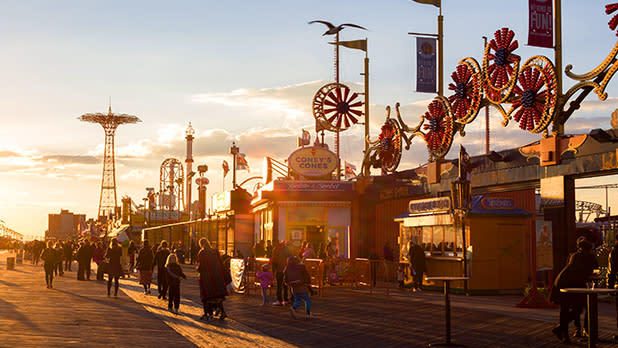 CREDIT @ MATTHEW PENROD, NYC & COMPANY
Afterward, stroll along the Riegelmann Boardwalk. Whilst it's a bustling hive of activity in the views of the Atlantic Ocean -- and on Sundays from November-April, you might spot the Coney Island Polar Bears training for their plunge into the Atlantic Ocean waters on New Year's Day. Throughout summer, be sure to check out Luna Park (pictured) and circus sideshows, or view street art at Coney Art Walls. Swing by Williams Candy Shop for old-fashioned favorite candies, including cotton candy and caramel apples. 
1 pm: Have Lunch in Brighton Beach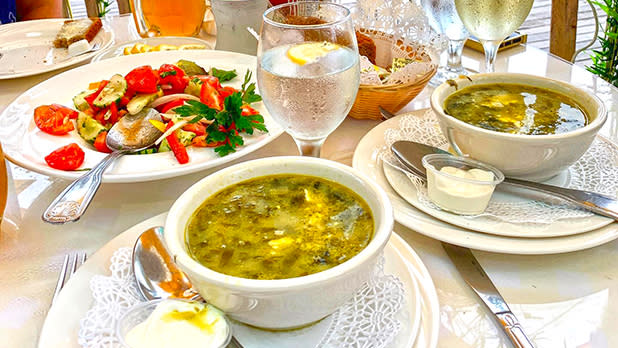 @ESCALADE48 ON INSTAGRAM
Head down the boardwalk to Brighton Beach for a taste of authentic Eastern European cuisine and culture. If the weather is sublime, sit on the boardwalk at Tatiana Restaurant (pictured) and sample traditional Russian dishes like borscht, Olivie salad (boiled eggs, potatoes, green peas, pickled cucumbers, and chicken dressed with mayo), pelmeni (meat-filled dumplings), potatoes with chanterelle mushrooms, smoked herring, pickled everything, butter-filled chicken kiev, and shashlik (a juicy shish kebab with your choice of meat or fish). Step off the boardwalk and you'll find a great choice of eateries representing every corner of Eastern Europe and the Caucasus featuring delicacies from Georgian cheese boats to hearty Uzbek lamb pilaf. Don't forget to stop past St. Petersburg on your way and shop for Russian gifts, homewares, and books! 
3 pm: Enjoy craft beer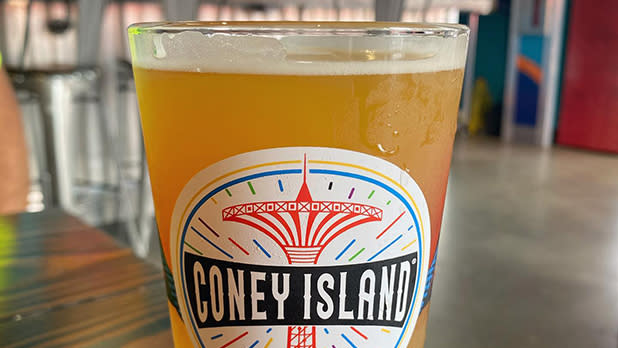 @CAHBO ON INSTAGRAM
Round off your day with one of Brooklyn's many craft brewery establishments at Coney Island Brewery (pictured). If you're in the mood for an afternoon snack, stop past the original Nathan's Famous Hot Dogs -- the first hot dog stand that turned into a famous chain across the country and home of the world-famous hot dog eating contest!
GETTING THERE
By car:
From Albany: 3-4 hours

From Philadelphia: 2-3 hours

From Boston: 4-5 hours
By plane:
John F. Kennedy International Airport (JFK)

LaGuardia Airport (LGA)

Newark Liberty International Airport (EWR)
By train:
Amtrak to NYC's Penn Station, then take the MTA Subway or LIRR to Brooklyn

MTA Subway to Brooklyn

Long Island Railroad (LIRR) to Brooklyn (Atlantic Terminal Station)
By bus:
Bus services to NYC's Port Authority, then take MTA Subway, or LIRR (via Penn Station) to Brooklyn

MTA Brooklyn-Express Bus BM3 service to Brooklyn
By ferry:
NYC Ferry - East River (ER), South Brooklyn (SB), and Rockaway (RW) routes

Share your New York State adventures with us on Instagram and Twitter and Facebook and tag us using #ISpyNY!