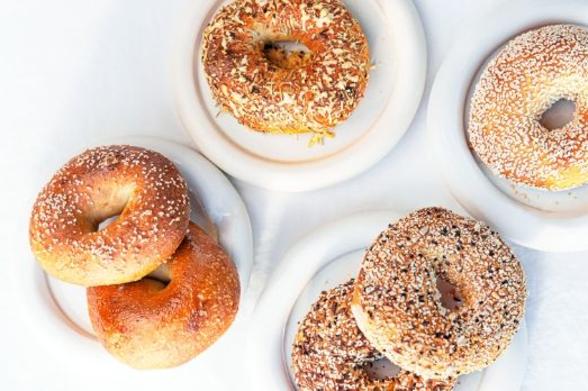 Any visit to New York would be incomplete without a taste of a chewy, delicious bagel. A typical New York bagel is smaller and denser than most, usually hand-rolled, boiled, then baked to achieve the perfect consistency. Here are places to find the best bagels in New York, whether you take yours topped with plain cream cheese, lox, butter, or whatever topping or filling you choose! 
Masks are encouraged, but optional in most settings per New York State guidelines. Individual businesses or attractions may require mask wearing. Call ahead and check websites and social media to make sure attractions and amenities are open and available.
Updated 07/31/2023
The small town of Kinderhook in northern Hudson Valley is best known as the birthplace of the eighth President of the United States, Martin Van Buren. A stone's throw from the house where he was born is Broad Street Bagels, where the main attraction is bagels made from a family recipe dating back to 19th-century Brooklyn. Purists can stick to a sesame with plain cream cheese but Broad Street also specializes in now-trendy offshoots (like pumpkin caramel and bacon horseradish) and serves all kinds of sandwiches and even bagel burgers. Kinderhook
Representing southern Hudson Valley on this list is Nyack Hot Bagels, something of an institution in a river town that's becoming known as a foodie haven. At Nyack Hot Bagels, the shop takes pride in its hand-rolled, boiled, and baked bagels, which are often served hot out of the oven. The shop also offers a bialy, a sort of cousin to the bagel with a depression rather than a hole in the middle. Nyack

Credit: The Mud Club
The name suggests they put their coffee first, but at this Woodstock favorite, where there's almost always a line of hungry patrons, the bagels are first-rate as well. Baked in a wood-fired oven, the bagels pair perfectly with the organic drip coffee on offer. And this being a well-known enclave where the hippie spirit lives on, The Mud Club is currently open Fridays, Saturdays, and Sundays from 9 am-3 pm to help reduce the shop's carbon footprint. Woodstock
Every college town needs a good deli and lounge, and Latte Lounge is Oneonta's go-to. Students, locals, and visitors alike stop here for fresh-brewed coffee and a menu of in-house bagels and clever cream cheese flavors from jalapeno, maple nut, and olive. Oneonta
Not only can you enjoy the incredible scenic beauty of the Adirondacks, but you can also find a delicious New York bagel at this favorite spot on Main Street in Lake Placid. The bagel menu includes the Instagram-famous rainbow variety, with colorful swirls baked into the dough, as well as all the classics, from sesame to poppy, to everything. Lake Placid
This family-run shop burst onto the scene in Albany in December 2021, delivering meticulously-crafted, classically-flavored small-batch vegan bagels that are hand-rolled, boiled, and baked to perfection over a 16-hour process. Spread on some cream cheese or opt for a "Bigger Bite" like the Gouda Morning, packed with homemade roast beef, bacon, fried egg, smoked gouda, caramelized onions, and Russian dressing, or the Easy Being Green featuring vegan bacon, eggs, and cheddar with artichoke puree, roasted red peppers, spinach, and pesto. Try their unique take on dough with a "Challah Pocket" stuffed with Nutella, peanut butter and jelly, and other sweet options. Albany
Balsam's tagline promises "More than just bagels!" but while this family-run Rochester mainstay offers breakfast sandwiches, pastries, and soups, it's the bagel and cream cheese menu here that stands out. There are thousands of possible combinations between bagels (from sesame and poppy to sundried tomato, olive rosemary, and French toast) and cream cheese (bacon scallion, cranberry orange, and honey walnut). Plus, non-dairy cream cheeses are available in many of the fun flavors for vegans and the lactose-intolerant. Rochester

Credit: @cnyfryguy on Instagram
A hometown couple that went away to college, traveled, and then returned to Syracuse started this sleekly designed shop, where the bagels are boiled and then finished in wood-oven for a perfect mix of chew and crunch. The bagel selection skews traditional but has some tasty-sounding standouts like rosemary salt and the regionally appropriate kimmelweck (the bread style of neighboring northern city Buffalo's famed beef on weck), while house-made cream cheeses include smoked salmon and garden veggie as well as gourmet riffs like jalapeno and dill. Water Street also serves coffee from acclaimed local roastery Recess. Syracuse 
This place is like a bagel fantasyland, with flat bagels or "flagels," bialys, and traditional bagels as well as marble, chocolate chip, and pretzel options. Bagel fans with a sweet tooth will want to scan the Crazy Bagels section, which includes a s'mores bagel (pictured) and a unicorn bagel made with a rainbow bagel and cotton candy cream cheese! North Massapequa
Most of the bagels on this list adhere to the New York bagel motto that "Smaller is better," but Better on a Bagel opts for a bigger footprint. Perhaps the thinking is that a larger bagel is a better vehicle for a delicious egg sandwich, which is the main draw at this shop, which serves all sorts of variations on the classic "BEC" (or bacon, egg, and cheese). Miller Place
Buffalo's favorite place for a bagel and a shmear (or dab of cream cheese), Bagel Jay's features a varied menu of classic styles bagels and spreads, as well as some newer favorites like olive and pimento. The way to look like a local is to wash down your Bagel Jay's bagel with a cup of dark roast coffee from local roastery McCullagh. Buffalo, Williamsville, Snyder/Amherst

Credit: Breadhive Worker Cooperative
This worker cooperative–owned cafe offers a homey ambiance and a menu of inventive bagel sandwiches. Many of the sandwiches even sound mouth-watering, such as the Aaliyah, made with house breakfast sausage, scrambled egg, cheddar, butter, and maple syrup. Vegans can find something to love here, like the Shania, a tofu and tempeh scramble, roasted peppers, onion and tumeric. And in case you hadn't noticed Breadhive sandwiches are named for famous female singers! Buffalo

Credit: Courtesy of Russ & Daughters
Many people trace the bagel's origins back to Poland, and Russ & Daughters, founded in the early 1900s by Eastern European immigrant Joel Russ, has an important part in New York's food history. The appetizing shop at 179 East Houston St. opened in 1920 and is still there today, serving what's considered the best bagel and lox sandwich in the city. In 1935, Russ made his three daughters full partners—hence the name—a bold move at the time! Today, Russ & Daughters is still family-owned, by the fourth generation, and now has four locations! Manhattan, Brooklyn
This, ahem, hole-in-the-wall Park Slope, Brooklyn shop serves what many consider the best bagels in New York City. They're classic boiled bagels, small and chewy yet crunchy, and always served warm and fresh. As a result, the hard-working staff at the perpetually busy Bagel Hole respectfully refuse to toast bagels or even slice bagels that aren't being ordered with butter or cream cheese. For locals, it's part of the charm! Brooklyn
---
Don't forget to post photos of your New York adventures on Instagram and Twitter with #iSpyNY and tag us on Facebook!