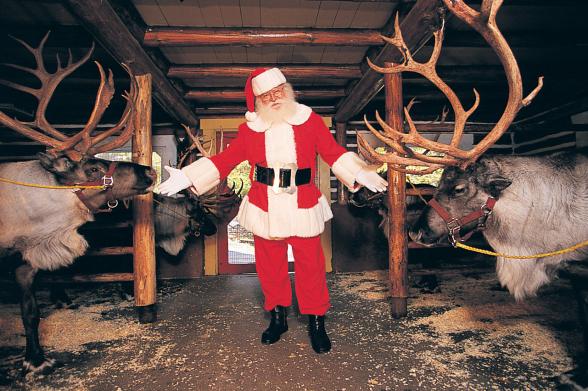 Thoughts unavoidably turn to the North Pole this time of year, and the lesser-known North Pole sits in the shadow of Whiteface Mountain in New York's Adirondack Park. It's a real town (hamlet, actually, in the town of Wilmington) in the state's northeast corner, just about 12 miles from Lake Placid. Appropriately, it's home to Santa's Workshop, believed to be the nation's oldest theme park.
Originally published 12/10/2019
FRIDAY
5 pm: Comfort food at 'Dack Shack     
There's comfort food with an attitude at the 'Dack Shack, a one-of-a-kind roadside diner in downtown Lake Placid, complete with a kid's menu.
7 pm: Skate the Olympic Oval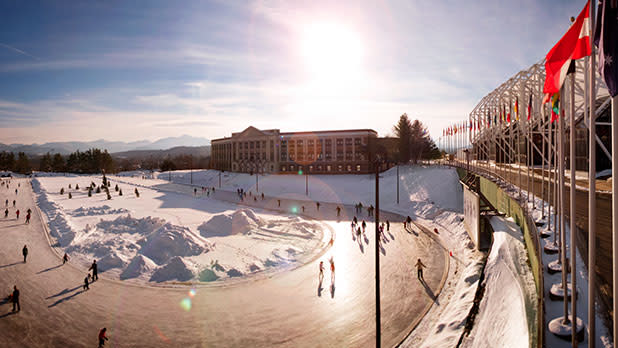 Work off dinner on one of nation's few remaining outdoor ice-skating ovals, the very same one where Eric Heiden made Olympic history. Bring your own skates or rent, and warm up around the fire pit at center ice. 
SATURDAY
10 am: Santa's Workshop 
Explore the charming and retro Santa's Workshop, North Pole's signature attraction. Visit Santa and Mrs. Claus in their very own home and the live reindeer in their barn; ride the steam train, carousel, and other kiddie rides; catch the musical review, puppet show, or Nativity Pageant; and visit the U.S. Post Office to send a letter postmarked from the North Pole.
12 pm: Adirondack-style lunch
Grab lunch at the park, head over to Up a Creek for American cuisine in an authentic Adirondack-style eatery, or get a quick bite (and root beer, of course) at the classic, old-school A&W drive-in.
2:30 pm: Olympic Jumping Complex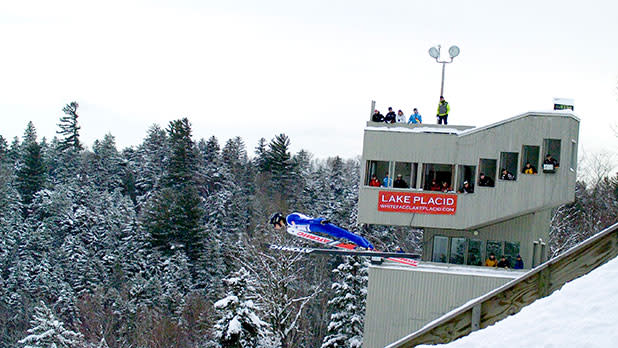 Tour the Olympic Jumping Complex and ride the elevator to the skydeck at the top of the 120-meter jump tower. Also on-site, grab a tube to conquer the 700-foot snow-tubing hill.

6 pm: Tasty BBQ at Smoke Signals    
Feast on hearty ribs, brisket, and more at Smoke Signals BBQ in downtown Lake Placid. Stop by for tasty eats, craft cocktails, and an extensive whiskey menu.
8 pm: Toboggan chute  

If you still have energy to burn before bed and the weather allows, see if the 30-foot-high toboggan chute is open to send you flying onto frozen Mirror Lake. 
SUNDAY
10 am: Skate Mirror Lake          
A plowed track around the entire perimeter of frozen Mirror Lake allows for free skating. If needed, skates are available at Lake Placid Skate Rentals.
11:30 am: Dog sled tours on Mirror Lake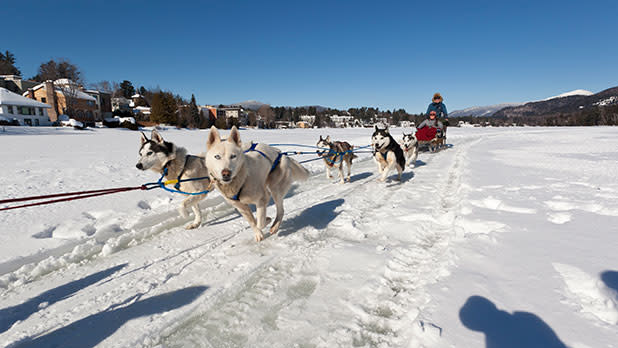 When Mirror Lake freezes over, mushers set up shop for real, live dog sled rides on the lake. Walk down to the lake and book your ride directly for this amazing experience.
1 pm: Olympic bobsled & gondola rides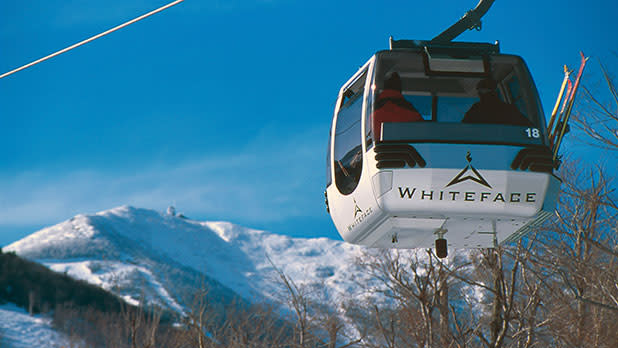 Join a professional driver and brakeman for a thundering half-mile bobsled experience at the Olympic Sports Complex. Riders must be taller than 52 inches and reservations are encouraged. An alternative for those with small fries is a ride on the aptly named Cloudsplitter Gondola to the top of Little Whiteface. Grab lunch at the mountain at spots like Legends and Growler's Grill.
GETTING THERE
By plane: Adirondacks Regional Airport, 96 Airport Road, Saranac Lake, NY 12983-30 minutes to Tupper Lake or to Lake Placid
By train: Amtrak to Westport Station: 1 hour to Tupper Lake or 45 minutes to Lake Placid (by shuttle, taxi or rental car)
By bus: Trailways or Greyhound to Saranac Lake for Tupper Lake or to Lake Placid
By car:
From Albany: 2.5 hours
From Boston: 5 hours
From NYC: 5 hours
From Philadelphia:6 hours
From Montreal: 2 hours
Share New York State adventures with us on Instagram and Twitter with #ILoveNY and #iSpyNY, and tag us on Facebook!