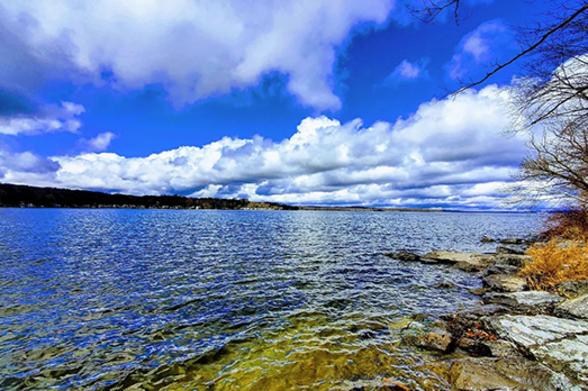 Credit: @_wandering_nelly on Instagram
What better way to experience a rare cosmic event than amid the enchanting mountains, tranquil lakes, and bountiful vineyards of the gorgeous Chautauqua-Allegheny region? From Great Lake views to stunning natural settings and scenic vineyards, these beautiful spots will totally eclipse your expectations for a magical and memorable viewing of the 2024 total solar eclipse.
Allegany State Park: Red House and Quaker areas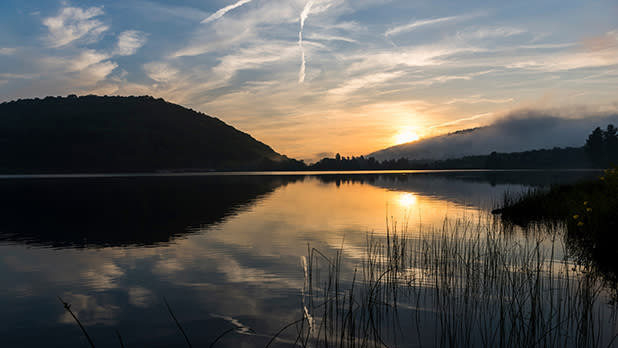 As the largest state park in New York, Allegany State Park's 65,000 acres of primitive forested valleys are ready to deliver epic eclipse views on April 8, 2024. With two sandy beaches, pristine lakes, miles of hiking trails, and picnic spots under the open sky, there's no shortage of spots to soak in the celestial spectacle. With 165 campsites, cabins, and cottages open for booking for the big event, you can turn your eclipse adventure into an extraordinary eclipse getaway, giving you more time to experience the park's natural beauty and explore its two museums, restaurant, and more. 

Credit: @kevin_lesika on Instagram
Lovers of art and science will want to make Griffis Sculpture Park their total solar eclipse viewing spot. One of America's oldest and largest sculpture parks, it features 250 enormous structures of steel and other materials that reside in the woods, fields, and even ponds of this sprawling 450-acre art wonderland creating a spellbinding setting to witness the cosmic dance of the sun and moon. Typically open from May through October, the park plans to welcome visitors for this rare celestial spectacle. 
Long Point State Park makes for a peaceful lakeside setting to bear witness as the moon crosses the sun in a once-in-a-generation event that won't happen again in New York until the year 2079. The 360-acre park, a moraine left long ago by a retreating glacier, juts peninsula-like into Chautauqua Lake and is a popular spot for fishing, hiking, and picnics. Head over to the marina or beach on April 8, 2024 for the park's best views of the total solar eclipse over Chautauqua Lake. After the main event, you're primed to explore the quaint shops, restaurants, and charm of the lakefront village of Bemus Point.
Can't wait to experience the eclipse? Jamestown, the famed hometown of the late great Lucille Ball, is the first city in New York State to achieve totality on April 8, 2024, happening just seconds shy of 3:18PM. Take in the cosmic phenomenon from a bridge or bench on the Jamestown Riverwalk, a five-mile urban trail system that winds its way through downtown along the Chadakoin River. The trail connects to the National Comedy Center and is an easy walk to the Lucy Desi Museum making it not only a great spot for viewing the total solar eclipse and exploring this friendly and historic town.
Views from Lake Erie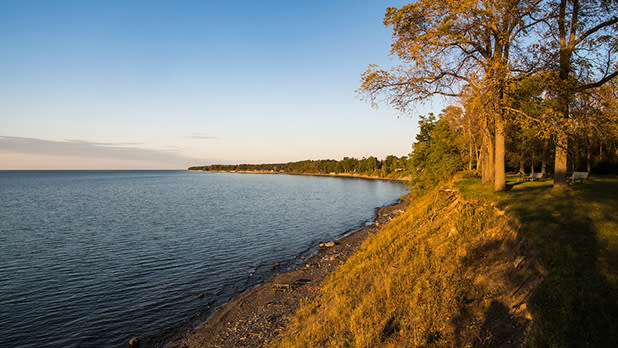 Why not enjoy the Great North American Eclipse alongside a Great Lake? The 355-acre Lake Erie State Park (pictured) in Brocton is located on a high bluff that will leave you spellbound by its breathtaking views of the sky and water. Evangola State Park's beautiful arc-shaped shoreline and natural sand beach lined with low cliffs of Angola shale makes for another great spot for eclipse and Lake Erie views. The park even has 25 campsites ready to be reserved for the eclipse weekend! The historic Dunkirk Lighthouse has some of the most stunning views of Lake Erie. Just pick up lunch from the Boardwalk Market in Dunkirk Harbor and then settle in for an eclipse watching picnic in the park grounds surrounding the 60-foot tower.
Lake Erie Wine Country and the eclipse make for the perfect pairing. As the oldest and largest Concord-grape-growing region in the world, you can raise your glass as you raise your eyes to the skies at any of the more than 20 wineries nestled along the southern shore of beautiful Lake Erie. Toast to the total solar eclipse at any of these fine choices including Johnson Estate Winery, Sparkling Ponds, and Noble Winery, which delivers stunning panoramic views of Lake Erie from its expansive porch.
This 600-acre wildlife sanctuary is the perfect place to immerse yourself in nature while basking in the wonder of the total solar eclipse. Venture along five miles of easy hiking trails that wind through fields, woods, and wetlands with observation towers and an accessible overlook offering ideal views of the natural landscape and spectacular celestial show. There's even more to explore at the educational gardens and three floors of interactive exhibits at the nature center.
You can also view the eclipse at these sites:
Visit Enchanted Mountains, Western NY Wilds, and Tour Chautauqua for the latest information on eclipse-related events, deals, and more in the Chautauqua-Allegheny region.