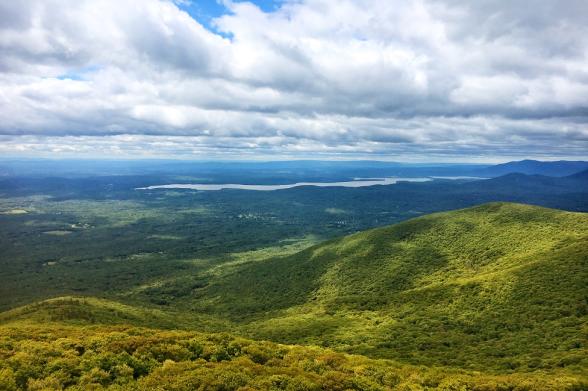 A short drive from New York City is a magical land of forests and streams, restaurants serving food made from ingredients sourced at nearby farms, and rustic-chic lodging (including camping) for any budget. Welcome to Ulster County in the Catskills, home to a variety of hiking experiences, from pulse-pounding climbs in the mountains to tranquil strolls around lakes, plus a wealth of activities at trail's end.
Sign up for small group guided hikes featured in the itineraries below with the New York State Department of Environmental Conservation. But act fast, as spots are limited!
Itineraries: Alder Lake Loop Trail, Hardenburgh; Kelly Hollow Trail, Hardenburgh; Mount Tremper Fire Tower, Shandaken; Onteora Lake Trail, Kingston; Overlook-Meads Meadow Loop, Woodstock; Rochester Hollow, Shandaken; Vernooy Kill Falls, Kerhonkson; More to Love
Alder Lake Loop Trail (Hardenburgh, NY)
(Easy, 1.6 miles round trip, 1.5 hours)
Trailhead parking lot is at the end of Alder Creek Road (County Route 54), two miles north of Beaver Kill Road in Turnwood. This is a scenic hike encircling Alder Lake over gently rolling terrain with plenty of wildlife-viewing opportunities. Look for eagles, osprey, red-winged blackbirds, and other animals that are frequent visitors to the lake.
After your hike, drive about 11 minutes to Little Pond Campground for swimming, canoeing, or kayaking. For lunch, head to Main Street Farm, a local cafe featuring fresh local ingredients sourced mostly from within the Catskills region. Once lunch is finished, stroll down Main Street to visit the Catskill Art Society, which offers a multitude of exhibits and films throughout the year. For dinner, drive six minutes to The Arnold House Inn Tavern. This warm and friendly restaurant features seasonal, locally sourced dishes (like trout with potatoes and ramps) and reliable tavern fare like burgers and fish 'n chips, plus craft beers on tap and a well-curated wine list.
Kelly Hollow Trail (Hardenburgh, NY)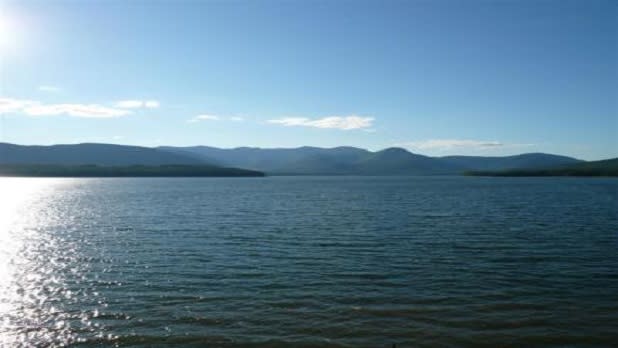 (Easy/moderate, 2-3.8 miles round trip, 1.5-3 hours)
The trailhead parking lot is on Mill Brook Road. 5.5 miles east of the junction of Mill Brook Road and the NYC 4 Road/BWS Road No. 4 (south side of Pepacton Reservoir, pictured). From this trailhead, you can hike a short loop, two miles round trip, or extend the hike to the longer loop, 3.8 miles, passing by a lean-to and a beaver pond.
After your hike, drive about 20 minutes to have an early lunch at Crazy River Café, a local favorite where you can splurge on a Reuben or a Philly cheesesteak (hey, you earned it), or graze on a hearty salad. The cafe is best known for its breakfast, so you can also flip this itinerary and fuel up before heading for the trail if you wish. From lunch, drive about 25 minutes to Catskill Outdoor Adventures for an afternoon fishing excursion. The company specializes in fishing on the Pepacton Reservoir, so get ready to reel in some trout! Next, take a scenic drive five miles up State Highway 30 to visit the Round Barn of Halcottsville, a 19th-century landmark recognized by the National Register of Historic Places. The site also hosts the Pakatakan Farmers Market in season (late spring through fall) on Saturdays from 9am-1pm. 
Finish off the day with dinner at Inn Between Steak & Seafood Restaurant, a casual family-friendly restaurant with views of the Delaware River.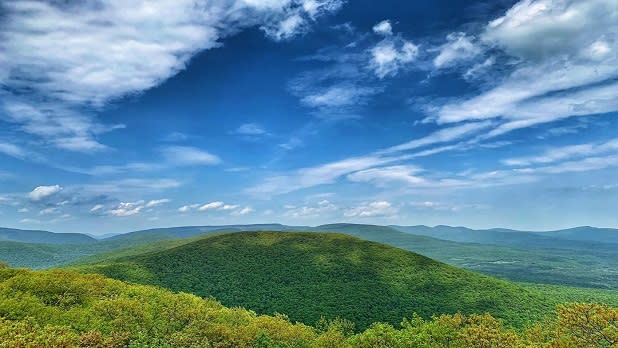 The northeast view from the Mt. Tremper Fire Tower. Credit: @adam_page_taylor on Instagram.
(Moderate, 6.1 miles round trip, 4 hours)
The trailhead is on Plank Road (County Route 40), 1.5 miles east of the hamlet of Phoenicia. From the trailhead, follow red markers along a narrow foot trail for about a half mile over rolling terrain, then turn right onto an old wood road through a hemlock-northern hardwood forest ascending gradually at first, then more steeply, passing the Baldwin Memorial Lean-to at 2.2 miles from the trailhead. Continue the ascent on the old wood road, passing another lean-to just before reaching the fire tower at the summit at 3.05 miles. Return to the trailhead by descending the trail you came up.
After your hike, drive 3.3 miles to the Phoenicia Diner, for a delicious lunch in a vintage and lovingly restored diner built in 1962. Now head down the road three miles to the Emerson Resort, a beautiful converted barn and silo with a contemporary inn, and home to the world's largest kaleidoscope, along with quaint shopping in country stores. Stop for a snack at Bread Alone Bakery, open since 1983. Also, be sure to sample the craft beers at Woodstock Brewing, which offers a selection of lagers, Gose beers, and other styles, plus non-alcoholic options, wine, and a robust menu with Mexican and American favorites.
Onteora Lake Trail (Kingston, NY)
(Easy, 2.4-3.7 miles round trip, 2-3 hours)
Trailhead parking lot is on Route 28, three miles west of Thruway Exit 19 (Kingston). Explore the Bluestone Wild Forest, with several historical mines that provided bluestone for sidewalks for many cities, including nearby Kingston and New York City. An easy trail runs along picturesque Onteora Lake on the western shore, then loops around, passing old quarries and the eastern shore of the lake before returning to the trailhead. Extend your hike by adding on the red loop 1.1 miles, or the blue loop 1.3 miles.
After your hike, drive 20 minutes into Kingston to explore the Kingston Uptown Historic District. This neighborhood features many historical buildings like the Old Dutch Church, as well as unique modern shopping options. Once you get hungry, stroll over to Keegan Ales for a brewery tour and a bite to eat. Head back to your car and drive 10 minutes to the Hudson River Maritime Museum, which allows visitors to stroll through an old boat shop that features displays of ice boats, along with plenty of fascinating history about boating and maritime commerce on the Hudson. While there, tour the Rondout Lighthouse. Explore this historic structure from top to bottom with a knowledgeable tour guide. Then, drive five minutes back to Kingston for dinner at Mariner's Harbor, a riverfront seafood restaurant with live music on the weekends.
Overlook-Meads Meadow Loop (Woodstock, NY)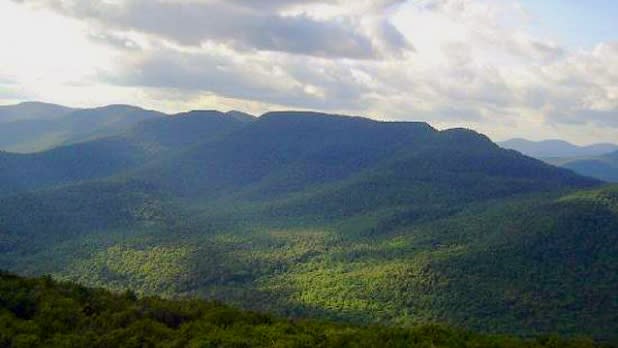 (Moderate, 6 miles round trip, 4 hours)
Overlook and Meads Meadow Loop To get to the trailhead parking lot from Woodstock, take Rock City Road north, then continue on Meads Mountain Road, passing the Overlook trailhead parking lot at the height of land and descend on what is now McDaniel Road .5 miles to the Meads Meadow Trailhead Parking Lot. The Meads Meadow Trail Loop (.5 miles) and Overlook Trail Loop (1.3 miles) offer easy, short family-friendly style hikes (1.5 hours). Alternatively, extend your hike by climbing Overlook Mountain (2.4 miles, moderate) and take in the view (elevation 3,140 feet) from the fire tower.
After your hike, drive nine minutes to visit Karma Triyana Dharmachakra. This Tibetan Buddhist Monastery was founded in 1976 and offers tours to visitors from around the world as well as weekend programs on Buddhist philosophies. For lunch, drive 10 minutes to Provisions in Woodstock. This restaurant and pub is located on the grounds of the Woodstock Golf Club. They offer hearty portions made from locally sourced ingredients. Next, drive one mile to the Historical Society of Woodstock, a unique exhibit space with an extensive archive of paintings and other works dedicated to preserving the history of Woodstock.
Finish up your day with a walk on Tinker Street followed by dinner at Joshua's, a local favorite serving farm-to-table, global cuisine in a welcoming, relaxed atmosphere.
Rochester Hollow, (Shandaken, NY)
(Easy, round trip 5.2. miles, 3 hours)
Trailhead parking is at the end of Matyas Road, .5 miles north of its junction with State Route 28, a mile west of Big Indian. A pleasant, easy hike on an old woods road that follows a babbling brook as it ascends the hollow to a monument to naturalist John Burroughs at 1.9 miles from the trailhead. Continue on to an old farmstead at 2.5 miles, and just beyond that, a lean-to shelter overlooking a sugar maple stand. In addition to the main trail, marked with blue markers, there are two alternative trails that leave and rejoin the main trail, allowing one to explore former farm fields surrounded by laid-up stone walls.
Drive five minutes to go rent a pedal boat, kayak, or aqua trike, or to swim at Belleayre Beach at Pine Hill Lake. Next, take an 11-minute drive to dine inside a refurbished train caboose at Arkville Bread & Breakfast. Next, drive one minute to Union Grove Distillery, a family-run craft farm distillery known for its Vly Creek Vodka and other spirits. Take a free tour and get a tasting, or order a signature cocktail at the copper-top bar. 
Vernooy Kill Falls (Kerhonkson​, NY)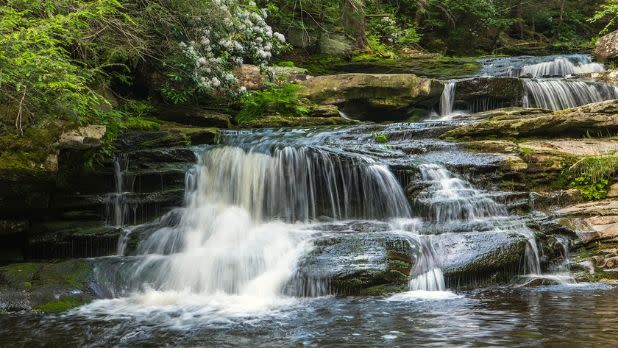 (Easy, 3.6 miles round trip, 3 hours)
Trailhead parking is on Upper Cherrytown Road north of Kerhonkson (take County Route 3 north from State Route 209). The trail, marked with red markers, follows an old woods road, gradually ascending Cherrytown Mountain to a series of picturesque waterfalls near the site of an old mill.
After your hike, drive 20 minutes south to visit Kelder's Farm & U-Pick. Kelder's Farm is a 200-year-old farm featuring pick your own fruits and vegetables, a petting farm, mini-golf, and much more. For lunch, drive 18 minutes to the Publik House, a small-town traditional pub with live music on the weekends. Drive about 15 minutes to explore Ellenville Fault Ice Caves. a remarkable system of crevice caves that fill with ice and snow each winter, with ice lingering well into summer. The caves are located in the Sam's Point area of Minnewaska State Park. It is about a four-mile round trip to access the caves. Next, drive 15 minutes to dinner at Aroma Thyme Bistro, a lively restaurant serving organic, sustainable New American fare.
More to Love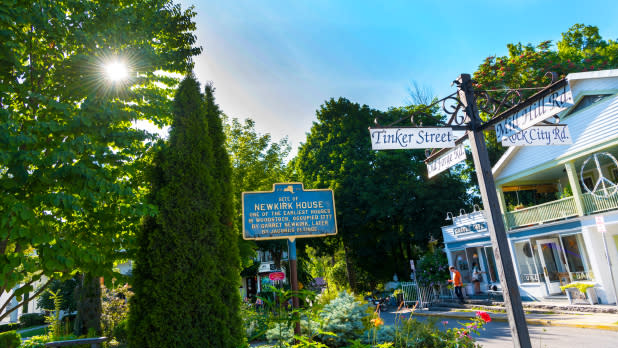 If you have more time, visit some of the following attractions nearby. Check driving times to see what makes sense for the hikes you've included in your day.
Take the Catskills Fire Tower Five Challenge: Hike and climb five Catskills fire towers for a chance to win New York State prizes and badges.
Shop 'til You Drop: Browse the shops along Tinker Street in Woodstock to find everything from rugs and furniture to art and locally made clothing. Or head to New Paltz for a visit to Water Street Market, with more than 20 shops featuring art, clothes, gifts, and more. 
Get On The Water: Rent a canoe or kayak and paddle around the lake at the Kenneth L. Wilson Campground, go for a swim in a mountain lake at Minnewaska State Park Preserve in the dramatic Shawangunk Mountain ridge, or try your hand at fly fishing on Esopus Creek.
Get Cultured: Woodstock offers many opportunities to experience art, music, theater, and more. Visit the Woodstock Byrdcliffe Guild, the oldest continually operating arts colony in the US, which hosts exhibitions, concerts, readings, and classes. Check the schedule at Maverick Concerts for a chance to see chamber music, jazz, and folk performances in a barn-like structure in the woods around Woodstock. Summer Saturdays often feature special concerts for children. 
Ride the Railroad: Take a scenic Catskills train ride on the Catskill Mountain Railroad, fun for the whole family in Kingston.
Where to Stay: The Samuel F. Pryor III Shawangunk Gateway Campground provides a high quality, minimalist camping experience for visitors to the breathtaking Shawangunk Mountains. For a boutique hotel experience, try The Graham & Co, a 20-room hotel in Phoenicia at the foot of Hunter Mountain with an outdoor pool, badminton court, and sharply designed rooms that evoke the local landscape. The Catskills is known for its resorts, such as Honor's Haven Resort and Spa in Ellenville. The Forsyth B&B and A Kingston Bed and Breakfast offer visitors B&B options in Kingston. Want to add horseback riding to the itinerary? Pine Ridge Dude Ranch is an all-inclusive hotel with horseback riding adventures for all ages. 
---
Read More: Hiking in Delaware & Sullivan Counties; Hiking in Greene County; 14 Hikes in the Catskills
Don't forget to share your summer vacation with us! Share New York State pictures on Instagram and Twitter with #FindWhatYouLoveNY and tag us on Facebook!