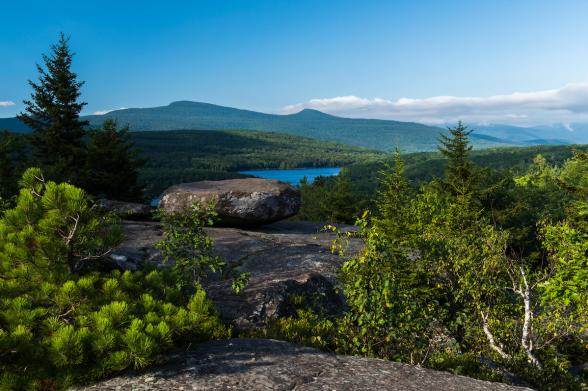 Why are the Catskills one of the hottest destinations in the US right now? Stylish resorts, acclaimed farm-to-table restaurants, and country-chic boutiques are the recently added attractions, but the region's beauty is the template. There's no better way to experience the Catskills than with a hike on its trails, which offer something for every type of outdoor adventurer, from those looking to get their heart rates up to those in search of a tranquil stroll in the woods. 
Whatever your skill level, be prepared: the Catskills may be a cultural hot-spot but many Catskills trails are in the true wilderness, and weather, wet or icy terrain, and other factors should be considered before setting out on any of the longer or even shorter hikes listed below. You should also check the New York State Department of Environmental Conservation hiking page for tips in advance of your trip, and you can find numerous other Catskills hiking itineraries and information here. 
Updated 4/28/23
SHORTER HIKES (less than 3 miles):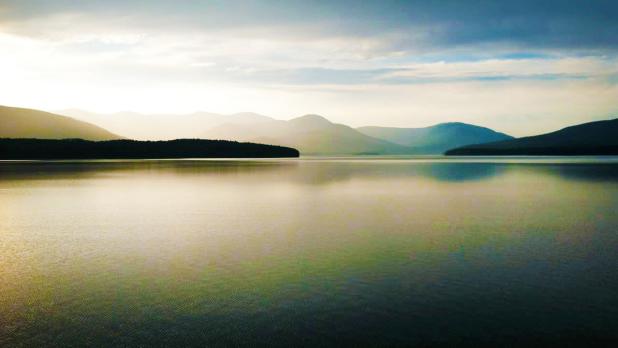 The glimmering reservoir that supplies drinking water to New York City features numerous hiking options, including a paved 2.8-mile loop that meets ADA accessibility requirements. The verdant summer and colorful fall scenery make this a stunner, and mountain views and the chance to spot a bald eagle in flight make this a trail worth traveling.
A hike around a scenic man-made lake, this 1.3-mile loop near Roscoe is mostly flat and easy but can require some skill because it can get wet and muddy and exposed tree roots along the trail may require some maneuvering. It is otherwise convenient, as you can park nearby or even camp within the 497-acre Crystal Lake Wild Forest.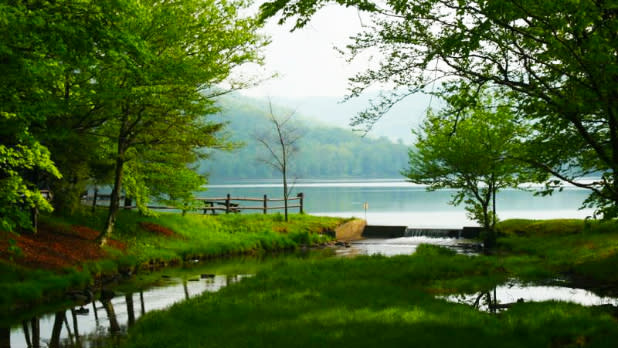 This popular hike is a 2.2-mile loop with scenic views of the pond and surrounding mountains, wildlife and bird-watching opportunities, and a boardwalk stroll through a hemlock grove. Think it can't sound any better than that? Nearby post-hike stops include Mongaup Pond Campground (pictured), which has a beach for swimming and canoe rentals, picnic tables, and an accessible fishing pier, or Catskill Fish Hatchery, which offers tours (8 am–4 pm Monday through Friday, 8 am–noon on weekends and holidays).
This 2.4-mile hike is a favorite for visitors to the burgeoning city of Kingston, as well as for those looking for an easy-to-moderate hike or for those who want to bring along their dog (on a leash). The lake offers a serene setting, attracting kayakers and anglers hoping to hook a bass.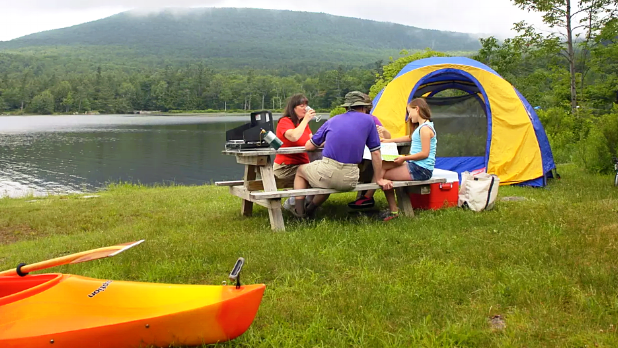 This easy .6-mile hike through a wooded glen alongside a beaver meadow is perfect for parents with small children looking for a hike that doesn't involve being near steep cliffs. Trailhead parking for Mary's Glen and Ashley Falls is about a mile from North-South Lake Campground (pictured, open May–October, with day use fees), the most popular and biggest campground in the Catskills.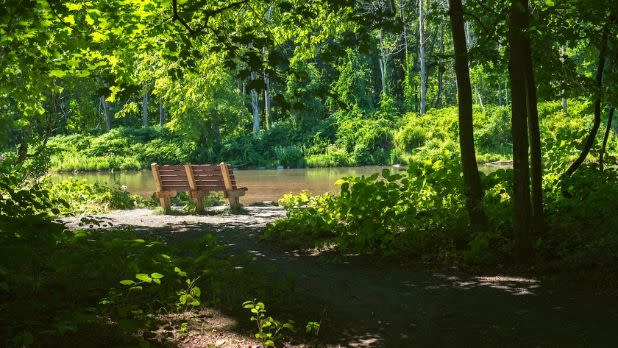 The .75-mile loop trail outside the Catskills Visitor Center, named for environmentalist and Congressman Maurice D. Hinchey, offers the opportunity to learn firsthand about the beauty and nature of the 700,000-acre Catskill Park. Built to comply with ADA standards, the trail is accessible to all. A visit inside the center is also a must, to experience interactive exhibits about the majesty and history of the Catskills.
LONGER HIKES (3 miles or more):
Some of the best wildlife viewing opportunities in the Catskills, thrilling stream crossings, and a moderately difficult ascent up the 3,602-foot Balsam Mountain make this 9.4-mile trail exciting for experienced hikers. The summit offers a long and mostly pleasant walk to experience the view. Hiking websites recommend starting the loop in the clockwise direction to cross the sizable stream at the end rather than the beginning to avoid getting wet at the outset of the trek.

Credit: Marie Frei
It's a slow, steady ascent through Overlook Mountain Wild Forest to get to the fire tower at 1,370 feet. There are scenic views along the way, except in summer, when trees provide a cool canopy, but 1.6 miles up, the ruins of the castle-like Overlook Mountain House (pictured) come into view. The upscale resort for wealthy Manhattanites, built in 1833, was abandoned in the 1920s. Nature is reclaiming the structure, but the carriage trail that once ferried guests to the top of the mountain retreat comes in handy for visitors, who take advantage of the moderately difficult 5-mile hike.
One of the highest-rated trails in the Catskills also requires the most elevated skill levels for hikers. The ascent to the peak of Blackhead Mountain is steep but experienced hikers say it's worth the trip for views of the region's other big peaks, including the breathtaking Black Dome. Keep in mind that proper footwear and other gear is required here, and while a round trip clocks 4.7 miles, the ascent and descent can take considerable time and effort.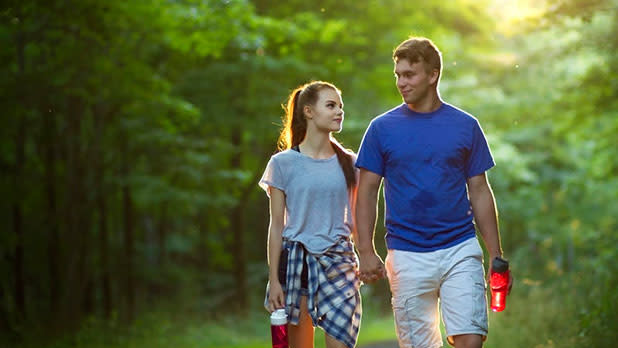 This 26-mile trail offers scenic, mostly flat terrain that runs along the west branch of the Delaware River. The trail is built on rail lines that once moved produce and timber from the area to New York City, and which have been converted for the enjoyment of hikers, bikers, cross-country skiers, and others.
It's tough to get to but that's the point: hiking to the Hunter Fire Tower involves a nearly 1,000-foot ascent from the nearest parking lot and at least a 5-mile round trip hike with steep terrain that can be challenging. The reward is views from 4,000 feet above the forest and a close-up glimpse of the 100-year-old, 60-foot tower, not to mention the strenuous workout!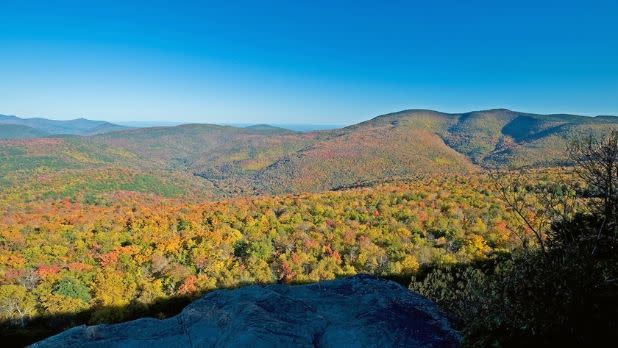 Get a view of the eastern Catskills from atop open rock ledges at the 3,200-foot elevation summit during a moderately challenging 3-mile round trip hike (6 miles if you add a trek up Panther Mountain). The trail can be steep and can require scrambling over rocky sections, so it's best to come prepared with proper hiking footwear and provisions. It can be particularly stunning during fall foliage season (pictured).
This itinerary begins with a 2.65-mile hike alongside bucolic Kanape Brook that features views not only of nature but of the remnants of hillside farms (the name of the brook derives from an early agrarian in the area, John Canape). Along the way, you'll cross the brook and connected streams, then pass through a dense plantation of Norway spruce trees. When the trail leaves the old road, you can loop back for a 5.3-mile round trip, or continue 1.25 miles and almost 1,500 feet up to the 3.080-foot summit at Ashokan High Point Mountain.
At 3.5 miles round trip, this is an easy-to-moderate hike with a major destination in the middle: Vernooy Kill Falls, a brilliant natural structure that looks like a waterfall crossed with a staircase. The hike has plenty going for it otherwise, including a footbridge that offers one of the Catskills' best (and safest!) selfie opportunities, and the remnants of the Vernooy Mill, where farmers from surrounding areas brought grain to be milled more than 200 years ago.