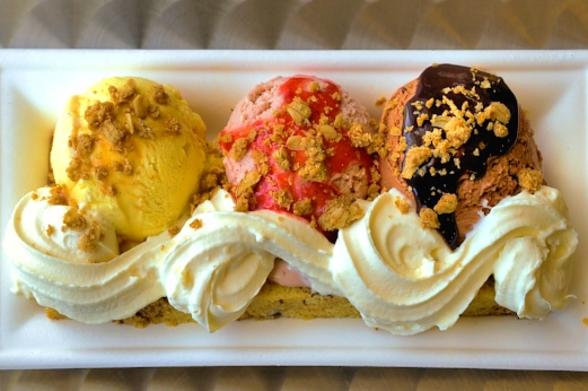 We all scream for ice cream—and New York State, where the ice cream sundae was invented, has some of the very best. From trendy artisan-run shops, featuring unique flavors you won't find anywhere else, to classic roadside stands pumping out soft serve made from locally sourced ingredients, these are some of the best places to satisfy your cravings across New York, along with some things you might want to do in town when you're not busy eating ice cream. 
Masks are encouraged, but optional in most settings per New York State guidelines. Individual businesses or attractions may require mask wearing. Call ahead and check websites and social media to make sure attractions and amenities are open and available.
Updated 5/25/2023

Legend has it that the ice cream sundae was invented at Platt & Colt's Pharmacy in downtown Ithaca in 1892. Though the pharmacy has since closed, get your fix at Purity Ice Cream, the more than 85-year-old parlor with a retro vibe, where you can choose from a plethora of options that even include soy-based ice creams and gluten-free cones.
While in town:
Spotted Duck, Penn Yan (Finger Lakes)

Credit: Spotted Duck Creamery
Why settle for one flavor when you can taste 12? At Spotted Duck, a Penn Yan creamery that makes frozen custard with duck eggs and organic, locally sourced ingredients, ice cream "flights" feature elevated versions of classic flavors alongside unique seasonal offerings such as "Maple Nutt" and "Mistletoe."
While in town:
Lake Effect, Lockport / Buffalo (Greater Niagara)

Credit: J. Wolf
At Lake Effect, small-batch artisan ice cream is paired with locally crafted mix-ins (like chunks of fry cakes from Paula's Donuts) to create out-of-this-world sundaes that'll have you feeling the #Buffalove. The Lockport shop is located right above the historic Flight of Five lock system on the Erie Canal, so take your cone across the street for the perfect vantage point for watching the boats go by.
While in town: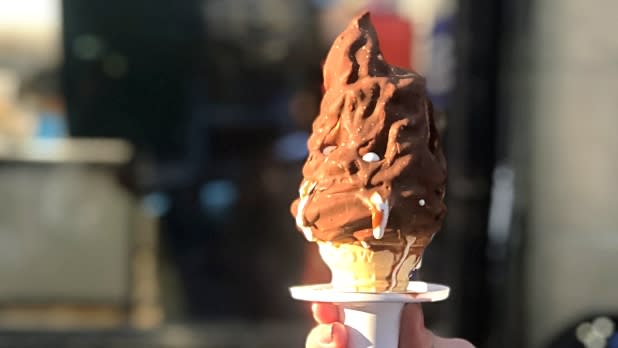 Putting the rainbow in rainbow sprinkles since 2011, the Big Gay Ice Cream Shop serves some of the city's best ice cream and everyone's invited to the party. Get the "Salty Pimp" featuring vanilla soft serve, dipped in salt, injected with dulce de leche, and covered in a crunchy chocolate shell, and see why it was chosen for an episode of the Food Network's "The Best Thing I Ever Ate," or shake it up with a pick off the extensive milkshake menu.
While in town:
Everything tastes better on a stick, and that certainly holds true for Zora Dora's, which serves ice cream and sorbets in popsicle form. The downtown Beacon "popsicle gallery" features unique flavors like avocado and passion fruit/strawberry made with the freshest ingredients the Hudson Valley has to offer.
While in town:

Credit: VisitLakeGeorge.com
Named one of TripAdvisor's Top 10 ice cream parlors in the US, Martha's, along with its big rooster-topped neon sign, has been a Lake George landmark for over 75 years. Crowds flock to this roadside stand for its generous cone sizes and rotation of 37 delicious flavors of homemade soft serve that change daily.
While in town:

Credit: Jamestown Up Close
Nestled in a hip little block downtown, the Sprinkle Cone serves up unique flavors of locally made ice cream in freshly made waffle cones that have sprinkles pressed into them. Try staples like cake batter or salty caramel with peanuts, or ditch the cone and order a Thai tea float made with vanilla ice cream, Thai tea, and tapioca bubbles. The kiddos (and adults, tbh) will love playing with the chalkboard wall and selfie props, among other fun knick-knacks.
While in town:

Credit: Tricia Jordan
Located inside a cute Adirondack-style log cabin, the Ice Cream Man is known for its hard and soft serve custard made on-site from locally sourced dairy. You'll find a selection of daily favorites like Orange Pineapple and Almond Joy complemented by an additional batch of exotic flavors that are announced almost daily on the shop's Facebook page. Over the years, the team behind the Ice Cream Man has handcrafted more than 300 custom recipes, a batch at a time. Don't leave without trying the sundae that was good enough to challenge Bobby Flay on the Food Network show "Throwdown with Bobby Flay"—warm apples, nuts, and whipped cream are piled atop vanilla ice cream and, of course, crowned with a cherry on top.   
While in town: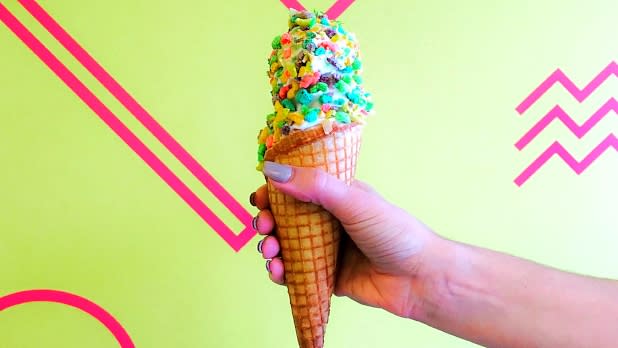 This local favorite makes all of their ice cream in-house from grass-fed Ithaca milk and local ingredients—the coffee flavor, for example, is made with Buffalo-bred Tipico Coffee. You won't find any artificial flavors or colorings here, but you will find creative toppings and even a vegan option. Skip the cherry and top your sundae with a fresh churro.
While in town: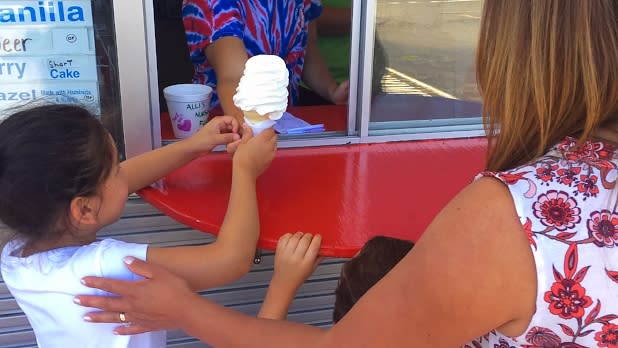 Move over, groundhog! In Central NY, the arrival of spring is marked by the season's opening of Humdinger's ice cream shop—usually around St. Patrick's Day. Humdinger's homemade ice cream has been drawing lines for more than 60 years thanks to more than 50 hard ice cream flavors and signature soft-serve swirls.
While in town: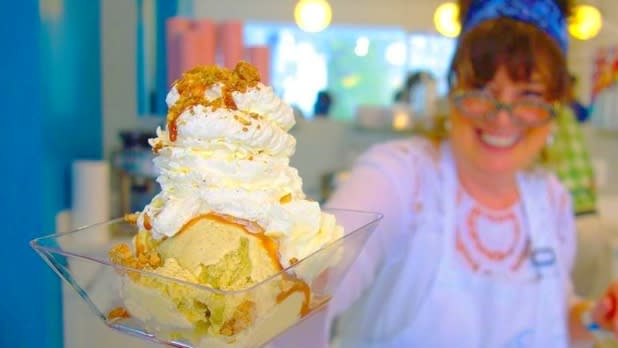 With almost all ingredients coming from local farms and purveyors in the Catskills, Nancy's offers a true farm-to-cone experience. Old-fashioned favorites are scooped into cones, cups, and sundaes, but are also available as beautiful ice cream cakes drizzled with hot fudge and caramel.
While in town:
There's something magical indeed about this old-fashioned ice cream shop serving up thoroughly modern concoctions like kulfi and hazelnut biscotti. Make a meal of it with one of the shop's "Magic Wonders," like the very Insta-worthy banana split.
While in town:

Credit: Nancy J Parisi
Route 20 is not just one of the tastiest places in New York State to stop for a cone, but it's also one of its most photogenic. Housed in a vintage gas station that also doubles as a museum dedicated to all things nostalgia, this scoop shop serves every type of frozen treat imaginable, including protein shakes for the diet-conscious and a "Doggie Dish" filled with vanilla ice cream and doggie treat sprinkles for your furry pals. Not one to leave out mom and dad, Route 20 celebrates these everyday heroes by giving parents a free small cone of ice cream every Mother's and Father's Day.
While in town:
---
Don't forget to post photos of your New York adventures on Instagram and Twitter with #iSpyNY and tag us on Facebook!