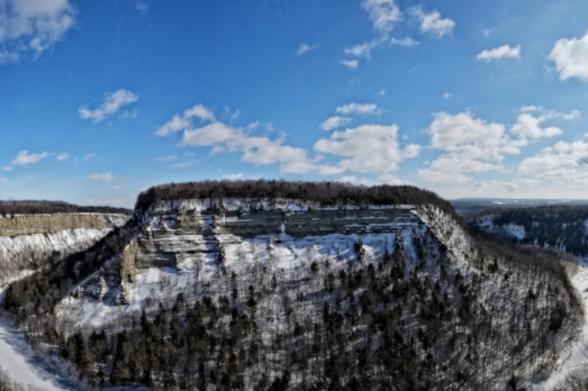 What activity will get your heart rate up while offering stunning views and tranquil moments to whisk you away from life's daily pressures? Winter hiking in New York! Sure, you need to be prepared (here are helpful tips from the Department of Environmental Conservation), but once you're hiking one of New York's many scenic trails in winter, you'll experience the state's beauty in new and inspiring ways while getting in some outdoor exercise. Here's our round-up of 10 of the best winter hikes in New York State. 
Masks are encouraged, but optional in most settings per New York State guidelines. Individual businesses or attractions may require mask wearing. Call ahead and check websites and social media to make sure attractions and amenities are open and available.
Originally published: 01/16/2018 
Just 30 miles north of New York City is Harriman State Park—the second largest state park in New York. With 46,613 acres, 31 lakes, 3 beaches, and more than 200 miles of hiking trails, where do you begin? Winter hikers recommend the Silver Mine Lake Loop, whose trailhead is an abandoned ski area. This leisurely wooded hike will take you to the top of Black Mountain, where you'll find a stunning view of the city's skyline.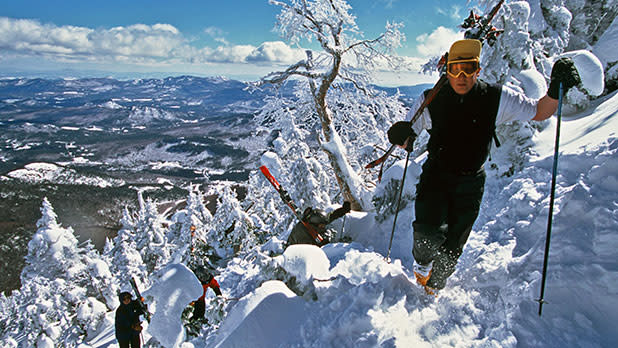 Experienced hikers can head to the top of famed Whiteface Mountain for unbeatable views of Lake Placid. During the winter, trails are often empty, as snowy conditions scare away casual enthusiasts. But the hike is doable—the east side of the mountain is only mildly exposed, and the north side offers great terrain for climbers in the winter. This is the only peak in the Adirondacks with distinct evidence of alpine glaciers.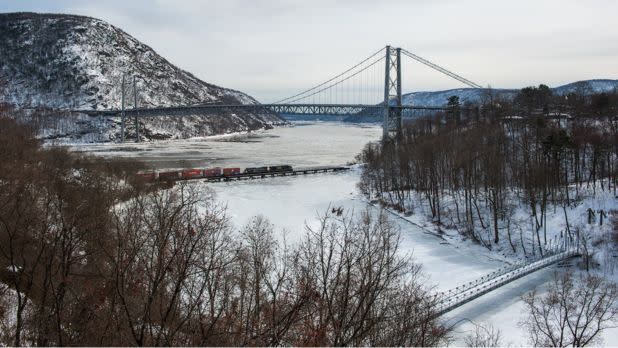 On the west side of the Hudson River, you'll find Bear Mountain State Park—more than 5,000 acres of beautiful mountain trails nestled right along the river. Located right next door to Harriman State Park, Bear Mountain is just a short drive from the city. Check out some of the most popular trails from seasoned New York hikers. Surround yourself with wooded forests, beautiful waterfalls, and gorgeous mountaintop views. Dogs are welcome!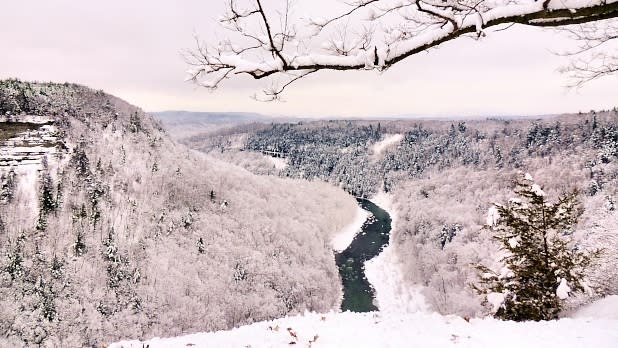 Letchworth State Park, hailed as "the Grand Canyon of the East," sits along the Genesee River in Western New York. Hike the canyon—with cliffs as high as 600 feet—or take trails through the lush forests that surround the area. The river meets the 400-foot-deep gorge to form three major waterfalls—an especially beautiful sight in the winter months.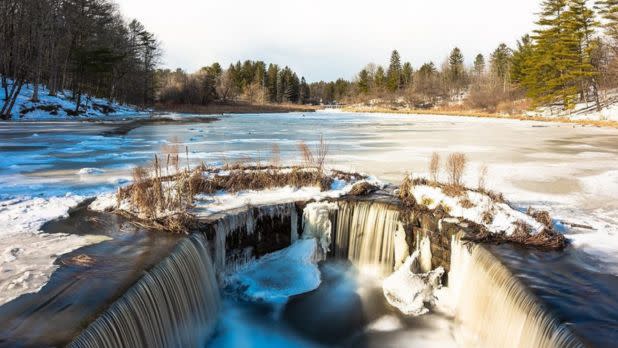 Credit: @kelvin_krimaging on Instagram
This 450-acre nature center, located near Albany, is a popular winter destination for thousands of New Yorkers. Hike, snowshoe, or ski through snowy fields filled with local wildlife. Surrounded by towering trees and icy streams, Five Rivers is an easy and accessible hike.
Buck Mountain Trail, Lake George Wild Forest (Adirondacks)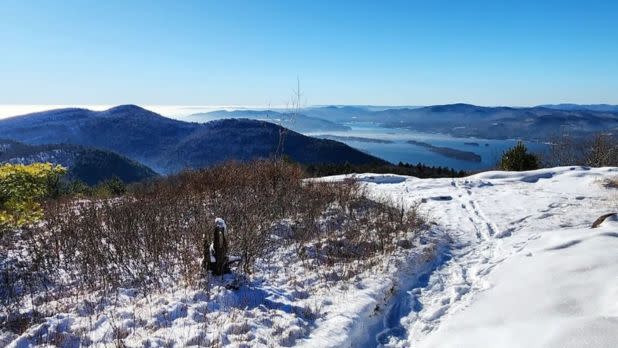 Credit: @east_coast_hiker on Instagram
Beginning hikers can still enjoy amazing summit views on Buck Mountain Trail in Lake George. Experience the solitude of the woods in winter as you ascend to the top to find cascading views of the lake and the expansive Adirondack Mountains. Wildlife is scarce here during the winter months, but Buck Mountain's leisurely trails are a great introduction to winter hiking.

A sunny winter day is perfect for a hike around the picturesque Mohonk Mountain House on Lake Mohonk, just 90 miles north of NYC. Designated a National Historic Landmark in 1986, this resort sits on 2,200 acres of landscaped meadows, adjacent to the Mohonk Preserve—an 8,000-acre expanse of mountain terrain. Forty miles of hiking trails through forests, cliffs, streams, and ponds provide cascading views of the Catskill Mountains.
In the southwest corner of Catskill Park, enjoy more than 40 miles of rolling, snow-covered hills by foot, snowshoe, or cross-country ski. If you're interested in wildlife, Willowemoc is home to black bears, white-tailed deer, beavers, coyotes, and wild turkeys. While you're there, visit picturesque Waneta Lake. Willowemoc's terrain is quite hilly, so this hike is best for intermediate hikers.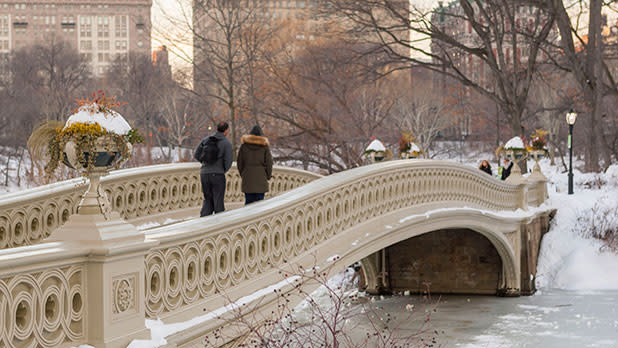 City-dwellers don't have to go far for a beautifully scenic winter hike! 800 acres of trees, meadows, streams, and ponds, all surrounded by the beautiful architecture of New York City. Hike the park's paved paths for an easy trek, or surround yourself with nature in the park's 90-acre North Woods or 38-acre Ramble.
Mashomack offers more than 2,000 acres of magnificent scenic beauty in a pristine, natural setting. Only hiking is allowed—no bicycling or even jogging—so as not to disturb the native wildlife, including osprey, foxes, and even harbor seals. Bundle up and enjoy a leisurely hike along oak woodlands, tidal creeks, and 10 miles of coastline. During January, Mashomack Preserve is open on weekends only; sorry, no pets allowed.
---
Share your New York State adventures with us on Instagram and Twitter with #iSpyNY and tag us on Facebook!