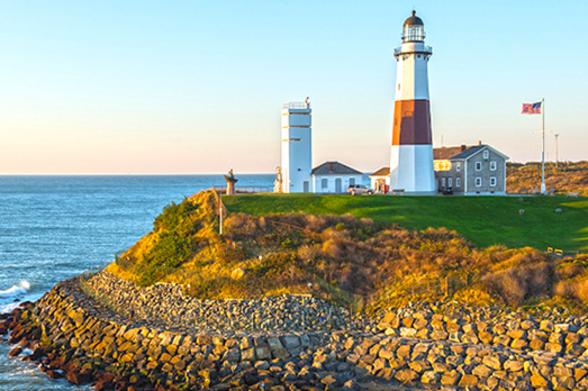 Though it's technically part of the Hamptons, New York's legendary luxury playground, Montauk, long ago forged its own identity as a quirky hamlet known for fishing, beaches, parks, and for its nickname, "The End." With a centuries-old lighthouse at the easternmost point in New York State as its calling card, today Montauk offers something for everyone, from families on beach holidays to fishing enthusiasts and surfers to twenty-somethings seeking out the increasingly active nightlife scene. Here's your guide to a diverse weekend in Montauk. Remember to social distance and wear a mask as required by state guidelines. Call ahead and check websites and social media to make sure attractions are open and available. 
Updated 2/13/23
FRIDAY
4 pm: Make a pit stop for some seafood
After you've passed East Hampton, you're in the home stretch of your trip to the tip of Long Island's South Fork and almost to Montauk. Before you get into town, you'll pass two classic seafood shacks practically across the street from each other: The Lobster Roll and Clam Bar at Napeague (both open seasonally). Stop at either one and get your first taste of fresh seafood to start your weekend right, whether it's a succulent lobster roll, a dozen local oysters, crispy strips of fried clam, or even an early dinner with a catch straight off the day-boat.
5:30 pm: Check into your hotel
Montauk hotels have grown increasingly chic over the past few years as the area has evolved from quiet beach town to luxurious getaway. In season—between Memorial Day and Labor Day—you'll pay top dollar whether staying in a small motel or at the famed Gurney's Montauk Resort & Seawater Spa. Boutique hotels like Hero Beach Club and the Breakers, a seaside 1950s-era hotel renovated in 2017, present varying takes on the new Montauk. Wherever you decide to stay, you'll be close to beaches, parks, and shopping.
8 pm: Dinner at South Edison
There are plenty of options for restaurants in Montauk. To start the weekend on a sophisticated note, head to South Edison, which serves fresh seafood in an upscale-casual dining room with sleek city-meets-beach décor.
SATURDAY
7 am: Go fishing! (optional)
Many who come out east are here for one thing: Montauk fishing! Whether you've booked a private fishing charter or want to try your hand at reeling in a few bluefish, bass, or fluke out on the open waters, this town has you covered. If you're in the latter category, head to the docks on Montauk Harbor and look for half-day trips with a reputable operator like Viking Fleet, Ebb Tide (pictured), or Miss Montauk II.
9 am: Grab breakfast at Montauk Bake Shoppe

Credit: @j_bend27 on Instagram
If you've missed the boat, so to speak, head to Montauk Bake Shoppe (reopens in March), one of the best breakfast spots in town, for a mix of savory and sweet options to go. Grab an egg sandwich on a fresh-baked croissant, jelly-filled items (croissants or donuts), or try a "cruffin," a mash-up of a croissant and a muffin that locals swear by. Traveling with kids? There are buttermilk pancakes and French toast on offer as well. This place is a classic, too; the menu notes they've been "Serving Montauk for over 50 years."
10:30 am: Visit the Montauk Lighthouse

Photo by Lenny Catalanotto, Courtesy of Discover Long Island
One of the most picturesque places in all of New York State is Montauk Point, the home of Montauk Lighthouse (pictured), completed in 1796 after authorization from President George Washington. Today, this beautiful structure houses a museum about its rich history (admission is $10 for adults, $8 for seniors and $5 for children 12 and under), while the grounds around it encompass a state park, scenic bluffs, and of course beaches. 
1 pm: Grab lunch at Inlet Seafood Restaurant

Credit: Bonnie Brady
Before heading back from the Point, have lunch at Inlet Seafood Restaurant, a stunner on Lake Montauk known for its sushi (pictured), lobster rolls, burgers, and more. Owned and run by six commercial fishermen from the area, this is a homegrown gem. Try to score a table on the second level, which offers tranquil views of the surrounding waters. (If you can't make it for lunch, a sunset dinner here is also spectacular.)
2:30 pm: Spend some time on the sand
Drive back to town, ditch the car, and spend the rest of the afternoon on one of Montauk's famous beaches. Kirk Park Beach is a public beach with lifeguards, restrooms, and a usually pleasant surf that's great for playing in the waves. It can get crowded in summer but hey, Montauk isn't as sleepy as it used to be.
5 pm: Grab a beer at Montauk Brewing Company
A short walk from Kirk Park beach is the charming tasting room for Montauk Brewing Co., the craft brewer whose beers reference their location, in name and in flavor. The company makes a crisp pilsner and a light summer ale that perfectly complement a day spent on the beach, while their IPAs and fruit-tinged specials (like Watermelon Summer Ale) are perfect as a seaside aperitif. For families whose kids' boundless energy prevails over the beach, wind down with a game of mini-golf at Puff 'N' Putt (open seasonally).
6 pm: Choose your sunset spot
Decisions, decisions. In the mood for a sunset cocktail at Navy Beach? Maybe skip the drink and head to Duryea's for lobster on the docks for a more casual night out (or with kids). Or just take a stroll on the beach. There's no incorrect way to do sunset in Montauk.
8 pm: Grab dinner at Scarpetta Beach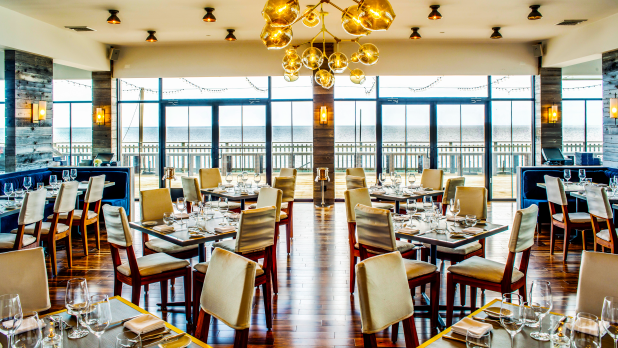 Still hungry and want to tap into Montauk's more glamorous side? Scarpetta Beach (pictured) at Gurney's features a sleek, open-concept dining room and a menu of fresh seafood, tasty Italian dishes, and steaks. Make sure to start with at least one order of creamy polenta and then order a spaghetti or two for the table.
SUNDAY
9 am: Spend the morning surfing or golfing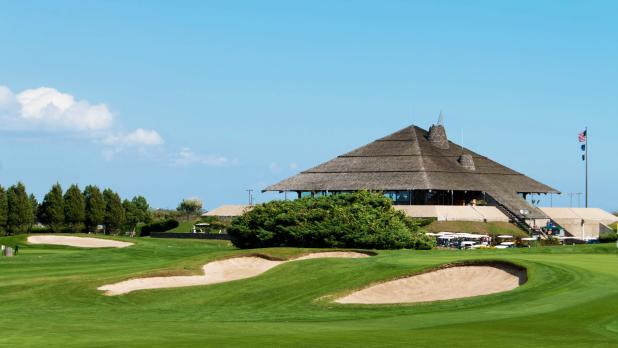 Surf's up! Take a surfing lesson with one of the many teachers who offer 1.5-hour private or group lessons, such as Coreyswave. They welcome first-timers but be sure and reserve in advance during busy summer weekends. Not up for surfing? If a round of golf appeals hit the greens at Montauk Downs State Park Golf Course (pictured), a public 18-hole, par-72 course dating to 1927. Redesigned by famed golf course designer Robert Trent Jones Jr. in 1968, Montauk Downs is open year-round and features a driving range, clubhouse, and more.
12 pm: Time for more seafood!
You can't leave Montauk without eating more seafood! Try the Fisherman Platter at Gosman's, featuring cod, shrimp, clam strips, and fries—it's how Long Island does fish and chips. Or find a spot on the dock and have a more casual lunch at Gosman's Clam Bar.
1 pm: Pick up souvenirs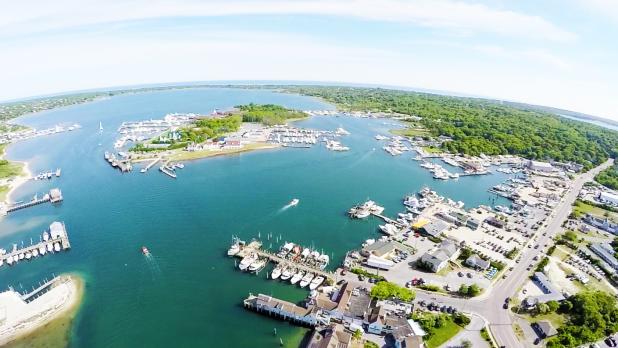 Steps away is a great collection of shops where you can pick up souvenirs. Homeport at Gosman's Dock has nautical-themed gifts at Fish City, unique toys and clothing at Captain Kid, and more.
3 pm: Stop for ice cream
As you leave magical Montauk, give yourself a treat at John's Drive-In, which makes its own ice cream on-premises, including soft serve! Grab a cone of your favorite flavor topped with rainbow sprinkles and hit the road back to reality, but with amazing memories of your Montauk trip.
---
Share New York State adventures with us on TikTok, Instagram and Twitter with #ILoveNY and #iSpyNY, and tag us on Facebook!