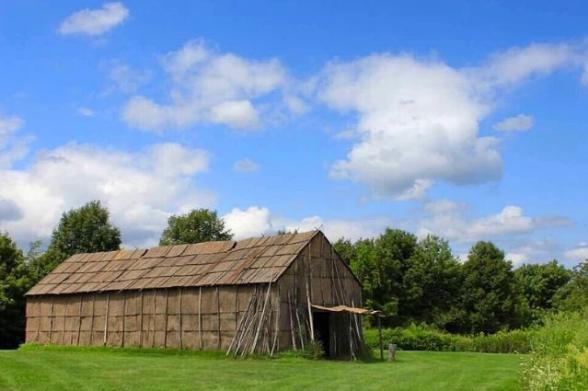 In recognition of November's Native American Heritage Month, we've put together some of the top places in New York State to learn about the traditions, culture, and contributions of Native Americans. From wampum belts and hand-woven baskets to detailed clothing and authentic log cabins, you'll discover the fascinating work of the state's first inhabitants. With interactive exhibits, walking trails, and seasonal events, there's much to be explored!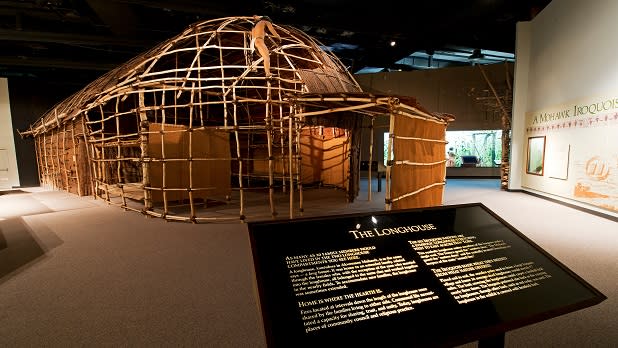 Walk through a reconstructed Mohawk Haudenosaunee (Iroquois) longhouse to see replicated artifacts and experience Iroquois culture as part of the ongoing Native Peoples of New York exhibit at the New York State Museum in Albany. The exhibit also includes three dioramas depicting the various ways of life of New York Native American tribes and a model of a Mohawk Iroquois Village. For a firsthand look at the impactful traditions and sense of community of Native People today, browse the Contemporary Native American Art Collection at the museum. The museum is open Tuesday–Sunday from 9:30 am to 5 pm; Albany; Admission is free. The suggested donation is $5 per person and $10 per family. 
From distinct collections and guest speakers to memorable exhibits and special events, the Seneca-Iroquois National Museum, located in the new Onöhsagwë:de' Cultural Center in Salamanca, proudly showcases Seneca-Iroquois culture. Experience a traditional lifestyle as you wander through an authentic Seneca log cabin, learning the importance of lacrosse as a "medicine game" in the All the Medicines exhibit. In addition to the ongoing exhibits and collections, the museum hosts a fall weekly speaker series through November and is hosting a Winter Art Market in partnership with the Tri-County Arts Council on November 23 and 24 featuring work from regional artists. Interested in purchasing a carefully crafted work of art? Beadwork, basketry, pottery, and corn husk items are just some of the pieces available at the museum's new online store. The museum is open Friday–Sunday 9 am–5 pm and Tuesday–Thursday 9 am–8 pm; Salamanca; Admission is $9.50 for adults; $6 for veterans, seniors, and college students; $5.25 for children; Children six and under are free.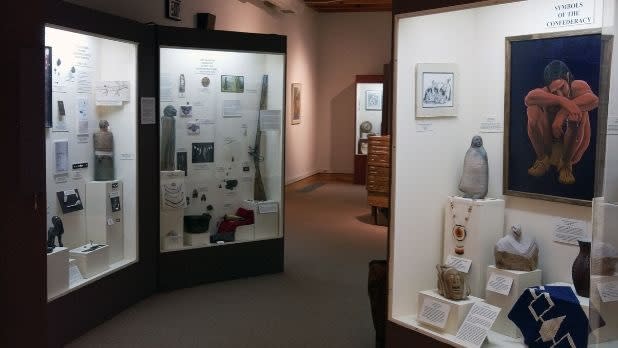 Honor Iroquois history and culture through art at the Iroquois Indian Museum in Howes Cave. The museum, built to resemble an Iroquois elm bark longhouse, is an engaging center for learning for all ages. At the children's area, youngsters can participate in interactive exhibits, including an extension of this year's feature exhibition, Treasured Traditions: A Statement of Place. Through November, check out the Women of Influence: Each Block a Story exhibition featuring an "honoring" quilt made by more than 40 Native women. Each woman dedicated a block of the quilt to a woman who has positively impacted their life—hear their stories and admire their beautiful handiwork. After exploring indoors, head outside to the 45-acre Nature Park with trails, wildlife, and two 19th-century log homes. For social dancing, storytelling, and performing arts, visit the museum's outdoor amphitheater. The museum is open Thursday–Sunday in November and closed December through March; Howe Caves; Admission is $8 for adults; $6.50 for seniors age 62 and older; $6.50 for students age 13–17; $5 for children age 5–12; Children five and under are free.
Showcasing the important work and traditions of Native Americans, the National Museum of the American Indian, a Smithsonian museum, is located within the stately Alexander Hamilton US Custom House in Manhattan. See how the work of 10 contemporary artists was influenced by their heritage at the ongoing Ancestral Connections exhibition. Find fun in the imagiNATIONS Activity Center where you can participate in hands-on activities, like balancing in a kayak or using Mayan Math. In recognition of Native American Heritage Month, the National Museum of the American Indian is hosting various events, including Taíno Culture and Identity Gallery demonstrations on November 6 and 9, as well as a performance by Pamyua on November 9. Head to the museum on November 16 for the opening of Stretching the Canvas: Eight Decades of Native Painting, an exhibition that includes paintings from 30 unique artists. The museum is open daily 10 am–5 pm, Thursdays until 8 pm; Manhattan; Admission is free.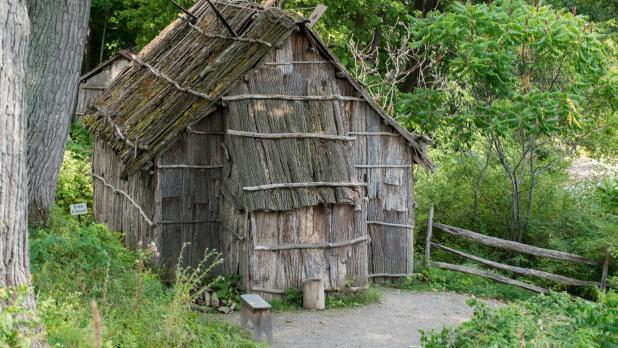 It's no surprise that Cooperstown, a village filled with history and tradition, is home to an expansive Native American art collection. Located in the American Indian Wing of the Fenimore Art Museum, The Thaw Collection of American Indian Art features approximately 850 objects, including pieces like embellished moccasins, detailed jars, woven blankets, and beaded necklaces. Books about the Thaw Collection, as well as Native American history can be purchased at the museum shop. Also on offer is a Six Nations Iroquois Life tour that visits the collection as well as the museum grounds, which feature traditional Native American structures (pictured). The museum is open Tuesday–Sunday 10 am–4 pm through December 31. Hours vary based on the season; Cooperstown; Admission is $12 for adults and juniors age 13–64; $10.50 for seniors age 65 and older; Children 12 and under are free.
Featuring collections of artifacts and Native American archaeology in exhibits, Garvies Point Museum & Preserve in Glen Cove provides a unique perspective on the early lives of Native Americans. One of the museum's exhibits, The Seasonal Round, includes a diorama featuring life and life changes from season-to-season for Native Americans on Long Island. After exploring indoors, walk the nature trails along the preserve. Looking for a fun family event the weekend before Thanksgiving? The Garvies Point Museum is hosting a Native American Feast on November 23 and 24 10 am–4 pm, which includes a wide variety of hands-on activities, such as authentic food displays with sampling, pottery making, and corn grinding. The museum is open Tuesday–Saturday 10 am–4 pm; The preserve is open seven days a week during daylight hours; Glen Cove; Admission is $4 for adults; $2 for children (ages 5–12).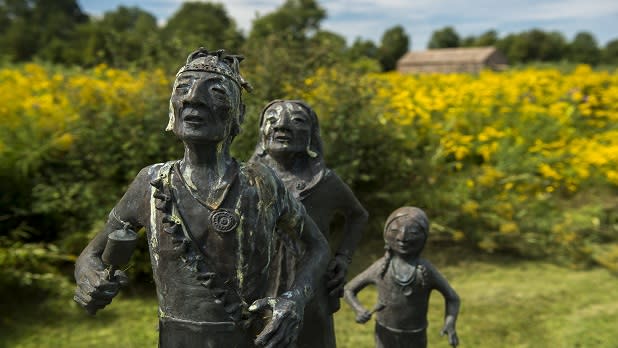 Go back in time at the Ganondagan State Historic Site, a National Historic Landmark and the original site of a 17th-century Seneca town, in Victor. The Seneca Art & Cultural Center, located at the Ganondagan State Historic Site, showcases the work and traditions of the Seneca and Haudenosaunee (Iroquois) people. Explore the Hodinöhsö:ni' Women: From the Time of Creation exhibit to get a sense of their impressive contributions, and learn about the connection they had with women's rights activists like Elizabeth Cady Stanton and Susan B. Anthony. On November 11, hear from Ganondagan State Historic Site Manager Peter Jemison (Seneca) as the emcee at the 225th Anniversary Commemoration of the Historic Canandaigua Treaty at the Canandaigua Primary School and the Ontario County Courthouse. The cultural center is open Tuesday–Sunday 9 am–5 pm; Year-round hiking trails are open daily 8 am–sunset, weather permitting; Victor; Admission: November 1–April 30 for the cultural center is $6 for adults; $3 for seniors and students (12 years of age–college); $1 for children (5–11 years old); Children four and under are free. 
Visit the recently renovated Akwesasne Cultural Center and Museum in Hogansburg to learn about the unique culture of the Akwesasne Nation. With new exhibits and a modernized look, the museum features images, artifacts, and interactive displays that make history come to life! One ongoing exhibit includes traditional black ash baskets, wampum belts, and a wolf belt, a traditional belt dating back to the 1700s. To incorporate contemporary work, the museum brings in local artisans and includes a new virtual reality exhibit. Self-guided and guided tours are available. The Akwesasne Cultural Center also has a library providing literary resources for all ages, activities for families, and free internet access. The library is open various hours Monday–Saturday. The museum is open Tuesday–Friday from 9 am–4 pm and Saturday from 10 am–1:30 pm; Hogansburg; Museum admission is $5 for adults; $3 for children under 12 and seniors; free with Tribal ID. Call 518-358-2461 to make a reservation for a guided tour.
While you're in the Adirondacks, head to The Wild Center in Tupper Lake to check out the Ways of Knowing project. In partnership with the Akwesasne Cultural Center, the Six Nations Indian Museum, and the Native American Travelling College, the Ways of Knowing project includes the Haudenosaunee Thanksgiving Address, Sacred Foods, and We Are All Related exhibits. The exhibits feature the exploration of the natural world, traditional food, and work from artist David Fadden. The Wild Center is open Friday–Sunday from 10 am–5 pm in the late fall/winter; Tupper Lake; Admission price varies; free with Tribal ID.  
For additional information about Native American history in New York State, visit the Path Through History website.
Don't forget to post photos of your New York adventures on Instagram and Twitter with #NYLovesFall and #iSpyNY and tag us on Facebook!