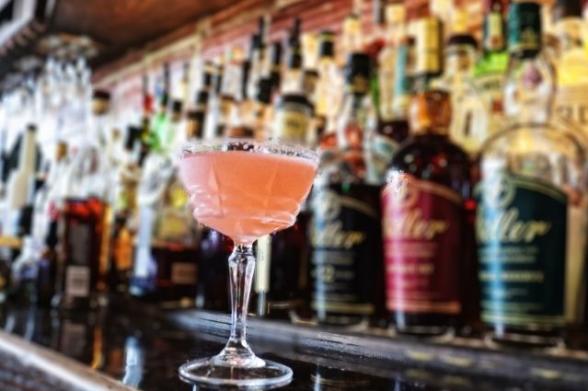 New York craft distilleries use the state's agricultural bounty to source the grains, fruits, and botanicals that help make vodkas, whiskies, gins, and other spirits. So we thought, why not take it a step further and connect these spirits to beloved New York State attractions? Working with our friends at the New York Distillers Guild, we tasked emerging brands from around the state with creating a cocktail with a flavor profile or story that pays homage to a landmark in their respective tourism region. Behold, cocktails dedicated to New York attractions and crafted with New York spirits. Do make these at home, while remembering to drink responsibly. 
* Notes about ingredients and directions: Bitters can be found at most liquor stores or purchased online. Simple and dry syrups are easy to make: use a blender or saucepan over low heat and combine 1 cup sugar to 1 cup water for simple syrup, and 2 cups sugar to 1 cup water for dry syrup; the leftover syrup can be refrigerated for up to one month. Featured spirits can be found at New York liquor stores or ordered from the distilleries for local pick-up or shipping (depending on your location). If you don't have a cocktail shaker at home, make the cocktail in any large, sturdy glass, inserting a smaller glass that can form a seal and keep the liquid in as you shake. Then, use the smaller glass to help strain the liquid out as you pour.
---
The Red Room (Capital-Saratoga)

Credit: Sarah Lovrien
The New York State Capitol building, completed in the late 1800s, features many historical and iconic spaces. One of the most notable of these is the Red Room, an executive chamber used by New York State governors continuously since 1881. Albany Distilling Company, the city's first distillery to open since the end of Prohibition, created this tribute to the Red Room, so named because of the deep-red color of the original drapery and rug in the elegant chamber. The main spirit in the cocktail is the brand's Ironweed Straight Bourbon Whiskey, made with New York State grains, water, and yeast. The cocktail itself has a deep red color perfectly fitting its name, and has similarities to two appropriate power cocktails, the Manhattan and Old Fashioned. 
Ingredients
1 ounce Ironweed Straight Bourbon Whiskey
1 ounce Ibisco Bitter Liqueur
1 ounce vermouth
½ inch orange twist (use a paring knife to slice off a piece of the skin of an orange; you will twist the orange skin slice over the cocktail to release its oils, then drop it in the glass)
Directions
Add all ingredients into a mixing glass filled with ice. Stir for about 30 seconds.
Strain into a rocks glass (or any short glass you have handy) over a large ice cube.
Garnish with an orange twist.

---

 
Upper Delaware River Raspberry Vodka Gimlet (Catskills)
Rock Valley Spirits is a farmhouse distillery in the Catskills hamlet of Long Eddy. For this cocktail, developed by Rock Valley Spirits' Jim and Terry Milk, the brand wanted to evoke the Upper Delaware River, beautiful any time of year but especially when wild raspberry bushes grow over the banks. Rock Valley infuses its "grain to glass" raspberry vodka with fruit grown on its mountain farm, while the vodka itself is made with New York State wheat and malted barley. This variation on the gimlet is a classic refreshing cocktail that in winter can serve as a reminder of lazy summer days along the Upper Delaware River. 
Ingredients
2 oz. Rock Valley Spirits Raspberry Vodka 
¾ oz. Freshly squeezed lime juice
¾ oz. Simple Syrup
Fresh mint sprig
Directions
Add all ingredients to a cocktail shaker filled with ice. Shake vigorously until absolutely chilled.
Strain into a chilled antique glass, either a martini glass or a coupe glass. Even a favorite old wine glass will do, as long as it is chilled.
Garnish with a fresh mint sprig and serve immediately. 

---

 
The Walkway Over the Hudson (Hudson Valley)
Hillrock Estate Distillery in Ancram came up with the idea for this ode to the world's longest elevated pedestrian bridge, which spans the Hudson River, by using inspired wordplay. The drink starts with a base of Hillrock Single Malt Whiskey, playing off of the name Highland, one of the towns connected by the Walkway. This evokes the Scottish Highlands, an area traditionally associated with malt whisky. The recipe calls for the drink to be made "long," which is cocktail-speak meaning that it is built in a highball glass, a play on the impressive length of the Walkway Over the Hudson itself. Starting with those two inspirations, Hillrock crafted a cocktail that is as bright and breezy as a walk across the Hudson, highlighting not only Hillrock's Single Malt Whiskey, made entirely from heirloom barley that is grown and floor malted on-site at Hillrock's Estate, but also local Hudson Valley apple cider, one of the region's most beloved and delicious products.
Ingredients
2 ounces Hillrock Single Malt Whiskey
4 ounces Hudson Valley apple cider
4 ounces Seltzer
¼ ounce lemon juice
Lemon peel
Directions
Fill your highball glass (or any tall glass) with ice, preferably one long ice cube if you have a mold.
Add 2 ounces Hillrock Single Malt Whiskey.
Top with remaining ingredients.
Briefly stir in order to incorporate ingredients, but not too long or vigorously as to break up the carbonation.
Top with a long lemon peel, spanning the top of the glass, another nod to the Walkway.

---

 
Vroman's Nose Schoharie Mary (Central New York)
The 1857 Spirits brand is located on a Schoharie Valley farm founded in 1857, and now on its sixth generation as a family-owned farm. One of the prime crops grown here is the potato, which gets put to use in vodka; in fact, this is one of the only distilleries in the United States that makes "estate-grown" potato vodka with its own natural spring water. 1857's take on the classic Bloody Mary, developed by Elias Barber and Zoli Rozen, references one of the Schoharie Valley's best-known attractions, Vroman's Nose, a rock formation in the shape of a nose with trails leading to it that have become popular for hiking. The cocktail's ingredients and garnish call to mind the produce grown on farms within view of Vroman's Nose, from potato fields to tomato vines to rows of corn. 
Ingredients
1½ ounces barrel-finished 1857 Potato Vodka
2 dashes Worcestershire sauce
1 dash Adobo seasoning
1 dash garlic powder
2-3 dashes hot sauce
2-3 dashes celery bitters
6-8 ounces tomato juice
Cornhusk leaves for garnish
Directions
Add all ingredients into a cocktail shaker filled with ice and shake gently.
Strain into a glass.
Add cornhusk leaves for garnish.

---

 
The Lucy (Chautauqua-Allegheny)
This cocktail from the Southern Tier Distilling Co. is an ode to the region's favorite comedic daughter, Lucille Ball, and the renowned chocolate factory scene from her sitcom "I Love Lucy." The scene, memorialized at Jamestown's National Comedy Center and Lucille Ball Desi Arnaz Museum, features Lucy and her friend Ethel hilariously trying to keep up with their candy-wrapping duties on a chocolate assembly line. This tasty tribute features chocolate notes from bitters, the sweetness of the cherry and its syrup, and smoke from the bourbon, laced together with the richness of the heavy cream for a hearty and satisfying cocktail. 
Ingredients
2 ounces Southern Tier Distilling Co. Smoked Bourbon
¼ ounce Luxardo cherry syrup (use the liquid from a Luxardo cherry jar, which you will need for the cherry ingredient listed below)
½ ounce heavy cream
3 dashes Chocolate bitters
Luxardo cherry
Directions
Shake all ingredients with ice. 
Strain into a chilled martini glass.
Garnish with a Luxardo cherry.  

---

 
Erie Canal Mule (Finger Lakes)

Credit: @ironsmoke on Instagram
Iron Smoke Distillery's founder combined two American traditions, whiskey distilling and applewood-smoked barbecue, to create a distinctive spirit made with New York ingredients. The company's location on the Erie Canal inspired this craft cocktail, referencing the workhorse animal that helped power canal boats on the famed waterway in the 19th century. Today, you can visit many attractions including the canal, such as the Erie Canal Depot, one of five museums in historic Palmyra that allow visitors to experience 19th-century life along the famed waterway. 
Ingredients
1½ ounces Iron Smoke Straight Bourbon Whiskey
¾ ounces lime juice
Splash of ginger beer
Lime wedge
Directions
Pour whiskey and lime juice over ice in a copper cup (or any short to medium glass) and stir gently.
Top with ginger beer.
Garnish with lime wedge.

---

 
Niagara Falls Ice Bridge (Greater Niagara)
The Ice Bridge cocktail combines gin from Lockhouse Distillery, the first distillery opened in Buffalo since Prohibition, and other ingredients meant to evoke the naturally occurring phenomena of a bridge that forms when the famed Niagara Falls freeze over. The recipe, developed for Lockhouse by Rachel Wright of Més Que/Revive & Imbibe/Prescott's Provisions, also references flavors found in traditional Buffalonian foods such as the beef on weck, the sandwich served on a roll with seeds featuring light anise and caraway notes, like those found in aquavit. Ice wine, made from frozen grapes at wineries throughout the region, adds another layer of depth in this spirits-forward cocktail that's as cool as its name suggests. 
Ingredients
1½ ounces Lockhouse Gin 
½ ounce aquavit
½ ounce ice wine
¾ ounce fresh lemon juice
2 dashes Peychaud's bitters
Directions
Combine ingredients into a shaker.
Shake vigorously until chilled.
Strain with a mesh strainer into a coupe or other stemmed glassware.

---

 
Boldt Castle French 75 (Thousand Islands-Seaway)
St. Lawrence Spirits is based in a gorgeous stone chateau on a bluff overlooking the St. Lawrence River, just 15 miles east of Boldt Castle, the magnificent six-story stone structure on Heart Island. These two Thousand Islands landmarks come together in this refreshing cocktail, a classic French 75 made with gin from the brand known for distilling with St. Lawrence River water. The dry gin—the dry means that no artificial flavoring is used—derives its profile from native botanicals harvested from the family-owned distillery's ranch in nearby Chaumont. It's a clear, cool cocktail reminiscent of the river itself, perfect for a celebration or an aperitif. 
Ingredients
1¼ ounces St. Lawrence Spirits New York Dry Gin
½ ounce simple syrup
½ ounce lemon juice
Splash of prosecco
Lemon peel
Directions
Add gin, simple syrup, and lemon juice to a cocktail shaker with ice. 
Shake and strain into a coupe or any stemmed glass (like a wine glass).
Top with prosecco.
Garnish with lemon peel.

---

 
Brooklyn Bridge Bold Fashioned (New York City)
The classic Old Fashioned cocktail takes on a distinctly Brooklyn spin in this tribute to one of the New York City borough's most famous landmarks, the Brooklyn Bridge. Created by Matt Levy of the Covert Cocktail Club, a sort of new-school speakeasy in Bushwick, this drink relies on three Brooklyn-made spirits for its unique profile (Levy offers two options for a Brooklyn bourbon, from Kings County or Van Brunt), including the old-timey wormwood rye from Standard Distilling and Barrow's Intense, a ginger liqueur. 
Ingredients
1 ounce Standard Distilling Wormwood Rye
1 ounce 80 proof Kings County Bourbon or Van Brunt Stillhouse Bourbon
½ ounce Barrow's Intense Ginger Liqueur
¼ ounce rich syrup
2 dashes orange bitters
Large ice cube
½ inch orange peel
Brandied cherry
Directions
Add the rye, bourbon, ginger liqueur, rich syrup, and orange bitters into a rocks glass (or any short glass). Add large ice cube.
Garnish with expressed orange peel: twist a peel of orange over the cocktail, rub it on the rim of the glass, and drop it in the glass.
Garnish with housemade brandied cherry (cherry soaked in brandy and rich syrup) or use a Luxardo cherry from a jar.

---

 
The North Fork Farmstand (Long Island)
This cocktail from The Better Man Distilling Company in Patchogue celebrates the East End of Long Island and the North Fork's mix of farm stands, wineries, and fields of colorful flowers. It's a bright, crisp cocktail topped with a splash of rosé from one of the North Fork's famed wineries, Wolffer Estate. 
Ingredients
2 ounces Cosmic Soul Dry Gin
½ ounce lemon juice
½ ounce grapefruit juice
Ice cubes
½ ounce hibiscus syrup
¼ ounce red bitter liqueur
2 medium-sized fresh strawberries, whole
1 medium-sized strawberry, cut into thin slices
Sprig of fresh mint
Dried hibiscus flowers
Splash of Wolffer Estate rosé
Directions
Add strawberries, mint, and gin in a cocktail shaker and muddle the strawberries and mint using a wooden spoon or any utensil to break up the fruit and herb.
Add ice, lemon juice, red bitter liqueur, and grapefruit juice. Shake until chilled.
Fill a glass with ice, sliced strawberries, mint leaves, and dried hibiscus flowers and pour the cocktail into the glass.
Top with a splash of Wolffer Estate Rosé. 
Garnish with a strawberry and sprig of mint.

---

 
The Algonquin (Adirondacks)
The Algonquin cocktail is named for the second-highest mountain in New York, visible throughout the region on clear days at sites like the Olympic Jumping Complex, where you can ride the elevator for expansive views of the Adirondacks. The cocktail, developed by Sarah Callan Beach, showcases two of the area's most popular agricultural products, apples grown on farms around the Adirondacks and maple syrup derived from sap of the many maple trees in surrounding forests. The primary spirit is Murray's Fool Distilling Co.'s La Pomme du Lac (or "Apple of the Lake"), a craft-distilled apple brandy made near Lake Champlain from New York apples and aged in oak barrels made in the Adirondacks. 
Ingredients
2 ounces Murray's Fools Distilling Co.'s La Pomme du Lac Apple Brandy
1 ounce New York maple syrup
3 dashes Fee Brothers walnut bitters
Splash of club soda
2 thin apple slices 
Directions
Shake brandy, maple syrup and bitters in a cocktail shaker with ice.
Pour into cocktail glass.
Top with a splash club soda.
Garnish with apple slices.
---
Don't forget to post photos of your New York adventures on Instagram and Twitter with #iSpyNY and tag us on Facebook!