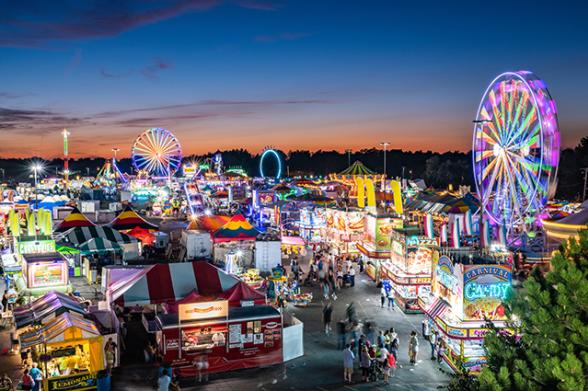 County fairs came about in America in the 18th century and were a place for farmers to show off their livestock, merchants to sell their wares, and homemakers to prove they made the best blueberry pie in town. All over New York State, county fairs have evolved into multi-day events with midway rides, live entertainment, parades, and talent shows. The tradition carried over to the state level, too, when the very first state fair in the nation was held in Syracuse in 1841. Meanwhile, those blueberry pie competitions have turned into major food festivals that have taken on a life of their own, allowing local chefs, both professional and amateur, to show off their culinary skills while feeding hungry festival goers. Read on to find a county fair near you or a food festival you simply can't resist. 
Masks are encouraged, but optional in most settings per New York State guidelines. Individual businesses or attractions may require mask wearing. Call ahead and check websites and social media to make sure attractions and amenities are open and available. 
Updated 05/05/2023
The Cattaraugus County Fair takes pride in their affordability, which means an entire family can have a whole lot of low-cost fun. A slew of live grounds entertainment comes with the cost of admission. Check out Brunon Blaszak's Royal Bengal Tigers Show, where Bengal and Siberian tigers will walk on tight wire, jump, leap, dance and more! Then watch adorable sea lions balance balls and do handstands during "Sea Lion Splash," and be sure not to miss the sure-footed Swifty Swine Racing Pigs. And while grandstand events are not free, admission is relatively low, allowing you to see a rodeo, a demolition derby, and a big rig truck pull without breaking the bank (tickets go on sale May 15). Celebrating its 180th year, the fair will also feature a midway with rides and games and dozens of food vendors selling everything from candy apples and ice cream to pizza and fried dough. July 30-August 5, Little Valley. Tickets start at $12. Children under 2 get in free.
An action-packed week kicks off with a Firemen's Parade, then the fun continues with midway rides, concessions, agricultural exhibits, harness racing, tractor pulling, a demolition derby, and live performances from country-pop singer Dylan Scott, country-rock band Common Revolution, and musicians from the local area. Got a talent you want to show off? Bring it on stage at the Talent Show, open to St. Lawrence County residents in age categories 3-11, 12-16, and 17 and up. Winners could earn a chance to go to the New York State Fair. August 1-6, Gouverneur, Admission is free. Prices for additional attractions vary. Parking is $5. Rides open Wednesday, August 2.

Credit: @eggypan on Instagram
A festival that began nearly three decades ago to determine who made the best Spiedie (a sandwich filled with cubes of marinated meat) has evolved into one of the biggest hot air balloon festivals in the nation. This year, the fun begins on Friday, August 4 at 6 PM, when the skies above Otsiningo Park will transform into a patchwork of color during the Hot Air Balloon Launch. There will be additional balloon launches throughout the weekend, in addition to tons of family-friendly events like Disney Tribute Band, "The Little Mermen" and a CoComelon meet & greet! Be sure to stop by for live performances from Gavin Degraw, singer from the band Boston, Tommy DeCarlo, Scotty McCreery, and tons of local acts. There'll also be balloon tether rides, a cornhole tournament, a 5K Run/Walk, and Sock Out Cancer day on Saturday! The Spiedie cooking contests take place on Sunday in two rounds, with backyard chefs competing for the Grand Champion Belt and other prizes. August 4-6, Binghamton, 1-day pass: $10 (does not include concert or meet & greets), 1-day pass + concert: $20 (includes festival, meet & greet, and that day's concerts), 2-person weekend pass: $60 (includes festival, concerts, and meet & greets).
Get ready for the "best 12 days of summer" at the 183rd Erie County Fair!  Once there, check out the rides, food, and games at the midway. Then browse competitor exhibits in the categories of fine arts and photography, livestock, home wine, home brew, horse pulls, woodcarving, needle crafts, and much more. And if you've ever wanted to attend an event where old cars intentionally ram into each other until only one is left standing, you'll have two chances to attend the (self-proclaimed) "World's Largest Demolition Derby," featuring around 100 vehicles. Throughout the fair, there will be a variety of free and ticketed live performances from acts like The Fab Four: Ultimate Beatles Tribute, Grand Funk Railroad, Zach Williams, and Nelly. August 9-20, Hamburg, 13 and over: $17 online, $20 at the gate, kids 12 and under are free. See Gate Specials for more free admission opportunities.
Yeehaw! Grab your hat and boots for this year's theme, "Country Hoedown at the County Fair." Not to be missed at the Grandstand are truck and tractor pulls, kids night, a demolition derby, animal shows, face painting, exhibits, and more!  There'll be plenty of traditional attractions too, including midway rides and food, livestock exhibits, and a floral hall, plus competitions for the best baked goods, pickled vegetables, chutney, jams, and jellies. August 16-20, Westport, $10, children 3 and under, free.

Credit: @courtneyhelbig on Instagram
Attention seafood lovers: save the date for a two-day feast of oysters, clams, lobster, crab, and more at this summer festival, held on the grounds of the Long Island Maritime Museum. Expect succulent seafood from participating restaurants like Blue Island Oyster Company and Claws Seafood Market. While at the museum, check out Oyster Sloop Priscilla. Built in 1888 and designated a National Historic Landmark in 2006, Priscilla was one of the last boats to dredge oysters in the region (the beds were exhausted in the early 1960s). Additional festival events include a main stage with live music and an arts & crafts fair, as well as face-painting, sand art, and pirate entertainment activities for kids. August 19-20, West Sayville, $10 cash only, children under 12, free.
County fairs in New York State date back hundreds of years but did you know that the first state fair was also held here? It took place over two days in September 1841 in Syracuse and drew crowds of up to 15,000 people. More than 180 years later, the tradition continues. The New York State Fair has grown to be a 13-day affair and at last count (in 2019), more than a million people attended. Just like that first fair back in 1841, fair goers this year will get to view tons of agricultural exhibits. But unlike in the 19th century, attendees this year can fill up on traditional fair cuisine like deep fried oreos, sausage and peppers, and wine slushies. There will also be daily concerts from world-class musicians. On the schedule this year are REO Speedwagon, Tyler Hubbard, Theory of a Deadman, Chubby Checker, and many more. August 23-September 4, Syracuse, $6 daily for adults, seniors and children 12 and under, free. Advanced online ticket purchase required. 

Credit: @_lionelm on Instagram
Bring your passion for wings and a hearty appetite to the 22nd Annual National Buffalo Wing Festival, taking place this year at Highmark Stadium, otherwise known as Home of the Buffalo Bills! There'll be plenty of wings to sample, prepared by participating restaurants who make them best. There will also be many wing-related events, including competitive wing eating contests, wing pairings, and bobbing for wings, a contest that involves a baby pool filled with wings and blue cheese dressing; contestants must grab as many wings as they can without using their hands. Got your own secret wing sauce that friends rave about? Enter the Amateur Cook-off and prove it! September 2-3, Buffalo, $20 cash only, kids 8 and under, free.

Credit: @bobbycaputo on Instagram
The land on which the Queens County Farm Museum sits has been farmed since 1697, making it a fitting site for old fashioned contests in pie eating and corn husking. Those competitions, along with hayrides, carnival rides, and midway games, will take place at the 40th Annual Queens County Fair. There'll also be live music and theater, farmhouse tours, and competitive exhibits in produce, arts & crafts, and more, with entrants vying for a blue ribbon prize. Local food and beer vendors will be on site and the Amazing Maize Maze, which is the only corn maze in New York City, will open on the weekend of the fair. September 8-10, Queens, ticket prices vary.
Attention garlic aficionados! Celebrate the harvest of five different varieties of the "stinking rose" at this two-day festival held at the Cantine Veterans Memorial Complex in Saugerties! The Hudson Valley Garlic Festival was first organized by Pat Reppert from Shale Hill Farm and Herb Gardens in 1989 and is one of the first festivals of its kind on the East Coast. Enjoy all things garlic including tons of garlic-inspired food, vendors, drinks, kids' activities, demonstrations from chefs, lectures about farming and cooking, and more! September 30-October 1, Saugerties, daily admission is $15 at the gate and $10 in advance.
For one delicious weekend in October, restaurants and vendors from the Tri-State area will gather in Deer Park to bring you cuisine from around the world. More than 60 vendors are expected to participate, showcasing international dishes prepared by a mix of new and experienced chefs. In addition to sampling global delicacies, attendees can enjoy live music, watch cooking demonstrations, hang out in the Beer and Wine Lounge, do some ax throwing, and try the Vampire escape room. Bring the kids to this family-friendly event. There'll be an entire section for them with face painting and entertaining activities. October 6-9, Tanger Outlets in Deer Park, online advance tickets: $8 (1 day), $12 (2 days), $18 (4 days). 1-day passes at the door: $12. 
Now's your chance to expand your restaurant repertoire in Saratoga Springs! In early autumn, the streets of downtown will transform into a food-lover's paradise at the eighth annual Saratoga International Flavorfeast. Simply obtain a Flavorfeast Passport and work your way down the list, sampling food from participating local restaurants. In one short afternoon, you might taste everything from sushi, paella, and pulled pork sliders to bread pudding, Panna cotta, and apple crumb cake. Attendees can also enjoy multi-cultural entertainment throughout downtown. October 7, Saratoga Springs.

Courtesy of Kip Shaw/Delaware County Tourism
What could be better than an autumn weekend in the Catskills, with its cool mountain air and colorful fall foliage? How about if that weekend also included a sampling of the best cuisine and craft beverages from around the region? That's what visitors can expect at Taste of the Catskills, held on the grounds of family-run Maple Shade Farm. Dozens of local farmers, restaurants, and food-related businesses will be on-site, showcasing their food, wine, beer, produce, and more. A special dinner on Saturday will consist of entirely local ingredients and include a craft beer pairing. The weekend event will also feature workshops on farming, cooking, and more. Kids will love the sack races, egg tosses, and face painting, not to mention appearances by the Catskill Puppets and Chee Chee the Clown. October 7-8, Delhi.
The glitz and glamor of New York City is front and center at this celebrity-filled wine and food festival, now in its 16th year. Events like walk-around tastings sound low-key until you see the line-up. Last year, celebrity chef Anne Burrell hosted a cocktail party inspired by Italian spirits and small plates. For another, "it" couple David Burtka and Neil Patrick Harris hosted a Drag Brunch. And the signature walk-around tasting event–Blue Moon Burger Bash–was hosted by television personality Rachel Ray. The festival goes on and on in this fashion, with celebrities galore, outrageously fantastic food, cooking demonstrations, intimate dinners, and much, much more. October 12-15 prices vary, events take place at locations around New York City.
---
Don't forget to post photos of your New York adventures on Instagram and Twitter with #iSpyNY and tag us on Facebook!