Updated 2/1/23
Rhinebeck is a Hudson Valley village that shines throughout the year, but especially from spring through fall. Its small, scenic parks and gardens make it a perfect setting for a relaxing family weekend in warmer months. By late September, the quaint town's hotels and inns fill with leaf peepers looking to find the perfect perch to take in the foliage. With tasty farm-to-table restaurants, significant historical sites, and family-friendly hikes, Rhinebeck is an amazing place for a quick weekend getaway! 
FRIDAY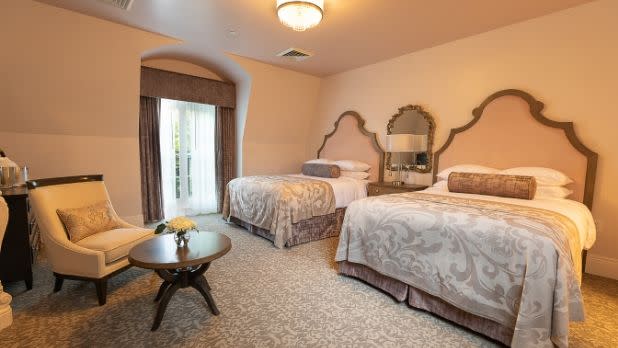 5 pm: Settle in
Rhinebeck is quickly becoming a serious wellness destination. The Mirbeau Inn & Spa has earned rave reviews since opening in 2019, with a restaurant from acclaimed New York City chef Charlie Palmer called Willow. Meanwhile, the Omega Institute is a world-class institution known for weekend yoga and wellness retreats. Check in at one of these relaxation-focused spots, or opt for a more classic hotel experience. The Beekman Arms is said to be America's oldest continually operating hotel, originally opened as a tavern in the 1700s. 

Credit: bia_rbk on Instagram 
7 pm: Dinner at Bia
Located in the heart of the village, Bia offers a cozy ambiance in addition to elevated Irish-influenced cooking. In fact, Bia is Gaelic for food and sustenance. Start dinner with a double ravioli, made with Irish black pudding and truffled cheddar champ, then try the local venison bangers and mash as a main course—a true Dublin-inspired menu here in the heart of the Hudson Valley! Make a reservation in advance, especially in peak seasons. 
9 pm: Brews at The Kroeg
Up for a nightcap? The Kroeg means pub or gathering place in Dutch, and in Rhinebeck, The Kroeg is the best place for craft beers. There are eight rotating taps often featuring noteworthy brewed-in-New York beers, as well as local wines.
SATURDAY
8 am: Coffee and Breakfast
All That Java started as a small coffee stand across the river in Kingston is now a full shop with tables and a selection of pastries in addition to delicious craft coffee. Looking for a fuller breakfast? The Rhinebeck location of the popular New York mini-chain Bread Alone features a restaurant that serves breakfast all day, including breakfast burritos, avocado toast, and all sorts of egg sandwiches.
9 am: Fire Tower Foliage at Ferncliff Forest
It's a quick five-minute drive to Ferncliff Forest, a beautiful 200-acre preserve with well-maintained trails and an easy, family-friendly .7-mile hike to a fire tower; climb up for incredible views of the Hudson Valley landscape and the Hudson River. The park allows dogs (on-leash) as well.
11 am: Soar Through the Old Rhinebeck Aerodrome Museum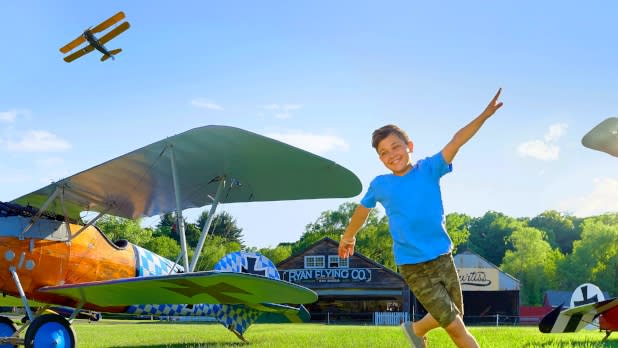 It's a quick 10-minute drive to one of New York State's premier family-friendly attractions, the Old Rhinebeck Aerodrome Museum in Red Hook. Here, you can see vintage aircraft including World War 1 airplanes, as well as antique cars (open May through October from 10 am-5 pm). Between mid-June and mid-October, the Aerodrome thrills audiences young and old with its 2 pm air shows. Want to see the Hudson Valley from the cockpit of a vintage plane? You'll strap on a helmet and goggles as you fly up into the sky in a 1929 biplane ($100 per person, up to four passengers per flight) for a 15-minute tour. 
1 pm: Good Grub at Gigi Hudson Valley
Long before the farm-to-table movement took off nationally, Gigi Hudson Valley served "Hudson Valley Mediterranean," with inventive Italian cuisine made with ingredients from local farms. The signature "Skizza" is a flatbread pie topped with a variety of cheeses and sauces, as well as locally sourced meats and whatever vegetables happen to be in season. The Skizzas are available with gluten-free crust and vegan cheese, for a small additional fee. The trattoria is bright and airy at lunch, or ideal for a romantic dinner in the evenings. 
2:30 pm: Guided Tour of the Wilderstein Mansion 
From the village, it's a lovely 20-minute (or less) drive to the Wilderstein Historic Site, an 1888 mansion with 40 acres of manicured grounds, originally designed by Calvert Vaux, longtime collaborator of Frederick Law Olmsted. The mansion was once home to Margaret Suckley, a cousin and confidante to Franklin D. Roosevelt. 
4 pm: Downtown Delights
Rhinebeck Village Historic District is on the National Register of Historic Places as of 1979 for its collection of preserved buildings and architectural gems. There are many shops to browse, and coffee shops and eateries for a quick break. Take a look inside A.L. Stickle Variety Store, a throwback to the five-and-dime shops of mid-20th century small-town America.
6 pm: Dinner at The Amsterdam
This upscale yet laid-back restaurant is a gem in Rhinebeck's dining scene. The Amsterdam is popular for weekend brunch, and also serves daily breakfast and lunch, but the dinner is a can't-miss for foodies. Seasonally driven, you'll find tantalizing salads with locally sourced ingredients, delicious soups, and entrees that make it tough to choose—there's a hearty burger, steaks, seafood, and pasta to tempt you. 
8 pm: Sweets at Samuel's
Samuel's Sweet Shop has all the charm of a cozy one-stop-shop for chocolates, old-fashioned candies, specialty espresso drinks, and baked goods. If you find yourself there at the right time, you may run into one of the shop's celebrity owners- Paul Rudd, Jeffrey Dean Morgan, or Hilarie Burton!
SUNDAY
9 am: Breakfast at the Golden Russet Cafe
Take a pleasant 20-minute drive to one Golden Russet Cafe & Grocery, a combination cafe and grocery located in a former general store. A Brooklyn couple decamped to the area and lovingly made over the building, then assembled a menu with tantalizing dishes made from ingredients from local farms. At breakfast, try a bacon, egg, and cheese sandwich, or the griddled banana bread for those with a sweet tooth. 
11 am: Stroll Along Staatsburgh State Historic Site
Another pleasant 20-minute drive gets you to one of the region's most stunning historical sites. Staatsburgh State Historic Site is a Gilded Age mansion built in the late 19th century for capitalist Ogden Mills and his wife Ruth Livingston Mills. The 65-room Beaux Arts masterpiece is furnished in the opulent style of the era, and you can experience it with a tour, or take a stroll on the grounds, which overlook the Hudson River. (Tours run April-October, Tuesday-Sunday, 11am-5pm; closed November and December; January-March by appointment; $8 adults, $6 students/seniors, free for children 12 and under). Take a stroll of the grounds as well, which overlook the Hudson River.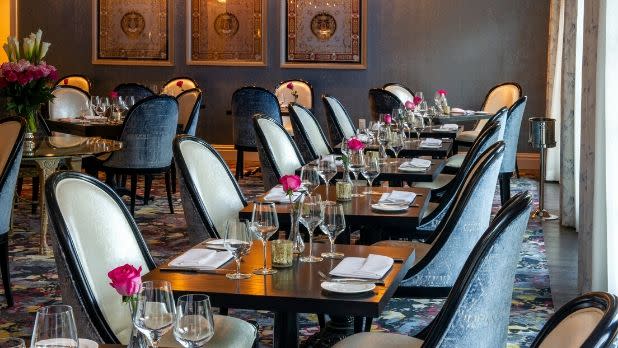 1 pm: Lunch at Willow
Head back to the village for lunch. Willow, the restaurant at the Mirbeau Inn & Spa, comes from a man who is considered one of America's foremost fine dining chefs, Charlie Palmer. At his restaurant, you'll find expertly prepared French-inspired dishes such as baked brie, French onion soup, and tuna tartare, as well as an array of salads, burgers, and toasted sandwiches. The restaurant is also open for breakfast and dinner. 
3 pm: Antique Shopping
It wouldn't be a trip to the Hudson Valley without a little antique shopping. Stop in at the Beekman Arms Antique Market, set in a historic two-story barn, and pick up a unique souvenir to remember your trip to this memorable village. 
---
GETTING THERE
By plane:
Stewart International Airport (SWF) Newburgh, NY: 53 minutes 
Westchester County Airport (HPN) White Plains, NY: 1 hour, 30 minutes
John F. Kennedy International Airport (JFK), Queens, NY: 2 hours, 5 minutes
LaGuardia Airport (LGA), Queens, NY: 1 hour, 52 minutes
Newark Liberty International Airport (EWR), Newark, NJ: 1 hour, 55 minutes

By train:
Metro-North Railroad Hudson Line from Grand Central Terminal in New York City to Poughkeepsie
Amtrak train from Penn Station in New York City to Rhinecliff station.
By car:
From New York City: 2 hours
From Albany: 1 hour
From Boston: 3 hours
From Philadelphia: 3 hours
From Montreal: 4.5 hours