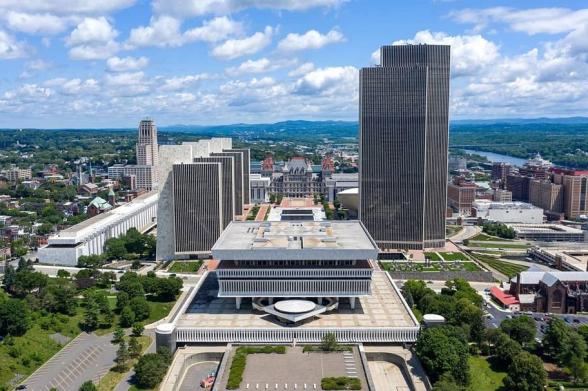 Photo credit: @james.hove on Instagram
Around 100,000 people call Albany, the Capital of New York State, home. Known for its exceptional architecture, rich history, eclectic cuisine and arts scene, there's no lack of things to do, see, eat and drink. Once you've hit-up all of the signature sites like the New York State Capitol, USS Slater, and Palace Theatre, blend in with the locals and see for yourself why they love "smallbany."
Jump to: Eat and drink | Things to do | Things to see | Seasonal fun
"The little house with beer in it" also affectionately known by locals as "Olde English" is one of the oldest buildings in the historic city, constructed in 1736 with a strong Dutch heritage. Located in the heart of downtown, Olde English attracts a regular happy hour, dinner, and brunch crowd and offers some of the most inviting, cozy atmosphere and decor around (especially during the holidays). Whether it be fireside in one of the dining rooms, on the front patio along Broadway, or in the lovely and lively outdoor garden (which all feature live music in warmer weather), the view is always as good as the food. The seasonal menu serves classic pub fare and English staples like fish and chips, while incorporating the cultural influences of India and the Caribbean. 
Umana Yana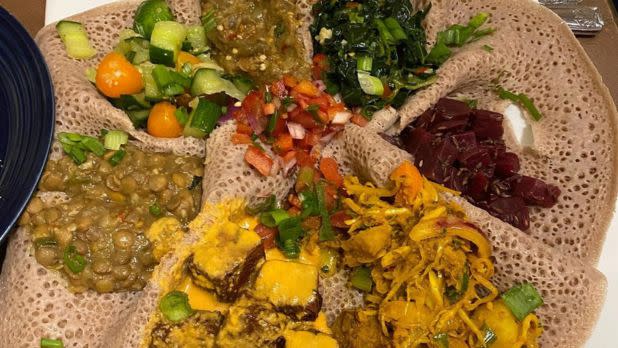 Credit: @dipfreak on Instagram
Guyanese for "meeting place for the people", Umana Yana offers a warm and welcoming setting for international dinners, drinks, and Sunday brunch. The owner, originally from Guyana, brings authentic Afro and Asian Caribbean cuisine to the capital district with menu items like coconut curried chickpeas, red curry fish tacos, jerk lamb lollipops, and the Dartmouth Village red bean stew. Sit outside and enjoy global bites over the sights of historic downtown Albany.
Cafe Madison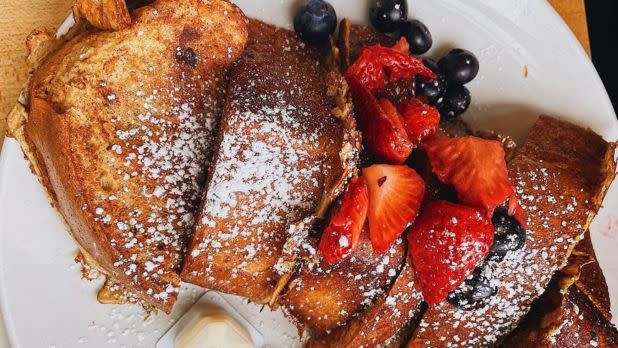 Credit: @darbysdailyeats on Instagram
With two unique locations (both as eclectic as they are cozy), enjoy indoor and outdoor dining and some of the most creative food and drink options around. The weekend specials are often cleverly themed (recently hosting a Taylor Swift brunch), and the regular menu is just as exciting. Most known for their raspberry oatmeal pancakes, savory Benedicts, and homemade breads, the Madison Ave location is equally popular for its outdoor patio dining and expanded and upgraded indoor dining room.
Cheesecake Machismo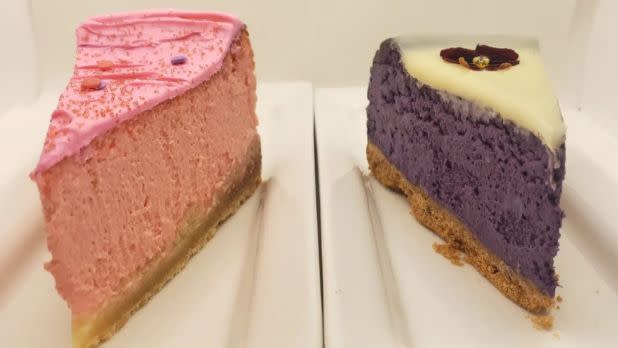 Credit: @cheesecakemachismo on Instagram
Cheesecake Machismo is the spot for cheesecake in the 518. What started as a hobby for owners has become a cherished treasure here in the Capital Region. More than 600 flavors including Ube, Raspberry Beret, Salted Caramel Brownie, and Miso Maple Pecan reside in the Cheesecake Machismo recipe box, and each day a fresh new combination of flavor selections are offered by the cake house. A step inside the small shop showcases all-things punk music, art, and simple living.
Cafe Capriccio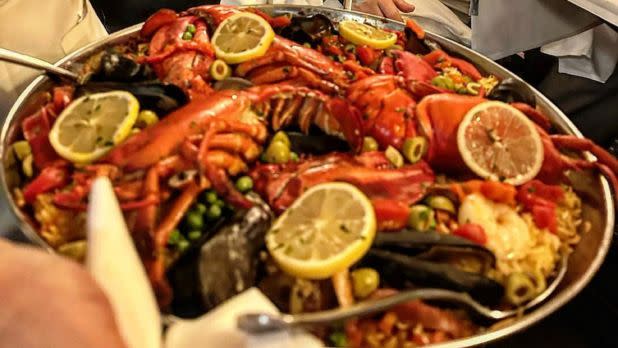 Credit: @cafecapriccioalbany on Instagram
Step into Italy when you enter the locally-loved Cafe Capriccio. Since 1982, this upscale venue has been the most innovative and diverse Italian table in the Capital District. Locally-sourced, organic products pair with house-made pasta, cured meats and cheeses. Its most unique offering is "The Chef's Table" which is an intimate, private dining room featuring an open kitchen that is available for groups of 10-16 guests who wish to enjoy a bounteous Italian table in the setting of a fine home. Extensive menus include virtually the entire range of Italian regional cuisine prepared by Chefs Jim Rua and Michael Preusser.
Herbie's Burgers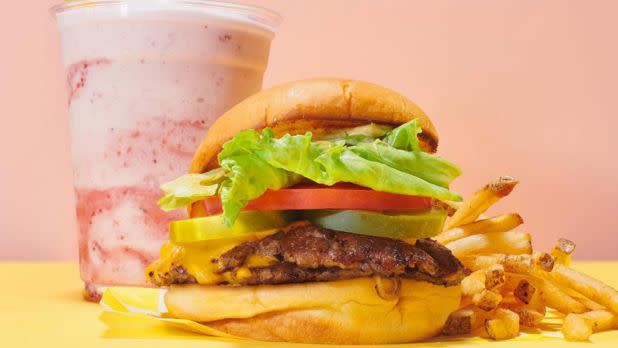 Credit: @herbiesburgers on Instagram
For a no-frills, high-quality burger and fries, Herbie's is the spot. This old school burger joint is locally owned and operated, offering up a funky and retro atmosphere plus a simple menu of grass-fed smashburgers, fresh cut fries, and homemade shakes.
Using both modern and traditional methods, Albany Distilling Company (or "AdCo," as the locals call it) produces spirits of exceptional quality one small batch at a time. AdCo was founded in 2011 and got its roots making whiskey and bourbon, and has since added rum, vodka, and canned cocktails to its repertoire. Over the next several years, they expanded their offerings to include more whiskeys and a range of spirits including products created in collaboration with other small local businesses such as Nine Pin Ciderworks and Death Wish Coffee. Check out the unique location which exists in a revamped shell of a 19th century Nabisco factory and often features live music and special events.
Corning Tower Observation Deck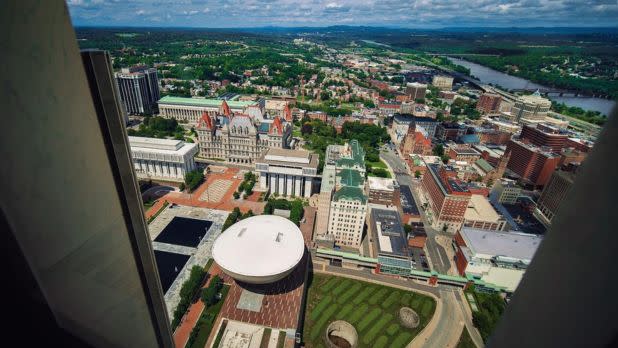 Credit: @relentlessawareness on Instagram
Take in stunning panoramic views of Albany, Empire State Plaza, the Hudson River Valley, the foothills of the Adirondacks, Catskills, and even the Berkshires of western Massachusetts, all from the observation deck of the tallest building in New York State outside of New York City. The Corning Tower Observation Deck is free to visit and open Monday-Friday, 10am-4pm.
Washington Park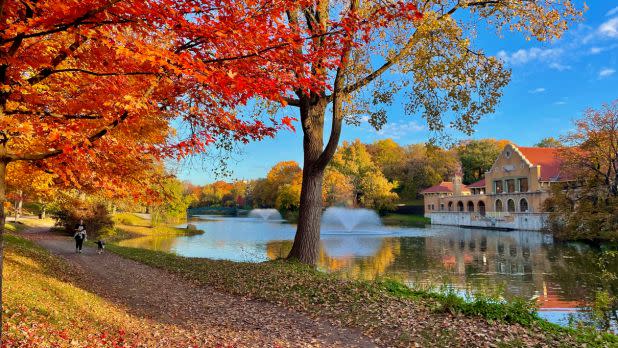 Credit: Rachel Dymond
A walk around Washington Park might give you a hint of deja vu, bringing glimpses of New York City's Central Park to mind; that's because it was designed with influence from famed American landscape architect, Frederic Law Olmstead. The 84-acre park was created during the 1870s-80s and contains numerous monuments, the Lake House, stock pond, playgrounds, bike paths, and tennis courts. In the summer you'll find a farmers market in the park, in the spring the ever-popular Tulip Festival, and really on any good weather day you'll see people walking their dogs, bicycling, walking, running, fishing, picnicking, and playing ball.
Live Sports: Albany FireWolves, Tri-City Valleycats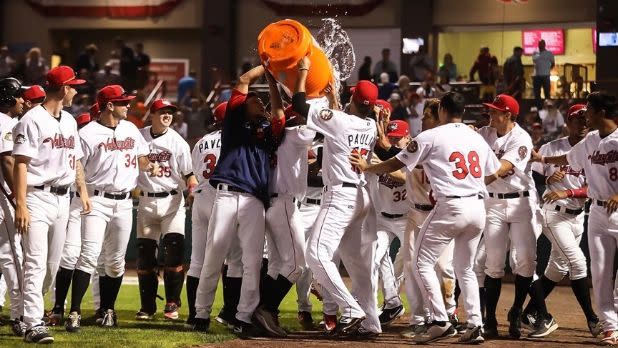 If you really want to sound like a local, utter the words "River Rats." The once beloved hockey team is no longer, but the culture behind it still runs deep in Albany, with locals decorating themselves and their homes in the team's merch. That should speak to the interest in local sports. In recent years, Albany added the Albany Firewolves, a professional box lacrosse team, to its roster. The team plays home games at the downtown MVP Arena. Batter up at the Joseph Bruno Stadium (or as natives know it, "The Joe") for the Tri-City ValleyCats! This professional independent baseball team has been around since 2002 and the name refers to the three nearby cities of Albany, Schenectady, and Troy which make up New York State's Capital District.
For 45+ years, Albany Center Gallery (ACG) has been providing a platform for the work of contemporary visual artists to engage the public. The gallery encourages dialogue and critical commentary about the visual arts within the region. Throughout five decades, thousands of the area's finest contemporary artists have held exhibits here using: painting, drawing, sculpture, photography, printing, fiber arts, video, mixed media, installation, and artist books. ACG presents at least seven major exhibitions a year in the gallery; many of the artists who exhibit here gain national and international recognition.
Spectrum Theater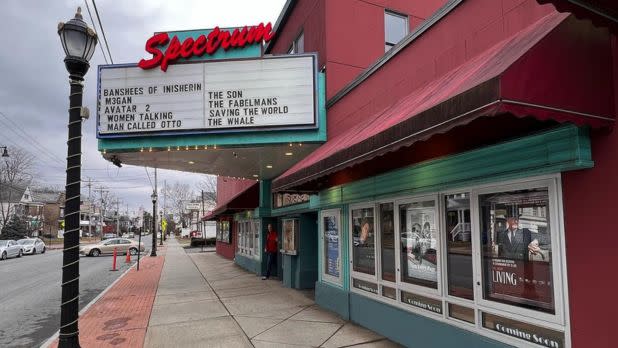 Credit: @aroundalbany on Instagram
When you ask an Albanian their favorite movie theater, the answer has to be the Spectrum. This revered venue has been around since the 1940's, and its Art Deco-style atmosphere is complemented by artwork from local artists on display, fresh baked goods, and of course a must-watch showcase of indie and Hollywood films.
Live Music and Comedy
The tunes and laughs don't stop in Albany, where you can find live music and open mics any day of the week. Some of the residents' favorite homegrown performance venues include The Egg, Empire Live/Empire Underground, and The Hollow. Showcasing all genres, from local legends to acclaimed acts, these are the to-go spots to feel like a true native. Lark Street Tavern, a beloved bar, is dishing up bites and nightly entertainment in the form of live Jazz, open mic comedy, music, trivia, and karaoke.
Capital Repertory Theatre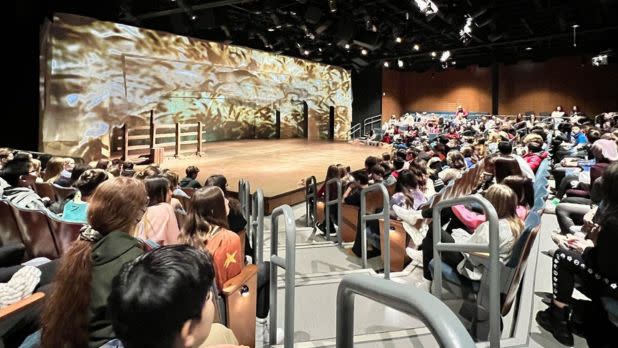 Credit: @mrsplouffsartclass on Instagram
Act out at "theREP"! Established as Albany's first professional theatre in 1981, Capital Repertory Theatre creates meaningful theatre with an authentic connection to the community it serves. The intimate performance venue is home to a cafe, costume-making shop, and rehearsal hall. With stellar performances including: A Midsummer Night's Dream, The Wizard of Oz, Dracula, and Jersey Boys, there is something for everyone to enjoy!
Take a free guided walking or bike tour (offered seasonally) to check out the currently 22 unique murals that adorn the outdoor walls, pillars, and bridges of Albany, thanks to Capital Walls. The public art endeavor by Albany Center Gallery and Albany Barn aims to inspire the local community with uplifting, educational, or thought-provoking works of public art.
Albany Rural Cemetery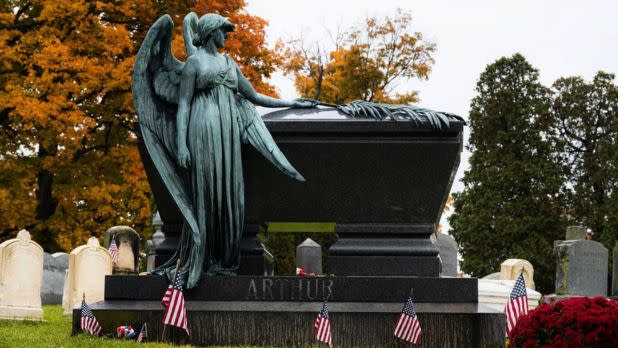 Credit: @colinlord_revimg on Instagram
For a supernatural stroll, check out the Albany Rural Cemetery (ARC), one of the oldest and grandest examples of the rural and garden cemetery movement in America. An active cemetery for 175 years, ARC is much more than a place of burial. Its amazing natural beauty combined with historical, architectural, and sculptural memorials, has cemented its legacy as a cherished place for locals and visitors to roam.
Hit the Streets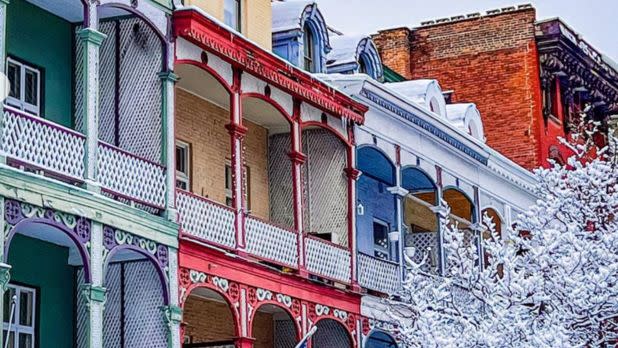 Credit: @aroundalbany on Instagram 
Park-facing brownstones, colorful row houses, wooden trellis porches. Take a walk and explore some of Albany's most picturesque neighborhoods and streets:
Wooden trellis porch houses on Hall Place in Ten Broeck
​Block on Willet St between Lancaster St and State St
Block on State St between Sprague Place and Henry Johnson Blvd, overlooking Washington Park
Hansen Ave
Elm St Between S. Swan St and Dove St
Albany Skyway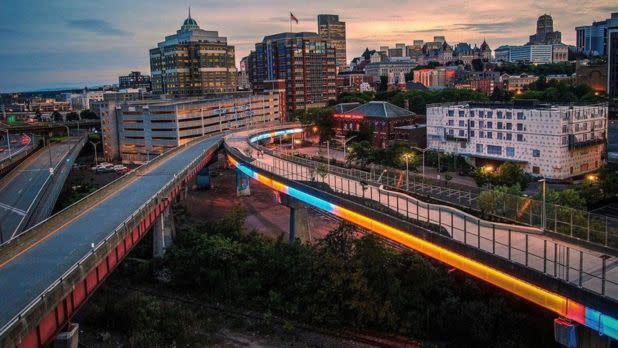 Credit: @discoveralbany on Instagram
This brand new elevated, linear park offers pedestrians and cyclists access from downtown Albany to the Hudson River. At any time of morning, day, and night the skyway is being used for dog-walking, running, bicycling, or trekking to the Corning Preserve or Mohawk-Hudson Bike Trail. The skyway also offers a unique vantage point for viewing some of the Capital Murals, and the Fourth of July fireworks show.
Thirty-five miles of bicycling and walking comprises the Mohawk-Hudson Bike Trail that extends from Albany to Schenectady counties. This paved shared-use path is part of the state-wide Canalway Trail that follows the Erie Canal from Buffalo to Albany (if your legs are up for a 300+ mile trek). Take in city skyline scenes, the Hudson River, majestic views of Peebles Island State Park and far beyond, all while getting your steps and spins in.
Empire State Plaza (winter)


Credit: @nysgeneralservices on Instagram
From December-March, the outdoor ice rink at Empire "Skate" Plaza is a winter wonderland. It's free to skate if you bring your own, and just a few bucks for rentals. The environment comes alive with festive music, bonfires, and holiday lights all over the backdrop of Albany's historic cityscape.
Six Mile Waterworks (spring, summer, fall)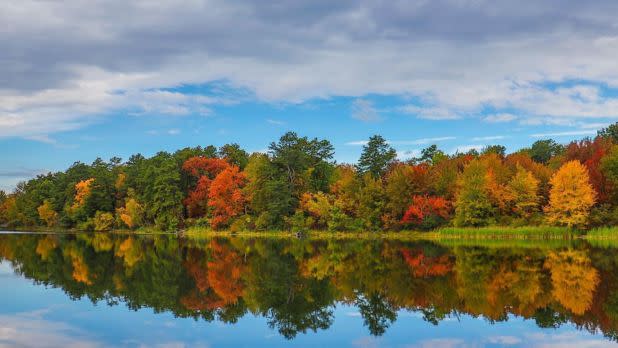 Credit: @ispymjspov on Instagram
Tucked away in a tiny corner of Albany, the 57-acre park is a recreational oasis offering many outdoor activities like kayaking, fishing, walking, bicycling, a playground and picnic area. Rensselaer Lake is stocked several times each year with fish from the City's Alcove Reservoir, said to be home to some of the biggest fish in the Capital District.
Alive at Five (summer)
A staple of local life is the Alive at Five summer concert series. This free weekly festival started in 1990 and has grown every year since, showcasing a diverse lineup of big names, up-and-coming acts, and the region's most talented original artists. Performances take place at Jennings Landing at the Corning Preserve. Every Thursday from 4:30-8:00pm the free outdoor concerts entertain professionals, community members, and friends while also serving up great food, drinks, and views of the river. This year's lineup has yet to be announced, but former acts have included: Marshall Tucker Band, Smash Mouth, Lee Brice, Boyz II Men, and Matisyahu.
Jericho Drive-In (spring, summer, fall)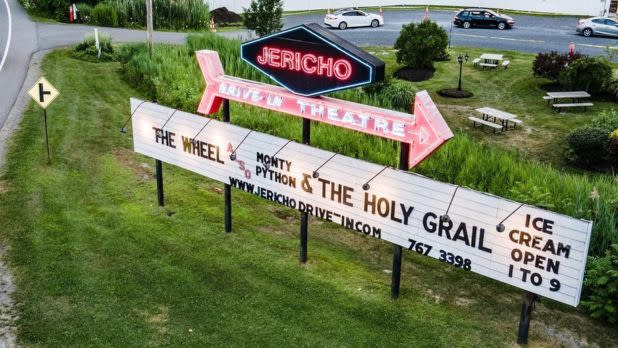 Credit: @fcavone_photos on Instagram
Spend a warm summer evening or chilly fall night under the stars, with the stars! The big screen at the Jericho Drive-in Theatre shows two films (feature films and the classics) for the price of one every weekend. This old-school destination also has a full-service ice cream parlor serving up flavorful soft serve, shakes, and sundaes, and recently added a food truck!
Park Playhouse (summer)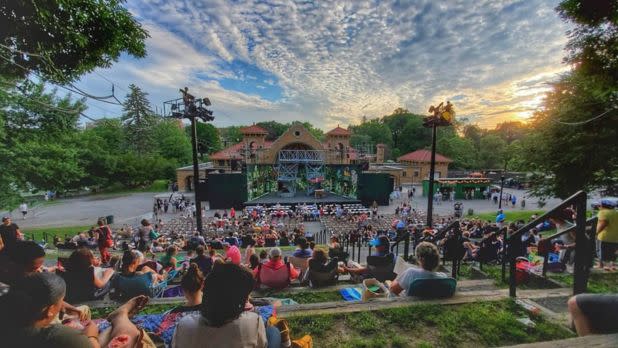 Credit: @skadadal on Instagram 
A distinguishing sign of summer in Washington Park is Park Playhouse productions. Free musicals and plays can be enjoyed five nights a week in an all-inclusive scenic outdoor setting. Residents and visitors fill the grass–covered stands to enjoy star-quality performances, with this year's performances being Something Rotten and The Secret Garden. Past performances have included: Matilda, Grease, Fiddler on the Roof, Little Women, and many more.
Indian Ladder Farms (summer, fall)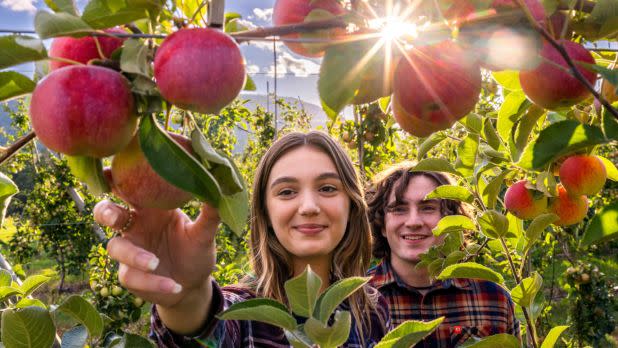 When you think of fall in Albany (or Fallbany) you think of apple-picking, warm cider donuts, and leaf-peeping. No place does all three quite like Indian Ladder Farms (ILF). Founded in 1916, the farm boasts over 90 acres of orchards producing over 40 varieties of apples. However, locals may know the farm more for what the apples are used for– namely their signature cider and cider donuts. In addition to apples, ILF offers seasonal pick-your-own berries and pumpkins, a farm store full of local products, and dozens of adorable animals. 2016 marked the creation of Indian Ladder Farms Cidery & Brewery, a tasting room in a beautiful Biergarten (an on-site expansion) surrounded by acres of apple orchards and the hop yard.
Stay a While:
Book a stay at one of Albany's best downtown hotels: Renaissance Albany, Hilton Albany, Hampton Inn & Suite are all in prime proximity to the bites and sites listed above.
---
Share your New York State adventures with us on Instagram and TikTok and Twitter and Facebook and tag us using #ISpyNY!