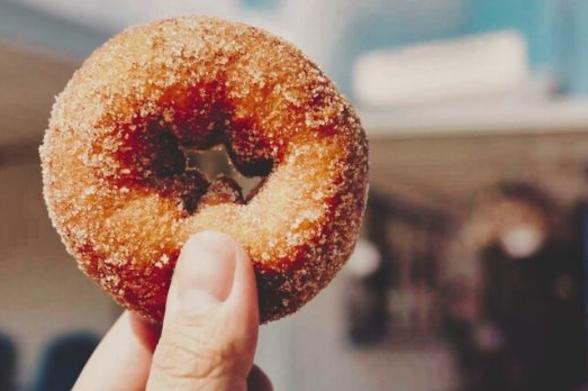 Hudson Valley Apple Cider Donuts
(Hudson Valley)
A fixture at farmers markets and farm stores in the Hudson Valley, especially in fall, apple cider donuts are the ultimate seasonal treat that you can enjoy all year long when you make them from scratch at home. Nutmeg and apple cider in the dough and the cinnamon-sugar coating add the perfect balance of sweetness and texture. Served warm, with a cup of warm cider (or cold hard cider), these donuts taste like the air on a perfect fall day in the Hudson Valley—crisp, slightly sweet, and refreshing! Click here for a downloadable, printable card featuring this recipe.​
Craft Beverage Pairing: Semi-Dry Hard CiderMakes 12 doughnuts
Ingredients
3 cups apple cider
1 cup granulated sugar
4 1/2 teaspoons ground cinnamon, divided
3 1/2 cups all-purpose flour
2/3 cup light brown sugar, packed
2 teaspoons baking powder
1 teaspoon kosher salt
1/2 teaspoon baking soda
1/2 teaspoon ground nutmeg
6 tablespoons butter, melted and cooled
2 large eggs, lightly beaten
​2 cups vegetable oil
Directions
Heat apple cider in a small saucepan over high heat.
Bring to a boil; reduce heat and simmer, stirring occasionally, until reduced to 1 cup, about 15-20 minutes. 
Let cool completely. 
In a small bowl, combine granulated sugar and 1 tablespoon cinnamon; set aside.
 In a large bowl, combine flour, brown sugar, baking powder, salt, baking soda, nutmeg, and remaining 1 1/2 teaspoons cinnamon. 
In a large glass measuring cup or another bowl, whisk together butter, eggs, and apple cider. 
Pour mixture over dry ingredients and stir using a rubber spatula just until moist; cover and place into the refrigerator until chilled, about 1 hour. 
Divide dough in half. 
Working on a lightly floured surface, roll dough into 1/2-inch thick rounds; cut out rounds with a 2 1/2-inch cutter. 
Heat vegetable oil in a large stockpot or Dutch oven over medium high heat until a deep-fry thermometer registers 375 degrees Fahrenheit. 
Working in batches, add donuts to the stockpot/Dutch oven and cook until evenly golden and crispy, 1 minute per side. 
Transfer to a paper towel-lined plate for 30 seconds; then roll warm donuts in cinnamon sugar mixture to coat. 
Serve warm.