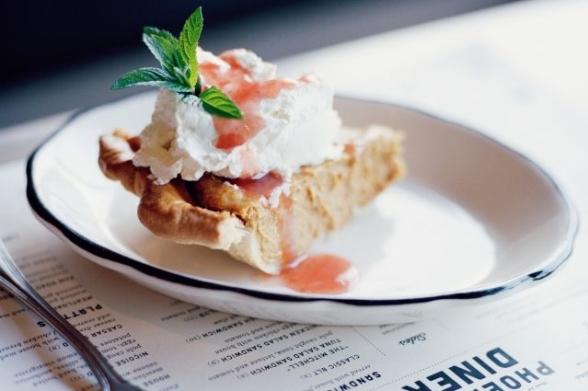 Credit: Kevin Trageser
New York is famed for its world-class restaurants, celebrity chefs, creative food inventions, and diverse agricultural products. Not surprisingly, the state also leads the way with entertaining, informative, and inspiring cookbooks. Here are a selection of 17 books to get you cooking, New York-style, available at your local bookstore, online, and in many cases, as an ebook. Whether you want to make your own Buffalo wings, create a tangy Thousand Island dressing for your salad, or try your hand at a tasty Utica tomato pie, bookmark the pages in New York State cookbooks and have fun in the kitchen! 
Updated 09/20/21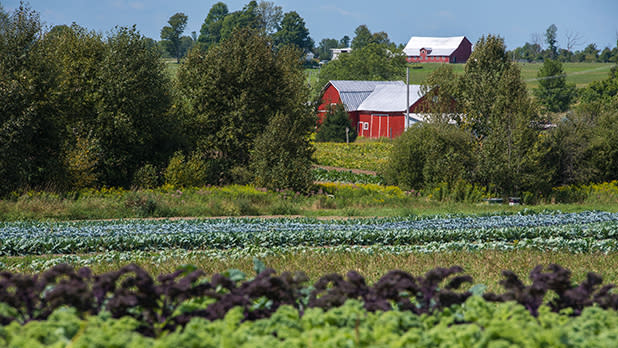 Eleven Madison Park chef Daniel Humm is behind this inventive 2013 cookbook that explores the agricultural riches of New York and traces the history of the state's classic dishes. Each section features a profile of a New York farm known for certain ingredients, then follows up with Humm's creative recipes. You can read up on the state's famed apple orchards, then try your hand at a variety of recipes such as caramelized apple brioche. A lovingly made showcase of New York's best farm-raised meats and seasonal ingredients, this collection of recipes, stories, photos, and history is a great addition to the cookbook library of anyone who likes to cook and who loves New York! 
Southern and Louisiana recipes from New York State? Yes, ma'am. Saratoga Springs institution Hattie's Chicken Shack is famed for its fried chicken and other Southern staples, served continuously since 1938! This book captures Louisiana native Hattie Gray's recipes for fried catfish, pimiento cheese, sweet potato pie, and other classics from the South by way of New York's Capital-Saratoga region. Current Hattie's owner and chef Jasper Alexander collects the favorite dishes as well as farm-to-table recipes drawing from the area's rich agricultural community to deliver a cookbook that offers flavors and dishes for everyone.
New York City's Chelsea Market, a sprawling network of shops, restaurants, and activities in a former factory, is a popular stop for tourists and New Yorkers in search of a quick bite or a satisfying meal. This 2013 cookbook collects 100 tasty recipes from the market's food hall vendors, including Buddakan (hoisin-glazed pork belly), Sarabeth's (cream of tomato soup), Los Tacos No. 1 (carne asada tacos), and more. The book is also packed with archival images, entertaining tips, and stories from the chefs and food vendors who have made Chelsea Market one of New York City's go-to attractions.  

Credit: @nommomnyc on Instagram
Utica is one of the capitals of Italian-American cuisine, a city known for unique inventions and long-lasting favorites such as tomato pie, Utica greens, half moon cookies, and the now-classic dish of rigatoni pasta tossed with chicken, hot or sweet peppers, and a creamy tomato sauce better known as chicken riggies. This cookbook, published in 2020, features crowdsourced recipes from the Utica area's home cooks, and offers endless variations on these dishes as well as meatballs and sweets such as cheesecake and pastries, with an emphasis on Italian-American and Mediterranean flavors. Profits from the book are donated to the Utica Rescue Mission food service program.
Visitors to the Catskills often make it a point to stop for a meal at the Phoenicia Diner, a classic-style eatery with a comfort food menu updated for the farm-to-table era. This 2020 cookbook captures the recipes that have made the diner so popular. All-day breakfast items such as buttermilk pancakes and a twice-baked potato skillet will inspire your next brunch menu, while ambitious creations like cider-braised duck with grits are a perfect challenge for the home cook who wants to put their skills to the test. The book features 85 recipes as well as beautifully shot photos that showcase the rustic elegance of the Catskills. 

Credit: @_lionelm on Instagram
Hurry up and order this cookbook before Super Bowl Sunday to get new ideas for your spread! Buffalo wings are of course on the menu, as well as many other favorite dishes from the Nickel City that are perfect for snacking or feeding a small crew. Veteran food writer Arthur Bovino spent months eating his way through Buffalo's wing joints and pizza parlors, trying local inventions such as beef on weck and chicken finger subs to get to the heart of this unique food scene. Then, he sourced recipes from the Buffalo chefs, personalities, and institutions in this 2018 book. Whether cooking for the big game or wanting to try a Buffalo classic, this book will keep you, your family, and friends satisfied.
Fun fact: America's most influential vegetarian and natural foods restaurant opened way back in 1973 in Ithaca, helping set off a revolution in healthy eating. Moosewood continues to serve nutritious, seasonally driven food to this day, and its many cookbooks have inspired home cooks for generations. This 14th and most recent cookbook from the Moosewood Collective, published in 2017, features 250 new recipes, and it's the perfect jumping-off point to a healthier cooking and eating regimen. The recipes include a wide range of savory and sweet dishes, including plenty of comfort food favorites—from pot pies to risottos—alongside salads, soups, and grain bowls. 
Host of the PBS cooking show of the same name, filmed on location in Syracuse and throughout the Finger Lakes region, Julie Taboulie channels her Lebanese roots into recipes that make it easier to prepare flavorful Mediterranean meals. Taboulie writes about learning family recipes while growing up in Utica and about using the Finger Lakes as the backdrop of her show in this lively 2017 cookbook, which is a great way to learn how to make hummus, stuffed grape leaves, and baklava at home. You'll also find healthier options such as Lebanese chickpea, potato, and bulgur wheat fresh herb patties (pictured). Bonus points if, like Julie herself, you use New York State ingredients!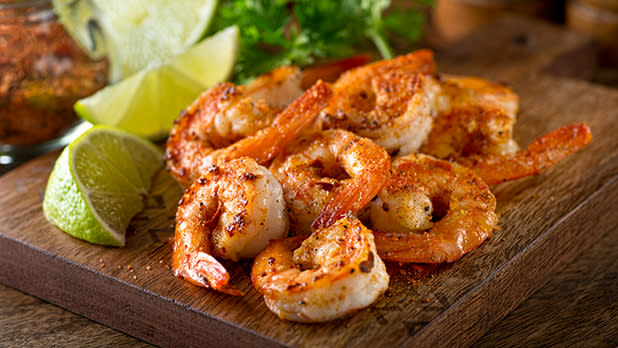 One of Food Network's favorite hosts, Rachael Ray reflects on her life in this colorful cookbook that coincided with her 50th birthday in 2019. The memoir-inspired recipes, 125 in all, include personal and family anecdotes that connect the food to her "sweet and savory life." The perky star's reflections include memories from her youth, including her time growing up surrounded by the beauty of the Adirondacks in Lake George. She's still tied to the area: the 2021 season of her show "30-Minute Meals" was filmed entirely in the home she designed and had built in Lake Luzerne. For fans of Ray and for anyone looking to entertain with family-friendly dishes like big pan roast shrimp with garlic, this is an essential book to add to your collection.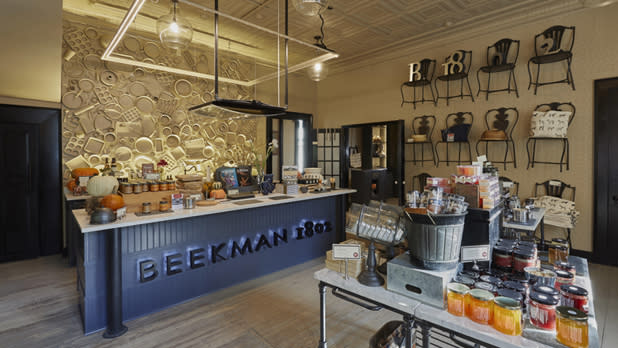 Lifestyle gurus the Beekman boys are famed for their entertaining prowess. Here, the Sharon Springs-based pair compile recipes that explore cooking as the center of community, reflecting on their move from NYC to the Central New York spa town that's also home to their lifestyle boutique and farm. Their fourth cookbook, which they call their most personal, is a cheat sheet for how to host a gathering and feed a group, whether that means roasting a turkey for Thanksgiving or making a family-style meal and the finger foods to get the party started. 
Chef and author Suvir Saran details his evolution from New York City restaurateur to Adirondacks farmer in this 2011 book. It features 60 recipes that straddle New York farm-to-table and Saran's Indian roots, outlining what he calls "an uncommon life in the country." His unique story and tantalizing recipes make this a cookbook that's more than the sum of its parts, with an easy-to-follow cooking by season approach, and which will inspire memorable dishes that put New York State ingredients to use in unexpected ways. Harvest apple raisin chutney, anyone?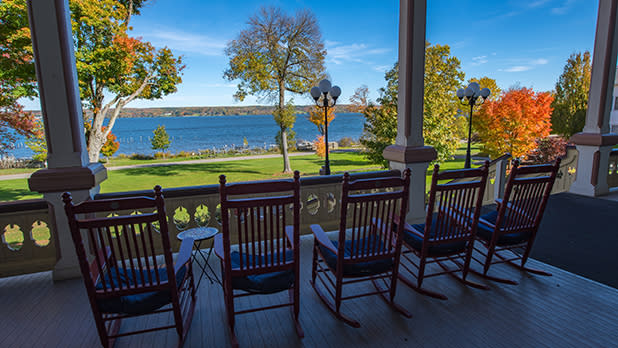 Churches and philanthropic organizations have long collected recipes from their community members to share with others as leaflets or handmade books, often as part of a fundraising effort. In 2000, a Fredonia professor and a local cookbook author had the idea to catalog and curate some of the recipes featured in these types of publications from the Chautauqua-Allegheny region and delivered this cookbook, a great historical document that features recipes dating back to the 1880s!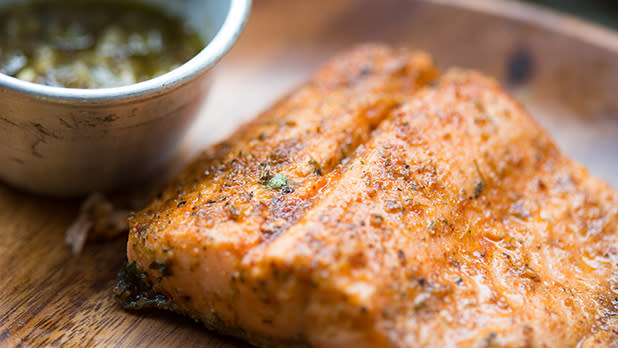 Adirondack cooking relies on farm-fresh ingredients, fish from mountain streams, game meats, and hearty dishes. Recipes for pan-fried trout, seared venison loin, and warming chili fill this great 2014 cookbook, which also features historical photos and information about the region and its foodways. Learn about foraging for wild ingredients, read about the history of food in the Adirondacks, or simply prepare a meal based on the easy-to-cook recipes that will transport you to a Great Adirondack Camp kitchen or firepit.  
Chef and restaurateur Laura Pensiero realized the connection between the Hudson Valley's agricultural riches and healthier eating long before it became a trend. In 2001, she opened Gigi Trattoria in the charming town of Rhinebeck, serving Mediterranean-inspired dishes and developing a devoted following for her farm-to-table cooking. Her 2009 cookbook features recipes from Gigi, including its beloved "skizza," thin-crust flatbreads topped with whatever's in season, satisfying pasta dishes, and an array of dishes that will encourage you to eat better without skimping on flavor. Given the popularity of the Mediterranean Diet, Pensiero's book is a great place to start!

Credit: Dinosaur Bar-B-Que
Dinosaur Bar-B-Que founder John Stage shares recipes and stories from his restaurants' humble beginnings in Syracuse to beloved barbecue chain in this 2009 cookbook. Stage, New York's most famed practitioner of the American art of barbecue, explains how to smoke and cook beloved dishes such as World Famous Dinosaur Ribs, beef brisket, and more. He also shares important techniques that will help up your barbecue game and maybe even help turn your home into an American Roadhouse for a spell.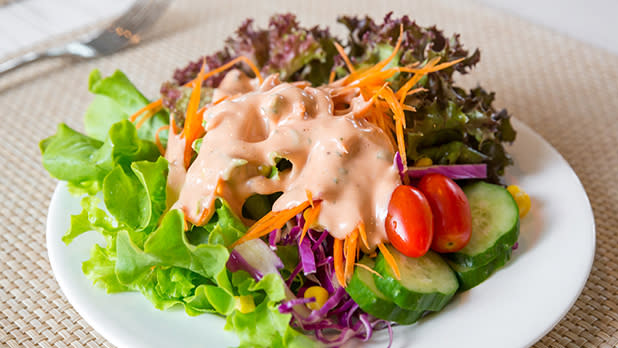 Want to learn the stories behind Upstate NY inventions like Thousand Island dressing (pictured), Buffalo wings, the potato chip, and more? They're all here in this 2015 cookbook, along with the recipes to make 40 iconic dishes from home. New York's unique food inventions are tasty and fun to cook, and reading the histories of everything from Buffalo's sponge candy to Binghamton's spiedie sandwiches—with how-to's and recipes to accompany them—will leave you hungry for more!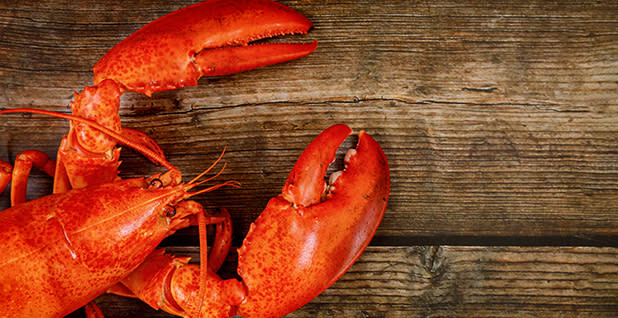 Cookbook author Hillary Davis and former Dan's Papers restaurant critic Stacy Dermont co-authored this 2020 collection of recipes, which, as the title suggests, takes full advantage of the Long Island's picturesque farms and its bountiful waters. Featuring dozens of recipes and lush color photos that showcase the Hamptons lifestyle, this is a cookbook that's great in the kitchen as well as on the coffee table. It'll also inspire memorable meals made with seafood fresh from the market, seasonal vegetables, and more!
---
For recipes from New York State, visit the I LOVE NY Recipes page!