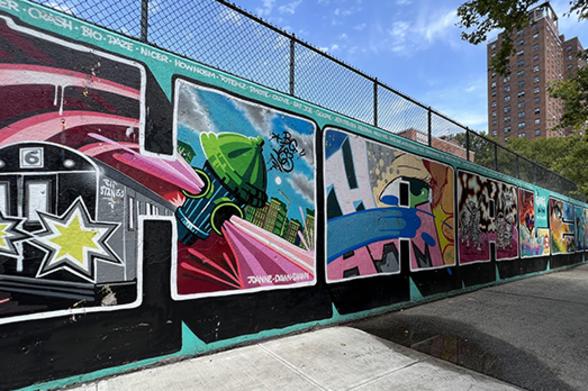 Credit: Kim McVeigh
From a restaurant lauded as New York City's best by the New York Times to a museum that explores the Underground Railroad in New York to a theater dedicated to African American performance art, add these spots run by amazing Black leaders to your itinerary on your next New York State getaway.  
Kwame Onwuachi, chef and owner, Tatiana (New York City)

Photo courtesy of Tatiana
The culinary scene has been abuzz since Tatiana made its debut at Lincoln Center's David Geffen Hall, with the restaurant being named New York City's best by the New York Times just a few short months after opening. The restaurant is the brainchild of 33-year-old James Beard Award-winning chef and author Kwame Onwuachi, who appeared as a "Top Chef" contestant on Bravo and serves as Food & Wine magazine's executive producer. Onwuachi calls the restaurant, named after his older sister, his love letter to New York, with a menu that taps into the diverse flavors of his childhood and heritage. "My background is Afro-Caribbean, I grew up in the Bronx, and use the tapestry of New York's cuisine as my influence," he said. "It celebrates all of the cultures of New York City and the people that make it special."

Credit: Evan Sung; provided courtesy of Tatiana
From Italian bakeries and Chinese takeout to Caribbean roti shops and local bodegas, Onwuachi found inspiration in it all and shares those influences through his culinary creations that include egusi dumplings with a Nigerian red stew, oxtail and crab rangoon, Mom Dukes shrimp in Creole butter, short rib pastrami suya, and the Bodega Special that features a cosmic brownie and powdered doughnut ice cream that are sure to bring you right back to your childhood. When guests come to dine at Tatiana, Onwuachi said they can "expect intentionality and sense of place—a place that is welcoming to all," adding "I hope their hearts and their souls are filled."
Debra Harris, founder, Hush Hip Hop Tours (New York City)

Credit: Kim McVeigh
Hip hop is more than just music—it's a cultural movement that has become a global phenomenon making its mark in the worlds of fashion, art, dance, and more. And it all started in New York City. Hush Hip Hop Tours takes guests on a journey through the city to see hip hop's history and evolution up close with pioneers of the genre as their guide. "I wanted to use this vehicle as an opportunity for the legends of hip hop to use it as a platform to share their stories first hand, to give visitors that will come into New York to spend some time and break bread with some of the people who inspired them as they were growing up," said founder Debra Harris.

Photo courtesy of Debra Harris
Seeking to celebrate hip hop the way Nashville celebrates country music, Harris started Hush Hip Hop Tours over 20 years ago. Growing up in the Bronx, the former legal secretary bore witness to hip hop's early days and wanted to connect today's fans to that energy. Break dancers, graffiti and visual artists, and old-school rhyme masters lead workshops and walking and bus tours to explore sites in Manhattan, Bronx, Brooklyn, and Queens. The flagship Birthplace of Hip Hop Tour passes Yankee Stadium and the Apollo Theater Walk of Fame, as well as playgrounds that hosted early rap battles, the Graffiti Hall of Fame (pictured at top), and of course, 1520 Sedgwick Avenue, where DJ Kool Herc is credited with creating hip hop at a party on August 11, 1973. "This is the foundation—this is where it started… this is sacred ground," said Harris. Having hosted more than 1 million people from all across the world, the tour group continues to teach about the deeper meaning of hip hop, which this year celebrated its 50th anniversary. "When you come to the Bronx or when you come to New York City, you can taste all kind of different cuisines, get to know why hip hop started, where it started, who started it and what it really means to be a part of hip hop culture and separate it from just the rap music because it's so much more."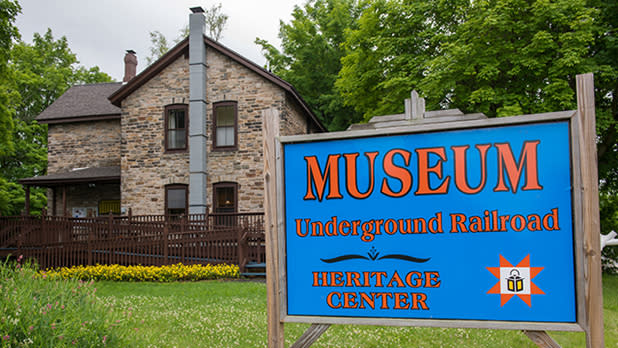 The North Star Underground Railroad Museum reveals the hidden history of the Champlain Line of the Underground Railroad with poignant exhibits portraying the stories of freedom seekers who passed through northeastern New York to get into and out of the country. "Our mission is to promote freedom," said museum president Jacqueline Madison. "We hope that guests to our museum will learn to appreciate the importance of freedom for everyone and that freedom comes with a price." Madison, who has an impressive career in library and information science, was drawn to the museum after learning the stories of those who put their lives and those around them on the line to fight slavery. "Their commitment was an inspiration to me," she said.

Photo courtesy of Jacqueline Madison
The story of this important passageway is told through local artifacts such as a leg iron found hidden in a Quaker home and a sculpture to freedom as well as a multimedia production on John Thomas, who was enslaved in Maryland and made a triumphant escape before settling on his own Adirondack mountain farm. The museum also tells the stories of Chinese immigrants who used the route to make their way into America after the Exclusion Act of 1882 and connects the past to the present with immigrants today. "Our museum speaks for everyone that is interested in promoting democracy and freedom.  It highlights the importance our voices play in the nation and the world," Madison said. "Just as those who were against slavery spoke up, today, it's more important than ever for each of us to voice freedom for everyone irregardless of their differences."
Kizzy "Allie B" Williams, owner and founder, Allie B's Cozy Kitchen (Capital-Saratoga)

Photo courtesy of Allie B's Cozy Kitchen
For nearly a decade, Allie B's Cozy Kitchen has been nourishing the bodies and souls of Albany with its authentic American cuisine. At the helm is owner and founder Kizzy "Allie B" Williams, whose parents provided her with the knowledge, fortitude, and motivation to achieve her dreams. "I grew up cooking food on the sidewalk with my mother right on the streets of Harlem so all of the values that were installed in me from Harlem I have brought to Albany," she said. "My father was a fisherman, so if I know anything, I know everything about fish." She puts her heart and history into every dish that comes out of her cozy kitchen from the melt-in-your-mouth fried fish and crispy fried chicken to the collard greens and candy yams to the charcoal grilled ribs slathered in South Carolina sweet barbecue sauce. "We give you culture," Williams said. "I'm grateful to be able to create new beginnings for my bloodline, but also for my community, and Allie B's represents the Capital Region, but I am a gift from Harlem and my bloodline is from South Carolina."

Photo courtesy of Allie B's Cozy Kitchen
While all the food is good, it's the oven-baked mac and cheese that is the star. "It's full of cheese, it's full of love, and it is absolutely delicious," Williams said. Golden in color and divine in its simplicity, this comfort food classic is such a hit that Allie B's is opening a second location solely focused on mac and cheese with variations featuring lobster, pulled pork, bacon, and broccoli, to name a few. It's not just the food that has made Allie B's Cozy Kitchen an Albany mainstay, but Williams herself, whose selflessness and caring heart led her to open an apple orchard for the community, provide housing for low income families, and make plans to create a fruit and vegetable stand. This love that she has for the people and the community is felt by every customer that walks in the door of Allie B's Cozy Kitchen. "The first thing the customer feels is at home," she said. "I hope they leave with love. I want them to leave with hope, and good food gives you hope.  I want them to leave knowing that someone does love them because when you walk into Allie B's, we love you from the moment you walk in."
Sarah Norat-Phillips, interim artistic director, Ujima Theater (Greater Niagara)

Photo courtesy of the Lorna C. Hill Theater
For 45 years, the Ujima Theater Company has been dedicated to the preservation and performance of African American theater in Buffalo. "A Swahili word, Ujima means 'collective work and responsibility' and it is from that tenet that we derive our purpose," said founding member and interim artistic director, Sarah Norat-Phillips. "We are committed to using theater to tell the stories of underrepresented communities and unheard voices and our work remains dedicated to the principles of social, gender, racial and economic justice for all." All areas of the theater are run by members of the collective from collecting tickets to greeting guests to selling concessions and, of course, putting on one of the finest live theater performances in New York State. "This company of artists is a shared legacy, bound together by history and love, by creativity and the community we serve," Norat-Phillips said.

Credit: Carmen Phillips
Housed in a former school, the newly-renovated, state-of-the-art Lorna C. Hill Theater, named after Ujima's late founder and longtime artistic director, provides audiences with an intimate theater-going experience with its daring and provocative productions that this season include The Color Purple, 12 Mo' Angry Men, and more. "We want our audiences to be changed," said Norat-Phillips. "Our purpose is to entertain and educate. We try to use theater as a tool that helps the audience understand the ways in which people adapt and survive, how they resist oppression and manifest resilience. We also have fun! All our stories, even when dire, are uplifting and honest, often featuring laughter, music and dancing."
---
Discover more Black-Owned Businesses in New York State and learn more about The Black Experience in NYC.