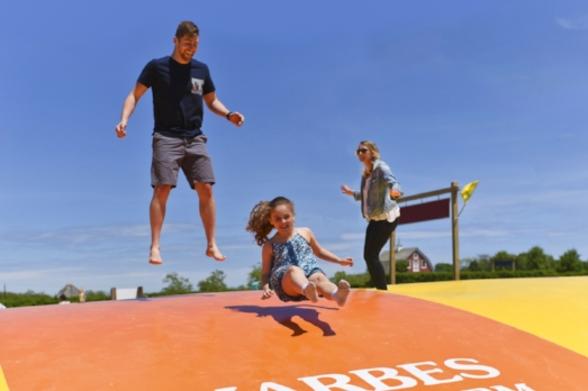 Every family has their classic vacation go-to destinations. But what about when your kids (and you) are craving something a little different? Give your crew a taste of something exciting and new when you venture to one of New York's lesser-known treasures. Your next unforgettable escape is hiding right around the corner.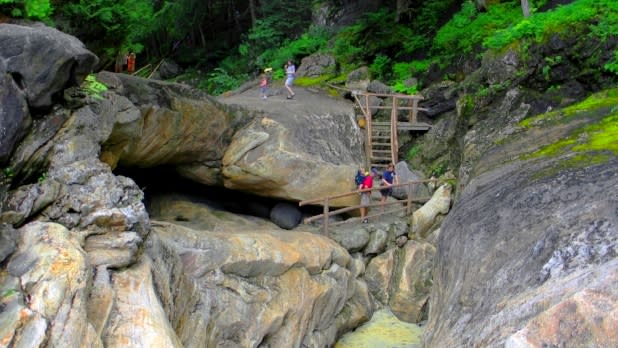 The Natural Stone Bridge and Caves is a natural wonder of the Adirondacks, waiting to inspire a new love of geology (and Insta-jealousy). Start with a self-guided tour of the pathways that wind their way through massive marble caves and learn about their incredible formation during the last Ice Age. While water rushes over rocks on the surface, there are also waterfalls and pools inside the caves illuminated by colorful lighting. They offer several "mining" activities where kids can uncover geological souvenirs like gemstones and crystals, or even replicas of dinosaur bones found at actual dig sites. The rock-based fun continues with adult and kid-sized bouldering walls over padded mats. They have a picnic area, snack bar, and even an ice-cream shop where you can try a "caveman sundae" or signature Stone Bridge Iced Coffee Floats as a final reward. Pottersville
The Albany Pine Bush Preserve protects one of only 20 remaining pine barren ecosystems in the world, and their Discovery Center is dedicated to making learning about this precious resource fun for kids of all ages. They offer a number of interactive, hands-on experiences, such as touching real snakeskin and making your own sand dune. They also have a calendar full of interesting events, like the Full Moon Hike and Wildflower Walk. It's never too early to learn about our responsibility in preserving nature, and what better way to learn than through play! Albany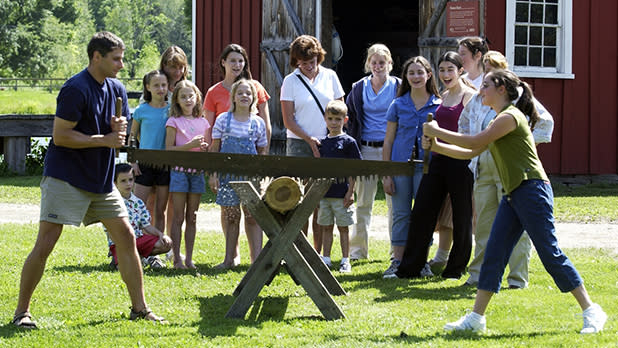 It can be hard for kids born after the technological revolution to imagine a world powered by water, steam, or gas, but that's what makes the Hanford Mills Museum so interesting and fun! The museum combines a look into the past with the chance to learn about engineering in a playful way. Take a guided tour that includes demonstrations of water-powered machinery, a re-created rural home from the 1920s, and a recently constructed Learning Lab. The Lab uses kid-friendly materials, a playground, and special challenges to teach young minds about how energy moves technology. You never know what will inspire a future scientist or engineer! East Meredith
The Wild Animal Park in Chittenango, open April through October, is smaller and more intimate than your ordinary zoo, and that's what makes it so special. It was specifically designed to get visitors up close and personal with exotic wild animals. While you can watch daily feedings of lions, tigers, and alligators (oh my!), there are ample opportunities to actually feed the animals yourself. You can give a giraffe a carrot straight from your hand on a raised platform, use a tube to deliver food to animals such as camels and zebras, and book an encounter with an otter, hippo, rhino, penguin, or sloth. Take a guided monster truck tour tour on the Wild Drive Thru Safair, and for an extra dose of fun, the park also houses five bounce houses where kids can let out all their own wild energy. Chittenango

Credit: Courtesy of Griffis Sculpture Park
One of the oldest and largest sculpture parks in the country, Griffis Sculpture Park in East Otto was built to encourage an appreciation of both art and nature. 250 enormous sculptures are sprawled out over wide open lawns and tucked into a number of wooded trails. Some of the sculptures invite human interaction, such as a giant metal spiral staircase leading visitors up to a crow's nest view or enormous mushrooms that offer the perfect seat for a photo op. There is also a picnic area so bring something yummy to eat among the natural and man-made beauty. East Otto; open May 1-Oct 31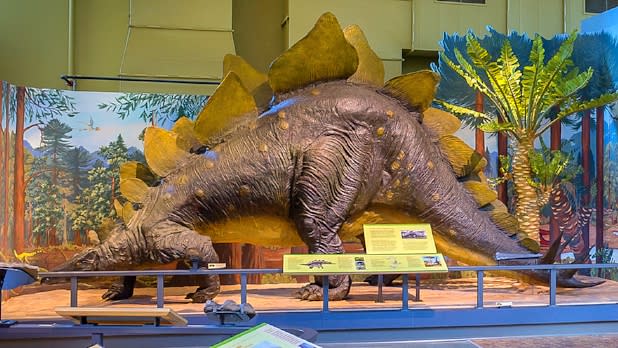 The famed gorges and waterfalls aren't the only wonders of nature in Ithaca. The Museum of the Earth houses fun and lighthearted displays on almost every facet of earth's science and history, including an enormous collection of fossils and real excavated skeletons. Marvel at the Hyde Park Mastodon, visit Steggy the Stegosaurus, and learn about evolution, climate change, and more in the museum's exhibit space. . Plus, no more than an eight-minute drive away is the museum's partner institution, the Cayuga Nature Center, home to a six-story treehouse and the opportunity for "Animal Encounters" with their resident wildlife. Ithaca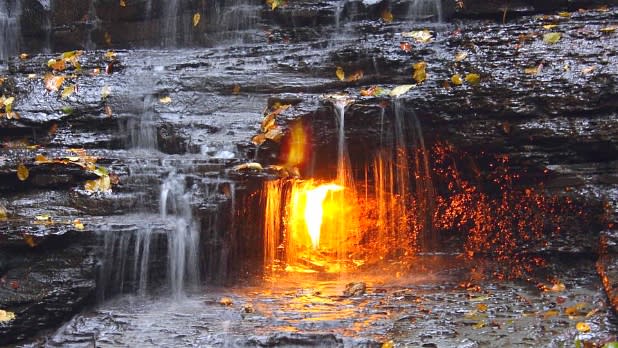 Discover something very magical hiding in the Shale Creek Preserve, a corner of the larger Chestnut Ridge Park in Erie County. A short hike through the woods will lead you to Shale Creek which eventually turns into a beautiful waterfall over layered rocks that look almost like steps. As you approach the waterfall, you'll notice the sulfur-like smell of natural gas that escapes from the earth. Behind the waterfall lies a grotto, or small cave, which houses the Eternal Flame. In fact, the entire creek flows over plenty of fissures through which the combustible gas escapes, but normally it dissipates in the air or water (look for bubbles rising to the surface!). It's the unique circumstance of the surrounding cave walls and the waterfall that contain the gas, enabling the fire to burn. It's very picturesque and a rare sight to be seen in nature. Orchard Park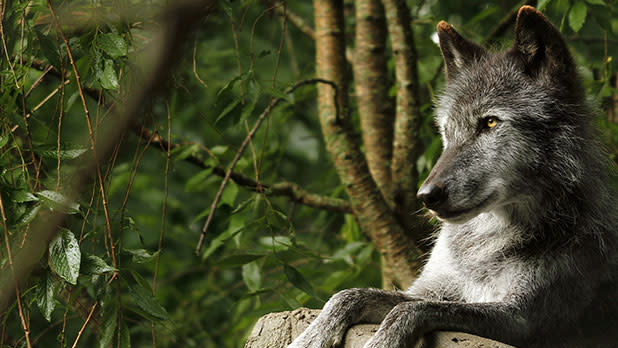 Not only are wolves the adorable, majestic cousins of man's best friend, they are also crucial to keeping ecosystems in proper balance. You and your cubs can actually go meet wolves and learn all about the mythology, biology, and ecology of wolf packs during the weekly program Wolves of North America. . They also host "Sleeping With the Wolves" from May to October where you can camp out overnight and immerse yourself with over 30 wolves on the Center's grounds. The Center is one of the world's three largest facilities dedicated to supporting the Mexican gray wolf and the red wolf, two species brought back from extinction. It provides a rare chance to see and learn about these beautiful creatures. South Salem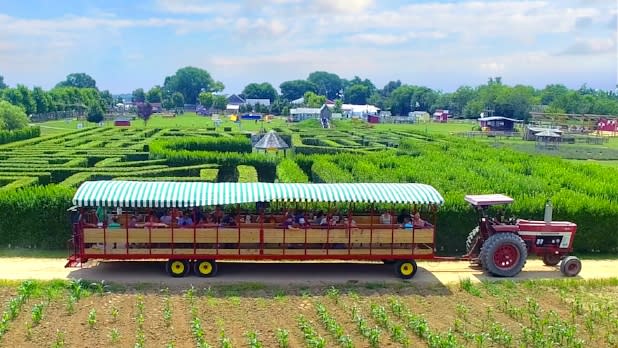 Practically every fun farm activity you can imagine awaits youngsters on the Harbes Family Farm on Long Island. The "Barnyard Adventure" covers eight acres, and includes a gnome-themed hedge maze, a barnyard animal petting zoo, enormous trampoline-like Jumbo Jumpers bounce pillows, a 600-foot track to ride a four-person trike (motorized tricycle), a chick observatory, and something that sounds almost too cute to be true—a goat mountain and slide. On weekends, holidays, and Fun Fridays they also offer special events like pig racing and musical hayride tours. Stop by their farmstand to try seasonal ice cream flavors and freshly baked donuts and pies, Harbes Honey, and don't forget to take home freshly picked berries, peaches, and corn! Mattituck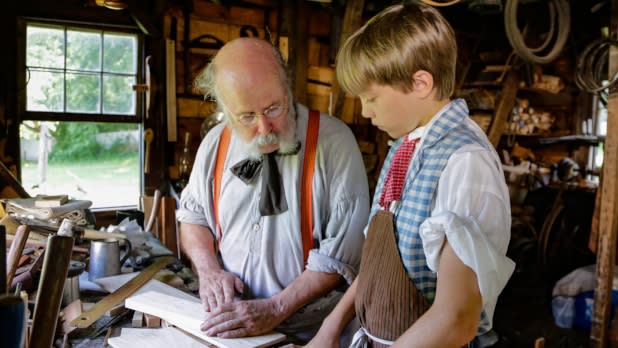 Kids who are just beginning to learn about "the old days" in school have the chance to actually experience them themselves. Step back in time at Historic Richmond Town on Staten Island, the town and farm museum complex that recreates American life as far back as the 1600s. In costume and in character, the staff provides daily guided tours of various restored buildings, including homes, a courthouse, a general store, and even the oldest standing elementary school in the country. Storytelling is a big part of the experience, as are live demonstrations of crafting and cooking. You'll find all the proof you need that history can be anything but boring. Staten Island

If your kids are at all put off by the words antique and museum, here's an experience that just might charm them out of their reservations: The Antique Boat Museum actually gets visitors out on the water, aboard a traditional St. Lawrence Skiff—and the paddle around French Creek Bay is included in the cost of admission (seasonal, typically from end of July to early September). For an extra fee, they also offer 45-minute river cruises in a wooden motorboat throughout the day and two sunset cruise options in real antique boats. Clayton; opens for 2023 season in May.
---
Don't forget to post photos of your New York adventures on TikTok, Instagram and Twitter with #iSpyNY and tag us on Facebook!