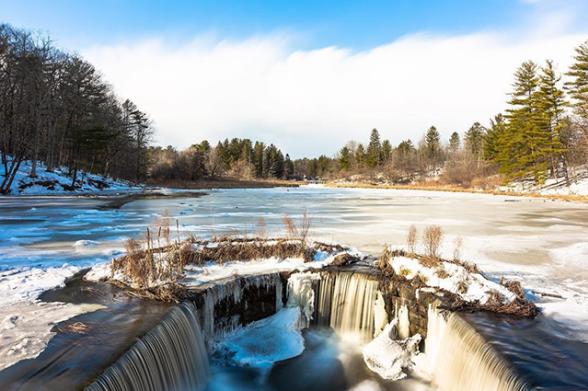 New York State offers endless outdoor adventures, from thrill rides on ziplines and mountain coasters to pulse-pounding mountain hikes. But what if you want a quiet walk in the woods or along the water or even to see a majestic waterfall? Some place to stretch your legs or get the kids outdoors without too much fuss? Well, New York has you covered there, too, with scenic, easy winter walks and nature trails perfect for a solitary break or a family excursion. Here are 11 easy winter walks in New York State.
Masks are encouraged, but optional in most settings per New York State guidelines. Individual businesses or attractions may require mask wearing. Call ahead and check websites and social media to make sure attractions and amenities are open and available.
Updated: 11/15/2022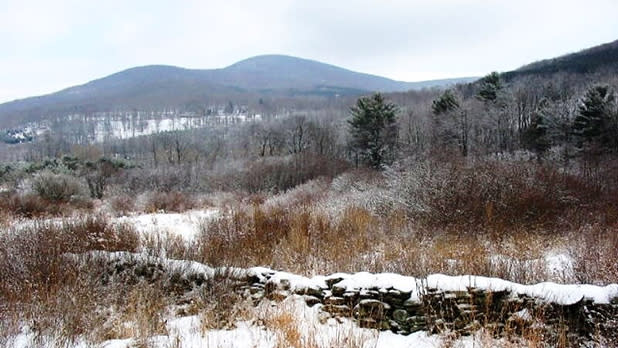 The Catskill Scenic Trail is an ideal destination for a relaxing walk or bike ride, cutting a leisurely path through gorgeous Catskill Mountain terrain with scenic rolling vistas in the distance. The trail follows the former rail line and has a nice wide path and gentle grade that makes for an easy walk or bike ride for all ages and skill levels.
Glimmerglass State Park Covered Bridge Trail (Central New York)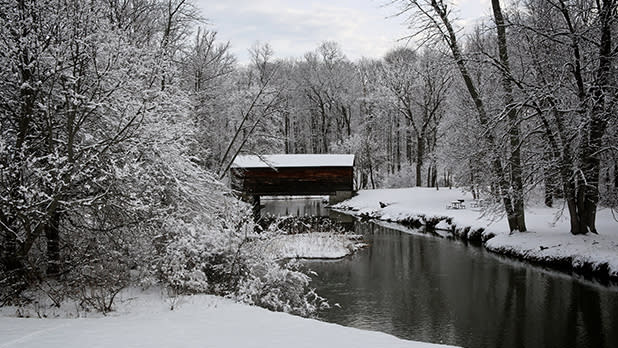 Take a walk in Glimmerglass State Park overlooking peaceful Otsego Lake, just eight minutes from Cooperstown. The views of the lake are spectacular and you can even stroll through a historic covered bridge, Hyde Hall Covered Bridge, which is considered the oldest existing structure of its kind in the United States! Trails throughout Glimmerglass State Park are well marked and have a nice variety of wildflowers, shrubs, ferns, and mosses. Be sure to keep an eye out for wildlife!
Experience nature at its finest. With over 450 acres of fields, forests, and wetlands, Five Rivers Environmental Education Center (also pictured at top) is a great place to go for an easy walk or hike, and to enjoy the region's striking scenery. Take a loop through the woods or walk the trail around the lake, keeping an eye out for wildlife including turtles, beavers, and endless bird species. The education center and outdoor activities add to the Five Rivers experience. 

Credit: Mark Hamilton
Part of the 750-mile Empire State Trail, this 36-mile stretch between the city of Hudson and the capital in Albany is a gently sloped trail on the site of an old trolley line. It's perfect for anything from a short stroll to a long bike ride, with opportunities to jump off the trail for a craft beer or to wind through scenic horse farms or past lakes and ponds that showcase New York's majesty. Be sure to stop and read the entertaining historical markers along the route to learn fun facts about the area. 
Long Island's world-class beaches aren't just for summer! Bundle up and experience a barrier island, rich in natural beauty and nautical tradition. The Fire Island Lighthouse is located at the western end of the Fire Island National Seashore, just east of Robert Moses State Park, and easily accessible by car. (No need to take a ferry to this part of Fire Island.) Explore nature trails, and take in views of the bay and ocean. Stroll along the boardwalk leading to the lighthouse, or walk along the breathtaking Atlantic beachfront. This walk is memorable at all times of day but is especially magical at sunset.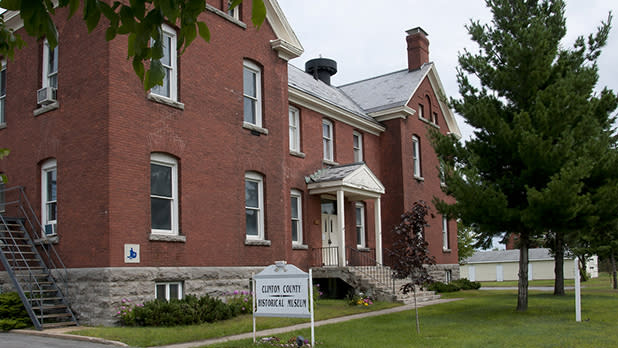 Of course, the Adirondacks offer endless hiking and wonderful winter outdoor adventures, but for a less strenuous experience, take a stroll through downtown Plattsburgh. The Heritage Trail historical walking tour visits Riverwalk Park, monuments, the Clinton County Historical Museum (pictured), and other attractions along the Saranac River. Take a break and visit local shops or restaurants, and if weather permits, grab a bite to go and enjoy the view of the river and Lake Champlain beyond it.

Credit: @reeechee on Instagram
This popular two-mile round-trip hike has a huge payoff: visitors can climb the restored Rondaxe Fire Tower for stunning views. The 500-foot ascent is slightly steep but manageable for most hikers, including children, which helps make this one of the most visited summits in the Adirondacks. Consider a trip to Bald Mountain during weekdays when it's less likely to be crowded, and have a backup plan in place in case there's no parking available (as with any walk or hike in New York). For those who want to make Bald Mountain part of a longer hike, head to the nearby Rocky Mountain and Black Bear Mountain near Eagle Bay.
The well-maintained trails in this 292-acre preserve provide up-close access to the area's native wildlife and flora. Take an easy walk through the forest, passing ponds and wetlands, crossing charming wooden bridges, and enjoying the fresh air. Be sure and walk the Beech Tree Trail to see the largest American Beech tree in New York State. And in late spring through summer see the famed lily pond, where hot pink lilies bloom into August. 
At nearly 65,000 acres, Allegany State Park offers hiking trails for every level and several that are great for an easy walk in the woods. The Red Jacket loop near Salamanca is just less than a mile long and flat, great for a quick stroll in nature. Otherwise, one of the park's two distinct areas, Red House, has five miles of paved trails that are perfect for walking and bicycling amid nature. 
The Genesee Riverway Trail is a great urban trail for walking along the Genesee River through the scenic, historic, and cultural city center of Rochester, running from the Erie Canal to downtown and Lake Ontario. It has easy pedestrian access to the Genesee River and passes a scenic gorge and three waterfalls. Along the 24-mile trail are eight pedestrian bridges and parks, including four historic parks designed by Frederick Law Olmsted. The trail also connects to the University of Rochester and many other historic landmarks and neighborhoods. 
Here it is: the southernmost point in New York State! Besides this curious geographical fact, Ward's Point on Staten Island features a surprising wealth of nature trails that run through a seaside forest and lead to a shore that's perfect for a stroll on the beach or to take in views of the Arthur Kill River. The park is also rich in history, with a 17th-century manor, The Conference House, that was the site of a 1776 peace conference that tried (but failed) to end the Revolutionary War.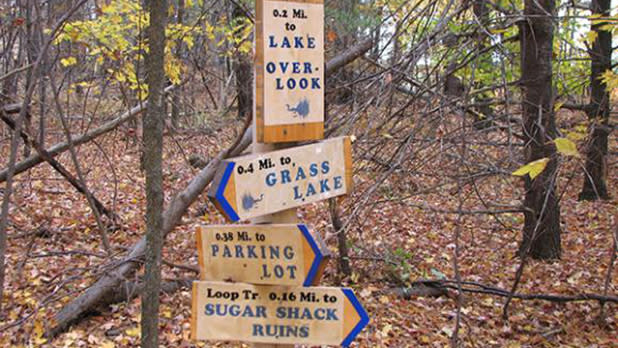 A 20-minute drive from Alexandria Bay is this gorgeous nature preserve with six miles of scenic trails for easy walks or hikes. In contrast to the castles and playful seascape of the nearby St. Lawrence River, Grand Lake Reserve offers nature at its most contemplative, with long grasses that blow in the breeze and peaceful lakeside views. 
---
Share your New York State adventures with us on TikTok, Instagram and Twitter with #iSpyNY and tag us on Facebook!