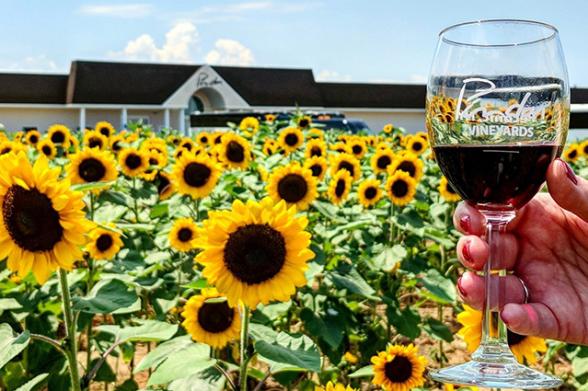 Spring in New York is the perfect time to get out and experience the vibrancy and colors that the state has to offer. Here, you'll find natural beauty in parks and at botanical gardens, brightly painted murals and buildings, and of course the rich hues of a New York sunset from a scenic overlook. Visit some of the most colorful places in New York and enjoy the revitalizing feeling of springtime in a state that celebrates it like no other.
Masks are encouraged, but optional in most settings per New York State guidelines. Individual businesses or attractions may require mask wearing. Call ahead and check websites and social media to make sure attractions and amenities are open and available.
Updated: 3/17/2023
This annual festival celebrates the spring in a most colorful way, with over 100,000 tulips in bloom in Albany's Washington Park and around the city. Some of the festival's featured events (in addition to the floral spectacles) include live music performances, Albany Tulip Queen coronation, children's activities, vendors, yoga, and much more. Join the colorful fun and experience the Dutch traditions that inspired this festival.
Spanish Bronze Cannon at Fort Ticonderoga (Adirondacks)

Credit: Fort Ticonderoga/ © Drifting Focus Photography
The site of America's first victory against British forces in the Revolutionary War, Fort Ticonderoga today is a dazzling history attraction with incredible views of Lake Champlain and memorable details like this Spanish bronze cannon. Nicknamed "El Poderoso" or "the powerful," this 18th century weapon attracts visitors for its weathered green metal and red base, a colorful mix for an armament that weighs over 6,500 lbs! The site will reopen for the season in May, with virtual visits available in the meantime.
Champions of Change Murals (Greater Niagara)
Part of the Niagara Falls Murals Project, these 16 works of street art focus on cultural figures and movements, many with direct ties to Buffalo and the Greater Niagara region. Visit murals depicting Harriet Tubman, Black Lives Matter, Niagara Falls boxing legend Calvin "Pop" Porter, and more. The murals will add a burst of color to your day while serving as a reminder of the human spirit. They also make pretty great selfie backdrops!

Credit: Courtesy of Pindar Vineyards
This popular winery in Peconic on Long Island's North Fork is known for great wine and its vibrant field of sunflowers. The winery, which won the Governor's Cup in 2021 for its 2019 Gewurztraminer—a slightly sweet white wine—allows visitors to sample the wines in their tasting room, or to purchase a bottle and enjoy a picnic on the grounds, surrounded by lovely sunflowers and grape vines.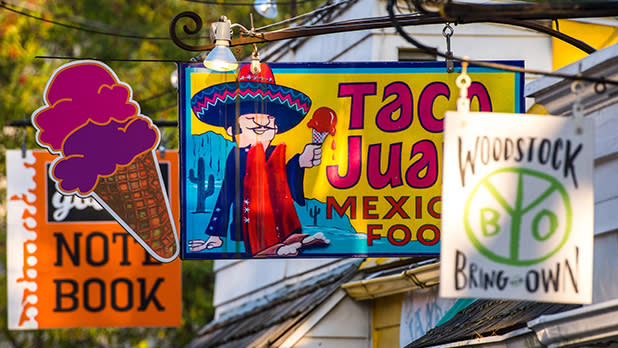 Take a walk down Tinker Street in the town of Woodstock and you're sure to see a range of colors, from LGBTQ-friendly rainbow flags to tie-dye shirts hanging in storefront windows to flowers lining the streets. The quaint town is home to an artistic community, so expect street art as well as exhibitions at galleries and arts spaces that add to the festive feeling.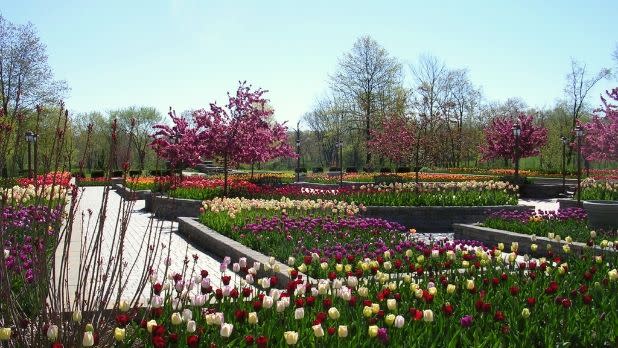 This arboretum inside Thomas Bull Memorial Park offers much more than an assortment of tree species. Built on land that was once rolling pastures, the arboretum serves as an environmental resource and garden with the main purpose of displaying colorful flowers and gorgeous trees. There are also long, winding paths and incredible views of the Shawangunk Mountains.
Times Square is a parade of colors, with flashing digital billboards and video screens, thousands of people zigging and zagging across pedestrian walkways, and a bright red stadium seating section. The seating was installed in 2008 near the TKTS booth, where fans of Broadway shows typically line up to get discounted tickets, and has only become more popular over the years as a selfie spot and a place to hang out amid the bustle. 
Sunset Over Chautauqua Lake (Chautauqua-Allegheny)
Chautauqua Lake sunsets are legendary. There are many places to catch the brilliant oranges, reds, and purples of a Chautauqua Lake sunset but two sure bets are at Hotel Lenhart, a summer-only resort that invites guests to relax in rocking chairs while watching the spectacle at dusk, and at the Chautauqua Harbor Hotel and its Lakehouse Tap and Grille, overlooking the lake. 

Credit: @s.a.micio on Instagram
Before there was Instagram, professional and amateur photographers alike traveled to Canandaigua Lake to snap shots of these charming boathouses, painted in a variety of colors. The first boathouses on Canandaigua Pier were built in the 1850s to house boats for residents to use on the lake. Many of the remaining boathouses were built in the early 1900s, and today are protected as part of the Canandaigua Heritage District. 
Follow this trail through a variety of New York communities and keep an eye out for the colorful, patterned wooden quilt squares mounted on barns. The trail takes drivers through scenic farmland and small towns to see the barns and quilts, many with historical importance. Also in Central New York is the Fulton Montgomery Quilt Barn Trail, which extends into the Capital-Saratoga region and also features many colorful quilts. 
Village of Clayton (Thousand Islands-Seaway)
From late spring through summer, this charming village on the St. Lawrence River, home to the Antique Boat Museum (reopening for the season in May), offers an array of bright hues to liven up the day, from views of the brilliant blue water and verdant green islands to colorful flower beds lining the streets to a row of brightly painted Adirondack chairs on a scenic overlook. 
---
Share your New York State adventures with us on Instagram and Twitter with #iSpyNY and tag us on Facebook!