Syracuse is an incredibly kid-friendly city where you'll find a great zoo, fun ways to learn, plenty of physical activities, and gorgeous nature to discover. Read on to see where the kids will have a blast exploring, eating, and playing.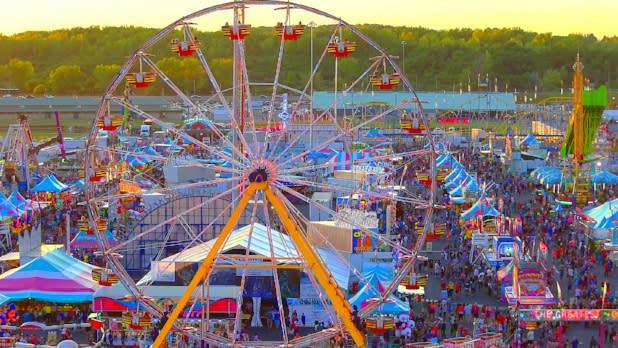 One of the BIGGEST events happening in New York each summer is right here in Syracuse and it's got something for everyone. The Great New York State Fair claims the title of the country's oldest state fair, and as such, it's got the formula for a great experience down pat. Come to see some of the big-name headliners perform live, at just the cost of your fair admission. You can also climb aboard the classic midway rides (there's also a Kiddieland Midway for smaller visitors!), witness a live calf birth, partake in the free fishing clinics on Family Fishing Day, and step into a room filled with butterflies. Now, you're probably wondering about the food. Well, good news! You can sample handmade artisan foods from all over the state, or just good old State Fair junk food, such as deep-fried mac n' cheese and Oreos. You can even vote on inventive creations like ice cream nachos, lavender lemonade, apple pie tostadas, and more in the Taste NY Food Truck Competition.

Credit: Visit Syracuse
How to get the most out of Syracuse? Be sure you include a stop at MoST (the Museum of Science and Technology)! Here you can watch a movie in their domed IMAX theater, explore the earth science cave, step inside a recreated 1900s-era pharmacy, and clamber up the rock-climbing wall. The museum brings science and technology to life through engaging, interactive experiences. Nearly all the exhibits invite you to see with your eyes and your hands, with one exception—a Guinness World Record–winning sculptural display of the world's tallest buildings made out of more than 5 million toothpicks!

Credit: Cassie Guerra
Lions, tigers, and bears, oh yay! The Rosamond Gifford Zoo is a mid-sized zoo well known for being good to its human guests as well as its animal residents, nearly all of whom live in habitats with outdoor space. You'll want to bring the camera with you as you travel from the Lion Corridor to the Penguin Coast. Be sure to check in with their "New Arrivals" section on their website so you'll know if and where to make a special stop to meet the newest baby animals! There's a Jungle Cafe and concession stands throughout the grounds so you won't get too jealous watching the animals munch on their own snacks.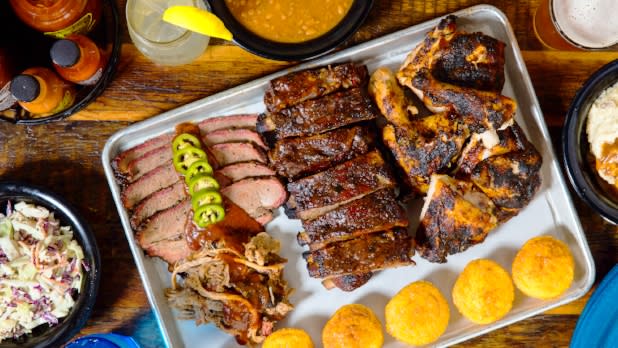 Dinosaur Bar-B-Que is proof that BBQ doesn't need to hail from the South to be the real deal. Though it has since blossomed into a regional chain, the magic started here in Syracuse, when the traveling BBQ stand put down roots with its first brick and mortar. As for the food, get ready for fall-off-the-bone meat, the creamiest mac n' cheese, and famous homemade sauces. They offer a Family Stylin' BBQ which includes a whole chicken, a full rack of ribs, a pound of pork or brisket, three sides and cornbread, as well as a whole "Dino Kids" menu with chicken fingers, sliders, and more. Just remember, food this finger-lickin' good tends to draw a crowd, so expect a bit of a wait and moderate noise levels!
It might be called a warehouse and look fairly nondescript from the outside but stepping inside the Fun Warehouse feels almost like you're stepping into a video game! The venue is illuminated by neon colors of glow-in-the-dark obstacles and maze-like walls. And of course, the lasers. Your family will have to work as a team in order to win, and because there's no physical combat or contact, anyone can play. There's also an arcade where you can take a break from gameplay and focus on winning prizes.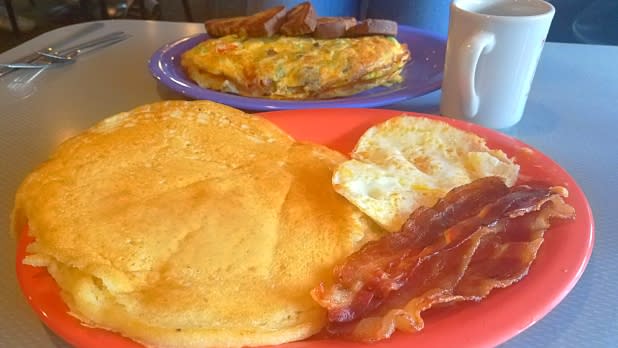 It's hard for picky eaters to turn up their noses at diner food, especially the food at Stella's. Stop by this local favorite for breakfast, brunch, lunch, linner, dinner, dessert, okay you get the idea—it's versatile. The interior design has a charmingly retro Betty Boop theme, which makes the perfect backdrop for enjoying a banana split. Dig into your classic pancakes, eggs, and bacon, or something more unusual. Ever had Rattlesnake Pasta? That's rigatoni with jalapeños and roasted peppers in a spicy Southwest sauce. Who knew rattlesnakes could sound so appealing…
The Central New York Regional Farmers Market hosts hundreds of vendors selling local produce, fresh baked goods, flowers, honey, handmade soaps, arts and crafts, and more. Come just to indulge in the hundreds of samples of everything from donuts, to mustard, to summer's best peaches. On Sundays there's more of a flea market vibe, so be sure to plan your trip accordingly.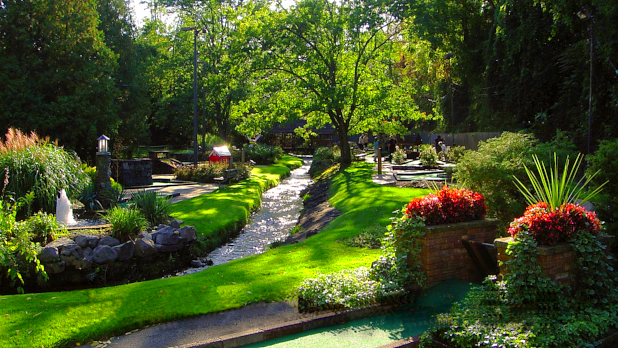 Unlike the usual, somewhat kitschy aesthetic of most mini-golf venues (which is perfectly fun in its own right), the grounds at Fairmount Glen are gorgeous well-tended gardens, with plenty of shade and a large variety of plants, shrubs, and flowers. The putting green surfaces around the 19 holes are regularly replaced and there's a creek that runs through, adding to the ethereal ambiance. Note that parties are limited to four people, and don't forget to check the coupon section of their website for deals!
Nevermind that Syracuse is about 250 miles from the Ocean, the Surf City Family Fun Center has all the fun beachy vibes you need with a multitude of surf-themed activities and amusements. Between the—deep breath—mini-golf, driving range, go-karts, rock wall, kiddie swings, batting cages, indoor bounce house, and arcade, this is definitely your one-stop-shop for the whole gang, no matter your speed. But wait, there's more! The Center also offers bumper boats—a "splash zone" with inflatable water slides. Try out the human gyroscope! Strap in and finally find the answer to the age-old question, "What does it feel like to be a beach ball?"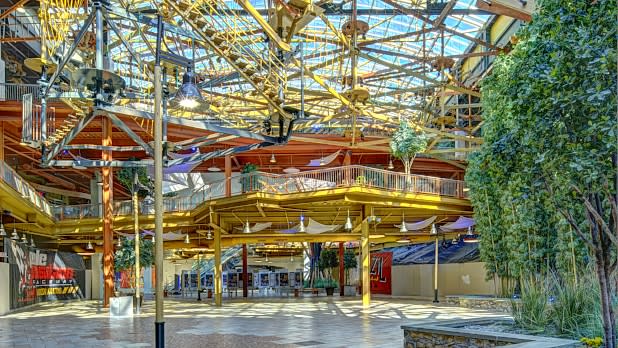 Why are we telling you to bring your kids to the mall? Because Destiny USA is no ordinary mall. Of course, if you do need to buy something, you've got options of more than 250 shops and outlets. Reward the kids for staying cool during back-to-school shopping with the full-size indoor go-karting track, the world's largest indoor suspended ropes course, a 325-seat comedy club, a museum with traveling art and science exhibitions, and more. We recommend a stop at WonderWorks, a play-education hybrid where kids can learn about topics including outer space, light and sound, physics, and more, all through fun, interactive experiences. Oh, and there are about 50 places to grab a bite after you've worked up an appetite.
Webster Pond
The idea of feeding ducks at a pond is usually restricted to nostalgic fantasy thanks to strict "Don't Feed The Wildlife" rules at most public ponds—but this is not the case at Webster! This calming, idyllic oasis actually offers little containers of feed which are technically free (donation recommended) or larger containers for $5. There are ample benches to sit and relax with a picnic, plus a gorgeous trail around the perimeter of the pond. Bring your little ones and a camera! Cuteness will ensue.

Credit: Wainwright Photography
Given its size and significance, it's no wonder why Onondaga Lake Park earned itself the nickname of the "Central Park of Central New York." That being said, Onondaga has got Central Park totally beat in terms of size, with its whopping seven and a half miles of greenway with four trails and an enormous waterfront and pier over Onondaga Lake. If you've got any young daredevils with you they might be happy to explore the 16,000 square-foot, feature-packed skate park for skateboarders, BMX bikers, and inline skaters. Then there's the Wegmans Good Dog Park if you've got a good dog of your own. Little kids will love the enormous all-abilities Wegmans Playground. Anyone who wants a little dose of history will dig the Salt Museum, which offers a free look into Syracuse's past as the nation's salt supplier. Finally, check out the Griffin Visitor Center to play shuffleboard, bocce, and volleyball, or to rent bikes.
Don't forget to share your summer vacation with us! Share New York State pictures on Instagram and Twitter with #ILoveNY and #iSpyNY and tag us on Facebook!