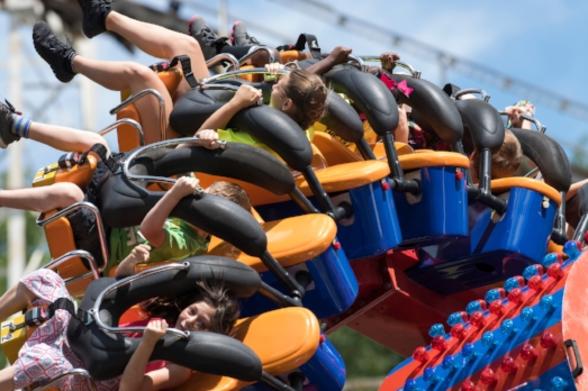 Did you know that many of New York State's most exciting attractions are accessible by train? These eight attractions include all the transportation information you need to plan a trip, in most cases using only mass transit. Read on to learn more about how to take a train to attractions that are sure to provide fun-filled memories, whether you're looking for a day trip, weekend getaway, or even a longer vacation. 

Credit: @dansobsey on Instagram
Walk through the rolling hills of this 500-acre outdoor sculpture park, Storm King, where art intersects with nature. With over 100 large-scale sculptures, this art center is sure to create the perfect backdrop for your Instagram post. Rent a bike or roam on foot through this artistic landscape. On your way back to Beacon Station, if you want to explore more art, stay the night and the next day discover exhibits and collections at the world-class art destination Dia:Beacon, or if you want to check out America's oldest winery, stop by Brotherhood Winery for a wine tasting and tour of their underground cellar. For even more ideas, check out 48 Hours in Beacon. $18; $15 seniors 65+ with valid ID; $8 Ages 5-18 and students with valid ID; free children 4 and under and members; Storm King
How to get there: Take Metro-North to Beacon Train Station. On Saturdays, Sundays, and holiday Mondays, Storm King offers round-trip shuttle service from Beacon Station to the center (pre-purchase required). 
More than 1,500 aquatic animals wait for your exploration at the Aquarium of Niagara! Just a short walk from the American Falls, watch the penguin feeding and sea lion show, or meet the aquarium's rescued marine mammals. You'll be able to interact with the sharks and stingrays at the "M&T Bank Shark & Ray Bay," which opens later in 2020. But why let your water wonders stop there? Grab your poncho and ride the Maid of the Mist Boat Tour (opening for the season in May) which is only a 15-minute walk from the aquarium. Journey from the American Falls to the Horseshoe Falls as 600,000 gallons of water cascade around you. If you'd rather stay dry but still take in the stunning views, walk 15 miles of hiking trails at the Niagara Falls State Park, which is free, open year-round, and dog-friendly! $14.95; $12.95 seniors 60 and over; $10.95 children 3-12; free for infants 2 and under; Aquarium of Niagara
How to get there: Take Amtrak to Niagara Falls Station (NFL). Hop on the 50 bus for 13 minutes at Main Street and Bath Avenue to 3rd Street, just a block from the aquarium.
 
With over 270 places to shop and explore, you are bound to find something that catches your eye and your wallet at Destiny USA. From luxury goods outlets and inviting restaurants to interactive indoor play parks and entertainment, your day will be filled with fun. Syracuse is also the home of the New York State Fair in August at the New York State Fairgrounds, which holds various events throughout the year. 
How to get there: Take Amtrak to Syracuse Amtrak Station (SYR). Then, take the Sy50 or Sy16 bus for 10 minutes, or walk 15 minutes to the mall.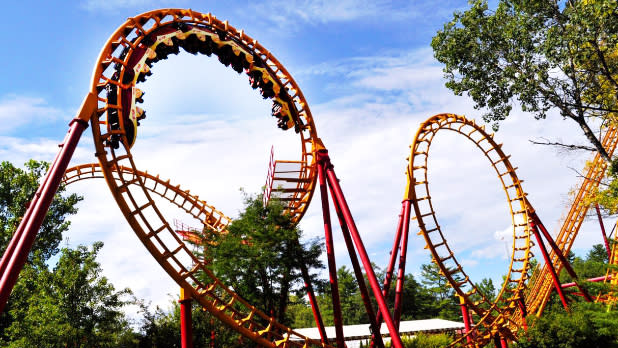 Get your adrenaline pumping on over 135 rides, shows, and attractions at Six Flags' Great Escape, which opens for the season May 9. Twist and loop on the Steamin' Demon, the Great Escape's first looping coaster, or ride the Comet, a 4,200-foot wooden coaster which was first built in 1927. If you're traveling with children, there are various rides for your little ones, from the kid-sized highway of the Convoy to Frankie's Mine Train. Turn your day into a stay at The Six Flags Great Escape Lodge & Indoor Waterpark. Pack your swimsuit for this giant indoor waterpark, grab french fries from Johnny Rockets Diner & Sports Lounge, and gain a well-rested night in one of 200 guest suites. Since you already have your adrenaline pumping, why not take it higher? Go up, up, and away with a romantic, memorable, and mesmerizing experience in a hot air balloon ride over Lake George and the Glen Falls area with A Beautiful Balloon, only a 15 minute taxi ride away from Six Flags. $65.99 day pass; Six Flags Great Escape
How to get there: Take Amtrak to Fort Edward Station (FED). Catch a taxi at the station and drive 25 minutes to experience the thrill of Six Flags.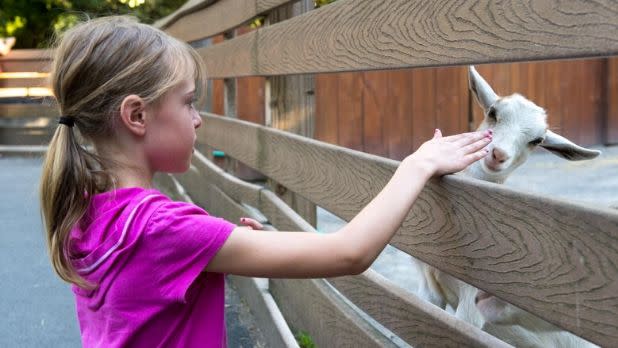 Discover your inner wild side and connect with animals from all over the world at the Utica Zoo. Book your encounter with endangered red pandas, feed the California sea lions, or go behind the scenes and meet Donovan, Murphy. and Coky the zoo's lions! On your way back to Utica Station, make a pit stop and go on a historic tour of a brewhouse and sample 13 different draft beers at the Saranac/F.X. Matt Brewing Company. $4.50 adults 13-61; $3.50 senior 62+, military, college w/ID; $3 children 3-12; free children 2 and under; Utica Zoo.
How to get there: Take Amtrak to Utica Station (UCA). Order a taxi and travel 12 minutes or take the UT 11 bus at Lafayette and Genesee Street and ride for 40 minutes to the zoo.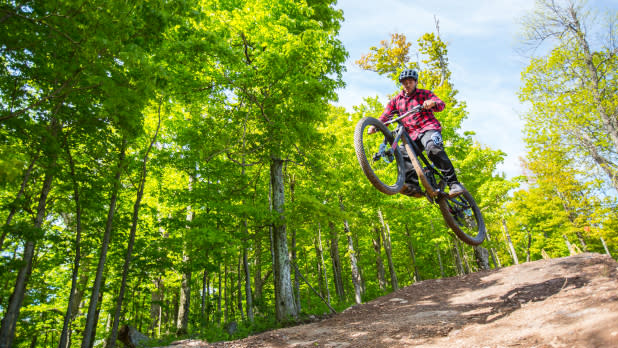 Feel the wind in your hair as you shred through this unique downhill riding experience at Windham Mountain Bike Park. Choose between beginner, intermediate, and expert trails, or take your bike to the Skills Park where you can learn the basics, from braking and weight distribution to standing on the pedals. Don't forget to wear your helmet and protective gear! Want to stay the night? Windham Mountain offers Bike and Stay, (or Ski and Stay) which includes lodging, lift access for two people, continental breakfast and a shuttle to and from Windham Mountain. Prices vary.
How to get there: Take Amtrak to Hudson Station (HUD). Make a rental car reservation through Enterprise to meet you at the station for your 40-minute drive to Windham Mountain.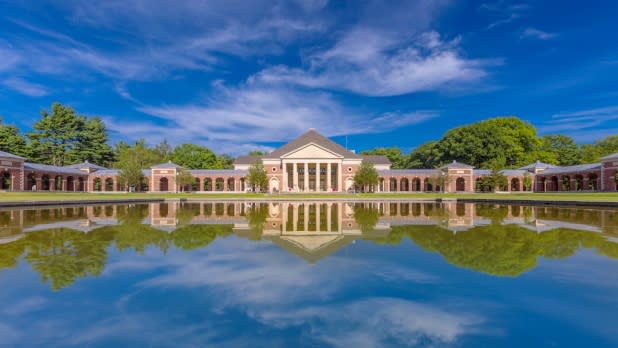 Established in 1935 as Franklin D. Roosevelt's way of preserving Saratoga Springs, the Roosevelt Baths and Spa is the perfect place to unwind and reconnect with yourself. Indulge in naturally healing treatments, mineral baths, massages, facials, and body scrubs. To turn up your excitement, watch thoroughbred horses race on the track or take a tour of the historic grounds of the Saratoga Race Course, a 10-minute taxi ride away, or you can march through history at the New York State Military Museum and discover the role of New York State's military forces, the contributions of New York's veterans, and explore over 10,000 artifacts spanning from the Revolutionary War to the Gulf War (Desert Storm). Prices vary; Roosevelt Baths and Spa
How to get there: Take Amtrak to Saratoga Springs (SAR). Catch the 451 bus just outside the station to Ballston Ave Trailhead for 40 minutes.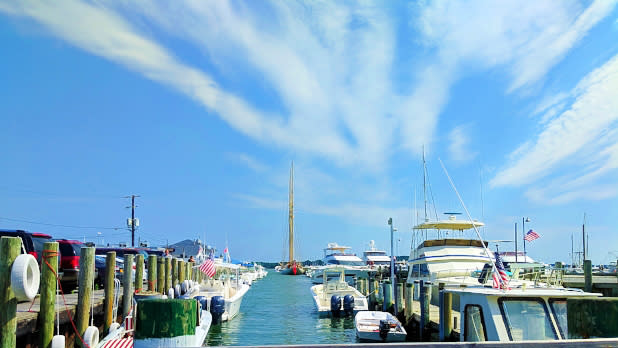 Greenport and the entire North Fork are picture perfect for families and friends. Stroll the charming shops or dine at one of the exciting restaurants along Greenport's Front St. Take your trip even further to the vineyard of Long Island's premiere wine tour company, North Fork Wine Tours, a 4-minute taxi ride. For more ideas, check out 48 Hours on the North Fork.
How to get there: Take the Long Island Railroad to Greenport station and walk 5 minutes to Front St.
Don't forget to post photos of your New York winter adventures on Instagram and Twitter with #iSpyNY and tag us on Facebook!