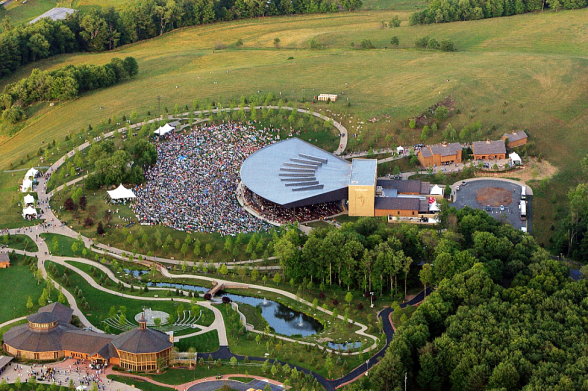 New York State has played a key role in many of music's most groundbreaking moments. Imagine walking in the footsteps of Janis Joplin or Nat King Cole, or listening to the opening aria from "La Traviata" in an open-air amphitheater where the acoustics make you feel like you're part of the performance. This is New York State's musical legacy. It is the home of the revolutionary spirit of the Woodstock Music and Art Fair, and the small stage where legends honed their crafts. Discover new moments for yourself at inspiring venues offering a variety of performances and experiences, from an "anti festival" in a reclaimed factory to a concert hall floating on the East River.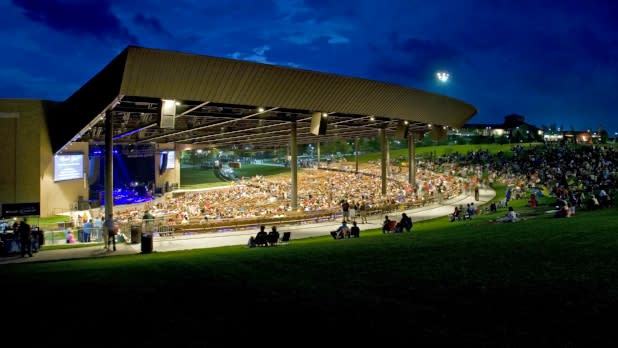 Located down an unassuming road in Sullivan County is the site of one of the most transformative events in American history—the 1969 Woodstock Music and Art Fair. The events leading to the three-day music and art fair, as well as the legacy of the historic event, are memorialized in the Museum at Bethel Woods Center for the Arts in Bethel, NY. This year, the center will celebrate the 50th anniversary of the Woodstock festival from August 15–18, 2019 with a week of events, including live music performances from Ringo Starr and His All-Starr Band, Arlo Guthrie, Santana, and more.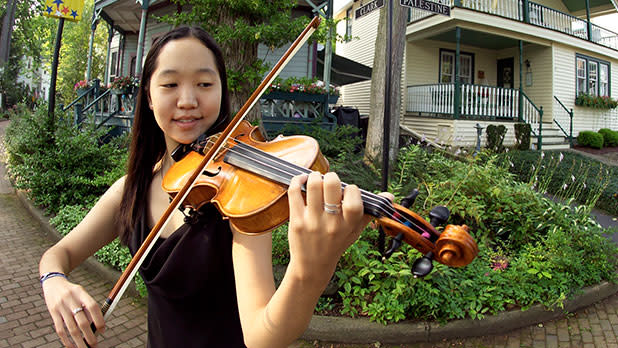 Each summer, Chautauqua Institution's sprawling, 750-acre campus of arts venues and stages, including an open-air, 4,000-seat amphitheater, welcomes a stunning array of performers from every discipline. Experience a summer line-up 90 years in the making when the Chautauqua Symphony Orchestra, the musical heart of the Institution, celebrates its anniversary season with 22 concerts and performances. From collaborative works with Chautauqua Dance and the Chautauqua Opera, to the world premiere of two original compositions, discover the unique offerings of this renowned arts venue.
The oldest summer vocal training program in the US, and the premier opera and music theatre producing organization isn't located in New York City—it's tucked away on the shores of Schroon Lake in the Adirondacks. Summer of 2019 marks the Seagle Music Colony's 104th anniversary season. See incredible performers transform before your eyes in a theater that dates back to the early 1900s. Enjoy the wonder of acoustics that are at once soaring and resounding, even while seated in the cozy, intimate theater. This summer's lineup of performances from artists honing their craft includes The Manchurian Candidate, Evita, The Marriage of Figaro, and more.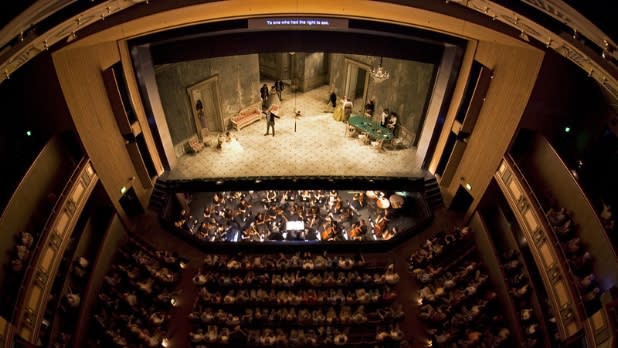 From sharing a laugh with the ghosts of Versailles to learning why Justice Ruth Bader Ginsburg is so passionate about opera—and the role of law in the arts—2019 is one summer season of unique musical events not to be missed! The Glimmerglass Festival is an internationally acclaimed opera festival that offers select performances throughout the summer season. This year's run of show includes "Noah's Flood," "La Traviata," "Show Boat," "The Ghosts of Versailles," and more. Arrive an hour ahead of curtain call on a double performance Saturday and join a free backstage tour to see the inner workings of Cooperstown's celebrated open-air performing arts venue.

Credit: John Haeger, NYS Fair
It wouldn't be summer in New York State without a trip to the Great New York State Fair. For 13 days, August 12–September 2, 2019, enjoy an incredible variety of musical entertainment. Highlights include the Pan-African Village, where African-inspired music, African and Caribbean food, and vendors create an experience that awakens the senses. After sampling some jerk chicken, head to the Chevy Court Concerts venue for two shows daily featuring top performers like Gavin Degraw and The Roots. From the Empire Theater's unique musical offerings to the NYS Grange Stage's toe-tapping performances, don't miss a moment of the music at this year's Great New York State Fair!
As the only remaining African American club of its kind in the US, this historic preservation site is a must-visit in Buffalo. All the greats once performed here, from Duke Ellington to Dizzy Gillespie to Miles Davis, and you can still catch performances here today from Buffalo's most talented performers. On Sundays, enjoy free jazz lessons and evening jam sessions, and dance to the sweet sounds of the George Scott Big Band every Monday, and the Carol McLaughlin Big Band every Thursday. Don't miss the CMC International Jazz Festival October 11–13, 2019, featuring more than 150 performers on seven stages representing over 100 years of music history. Speaking of which, see how the club keeps the genre's history and music alive at the Colored Musicians Club Museum. Open Thursday through Saturday, the museum features historic artifacts like a drum played by the late, great Frankie Dunlop, as well as exhibits that explore the history of jazz.

Credit: Anne Garland
If you think listening to Mozart's "Sonata in G Major" in a concert hall that gently rocks back and forth sounds like a sublime way to spend an evening, then Brooklyn's Bargemusic is for you. Moored just under the Brooklyn Bridge, this unique musical experience is open year-round, offering classical music aficionados the chance to enjoy their favorite compositions on a vessel that offers stunning views of Manhattan across the East River. Free concerts are offered during the Music in Motion Series, offered at 4 pm on Saturdays from June through August, and include a Q & A with the musicians. The program is announced at the beginning of each performance, adding a bit of mystery to the experience!
With incredible music performances and a nod to the city's deep history, the Troy Savings Bank Music Hall is the go-to place for a cultural experience. Opened in 1875, the Music Hall has hosted a wide variety of international performers and was named a National Historic Landmark in 1989. Every Thursday at 11 am until August 29, 2019, the Music Hall Corporation hosts free summer concerts and activities for kids at Barker Park in Troy. This year's theme of the Barker Park Kids' Summer Series is "Space," and includes a space-themed story hour, a dance workshop, an Afrobeat percussionist, and more!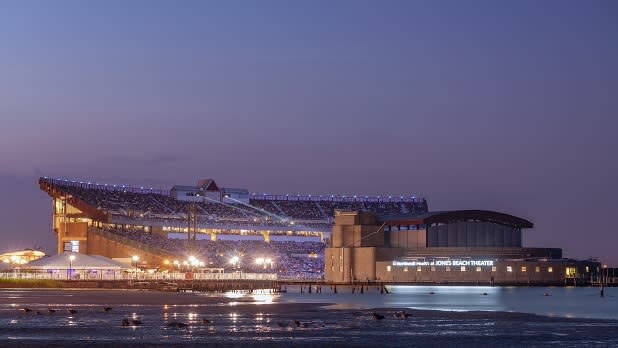 Where can you see world-class performers in an open-air setting just steps from the beach every summer? Jones Beach State Park, of course! The amphitheater is one of the most unique concert venues around, with seats oriented toward the stage overlooking Zachs Bay and the ocean beyond. Built in 1952 as the Jones Beach Marine Theater to host musicals and operettas (one famous performer arrived via speedboat for his shows), this popular waterfront venue is a favorite performance space of Jimmy Buffett and Aerosmith. Head to this Long Island hotspot to watch some of the biggest names in music perform all summer long. 
Basilica SoundScape 2019 (Hudson Valley)

Credit: Samantha Marble for The Creative Independent
Far from a typical music festival, Basilica Soundscape offers genre– and boundary-pushing performances. Held in Basilica Hudson, a reclaimed industrial factory from the 1880s that is completely solar-powered, the festival kicks off September 12 and runs through the 15 in 2019. It will feature conceptual sound performances, author readings, visual arts, artistic collaborations, as well as curated local vendors and artisans. See Alan Braufman and Cooper-Moore perform their cult free jazz album "Valley of Search," and watch Jerusalem in My Heart, the acclaimed Montreal-Beirut duo of musician/producer Radwan Ghazi Moumneh and experimental analog filmmaker Charles-André Coderre, present a site-specific live performance. Don't miss this immersive weekend of art, music, culture, camping, and "Hudson River School sunsets," featuring some of the most genre-pushing musicians and artists of our time.
Clayton Jazz Festival (Thousand-Islands Seaway)
Downtown Clayton is the charming waterfront community you dream of strolling down on warm summer nights. Come visit the weekend of September 20–22 for the annual Clayton Jazz Festival to kick your stroll up a notch and listen to different bands play jazz throughout town. The highlight of the festival is a series of performances in Frink Park, located right on the St. Lawrence River.
Anywhere you go in NYS you're bound to be near some awesome music. Share New York State pictures on Instagram and Twitter with #iSpyNY and tag us on Facebook!