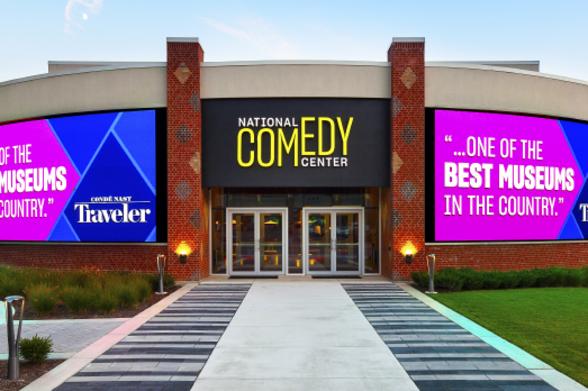 This Father's Day, Sunday, June 21, honor your dad with a gift from New York State. From a taste of the Adirondacks to grooming products from the Catskills to wines from Long Island, there are fantastic gift ideas for every type of dad. Even if you are unable to physically be together with him, you can still send a meaningful gift as a reminder of times together or to create inspiration for a future trip. Check out the following New York State Father's Day gift ideas ready for order and delivery.
Updated 6/9/21
New York State Craft Beer and Merchandise (Multiple Regions)
Treat dad to the gift of New York State craft beer. There are hundreds of craft breweries in New York State where you can stop in and buy a four- or six-pack (or more) of a local favorite or an award-winning ale; many breweries ship beer as well. Another way to show love for New York's delicious beers is with merchandise from the breweries' online shops. Gift dad with a t-shirt, sweatshirt, or other gear from his favorite New York craft brewery.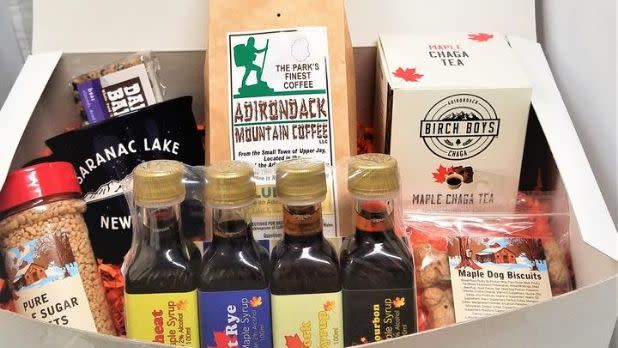 Treat your dad to a taste of the region that's home to the largest protected natural area in the lower 48 of the United States! The Taste of the Adirondacks Gift Box from The Village Mercantile in Saranac Lake includes locally produced favorites for your kitchen including Adirondack Mountain Coffee, barrel-aged maple syrup, and an engraved Saranac Lake Stoneware coffee mug. There's even a pack of maple-flavored dog biscuits for Fifi or Fido! Saranac Lake; gift box price: $96.99.
Send your father a box of local love from the Capital-Saratoga region courtesy of Taste of Troy Food Tours! This collection features delicious goodies from small businesses in Albany and Troy. Capital Region Box of Local Love, from $89.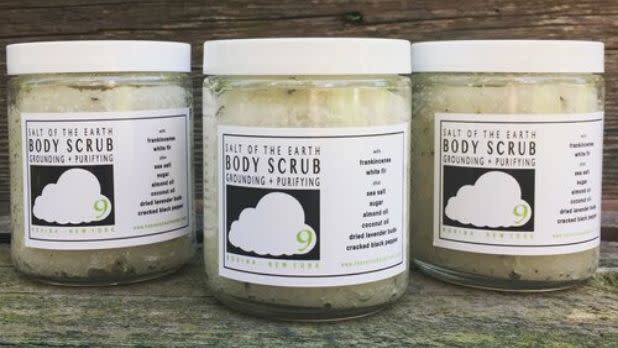 Help your father start the perfect skincare regimen with the all-natural skincare line produced by Heaven on Main Street in Bovina, which develops products to heal the mind, body, and spirit. Shop online for pomade, balance and heal face oil, sunscreen, body scrub, bath salts, and other grooming products your father will need to get through summer while reminding him to consider a future visit to this and other small towns that make the Catskills such a fun destination. Bovina; prices vary.
Just because your dad's favorite baseball team has yet to take the field this year, you can still help him celebrate and enjoy the national pastime with a membership to the National Baseball Hall of Fame & Museum. His Family Membership plan includes a personalized membership card; a subscription to Memories and Dreams magazine; a Hall of Fame Yearbook; complimentary admission to the Hall of Fame, when it reopens, for one full year, for two adults and their children (up to age 18); a 10% discount and free shipping on purchases from the museum store; and two member lapel pins. Cooperstown; Family Membership price: $80.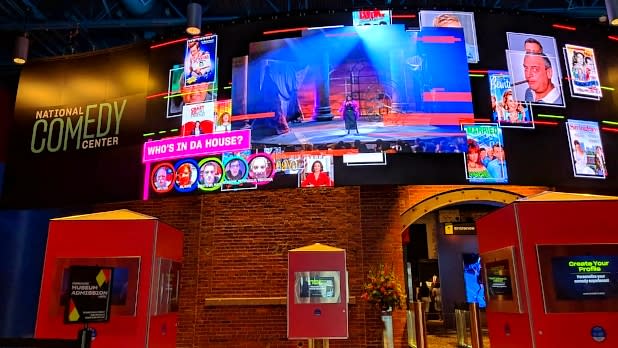 Everyone could use a good laugh these days, so what better way to tickle your dad's funny bone than with a membership to the National Comedy Center, which includes immediate access to the National Comedy Center Anywhere portal, a fascinating inside look at the Center's incredible, smile-inspiring exhibits. The Center has a variety of membership packages available, a great gift for dad to inspire a trip to Jamestown, to watch exclusive online content, and with access to members-only events and comedy festivals. Jamestown; from $50.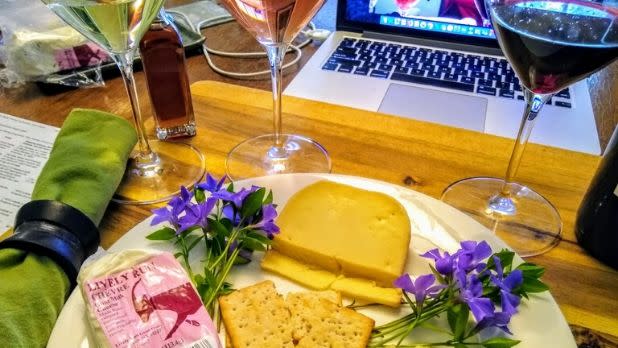 Give your father a true taste of the Finger Lakes region—a virtual wine and cheese pairing experience. Certified Sommelier Laura Winter Falk, PhD, will guide participants through a virtual pairing experience with Finger Lakes Wine & Cheese Pairing kits delivered directly to your father's door with enough to sip and eat for four to eight adults. Dad will enjoy joining online with wine enthusiasts from around the country in a sommelier-curated presentation showcasing the magic of pairing locally produced foods with the Finger Lakes' famous wines! Plus, he'll be super-prepared for his next visit to the Finger Lakes for some IRL wine tasting and food pairing! Ithaca, $109-$129.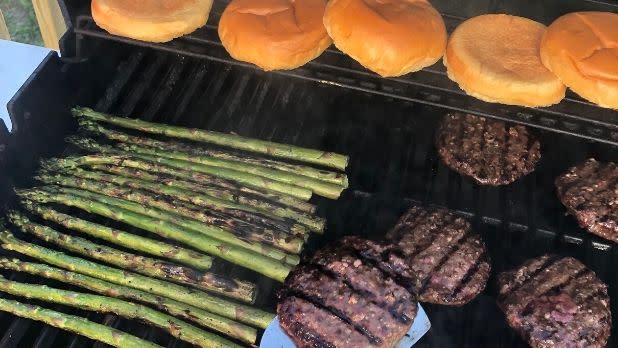 Move over, Wagyu beef. Food-loving dads will appreciate the message behind the beef from Butter Meat Co. a producer started by dairy farmers in Western New York. Butter meat comes from "local, organic from cows who lived their lives to the absolute fullest," notes the company's website, resulting in fuller flavors than you'll get from factory-farmed beef. The curated beef boxes make for a thoughtful, tasty father's day gift. They can be shipped to your father's door, frozen and vacuum-sealed. Choose from a variety of bundles that include ground beef, chuck roast, hamburger patties, kabob meat, hot dogs, brisket, steaks, and more—all perfect for dad's next cookout! Perry; prices vary.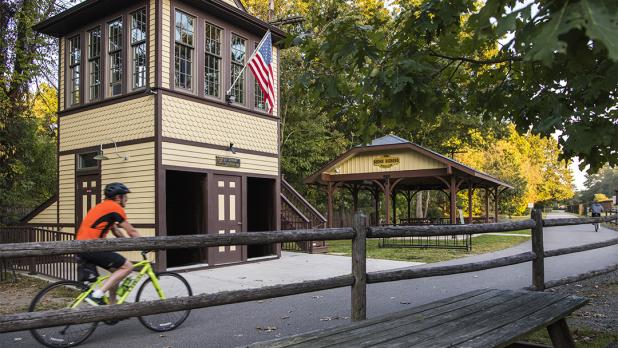 Rolling hills, picturesque back roads, and wide-open fields make the Hudson Valley one of the world's best destinations for cyclists. This book, available in the Father's Day section of beloved outdoor sculpture park Storm King's online shop, features 42 full-color maps featuring bike trips as well as attractions to see along the way. The Storm King shop also features a selection of art, clothing, and accessories for men, making it a great place to find a gift for dad while also inspiring a future visit to the largest sculpture park in New York State. New Windsor; $23.95 for the cycling book; other prices vary depending on product.
For the father who appreciates fine wines, check out the dark and spicy, yet fruit-forward, wines produced by Jamesport Vineyards on the famed North Fork of Long Island. The father-son collaboration started in 1986, and has grown to include a collection of wines appreciated by critics and consumers alike. Shop online for Jamesport's pleasing East End Wines, its flagship Estate Series, and the Jamesport Reserve collection, the family's signature line. And, when travel resumes, be sure to visit the vineyard to enjoy good wine, live music, and light fare. Jamesport, prices vary.
Co-founders Jessica Spaulding and Asha Dixon started Harlem Chocolate Factory as a way to represent the rich and diverse culture of Harlem in the chocolate world. The Factory's collections pay homage to the famed neighborhood's iconic architecture and history with golden chocolate brownstones (pictured) and the "Speakeasy Collection," which evokes Harlem's Jazz Age through confections like bourbon hazelnut and rose champagne. The artisanal chocolates are made using Fair Trade chocolate and cream from New York State farms. Send dad a sweet treat—while also showing support to the Harlem community. New York City, prices vary. 
Is your dad famed for his, well, dad jokes? Help him hone those comedy chops and enroll him in an online class for improv, stand-up, sketch writing, acting, producing, and more through Peoples Improv Theater (the PIT) of New York City. The courses are perfect if he's new to stand-up or is just looking to sharpen his delivery. Who knows? Maybe his work will end up in the National Comedy Center someday. New York City; prices vary depending on online class.
Give your father the gift of a great cookout with the New York State Barbecue Basket from Ontario Orchards, featuring beloved products from the state's northern region. This BBQ in a basket is ready to take, ship, or bring along to any feast. Dad will have an awesome cookout or tailgate party with an assortment that includes Hinerwadel's Salt Potatoes, Grandma Brown Baked Beans, Sal's State Fair Spiedie Sauce, Sal's State Fair Chicken Bar-B-Que Sauce, Dinosaur Bar-B-Que Original Slathering Sauce, and more, all sourced in New York State. Oswego; $45