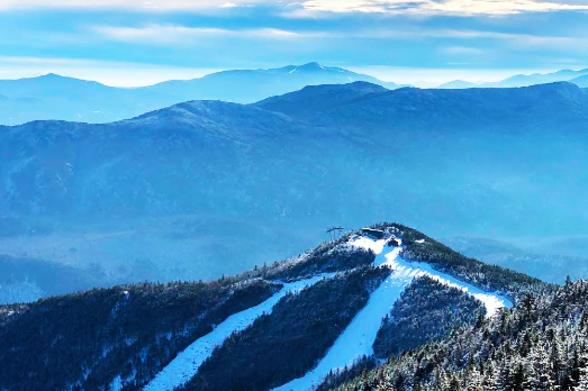 New York State is home to some of the country's most beautiful and thrilling skiing destinations. It should be no surprise that it's also home to amazing après-ski options, no matter what you're looking for. Get cozy over a craft beer or local wine, warm yourself to the core in a steamy sauna and treat your muscles to a Swedish massage, or delight the kiddos and keep the fun going until bedtime. If you're exploring Whiteface Mountain or Gore Mountain in the Adirondacks, read on to find amazing options nearby to craft the perfect winter experience.
Read More: Where to Après-Ski in the Catskills
Jump to: Breweries & Pubs | Wineries & Cocktail Bars| Dining | Spas | For Families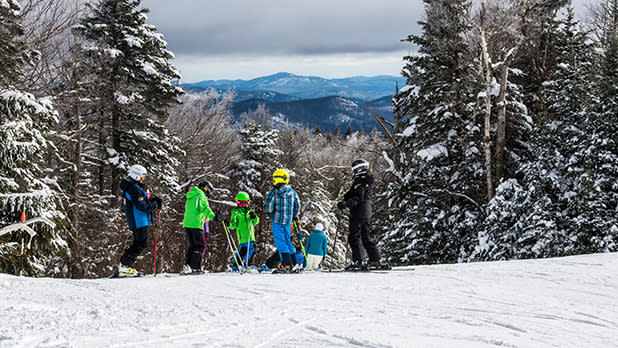 Breweries & Pubs

Credit: LPP&B
Just a 36-minute drive from Whiteface Mountain, you can try award-winning brews at what the TAP-NY Brewery Festival has twice voted the Best Brewery in New York State. Be sure to taste their original "Ubu Ale," named after a beloved chocolate lab, and a seasonal like their "Winter Warmer," a gingerbread-flavored ale brewed with molasses. There's a dedicated space for the kids filled with activities and toys, and plenty of food like nachos, wings, and pizza for everyone to enjoy. Look out from the loft for gorgeous views of Mirror Lake, and if you're there on a Saturday afternoon take a free tour of the brewery! 36 mins from Whiteface Mountain
If you're an adventurous beer connoisseur, you'll love Big Slide Brewery, located just a mile from downtown Lake Placid. You'll know you're in the right place as soon as you walk in and see the glass-enclosed brewing operation adjacent to the lively dining room and bar.The tanks pump out a rotating selection of 10 house beers on tap, from sours to their award-winning double IPA to fancier bourbon barrel-aged brews. In addition to great beer, the menu features a seasonally driven, Adirondacks-appropriate menu with items such as brick oven pizzas, venison chili, and veggie poutine! 35 mins from Whiteface Mountain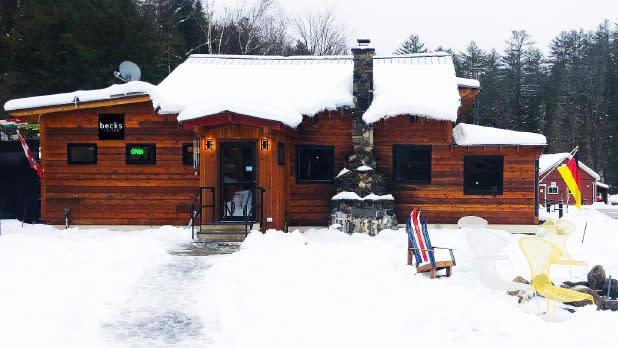 You won't have to travel far to get to Becks Tavern, located 2 minutes from the base at Gore Mountain in the Adirondacks. Upon arrival, you'll see a cozy yurt out front and a roaring bonfire calling your name. Not to mention, the savory smell of bratwurst, spaetzle, and other German delicacies as soon as you walk in. This family-friendly tavern has plenty of games to keep the kiddos entertained while you tip back some local brews and watch fellow shredders make their way down the mountain. It's the perfect place to hang with local ski bums and unbuckle those ski boots after a long day on the slopes.
2 mins from Gore Mountain
Wineries & Cocktail Bars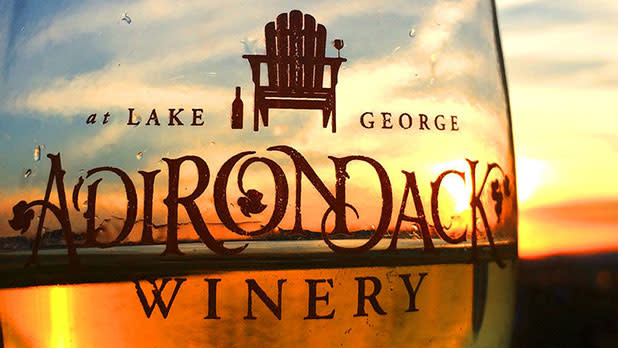 Kick back after a long day on the slopes sipping wine in the cozy Lake George Tasting Room at Adirondack Winery. A standard wine-tasting package is only $7 and lets you sample seven wines of your choosing under the guidance of an expert. AND you get to keep a souvenir wine glass. The shop sells gourmet foods, cheeses, and chocolates, and there's a children's corner where the kids can hang out while others sip their adult grape juice. 30 mins from Gore Mountain
Swedish Hill Winery holds daily tastings of their award-winning wines. Stop in to try one of their famous Rieslings, sparkling wines, or one of their "Doobie wines," named after their donkey. A souvenir wine glass comes free with your tasting, but with a little planning ahead you can surprise your partner by ordering a customized wine bottle label from their website! Without giving it away, casually suggest an après-ski at the winery and then sneakily bring forth your personalized wine. Your beau will be delighted. 37 mins from Whiteface
Dining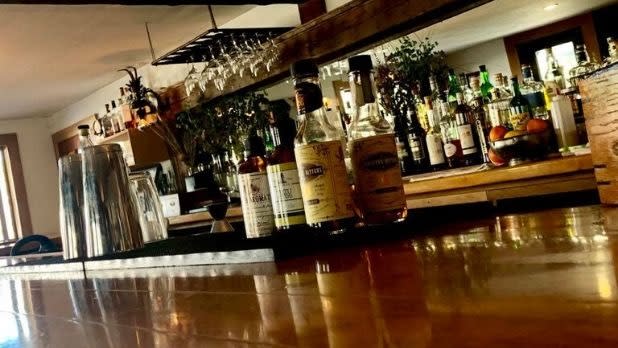 You don't have to travel far to find well prepared food and drinks. Just a half hour drive from Whiteface Mountain is Liquids & Solids, home to an innovative menu and unique craft cocktails, all sourced locally. Whether you prefer a decadent charcuterie plate or a Beefcon Melt with secret sauce, the menu does not disappoint. On Fridays, there's a four-course menu paired with beer! Plus, the cocktails are just as unique and tasty as the food menu. Treat yourself to a Cilantro Daiquiri or a Balsamic Fizz cocktail, which taste even better after a day on the slopes. 30 minutes from Whiteface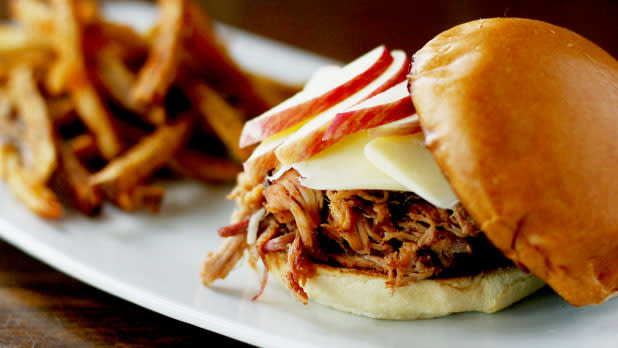 Did you know you can burn about 500 calories per hour downhill skiing? Which means that you deserve a generous helping of juicy, finger-licking BBQ! Satisfy your appetite with pulled pork, brisket, baby-back ribs, blackened shrimp and grits, fried pickles, chicken wings, and cheddar bacon mac n' cheese. All meats are smoked in-house, hence the name. It's the perfect way to warm your belly after an intense workout in the cold! 37 mins from Whiteface
Spas
Give yourself the pampering you deserve at Conde Nast Traveler's top-rated resort spa in the Northeast. They have spa packages for couples, as well as a menu of treatments just for men, including the Woodsman Package, which consists of a deep-tissue massage and gentleman's facial (it addresses razor burn and skin sensitivities). Release any tension with the resort's special European Soft Pack. If you're wondering, "huh?" that's spa lingo for a heated bath where you float on top of the water, not in it. So you don't get wet, but the setup helps relieve any joint pressure. Follow that with a massage and you'll feel brand new. 15 mins from Whiteface
The spa at the Whiteface Lodge, another favorite of Condé Nast Traveler, ranking it in the top 100 spas in North America, couldn't be more accessible after skiing at Whiteface Mountain—you're right there! So ditch the gear, and soon your muscles will forget they ever worked a day in your life. The spa has an elegant yet rustic aesthetic inspired by Adirondack mountain life. Warm up in the sauna or heated pools, then consider trying the Whiteface Aroma-Sensory Massage, or even a four-handed massage. In addition to manicures, pedicures, facials, and body treatments, the spa also offers wellness classes including yoga, water aerobics, and a muscle-toning class if you want to prep for another day on the slopes!
For Families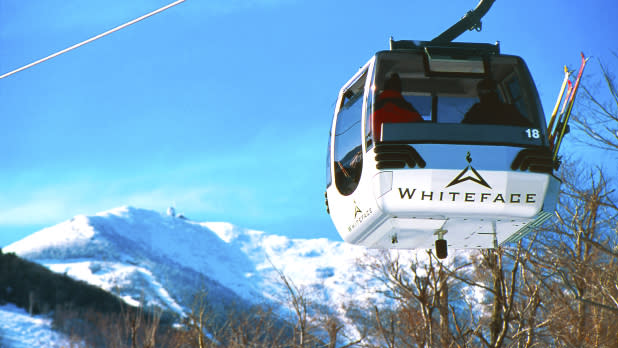 After exploring Whiteface Mountain on your skis, see it from way up high on the Cloudsplitter Gondola. The gondolas fit eight people and carry you from the Main Base Lodge up to an observation deck at the peak of Little Whiteface Mountain. The view from the top is nothing short of breathtaking, extending to Lake Champlain, the village of Lake Placid, and mountains as far as the eye can see.
Bring the whole family to relax, eat, and end the day on a high note at Mirror Lake Inn's Cottage Cafe. Wood-burning fireplaces keep the ambiance warm and cozy, and heaters are set up outdoors so you can still enjoy the scenery. They arrange for ice skating on Mirror Lake if it's frozen enough, which often lasts well into the night, illuminated with little lights. Adults will love the expansive beer list and build-your-own Bloody Mary menu, but there's plenty of kid-friendly foods. From cheese boards to mac n' cheese, everyone will be satisfied. 35 mins from Whiteface