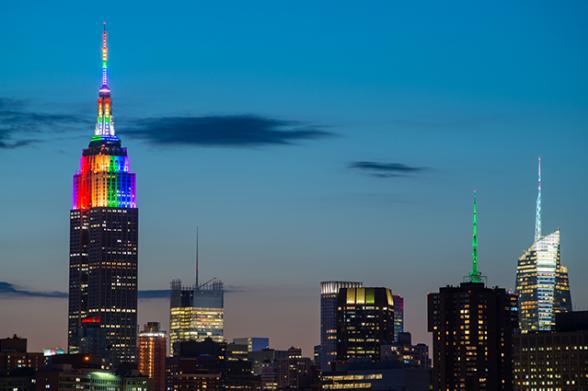 Pride is always an exciting time in New York, and this year's events bring with it an extra sense of hope. Although 2021 is far from a normal Pride year, communities are starting to gather together in-person once again to celebrate Pride safely. Highlights include the return of Pridefest in Greenwich Village, the Let Love Bloom Wedding Marathon in Central New York, Long Island Pride. At these and other Pride events in New York, including engaging virtual offerings, LGBTQ New Yorkers and visitors will come together again in the birthplace of the modern movement to show love for each other, for the community, and for New York! 
Remember to social distance and wear a mask as required by state guidelines. Call ahead and check websites and social media to make sure attractions are open and available. 

Credit: Keith Haring, Shafrazi Gallery (1982), Photograph © Allan Tannenbaum
The Fenimore Art Museum in Cooperstown hosts one of the year's most exciting new art exhibits, featuring the works of LGBTQ icon and '80s pop art legend Keith Haring. Known for his vibrant murals, paintings, and mixed media works, Haring had a meteoric 10-year career in which he united New York City's uptown establishment with its downtown art scene. The Fenimore exhibit features more than 100 works from a private collection, including lithographs, silkscreens, posters, and more. Fenimore Art Museum, through September 6, $12 adults, $10.50 seniors, 19 and under free
Buffalo Pride Week features a series of events to celebrate Pride both in-person and virtually across Buffalo and Western New York. Niagara Falls will be lit up with Pride colors on the night of June 1. Earlier that day, flag-raising ceremonies will be held at ArtPark (9 AM), Niagara Falls State Park (10:30 AM), Niagara Falls City Hall (11:30 AM), and Lockport City Hall (3:30 PM). Explore & More – The Ralph C. Wilson, Jr. Children's Museum will be holding a free "reverse parade" where the attraction will be decked out in rainbows all week. Also on June 1, join Front Runners in Delaware Park for a 1.8-mile socially distanced walk/run to show your Pride in the Greater Niagara region! June 1-6, free
Pride Month 2021 in Binghamton begins with a ceremonial flag raising by Mayor Rich David on Saturday, June 5 at noon. Pride Palooza this year will be held in Otsiningo Park. Bring your own picnic blankets or lawn chairs, and a to-go lunch from home or a nearby restaurant to enjoy while listening to live entertainment, featuring hosts Dede Kupps and Katrina, with music provided by McRay's Professional DJ Service. June 5, 12-4 PM, free
Westchester Pride 2021 kicks off June 6 with a special virtual celebration featuring music performances, messages from local officials, and an inspiring and hilarious celebrity message that you can only see by joining in! The events continue all month long with workshops, discussions, a drag queen story hour, and a screening of the documentary watch party of Cured, about LGBTQ activists who refused to accept psychiatry's mental illness label of homosexuality and changed history. June 6-30, times and prices vary
Downtown Nyack will close its streets to traffic to allow for strolling, shopping, and dining. This special PRIDE Promenade, celebrated alongside the Rockland Pride Center, will be the highlight of the Spring Fling season! June 6, 11 AM-8 PM, free
Come celebrate Brooklyn Pride's 25th Anniversary with a week of in-person and virtual events. Brooklyn Pride Day is on Saturday, June 12 this year, once again with the Mini-Street Festival and Entertainment Stage. Main event Saturday, June 12, 12-5 PM, free
Join In Our Own Voices at their 15th Annual Say It Loud! Black & Latino Gay Pride Celebration. Black & Latin@ Gay Pride is an opportunity to celebrate the vibrance and contributions of Lesbian, Gay, Bisexual, Transgender, Queer + People of Color in the Capital Region. The main celebration is at Jericho Drive-In in Glenmont. The event will feature performances from London Jae Precise and Alex Torres & his Latin Orchestra. Spaces are limited and participants must arrive in a vehicle. Main event, June 12, 12-5 PM, free
Enjoy the inaugural Capital Pride BBQ Block Party. Visit the Central Avenue 70's block to enjoy music, dancing, food, and drinks. Walk onto the street in the block party area to enjoy dancing and music, drag performances, and cocktails by Waterworks and Rocks. June 13, 1-5 PM, free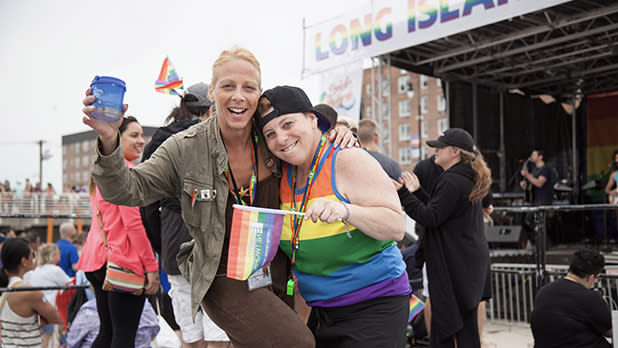 Long Island Pride: Together Again will be held live at Eisenhower Park's landmark Harry Chapin Lakeside Theatre. Enjoy a  live concert, entertainment, and a lot of celebrating proudly and safely. This year's Long Island Pride will be a pre-ticketed event. With a sell-out expected, Long Island Pride will also be live-streamed. Sunday, June 13, 12-4 PM, free
Celebrate Pride, and love, and get married on the Beekman farm! For this special event, Beekman 1802 will be hosting wedding ceremonies inside a breathtaking sculptural installation (pictured), designed by iconic artist Tom Fruin. This 24-hour event is not only the anniversary of the Supreme Court decision on marriage equality (Obergefell v. Hodges, June 26, 2015) but also the wedding anniversary of Josh and Brent from the Fabulous Beekman Boys. A portion of the proceeds will be donated to the Ali Forney Center to support homeless LGBTQ youth. June 26-27, 8 AM-8 AM, $100

Credit: Justin Boykin/PrideFest 2017
While we'll have to wait another year for New York City's famous NYC Pride March to return to its traditional grand size and scope, Pridefest, the LGBTQ street fair, is back and not to be missed! Stop by 4th Avenue between 13th and 9th Streets in Manhattan for musical performances, entertainers, food, activities, and Pride gear from unique vendors. Sunday, June 27, free
NY PopsUp (NYC/Various Regions)
Be sure to keep an eye out for all NY PopsUp programming (@NYPopsUp on Instagram, Facebook, and Twitter) throughout Pride Month and beyond. As a festival programmed by artistic advisors that represent the diversity of New York's dynamic performing arts scenes and artistic communities, including many LGBTQ artists, all NY PopsUp events are safe spaces created by and for the LGBTQ community.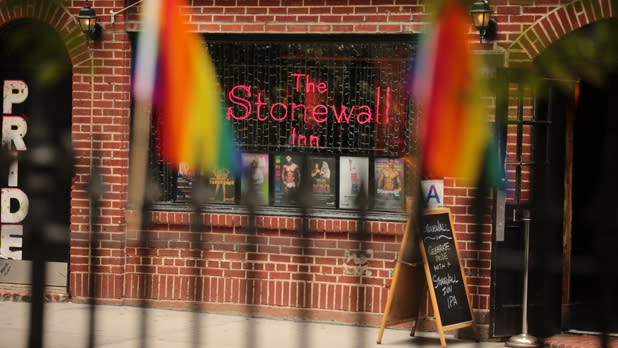 In the heart of Greenwich Village in Christopher Park, visitors can find the Stonewall National Monument, commemorating the events of the Stonewall Uprising of June 28, 1969 and the birth of the modern day LGBTQ civil rights movement that stemmed from there. Make sure to stop for a drink at the Stonewall Inn, the still-operating LGBTQ bar right across the street from the monument.