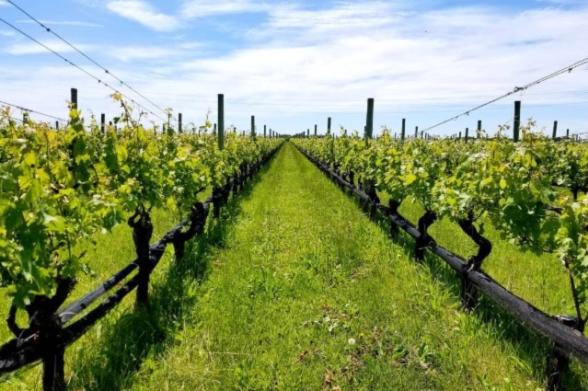 Credit: @caicedojp on Instagram
One way to see the diverse landscapes of New York State is by visiting its wineries. Some are nestled into sloping lakeshores while others are tucked into the woods, or part of a scenic rural vista. How to visit varies, too. Depending on the experience, you may take a bus tour or limousine service or even a bicycle or boat. Or perhaps you'll sip wine on a train, watching the countryside pass you by. Decide what you want your wine experience to look like and start planning now. 
Masks are encouraged, but optional in most settings per New York State guidelines. Individual businesses or attractions may require mask wearing. Call ahead and check websites and social media to make sure attractions and amenities are open and available.
Updated 04/14/2023

 
Finger Lakes wineries are famously scenic but there's something extra special about arriving by boat. Make the most of your trip with Captain Jim's Wine Cruises, where you'll take a leisurely pontoon boat ride on beautiful Cayuga Lake while Captain Jim describes points of interest along the way. 
You can choose to visit three of the following wineries: Sheldrake Point Winery, Long Point Winery, Thirsty Owl Wine Company (which has a bistro perfect for lunch), or Goose Watch Winery. You'll have about an hour at each stop, giving you ample time to eat, sample wines, and stroll around the picturesque vineyards. 
Captain Jim's Wine Cruises take place Thursday-Monday and last from 1:00pm to 5:30pm. The 2023 cruise season kicks off May 14. Each cruise is limited to six passengers.

Credit: @caicedojp on Instagram
Pedal your way through Long Island's idyllic wine country, stopping to spot wildlife, take in harbor views, and of course sample plenty of North Fork vino. East End Bike Tours offers a range of experiences. Their fleet includes single-rider or tandem bicycles and tours range from 13.5 to 18 miles long. Depending on the tour, you may also stop to pick fresh fruit, browse in local boutiques, or check out some craft breweries.  
Tours include a guide, unlimited non-alcoholic refreshments, olive oil and vinegar tastings, and a support vehicle to carry whatever you may buy along the way. Private and self-guided tours are also available, as are limousine tours for those who prefer not to ride bicycles. Tours run from May through October.

Credit: @deep2105 on Instagram
The Little Wine Bus takes care of every little detail so you can sit back, relax, and enjoy the ride through Hudson Valley's Wine Country. The company will be starting up their public tours from New York City in the fall with their famous singing karaoke bus from Times Square and also offers private tours. Maybe you want to woo your sweetheart with a day of romance, celebrate a milestone birthday with everyone you ever knew, or host a corporate event. Either way, The Little Wine Bus has you covered. Their fleet of vehicles accommodates anywhere from two to 56 passengers. Once you know your group size, they'll work with you to build your perfect itinerary, whether you want an educational outing, a party scene, or something in between. 
Owner Tania Dougherty is a Hudson Valley local, a Certified Travel Counselor, and Certified Meeting Professional, credentials that assure customers will have the most seamless experience. A vehicle will pick up your group at your home, hotel, or rental in the Hudson Valley, the Catskills, or any of the five boroughs in New York City. Tour prices include food, wine tastings, bus driver, host, and gratuities. Private tours are available seven days per week all year long. The Little Wine Bus also hosts weekday corporate tours to Long Island's wine country.

Credit: @fossilstonefarms on Instagram
Assemble your crew and climb aboard for a day of fun among friends. The Spa City Brew Bus seats up to 24 passengers with a minimum of 12 required. Tours are private so you and your group have the bus to yourselves and can set the tone, whether you want some calming background music for the ride or want to rev up the party with a round of karaoke. You'll work with the Brew Bus folks to arrange pick-up time, location, and desired destinations. Tours typically last four hours (additional time can be added for a fee) and visit wineries (or distilleries and breweries) in the Capital-Saratoga region. In addition to a professional driver, you'll be accompanied by a knowledgeable guide who'll regale you with music, games, raffles, snacks, and water.

Credit: @pairwinetours on Instagram
You'll want to take notes on this one. Led by a sommelier, this neighborhood walking wine tour educates participants on wine tasting techniques, food and wine pairings, label reading, and top wine producing regions. You'll also learn how to open a bottle of vino like a pro so you can impress your friends at your next dinner party! Each tour includes stops at one wine shop and two restaurants. You'll sample two wines at each stop, with snacks served at the restaurants. New York City tours are available in Hell's Kitchen and the Lower East Side. Tours conclude at local wine shops, where, in addition to sampling wine, guests can purchase bottles at a discounted price. 
If your walking tour whets your appetite for more wine tasting in NYC, head to City Winery. The wine-tasting, dining, and live performance space at Pier 57 is the largest winery in New York City. Sample in-house wines in their tasting room, grab some dinner, catch a concert, or simply sip a glass of wine and watch the sun go down over the Hudson River. City Winery hosts regular dining and wine tasting events and they plan to resume their winery tours once it's safe to do so.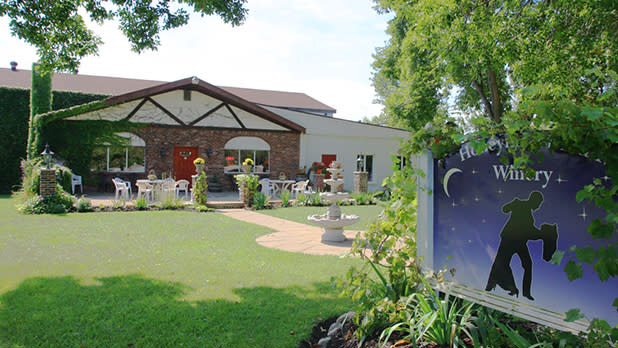 A chauffeured limousine lets your group travel in style as you tour the wineries in this astonishingly beautiful region. Amore di Vino offers several themed tours. Amenities vary but tours typically include stops at five wineries, wine tastings, a wine specialist, and a complimentary gift for everyone. Themed options include the Chocolate Lovers tour, which concludes with a heaping tray of mouthwatering desserts, and Fun With Friends, where each guest goes home with a hand-painted wine glass. Itineraries can also be completely customized to suit your wishes. All tours make stops along the Niagara Wine Trail and Niagara Wine Country. The region's cool climate creates a favorable grape growing season, which in turn allows wineries to excel in the production of wines like Riesling, Cabernet Franc, and Vidal Blanc. And you can't beat the scenery, with some wineries set on the scenic shores of Lake Ontario and others just a short drive from Niagara Falls.
DIY Wine-themed Road Trip (Catskills/Hudson Valley)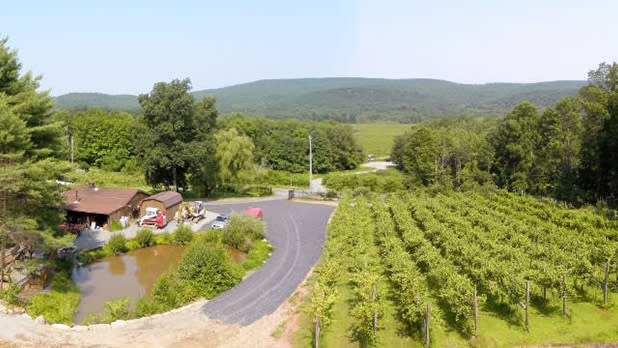 This wine-themed road trip will take you into the heart of the Catskills and the Hudson Valley, and through adorable mountain towns like Phoenicia, Mount Tremper, and Ellenville. It's a drive that allows you to explore the area's scenic byways and attractions entirely at your own pace. 
Kick off your trip at The Vineyard at Windham in the northern Catskills. Their four-acre property offers views overlooking Windham Mountain. The cozy tasting room is outfitted with plenty of windows so you don't miss a moment of those views. While you're basking in the scenery, sip on their merlot, Riesling, or rosé, or try a wine they've sourced from within New York State.  
Next, put on some good driving tunes and head south through the Hudson Valley to Christopher Jacobs Winery at Pennings Vineyard. Sample their award-winning wines while enjoying fresh air and mountain views. June marks the start of their Summer Live Music Series every Friday from 4:00pm-sunset. 
You'll swing back into the Catskills on your next and last stop at the adults-only, dog-friendly Bashakill Vineyards. Their wines are vegan, made by hand, and organic or low-spray, and they specialize in wines aged in French and American oak barrels. You'll remember you're in the wilds of the Catskills with wine names like Red Fox, Coyote, and Black Bear. You'll probably be ready for dinner by this time and can sample bites from Bashakill's rotating menu of fresh ingredients.

Courtesy of Johnson Estate Winery
More than 20 wineries spread across 53 miles of Lake Erie's south shore make up the wine country here, giving road-tripping wine lovers miles of picturesque scenery. Visitors looking to carve out their own wine trail vacation will find a great resource in the Lake Erie Wine Country website. There's information on transportation services, accommodations, restaurants, and of course, which wineries suit you and your group the best. The website helps users narrow down choices for easier planning. Looking for a winery where you can also grab a bite to eat? Add 21 Brix Winery to your itinerary. If you have a beer-drinker among you, head to Five & 20 Spirits/Mazza Chautauqua Cellars. If your pup is your travel partner, there's a list of pet-friendly wineries, too. There are also recommendations on area attractions like the National Comedy Center and Panama Rocks Scenic Park to round out your trip to the region.

You don't need a special excuse to visit Lake George but making the wineries on the Adirondack Craft Beverage Trail into a short road trip certainly gives you one. Adirondack Winery is located in the heart of Lake George Village, a lively local spot that's usually offering one drink special or another in celebration of a holiday or local event. A second location in Queensbury includes a winemaking facility, brand new tasting room, and a space for live events. Adirondack Winery creates inventive blends like a lavender infused rosé and a blueberry infused red, as well as a wide selection of red, white, and sparkling wines. 
The next and last wine destination on the Adirondack Craft Beverage trail is Ledge Rock Hill Winery & Vineyard, a family-run business with an Adirondack-style tasting room in a woodsy setting. Featured wines include Cranberry Blanc, Traminette, and Melody, a dry citrus white made from a grape of the same name. Ledge Rock Hill Winery & Vineyard often holds live music events.
Take a Wine Cruise with Coyote Moon Vineyards (Thousand Islands)

Courtesy of Taste 1000 Islands 
Take a relaxing two-hour cruise with an experienced crew and Coyote Moon Vineyards. All cruises include one bottle of Coyote Moon wine per person and a cheese and cracker snack box. Plan to arrive at least one hour before departure, at which time you'll take part in a wine tasting and select the bottle you'd like to take aboard. The cruise takes passengers on a relaxing ride through the scenic Thousand Islands. Large groups can book their own private wine cruise. The cruise season with Coyote Moon Vineyards runs from the end of June through early September.
Ride the Adirondack Railroad Beer & Wine Train (Central New York)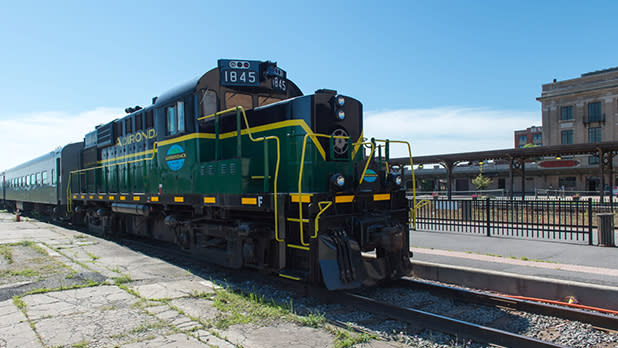 All aboard the Beer & Wine Train, an excursion that departs from Utica's Union Station, a historic Beaux Arts building with marble pillars and a 35-foot tall barrel-vaulted ceiling. On board, passengers receive a complimentary glass. A selection of beer and wine is available for purchase. The train travels 20 miles north through the countryside and arrives at The Remsen Depot, where passengers will have 30 minutes to stretch their legs and browse in the gift shop before returning to Utica. First class and coach class tickets are available. Light snacks are served to all; first class passengers receive hors d'oeuvres. The Adirondack Beer & Wine Train offers trips in the spring, summer, and fall.
---
Don't forget to post photos of your New York adventures on Instagram and Twitter with #iSpyNY and tag us on Facebook!