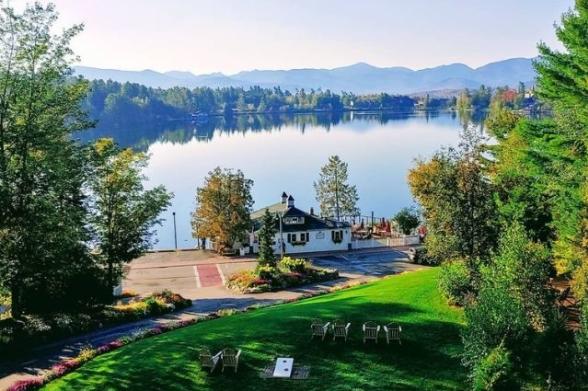 Credit: @eprealbuto00 on Instagram
Whether you're searching for a serene lakeside escape, adventure on the water, or both, New York State has a lake for you. Upstate New York is home to over 100 lakes across its regions, ranging from remote retreats ensconced in mountainous forests to charming, walkable lakeside villages. We've compiled a list of 12 of the most beautiful lakes across the state for a glimmering getaway in New York State.
Masks are encouraged, but optional in most settings per New York State guidelines. Individual businesses or attractions may require mask wearing. Call ahead and check websites and social media to make sure attractions and amenities are open and available.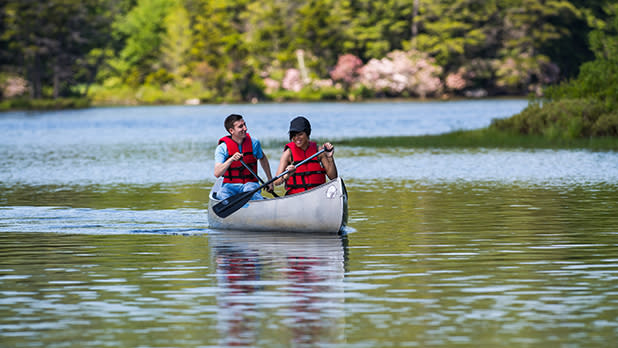 Surround yourself with scenic vistas from every angle at North-South Lake State Campground, the largest and most popular lakeside campground in New York State (and for good reason). Found in the northeast corner of Catskill Park, the North-South Lake campground has over 200 camping sites, and is just a short hike away from the former site of Catskill Mountain House, which offers picturesque panoramic views of the Catskills Mountains and Hudson River. Kayak, rowboat, canoe, or paddleboard your way across the vast lake, or hike one of its numerous trails. Just minutes to the east of the campground is the town of Tannersville, a quaint village with a charming main street lined with shops and farm-to-table restaurants, including Mama's Boy Burgers, a truly quality fast food joint, serving up locally-sourced comfort foods and homemade ice cream. Looking to add a little extra thrill to your vacation? Soar above the trees at nearby Hunter Mountain with New York Zipline Adventure Tours–the highest, fastest, and longest zipline tour in North America.

Credit: @jennishutterfly on Instagram
Fishing enthusiasts from across the world have dubbed Black Lake one of the best freshwater fishing lakes for year-round fishing in New York State. This quiet inlet, just minutes from the St. Lawrence River's edge is where perch, crappie, bass, and bluegill are known to thrive. This hidden gem isn't just a paradise for anglers though. For the non-fishing vacationers, there are numerous activities and attractions nearby to enjoy on your lakeside retreat. Take a ferry to century-old Singer Castle on Dark Island, and learn about the history of (or spend the night in!) the gothic-inspired castle. Head to the  Antique Boat Museum in Clayton to see the largest collection of antique boats in the world–you can even go for a ride on a vintage skiff!

Credit: @kennedy_photography6 on Instagram
Situated deep within the heart of the vast and mountainous Adirondacks lies Lake George, a.k.a the Queen of American Lakes. A venerable vacation destination year-round, from its concerts, camping, and watersports in the summer to its ice castles and carnivals in the winter. The 44-square-mile lake is home to 13 charming lakeside communities that make up the entire Lake George Area, each with its own distinct style. From Memorial Day through Labor Day, take a scenic cruise and soak in the views on The Minne-Ha-Ha, a rare and authentic paddlewheel steamship. Hire a canoe or sailboat and get a closer look at mansions along Millionaire's Row. Indulge yourself with a lakeside stay at The Sagamore Resort (pictured), a secluded premier luxury resort with breathtaking unobstructed views across Lake George and the Adirondack mountains. Indulge your taste buds at award-winning restaurants, relax at the spa, or tee up at the world-renowned Donald Ross 18-hole golf course. Take your summertime thrills to new heights with a day at Six Flags Great Escape & Hurricane Harbor in nearby Queensbury, full of dizzying loops and water rides to keep you cool.

Credit: @eprealbuto00 on Instagram
Nestled between the high peaks of the Adirondack Mountains, Mirror Lake serves as the village of Lake Placid's unofficial town square. Dotted with luxurious lakeside resorts, including the eponymous Mirror Lake Inn Resort and Spa, Mirror Lake is a year-round destination. During the summer season, the lake is full of canoes, kayaks, and stand-up paddleboarders. In the winter months, you can go mush on a memorable dog sled ride. As a two-time Winter Olympics host city, the Lake Placid of today is teeming with both Olympic history and world-class sporting events. The Lake Placid Olympic Museum brings to life memories from the 1932 and 1980 Olympic Games, chief among them the American hockey team's "Miracle on Ice" victory over the Soviet Union. A short drive away, the high-speed Cloudsplitter gondola offers stunning views as it ascends Whiteface Mountain. If you're particularly adventurous, you can try to join the ranks of "The 46ers," a term used for mountain climbers who have mastered all 46 of the Adirondack High Peaks! In addition to its Olympic history, the area also has a proud heritage as a home to abolitionists and equal rights leaders. The John Brown Farm State Historic Site offers an inside look at this important aspect of New York's history.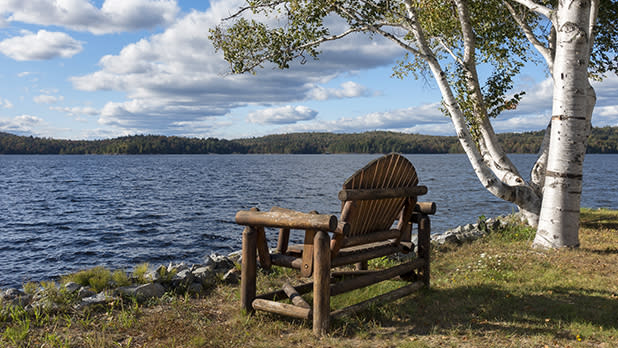 For scenic hiking trails, immaculate waters, and charming gourmet eateries, look no further than Tupper Lake, the perfect destination for travelers looking to get lost and feel at one with nature. Wander through wildlife exhibits as you literally walk across the treetops at the Wild Center and Wild Walk. With more than 1,000 feet of bridges that rise up and over the Adirondack forest, this world-renowned interactive center is a must-see for outdoor lovers. Climb further into the skies and gaze at stars at the Adirondack Sky Center & Observatory, an institution providing one of the best destinations for stargazing in the East due to its high altitude. For those looking to head out on the water, head to Ausable Chasm and raft or tube through the waters surrounded by towering sandstone formations that age back 500 million years.

Credit: @andrewpav on Instagram
Known as the "Glimmerglass" lake from James Fenimore Cooper's Leatherstocking Tales, Otsego Lake's location in the foothills of the Catskill Mountains, bordering the village of Cooperstown makes it one of New York's most interesting lakeside destinations. Known as "America's most perfect village," Cooperstown was named the #2 "small town to visit in America" by Expedia. It's also where the sport of baseball was created, and you can see this proud heritage on display everywhere from the National Baseball Hall of Fame & Museum to charming Main Street shops selling memorabilia. The Farmers' Museum offers a peek at a bygone era and the Fenimore Art Museum is home to an impressive collection of American art. While in town, a drink overlooking the lake on the porch of The Otesaga Resort Hotel (pictured)–one of New York's historic Grand Dame hotels since 1909– is a must. Just outside of Cooperstown, nature lovers will find plenty to enjoy year-round in Glimmerglass State Park. Every summer, the Glimmerglass Festival brings world-class opera and concerts to the north shore of Otsego Lake at the state-of-the-art Alice Busch Opera Theater. Beer and spirits enthusiasts will be pleased to learn that Central New York is home to some of the best craft beverage trails in the country.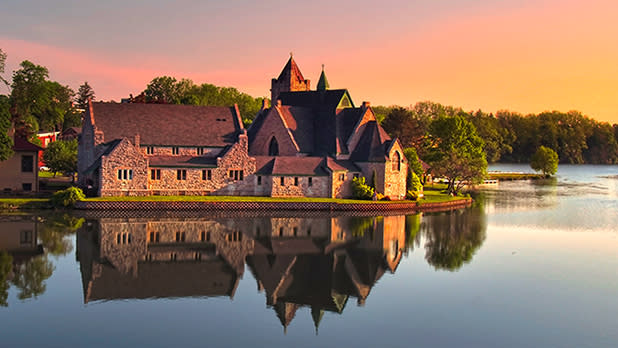 The longest of New York's glacial Finger Lakes, Cayuga Lake boasts a world-class wine trail, plentiful sport fishing (you'll find 17 species of fish, including smelt, lake trout, and smallmouth bass), and lake towns with plenty to do. On the southern tip of the lake, you'll find Ithaca, a vibrant small city with a youthful vibe. A perfect foodie destination, Ithaca is home to the popular Ithaca Farmers Market and more restaurants per capita than New York City. You'll find many of the city's best eats right downtown in Ithaca Commons, a two-block pedestrian mall full of eateries, independently owned shops, and art galleries. Outdoor adventurers are drawn to Ithaca for its miles of gorgeous parks, hiking trails, and over 150 waterfalls within a 10-mile radius, including the popular Buttermilk Falls State Park and Taughannock Falls State Park (home to a waterfall that's even taller than Niagara Falls!) At the north end of Cayuga Lake, you'll find Seneca Falls, a tiny town with an outsized place in history. In 1848, the town hosted the Seneca Falls Convention, a seminal event in the fight for women's rights. Today, it is home to such sites as the National Women's Hall of Fame and the Elizabeth Cady Stanton House. Movie buffs can visit the It's A Wonderful Life Museum to learn more about how Seneca Falls became the real-life inspiration for the fictional town of "Bedford Falls."

Credit: @skan_drone on Instagram
Rest, relax and revel in the sparkling blue-green waters of Skaneateles that earns itself the crown as "the jewel of the Finger Lakes." Pronounced "skinny atlas," the name literally means "long lake" in Iroquois, and is the fifth largest glacial lake in the region. The lake is a popular destination for canoeing, fishing, and fun water sports through the summer months, and close to the charming walkable downtown of its main village by the same name (pictured). Shop antiques, boutique stores and dine at farm-to-table restaurants. Head out on the water for incredible views of surrounding forests, mansions, and historic homes that line its shores, or take in views from the skies aboard a hot air balloon ride. After a full day, pamper yourself at Mirbeau Inn & Spa, a world-class luxury spa resort in a classical boutique-style inn.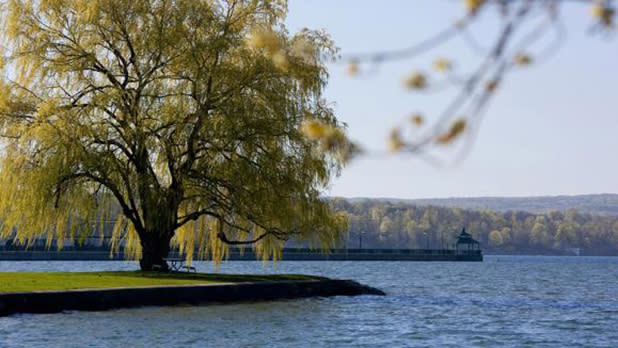 Indulge your senses in the calm crisp waters and peaceful surrounds of Owasco Lake, a quiet retreat nestled between farmlands, parks, and charming lakeside villages. With shallow warm waters, Owasco Lake is ideal for swimming, boating, and canoeing in the summertime, and fishing year-round. On its northern edge you'll find Auburn, a small city with a big history, once home to Harriet Tubman, the famed abolitionist and conductor of the Underground Railroad, and politician William H. Seward, who served as Secretary of State in the late 1800s. Visit the Harriet Tubman National Historical Park to see her former home and learn about her life and legacy. Travel south down the lake past quaint cottages and private boathouses and explore the Fillmore Glen State Park at its southern tip. An oasis within dense woods, the park offers numerous scenic hiking trails through its long and narrow gorge past five waterfalls.

Credit: @chq1874 on Instagram
Chautauqua Lake's 17 miles offer visitors plenty of recreational opportunities from sandy public swimming beaches to boating and fishing. Tour the lake with a cruise on the Chautauqua Belle,  an authentic Mississippi River-style steamboat. To get the full Chautauqua Lake experience, plan to stop off at Bemus Point to explore this charming lakeside town, get nostalgic with classic amusement park rides at Midway State Park, and catch a show or lecture at the Chautauqua Institution. While at the Chautauqua Institution, enjoy a lakeside meal on the porch at the Heirloom Restaurant at the historic Athenaeum Hotel. While in the area, a visit to Jamestown for the National Comedy Center and Lucille Ball-Desi Arnaz Museum is a must. The Comedy Center, which opened in 2018, uses innovative technology to deliver a unique experience where the museum's content adapts to your personal taste in comedy. Other features include a comedy karaoke lounge that lets visitors take center stage, and a roast station where you can send some digs to your favorite frenemies.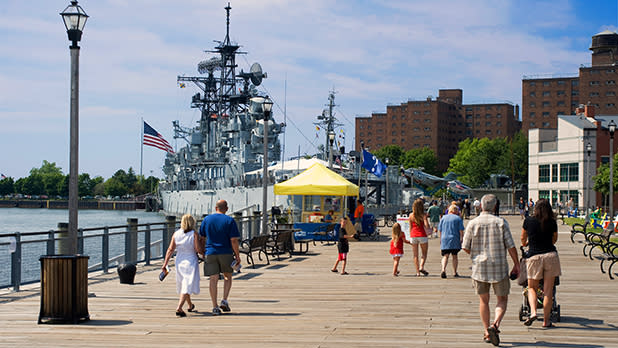 One visit to Lake Erie and you'll see that it's not just the size of this body of water that makes it a "Great Lake." Located on the boundary between the United States and Canada, the Lake Erie shores are home to Buffalo, New York's second-largest city. Lakeside fun can be had at the city's Canalside Buffalo waterfront development (pictured), which hosts major concerts in the summer months and offers ice bikes in the winter. Explore Buffalo's vibrant independent theater scene, or catch a touring Broadway show at Shea's Performing Arts Center, an opulent venue modeled after European opera palaces. If you're feeling adventurous, go zip-lining on the exhilarating Buffalo RiverWorks high ropes course. Take your trip to the next level with a visit to Niagara Falls, just a half-hour drive from Buffalo (fun fact: it's water from Lake Erie that feeds Niagara Falls via the Niagara River). To see another side of New York's Lake Erie coastline, enjoy a glass of wine lakeside in Lake Erie Wine Country, one of the best under-the-radar wine regions in the U.S. Continue down the lake to tour the Dunkirk Lighthouse, a historic active lighthouse with an onsite maritime museum.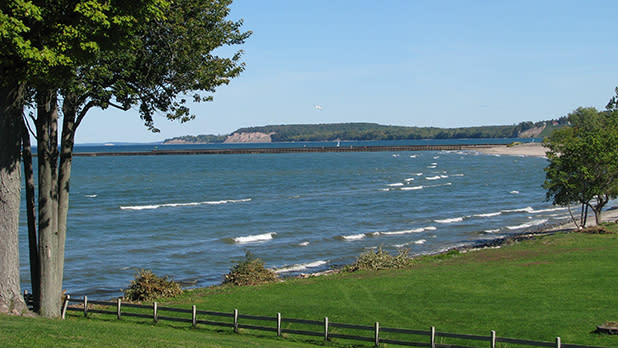 With its white-sand beaches and expansive views, it's easy enough to mistake Lake Ontario for an ocean. Just minutes away in Rochester's downtown, you can explore over a century's worth of toys at the Strong National Museum of Play, visit the National Susan B. Anthony Museum & House to learn about the life and times of the women's rights icon, and explore a burgeoning craft beverage scene with a visit to the Genesee Brew House, Black Button Distilling, and Rohrbach Brewing Company. Head east to the Thousand Islands and stop by the H. Lee White Maritime Museum and Oswego Lighthouse to learn about the lake's importance in maritime history. Get closer to nature at Selkirk Shores State Park, where you can enjoy spectacular sunsets and some of the best fishing in the state. Find even more adventures to inspire your next trip in our 48 Hours Along Lake Ontario blog post.
---
Don't forget to post photos of your New York adventures on Instagram and Twitter with #iSpyNY and tag us on Facebook!