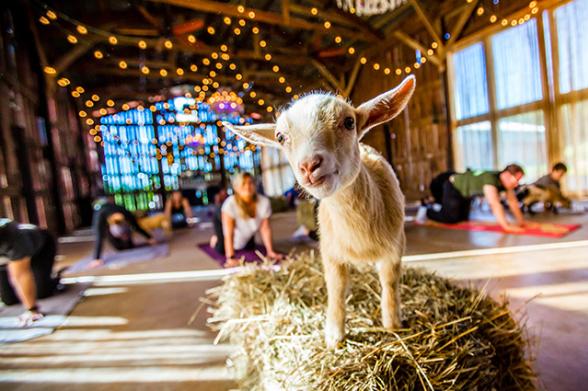 Health and wellness can be found all over New York State, from the silent wilderness of the Adirondacks to the Crossroads of the World in Times Square. Individual yoga classes are plentiful. Some take place in the presence of adorable animals, others happen in a beautiful vineyard setting. Opportunities for weekend wellness retreats exist, too, whether at a glamping site or a goat farm. Whatever your preference, find your zen in New York State. 
Masks are encouraged, but optional in most settings per New York State guidelines. Individual businesses or attractions may require mask wearing. Call ahead and check websites and social media to make sure attractions and amenities are open and available. 
Updated 07/27/2023

CREDIT: @JOSHUALEBOWITZ ON INSTAGRAM
If you can find peace in Times Square, you can find it anywhere! On the longest day of the year (in the northern hemisphere), thousands of yogis will stretch, breathe, and center themselves in the busiest thoroughfare in New York City at the 22nd annual Solstice in Times Square: Mind Over Madness Yoga. Outdoor classes take place all day long on Thursday, June 20, 2024. Instructors come from far and wide to teach, and all levels are welcome. Check out Yoga Village (on Broadway, between 47th and 48th Streets) after class, where vendors will be giving away wellness-related product samples. Yoga classes are free. Registration is required and limited to one class per person. The event takes place rain or shine and will also be available virtually on Facebook Live and YouTube. Solstice in Times Square is a perfect opportunity to spend a few days in New York City. To stay close to the action, book a room at Pod Times Square Hotel, W New York Times Square, or Millennium Times Square. June 20, free
Yoga and Meditation Retreats in the Wilderness (Adirondacks)

CREDIT: @PUREADIRONDACKS ON INSTAGRAM
Combine the benefits of yoga with the peaceful beauty of the Adirondacks at Inner Quest Yoga & Wellness Center. They host special retreats including the upcoming Great Camp Sagamore Wellness Weekend where participants will spend a long weekend at Great Camp Sagamore, a lavish resort once owned by Alfred Gwynne Vanderbilt, who used it as his summer home. In addition to four days of meditation and yoga at this Gilded Age Great Camp, guests will have access to amenities like water sports, bowling, and hiking and biking trails. August 24-27, Fee $555 and up, depending on room type.
If you're looking for something a little more personal, check out the center's private retreats. These getaways are perfect for one to four people and can include your choice of guided mind-body practices, nature outings, Qigong classes, meditation, paddling trips, and comfortable lodging, all surrounded by the beauty of the stillness of the Adirondacks. Prices vary.
Yoga on the Lake in Saratoga Springs (Capital-Saratoga)

CREDIT: @OPENAIRSPORTSNY ON INSTAGRAM
Take your yoga practice up a notch by challenging your balance on a stand up paddle board (SUP) on Saratoga Lake. Kayak Shak holds SUP Yoga classes every Saturday and Sunday at 9 AM throughout the summer. You can also turn your SUP Yoga adventure into a lakeside weekend getaway by staying at The Nest at Saratoga Lake, which offers charming beach-themed guest rooms. When the hard work of doing sun salutations on top of gentle waves works up your appetite, head to Dock's Tavern on Saratoga Lake for burgers, pizza, and more comfort dishes. For seafood apps and entrees, head to the opposite end of the lake at 550 Waterfront by Druthers Brewing. SUP Yoga: $25 with your own board; $35 with board rental. 
Yoga with Horses at an Equine Retreat Center (Hudson Valley)

CREDIT: @CABAYOGA ON INSTAGRAM
Equine yoga blends gentle stretching, breathing, and meditation with the soothing presence of horses. Try this unique opportunity for yourself at Falls Echo Farm, an equine retreat center in Hudson. Retreats are led by Caitlin Terry, a former horse trainer and the founder of CabaYoga, a practice that promotes relief from stress and anxiety through yoga and interaction with horses. Several equine yoga experiences are available, from individual classes, to half-day retreats, to private training sessions, to equine yoga for kids. Falls Echo Farm also offers glamping-style accommodations at The Pony Motel, which is furnished with a queen-size bed, outdoor terrace, private bathroom, and outdoor shower. Inquire for dates and prices.

CREDIT: @CLOVER-BROOKE-FARM ON INSTAGRAM
Clover Brooke Farm has made llama hikes and goat walks possible in the past. Now they host a one-of-a-kind yoga experience set on their idyllic farm among friendly llamas and alpacas. Led by a 20-year veteran yoga teacher, classes cover yoga essentials and are suitable for all levels. Afterward, participants will learn how to make their own lavender loofahs during a hands-on class and demonstration by farm owner Andrea Parent-Tibbetts. $45, classes take place on select Fridays and Saturdays, May-October.

CREDIT: @ALYSSA.ALYNNE ON INSTAGRAM
Practice your postures in the glorious setting of the Catskill Mountains. The yoga festival takes place each year on the fourth Saturday of July at Plattekill Mountain in Roxbury and consists of a day full of indoor and outdoor yoga, led by instructors coming from around the country. More than 40 classes take place throughout the day. Some to look forward to include Aerial Yoga, Trapeze Yoga, and the curiosity-piquing Creative Yoga for Rebels. There will also be lectures, workshops, skyrides, and guided walks. VIP pass: $155, Basic Pass: $130, General Admission: $25. Book lodging nearby at Scudder Hill House and The Roxbury Motel.  
The cuddly nature of goats is being put to use at Gilbertsville Farmhouse, New York's first goat yoga farm. The adorable creatures wander around during class, nuzzling, nipping at your yoga pants, or climbing on your back as you rise into downward dog. Themed classes are available on select days from May to November. Some upcoming classes include Goat Yoga & Wine, a Goat Yoga Baseball, and a Goat Yoga Pizza Party. You can also book overnight retreats, including all-inclusive Glamping Retreats (September 25-27), and a Couples Only Retreat (November 10-12). And yes, the goats make appearances during the retreats! Prices vary for goat yoga classes and retreats. 
While Gilbertsville Farmhouse does not offer individual overnight accommodations, Oneonta, 20 miles to the east, has plenty of hotels including Hampton Inn, Courtyard by Marriott Oneonta, Holiday Inn Express Oneonta.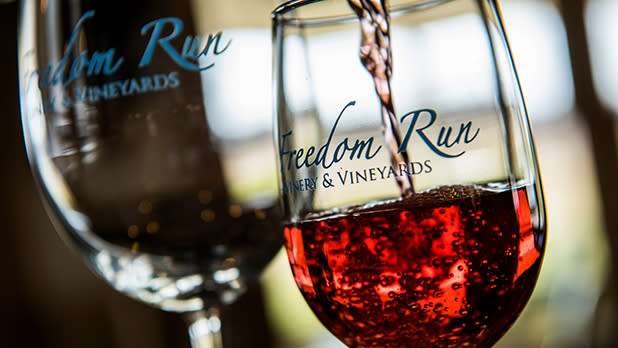 Freedom Run Winery partners with Soma Cura Wellness Center to bring you a Weekend Yoga Series every Sunday from 11 AM-12 PM . Bring your own mat, towel, and water; if you work up a thirst for more than water, you're in luck. The yoga class fee ($19.95 includes a post-class wine tasting. And since you're going to Freedom Run for wine and yoga, you may as well stay for their full schedule of events. Enjoy an artisanal chocolate and wine pairing or a lights and flights candle making workshop, or take a self-guided tour of their Freedom Art Walk, made up of 16 ceramic pieces created by Freedom Run owner Richard Sean Manning. The ceramic works commemorate the land as part of the Underground Railroad.
If you want to make it a group getaway, reserve Vineyard Manor House, a four-bedroom rental located on the winery grounds. While there, be sure to check out all there is to do in Lockport and nearby Lewiston.

CREDIT: @FIRELIGHTCAMPS ON INSTAGRAM
Participate in daily yoga classes, mindfulness meditation, and Reiki sessions, then relax by a campfire and indulge in s'mores at Ithaca by Firelight Camps. Finger Lakes YogaScapes is hosting 2023 retreats on two upcoming weekends: August 11-13 and October 6-9. Two nights in a luxury safari tent, locally sourced meals, farm-to-table meals, and HIKYOGA through the beautiful gorges of Buttermilk Falls State Park accompany the daily yoga and wellness sessions. Can't make it to a weekend retreat? Try stand up paddle board yoga on Canandaigua Lake with Finger Lakes YogaScapes. They'll also organize yoga classes on the morning of your wedding, for bachelorette parties, and other group and corporate events. Retreats start at $689 and vary based on tent selection and number of people in your group.
A Sunday Retreat at Serenity Spa (Chautauqua-Allegheny)

CREDIT: PEEK 'N PEAK RESORT & SPA
Sometimes practicing wellness means spending time with people you love and pampering yourself while you're at it. You can accomplish this by gathering your pals for a weekend at Peek'n Peak Resort & Spa and booking one of their packages like The Classic Spa, which includes a therapeutic massage and custom facial. For $40 more you can try Pure Bliss, a package which includes a massage, facial, manicure and pedicure. Opt for the Aromatherapy Shower & Relaxation Room, where you'll find a luxurious built-in slate stone shower and fireplace, Stress Fix essential oils, an aromatherapy shower burst of your choice, and a complimentary glass of wine.
River Yoga Classes and Events (Thousand Islands)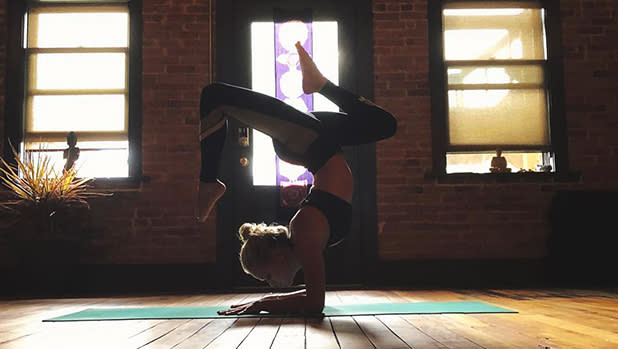 If you want a relaxing getaway without letting go of your yoga practice, you'll love River Yoga and their array of wellness offerings. Sign up for one of many weekly classes or join a special event. Private yoga classes and massage treatments are also available. As a special incentive to weave River Yoga into your vacation plans, they offer an Airbnb vacation rental for two called the Lily Pad. A complimentary yoga class is included with your stay. River Yoga and the Lily Pad are just a block away from the river and walking distance to shops, parks, and restaurants like The Hops Spot, a self-proclaimed burger bar and poutinerie. Prices vary.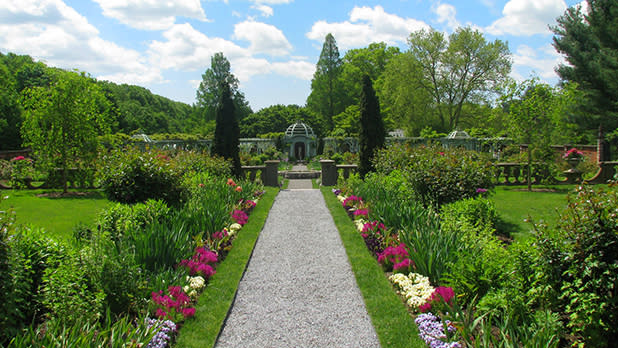 The 1906 Westbury House sits on 200 acres of property made up of formal gardens and pristinely landscaped grounds that include woodlands, ponds, and lakes. Guided tours of the mansion and gardens are available but for a more in-depth experience, sign up for the hour-long Yoga in the Gardens. The fee includes admission to Old Westbury Gardens, so plan to stay afterward and discover this grand country estate, which was home to the Phipps family for more than 50 years. Yoga in the Gardens takes place every Thursday and Saturday through August from 11:15 AM-12:15 PM. Or try Tai Chi in the Garden, offered every Wednesday from 10:30-11:30 AM through October. $23 per session, $15 for members for both yoga and Tai Chi.
Don't forget to post photos of your New York adventures on Instagram and Twitter with #iSpyNY and tag us on Facebook!