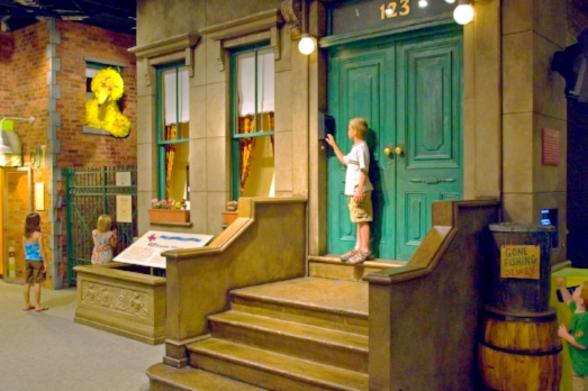 We know it's no easy task keeping kids entertained and satisfied on trips, which is what makes the city of Rochester a jackpot for parents searching for the perfect family vacation. Beyond what is sure to become one of your kids' favorite museums, the Strong National Museum of Play, the city is rich in interactive activities and fun destinations that will foster family-bonding and appetites for exploration.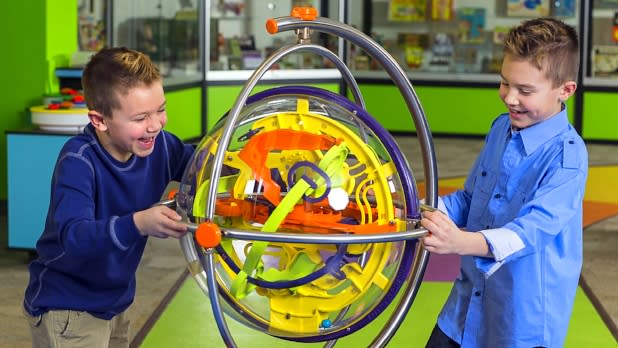 As we mentioned, if you're going to Rochester with kids, the Strong National Museum of Play is an absolute must-stop. The museum is dedicated to the idea that kids learn best when they're at play, and everything from the museum's games to the architecture are designed to inspire curiosity. Exhibits are designed for children of any age, and include an enormous pretend grocery store, giant Etch-a-Sketches and Lite Brites, obstacle courses, retro arcade games, and more. Kids can also play amongst tropical and native butterflies in the indoor butterfly garden that's open and kept at 80 degrees all year. The museum is big enough that no exhibit gets too crowded and when you've worked up an appetite, swing by the museum's diner that serves up kid-friendly food to please even the pickiest eaters. Ages 2 and older $16, under age 2 free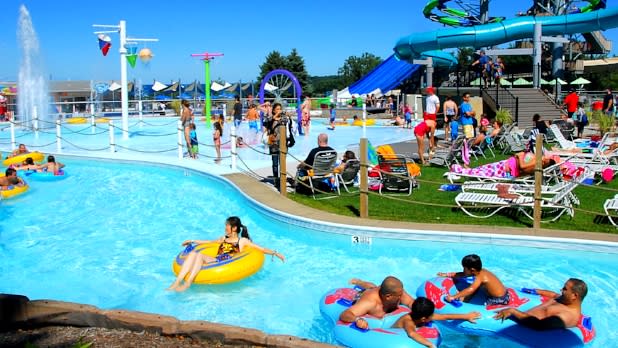 Welcome to Rochester's oldest amusement park, which opened, incredibly, all the way back in 1879! To this day, you can ride the oldest continuously running roller coaster in North America, The Jackrabbit, built in 1920. Of course, the park has transformed with the times, updating and adding new attractions. It now boasts more than 70 rides of varying speeds and heights to please adventure junkies as well as less thrill-seeking members of the family. On hot days you'll definitely want to head to Seabreeze's very own waterpark, replete with water slides, a lazy river, a wave pool, and plenty of mini "kiddie" water activities. The park is open during the last three weekends in May before it opens for the season from June until early September. Prices vary, under age 2 free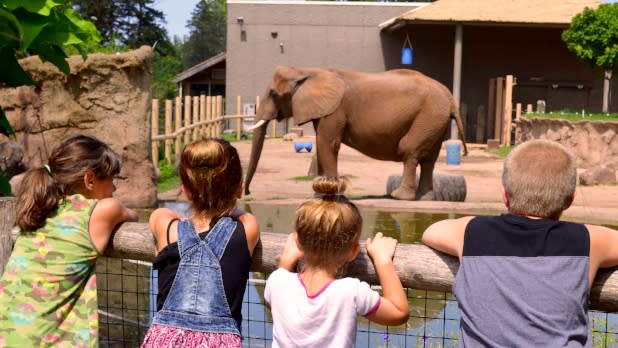 What kid doesn't love the chance to see their storybook animal characters in real life? The Seneca Park Zoo is a classic Rochester destination the whole family will enjoy. It's full of amazing, exotic animals but it's not so large that little feet can't roam the grounds. Many of the exhibits let viewers get up close and personal with the likes of lions, monkeys, and penguins, and the zoo offers plenty of animal "meet-and-greets." It's also continuously adding new exhibits, such as its new red panda habitat and an African savannah. They have play areas and picnic benches where you can rest and chow down before watching the animals do their thing. April 1 through October 31, $12, seniors $11, kids $9, children under age 2 free. November 1 through March 31, $10, seniors $9, kids $7, children under age 2 free.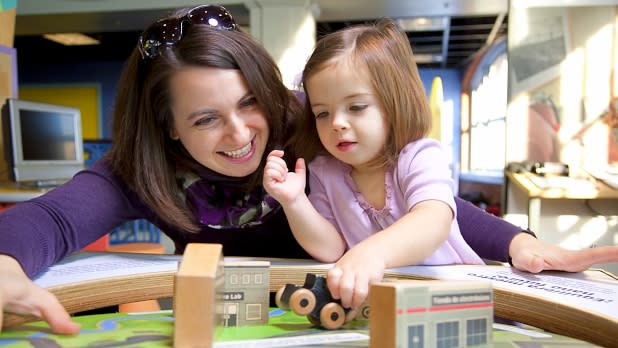 The RMSC is filled with exhibits to inspire and educate kids and adults alike on important scientific concepts. Locate its incredible interactive topographic map in the Forces of Nature exhibit where a map projection changes in real time as you move sand to form new mountains and valleys. The museum's newest exhibit, SciFiTech, takes you through a journey of innovation and imagination in history. Step into the virtual world with the Oculus Rift and interact with robots, inventors, characters and more! The museum also has special equipment for virtual ride simulations that, depending on the month you visit, allow you to experience horse racing, a safari, or even outer space. Be sure to stop by the gorgeous adjoining Strasenburgh Planetarium for laser shows, star shows, and larger-than-life films in its four-story dome. Museum and Planetarium Combined Admission: $18, seniors and college students with ID $17, ages 3–18 $16, children under 3 free.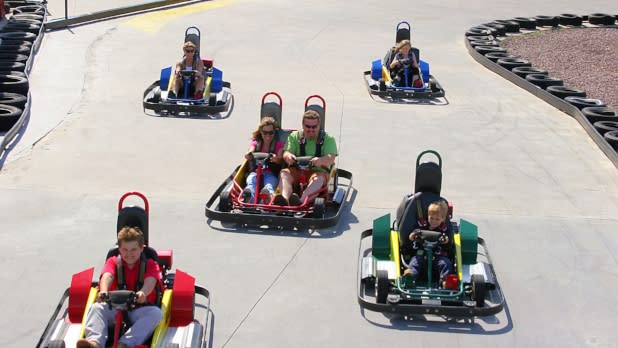 The Clubhouse Fun Center is great for both children and adults who embrace their inner children. They have single- and double-seater go-karts and even "Rookie Jr. Karts" for little ones 48" to 57" tall. The whole fam can playfully compete on the mini-golf course (there are two for different skill levels) or in the arcade. Don't miss the gemstone-mining experience, where kids can learn how folks in the 1800s would pan for gems, and find some souvenirs in the process. If your kids are between the ages of 3 and 7, they can ride along with a more experienced driver in the double-seater bumper cars. The Clubhouse Cafe offers plenty of finger foods including pizza, mozzarella sticks, and hot dogs, as well as sweet treats such as hot and fresh funnel cake. Prices vary by activity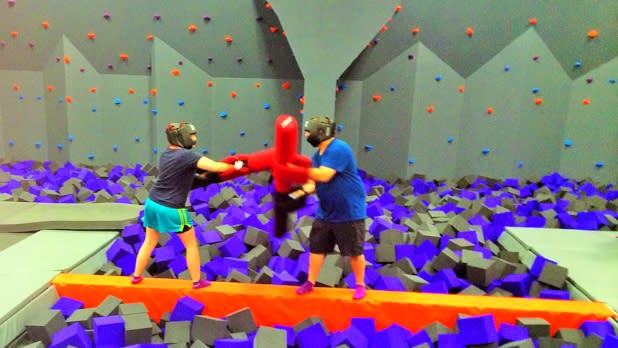 Rain on your vacation day? No problem. Head to the Altitude Trampoline Park. With a whopping 24,000 square feet of trampoline space, kids can tucker themselves out with nonstop physical fun. A sizeable rock-climbing wall surrounds a foam pit, ideal for games of "the floor is lava," and every weekday from 10am to 1pm is designated "Toddler Time." The employees are patient and encouraging with children of all ages. And bonus—trampolining is a great fitness activity for adults as well.
30-minute pass: $9.99, 60-minute pass: $14.99, 90-minute pass: $17.99, 120-minute pass: $20.99, Toddler Time: $7.99 and an additional $2.00 for guardians to jump along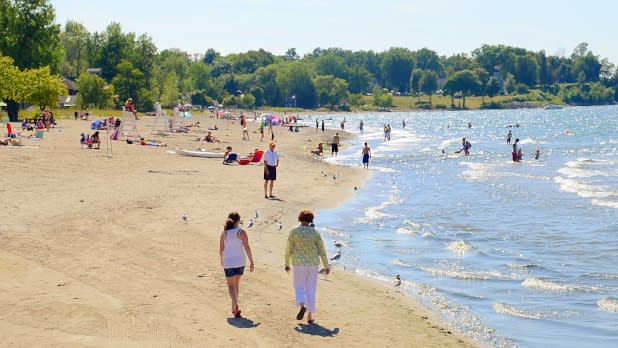 You don't have to travel all the way to the Atlantic for a gorgeous day at the beach. Take the kiddos to Ontario Beach Park where you can gaze over the beautiful expanse of Lake Ontario. The park has barbecue grills, picnic benches, a boardwalk, a playground, and best of all, an original Dentzel Carousel. For just $1, kids get to ride a horse (or a pig, cat, dog, and even an ostrich) on this vintage attraction — and you get the perfect photo op. The park hosts concerts all summer long, so be sure to check the upcoming schedule of this year's Concerts By The Shore Series!
Got little sports fans in the family? Definitely do not miss the chance to bring them to Frontier Field to see the Rochester Red Wings play minor league baseball. Single game tickets priced at only $12–$14 and accessible parking make this a convenient way to spend a memorable afternoon. The stadium is particularly family-friendly, with certain sections designated as alcohol-free and "allergy-aware," meaning, no peanuts or tree nuts! Stop by the concession stands for a number of delicious options, including a Rochester special—the "Garbage Plate." Though its name may not sound appetizing, a Garbage Plate consists of some sort of meat, such as hamburger, sausage, steak or chicken, combined with home fries, french fries, baked beans, and macaroni salad, topped off with a spicy meat sauce. It's a bit messy, but trust us, it's delicious. And totally worth the heartburn. Beginning of the 2020 season to be delayed. Check their website for more information.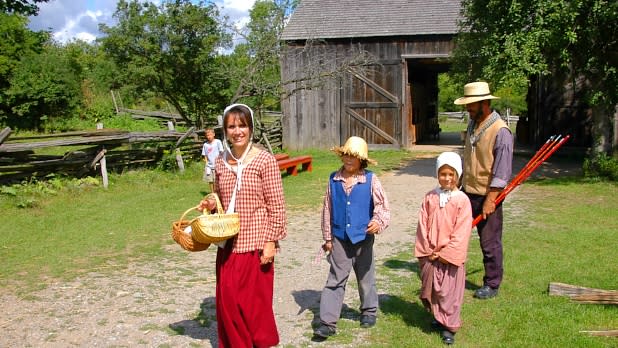 Take a half-hour drive from Rochester to New York State's largest living history museum. You can tour 68 buildings and interact with costumed interpreters as they tend to real gardens and livestock, bake fresh breads and pies, and even play historic baseball. The museum spans three separate time periods of American history, from when pioneers first settled a new area (1790–1820), to when towns began to form with a distinct center (1830–1860), and finally to when mechanization and industry arrived (1860–1900). Children will have the opportunity to play old-timey games, explore a one-room schoolhouse, and make their own crafts. $18, senior and college students (with ID) $15, veterans $14, ages 3–12 $12, active military and children ages 2 and younger free.
The original Abbott's Frozen Custard shop opened its doors in 1926 and has remained open to this day at the corners of Lake and Beach Avenues, a stone's throw from Lake Ontario. While the franchise has spread to locations across the country since its founding, Rochester still has the largest concentration of locations, so you have ample opportunities to get a taste. In case you're wondering, frozen custard is ice cream's thicker, creamier cousin. All Abbott's locations have chocolate, vanilla, and chocolate almond, and each locale adds their own variety of custard flavors and sorbets. They also offer flurries, floats, and build-your-own-sundaes.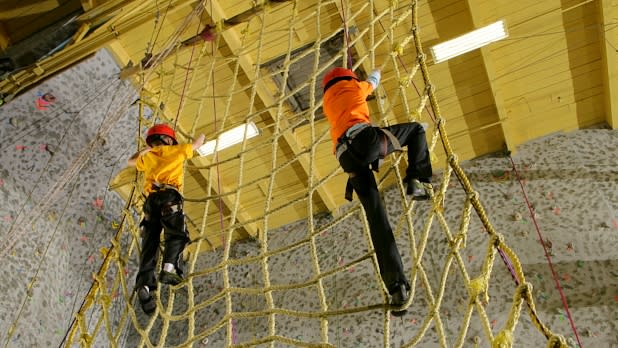 If you can't get your kids to stop climbing all over your furniture, we might have a solution for you. Rock Ventures proudly states that folks ages 2 to 92 have climbed on their walls, so you, your kids, and even your parents can all enjoy an outing that is great exercise and fun. Climb the high and low ropes courses (pictured) where you're firmly secured with a harness and safety rope or check out the bouldering section at lower heights without ropes. The staff is very attentive and will show you the ropes (literally) every step of the way. Standard day pass $16, Child Day Pass 13 years and younger $10, rental equipment not included.
Don't forget to post photos of your New York adventures on Instagram and Twitter with #iSpyNY and tag us on Facebook!