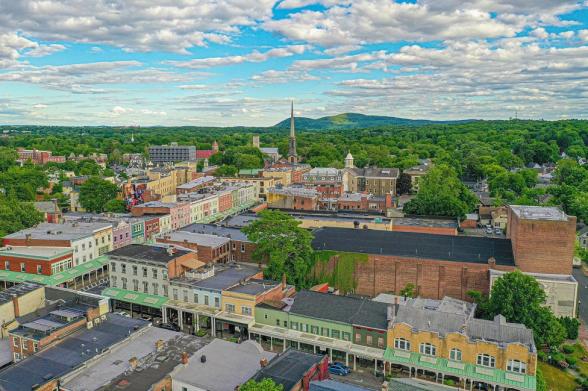 Dating back to the 17th century, New York's first capital of Kingston is now as vibrant as it is historic. This once traditional manufacturing city just 91 miles north of New York City and 59 miles south of Albany, is home to three lively and diverse districts bursting with award-winning restaurants, internationally recognized museums, historic sites, and breathtaking views of the Hudson River. There's never a shortage of adventure to be had — here's how to make the most out of your time in the charming city of Kingston. 
Masks are encouraged, but optional in most settings per New York State guidelines. Individual businesses or attractions may require mask wearing. Call ahead and check websites and social media to make sure attractions and amenities are open and available.
FRIDAY 
3 pm: Lodge Hudson Valley style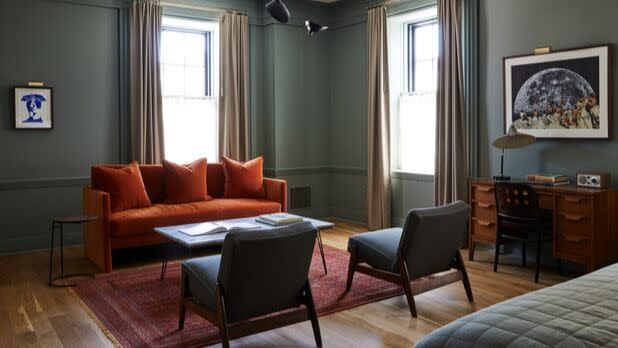 Photo by Nicole Franzen
Check into one of Kingston's renowned lodging options and experience some good old Hudson Valley hospitality. Blend modernity with history at the family-owned and operated Forsyth B&B, the perfect home base for exploring. This casual-chic B&B, featured in Vogue, is just a block away from the gems of the Rondout Waterfront District and serves seasonal three-course breakfasts on the porch, in the courtyard garden, or by the fire. The Schwartz's Inn has been in the Cohen-Schwartz family for over 100 years and is just a step away from the Uptown Stockade District's top restaurants, cafes, art galleries, and shops. Enjoy a stylish escape at one of Hotel Kinsley's (pictured) four repurposed 17th, 18th, and 19th-century buildings, each filled with unique personality and Kingston charm. With 42 rooms spread across the Historic Stockade District, a shared restaurant, an infrared sauna, massages, and a gym all onsite, you might never leave. 
4 pm: Explore local artwork in Kingston's Midtown Art District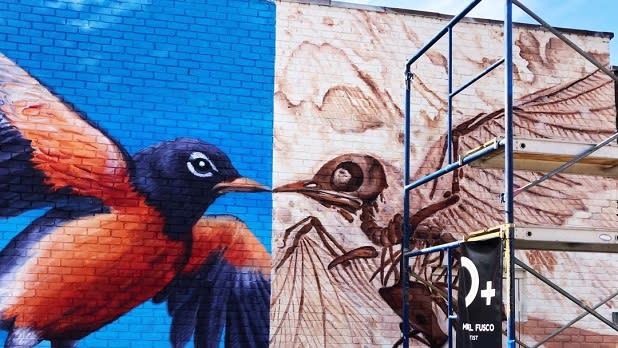 Take a stroll through the heart of Kingston amid the growing Midtown Arts District, filled with bright, colorful, and impactful murals from the annual O Positive Festival (happening October 6-8 this year), and an array of music venues and art galleries like the Kingston Pop Museum. 
5:30 pm: Grab dinner and a drink at the Kingston Standard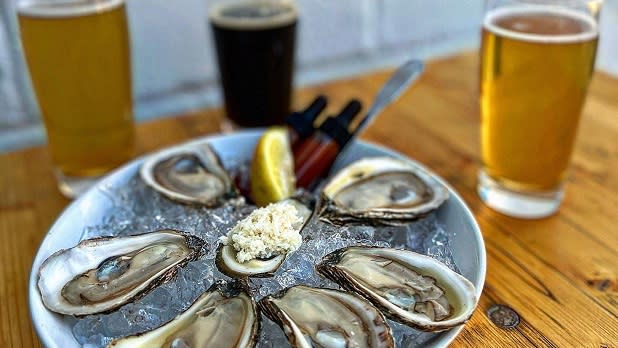 Have a seat in The Kingston Standard's easy-going and welcoming atmosphere that gives off seriously rustic vibes. This locally-owned brewery is in the business of paying homage to Kingston culture by brewing fresh small-batch beers. Stop in for good brews, personal pizzas, house-made sourdough pretzels, and, of course, their famous oyster happy hours Thursday and Friday from 4-6 pm. 
7:30 pm: Catch a show at the UPAC (Ulster Performing Arts Center)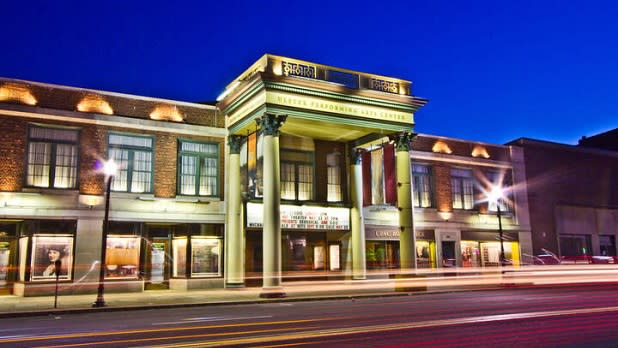 Photo by John Fischer 
Lights, curtain, action! Enjoy a night out on the town at the Hudson Valley's premier performing arts venue, the Ulster Performing Arts Center! Designed by the famed New York City architect Douglas P. Hall, the UPAC, formerly The Broadway Theatre, originally opened in 1927 as a movie palace and vaudeville house. Now, it supports national and international headliners in music, dance, theater, comedy, and more including Jim Breuer, Big Thief, and Buddy Guy! This 1,510-seat venue remains the largest proscenium theater between Manhattan and Albany. 
SATURDAY
9 am: Have breakfast at Sissy's Cafe
Fuel up for the exciting day ahead at Sissy's Cafe with breakfast sandwiches (made with farm- fresh eggs), pastries, pancakes, coffee, juices, and smoothies made fresh with locally sourced ingredients! Eat at the brightly-colored and welcoming indoor or outdoor seating or start exploring uptown and take your breakfast to go. 
10 am: Shop local at the Kingston's Uptown Farmers Market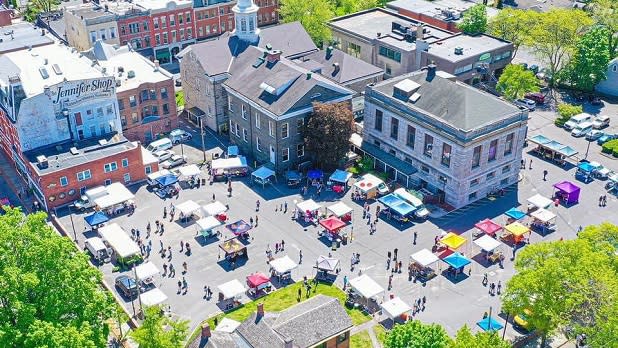 Discover local goodies at Uptown's year-round Farmers Market at the Old Dutch Church, which hosts over 20 vendors selling fresh seasonal produce, pasture-raised meat, locally grown grains and flour, cheese, baked goods, bread, hot prepared foods and drinks, fish, mushrooms, hand-crafted alcohol, beer and cider, honey, and wellness products from soap to tinctures! 
11 am: Take a Tour of the 1658 Stockade National Historic District and Fred J. Johnston House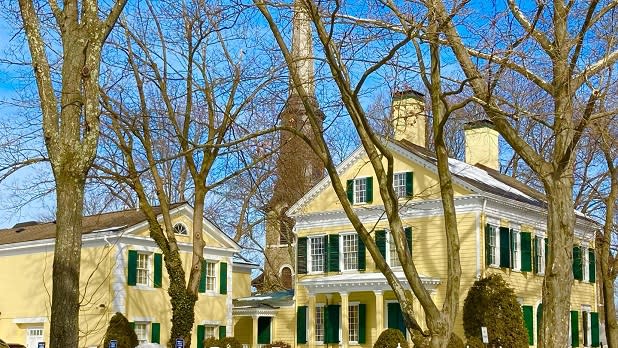 Attention history buffs! Travel through Kingston's past with the Friends of Historic Kingston on a guided tour of the 1658 Stockade National Historic District. Follow along the one-mile-long journey through the earliest Dutch Settlement in New York, where you'll visit the Old Dutch Church burial ground, admire 1650s architecture designed by Gov. Peter Stuyvesant, see the gravesite of the first New York elected governor, George Clinton, and more. End your tour marveling at the 18th and early 19th-century furnishing and decorative arts inside the Federal-style 1812 Fred J. Johnston House. Guided tours are available from July through the end of October. 
Prefer to take in the sights on your own time? Take a self-guided tour by picking up a brochure from the Friends of Historic Kingston gallery on 63 Main Street or the Heritage Area Visitors Centers at 20 Broadway; or download it from the website. For a truly unique experience, tune in to the Kingston Walks Audio Tour and follow the How Dutch is New York - the Kingston Stockade Tour from your smartphone. 
1:30 pm: Grab a slice at Lola's for lunch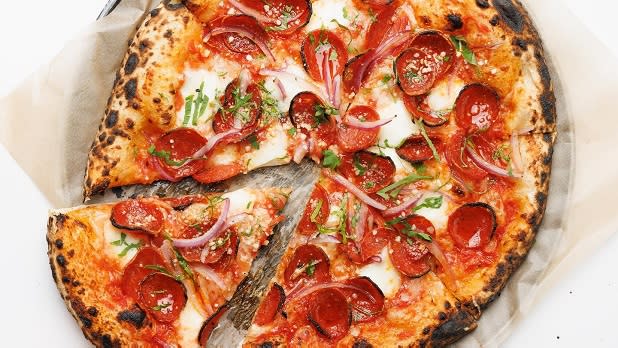 Make a pit stop at Lola Pizza for tasty-wood fired pizza, housemade pasta, and a friendly atmosphere. Be sure to try local favorites like the Tiger Paw (pepperoni, provolone, and mozzarella with chili honey), and the vegan Tromba (mushrooms, kale, red onion, Calabrian chilies, and olives), or mouthwatering pasta dishes like rigatoni alla vodka and cacio e pepe.
3 pm: Take a ride on the Catskill Mountain Railroad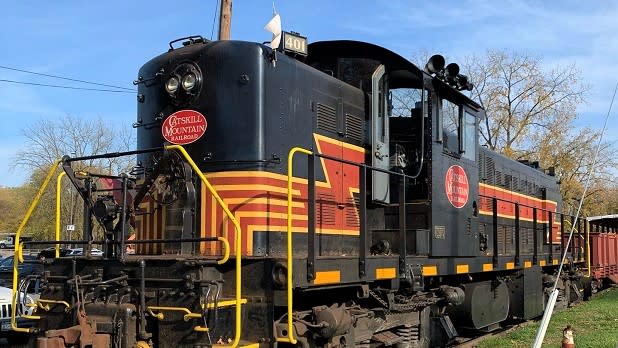 Ride through 150 years of railroad history on the Catskill Mountain Railroad! The former New York Central Railroad turned magical attraction runs from the Westbrook Station in Kingston Plaza through beautiful, scenic views of the Catskill Mountains, Hudson Valley's historic farmland, Esopus Creek, Hurley Mountain, and back. Check out the CMRR calendar for fun-filled seasonal rides like the Easter Bunny Express, Catskill Fall Foliage Adventure, Polar Express, the summertime Catskill Flyer, and more!
5 pm: Explore the historic Four Corners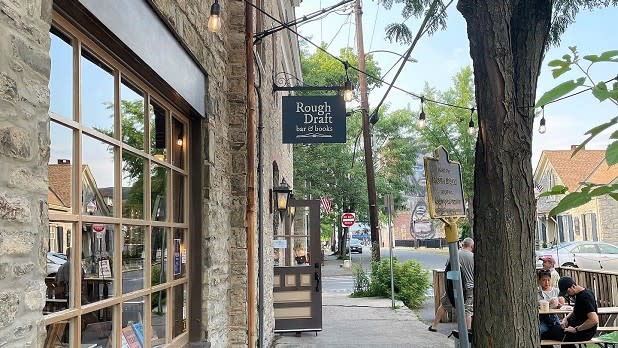 Head over to John and Crown streets, where you'll find the only intersection in America where the buildings on all four corners were built pre-Revolutionary War! After you admire these monumental establishments, be sure to stop in at Rough Draft Bar & Books. Whether you're looking to warm up with a hot cup of coffee or relax with a cold beverage, this all-in-one cafe, bookshop, and bar creates a cozy and inviting atmosphere that brings everyone together. Visit the shop's "bibliotenders" for a wide selection of beer, cider, wine, coffee, local pastries, savory pies, and book recommendations! 
6 pm: Get dinner at Santa Fe Uptown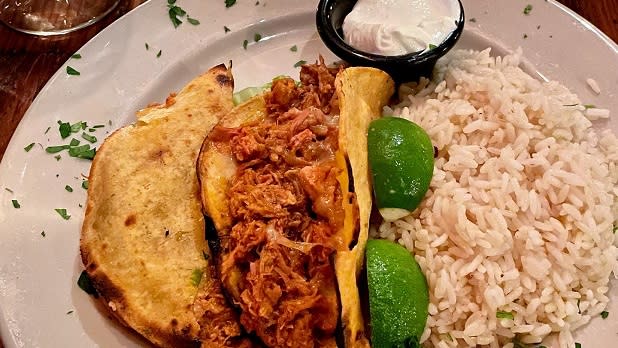 Where can you find award-winning, authentic Mexican cuisine with flavorful foods and fun dining? At Santa Fe Uptown in the Historic Stockade District! With a wide variety of options from lobster quesadillas and pulled pork tacos to vegan bowls and crispy Buffalo cauliflower tacos, there's something for everyone. Enjoy a vibrant atmosphere and a menu full of traditional and modern Mexican dishes, always made fresh from scratch. If margaritas are your thing, have a seat at the U-shaped bar and choose from one of the best selections of tequila in the Hudson Valley.
SUNDAY
9 am: Start your day with hot donuts and coffee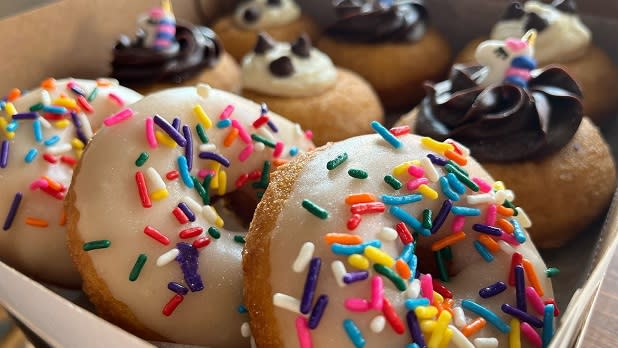 Roll out of bed and over to Half Moon Rondout Cafe for a warm, made-to-order donut and hot, locally-sourced coffee alongside beautiful views of the Rondout Waterfront. Take your goodies to-go or sit at one of the high-top tables while you enjoy one of Half Moon's homemade breakfast delights like their seasonal scones, savory breakfast croissants, fresh chocolate or cinnamon babka, and maple, vanilla, and chocolate glazed donuts available on the weekends. 
10 am: Admire scenic views while you shop local

Take in the breathtaking view of the rolling riverfront as you walk through downtown's charming boutiques, shops, and restaurants. Get a taste of local produce and products from Hudson Valley farms and businesses at the Kingston Waterfront Farmers Market held every Sunday at the TR Gallo Park! Discover hidden treasures at Milne's At Home Antiques, stylish and trendy clothing at Next Boutique, home and apothecary goods at Clove & Creek, bright blooming flowers at Hops Petunia, and much more! 
11 am: Experience waterfront history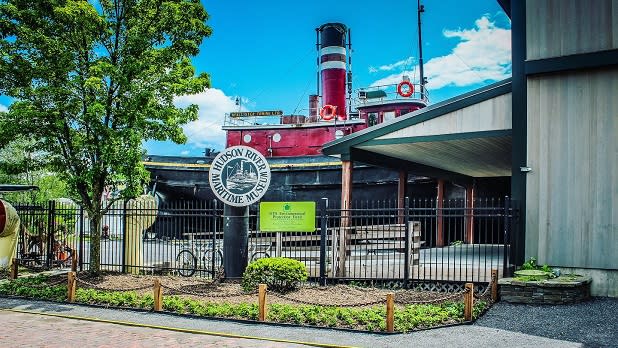 Travel back in (mari)time and explore Kingston's water-going past at the Hudson River Maritime Museum or on a Hudson River Cruise. Come aboard the Rip Van Winkle II from May through October for the narrated Hudson River Valley Sightseeing Cruise and admire beautiful views and unique locations like the Hudson River's lighthouses and waterfront mansions. You can also hop on the 100% solar-powered Solaris at the Hudson River Maritime Museum from May through October for a tour of the Rondout Lighthouse or embark on a sunset cruise.
Don't forget to visit the museum's exhibits exploring the steamboat Mary Powell, Hudson River Day Line, tugboats, ice boats, river industries, ecology, and local lighthouses. Make sure to catch one of the few remaining steam tugboats with the original steam engine still intact at the 1898 Steam Tug Mathilda! 
1:30 pm: Get lunch at a riverfront favorite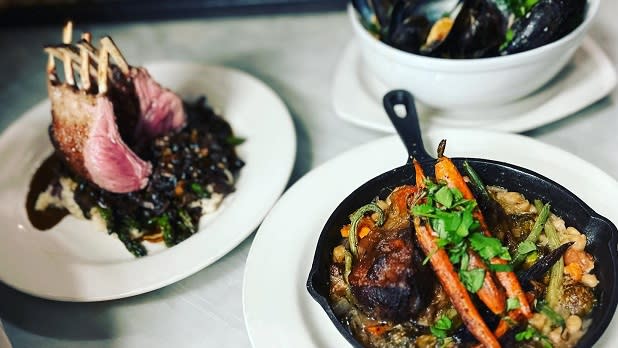 Make a midday pit stop at one of downtown's finest eateries. Find mouthwatering American cuisine at Ship to Shore (the 2020 Chronogrammies Reader's Choice Winner for number one steak), authentic Italian classics made with family recipes and local flavor at Savona's Trattoria & Bar, and fresh seafood with a view at Mariner's Harbor, where you can watch boats cruise up and down the rolling Rondout Creek. 
3 pm: Go for a trolley ride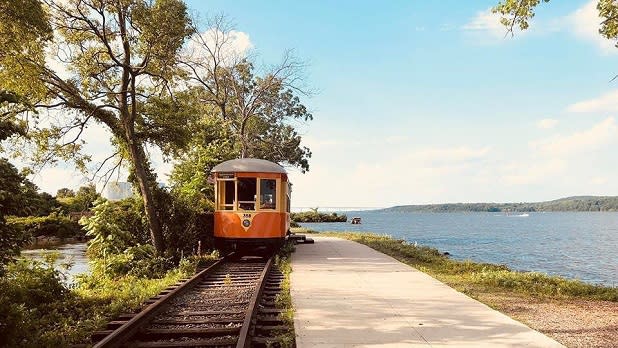 All aboard! Take a thrilling mile-and-a-half trolley ride at the Trolley Museum of New York. The exciting excursion kicks off at T.R. Gallo Park on Broadway and stops at Kingston Point Beach on your journey through downtown Kingston before bringing you to the museum, which sits on the original site of the historic Ulster and Delaware Railroad yards. The museum features intriguing displays like trolleys from Germany, Belgium, Sweden, and Norway! The Trolley Museum is open weekends from May to late October. 
GETTING THERE
By car:
By bus: 
By train: 
By plane: 
---
Share your New York State adventures with us on Instagram and Twitter and Facebook and tag us using #ISpyNY!